Operation: Rank Up Report #0040
Day 280 – 10:10:07 PST
Somewhere in California
AGB – Lead Writer
This Rank Up Report won't be for the faint of heart.
If you can't complete the task at hand by next week, don't fret, as this is one of the toughest in-game challenges yet. However, with these tips, some good squadmates, and pure willpower, you can join me on the next chapter of this epic journey towards ranking up: Mastery.
Let's get to ranking up, future Masters of Warzone.
Operator of the Week
This week, I'm featuring one lone Operator: Mace.  
Thanks to 'The Armorer' skin, a Legendary new item within this week's new 'The Executive Armorer' bundle, arguably the most brutal Chimera Operator has an outfit that truly brings out his arrogant and flashy side, if his smug Quips didn't do that already.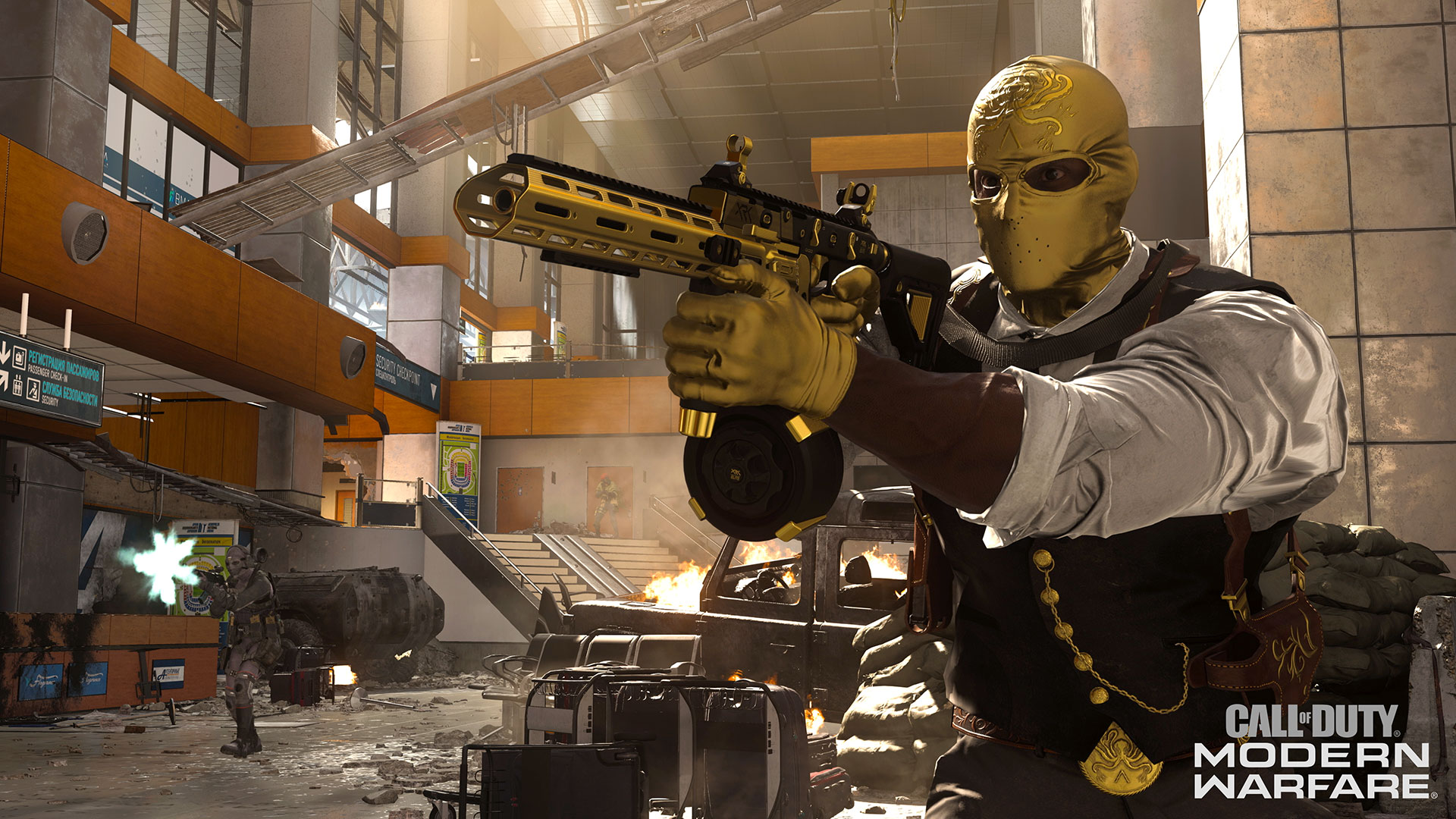 In the above image, Mace is holding the Royal Coffer blueprint, found in that very same bundle. In the header image, he holds the Gunsmith Custom Creation of the Week.  That weapon is based off the other blueprint you'll find in 'The Executive Armorer' bundle. More on that after our Top Rank Up Tip:
Top Rank Up Tip – Warzone Mastery
Thirteen extremely difficult challenges that anyone – Modern Warfare owner or free-to-play Warzone user – can attempt to complete, all to earn an extreme amount of XP, exclusive calling cards and, most importantly, bragging rights.
Welcome to Warzone Mastery.
As part of Season Five, a new form of mastery was introduced via extremely difficult challenges specific to Warzone and Multiplayer. Before Season Five, you could achieve one form of Mastery through Weapon Mastery – "Damascus Camo," – which, spoiler alert: I've unlocked.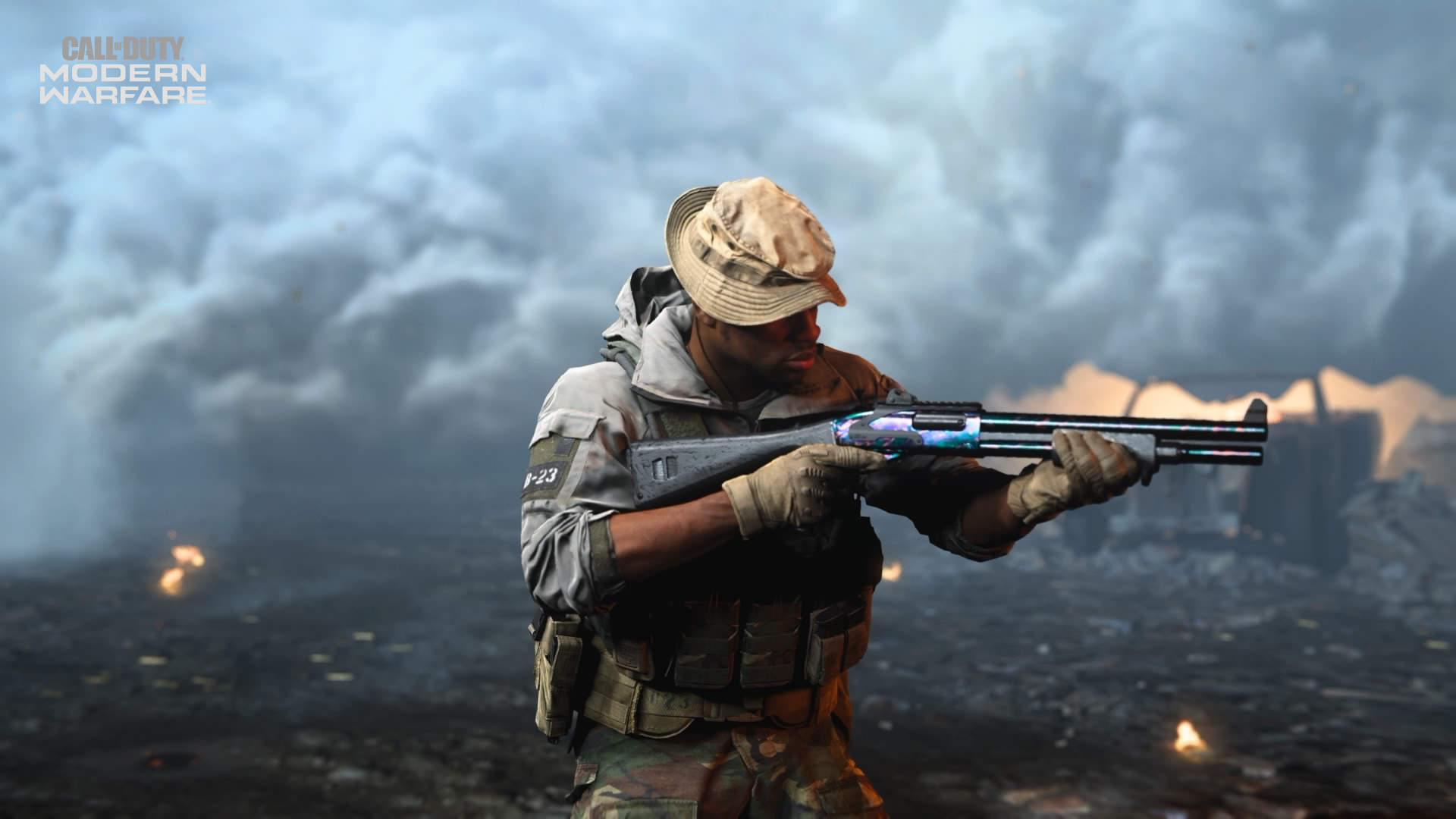 Now I can finally say that the image you see above, is what I currently have on every single weapon in the original Modern Warfare arsenal.
Damascus is what I refer to as a reward for being a "Jack of All Trades" master; it's the sign that an Operator is proficient with those pre-Seasonal weapons for Modern Warfare and Warzone. Infinity Ward further pushed the weapon mastery concept by introducing Obsidian Camo, which allows you to prove true expertise with a specific weapon, as well as additional challenges that unlock weapon-specific calling cards and emblems.
But no matter what weapon you use, you can now demonstrate another form of mastery through specific challenges within Multiplayer and – the mode we're covering this week – Warzone.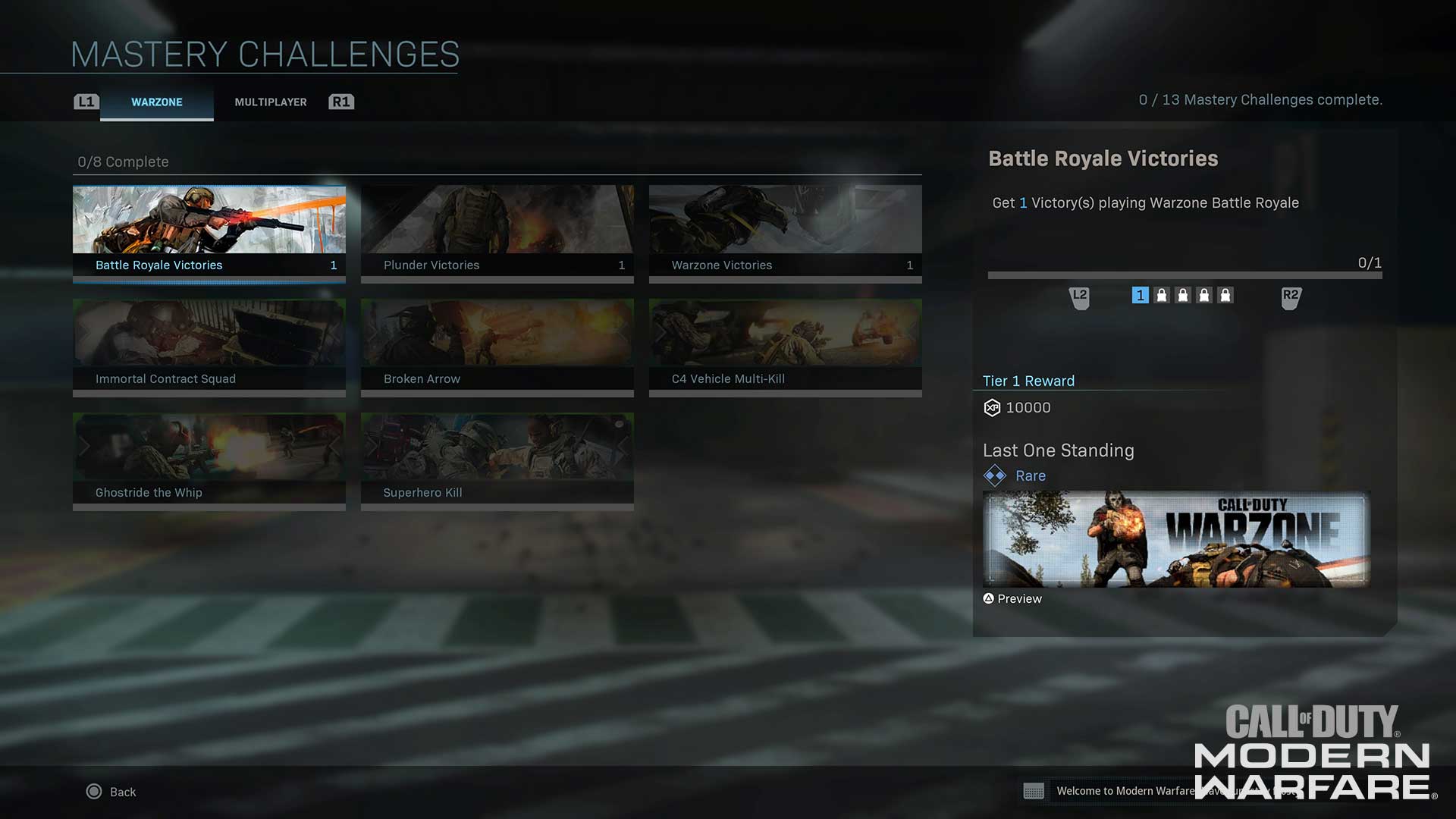 Here's what these Warzone challenges are, from criteria and XP rewards – including a summary of multi-step ones – to an easy to follow, difficult to achieve, tip for each mastery challenge:
Battle Royale Victories – Get 1 / 10 / 50 / 200 / 300 Victories playing Warzone Battle Royale
Reward: 10,000 XP (1) / 25,000 (10 / 50/ 200 / 300)
Out of the many, many tips I could give here, I'll go with a timely one: take advantage of limited-time modes, as they usually offer alternative winning strategies for victory. Some, such as Mini Royale, are faster to complete and smaller in size than a traditional game, which theoretically weighs the odds of winning more in your favor.
Odds aside, you'll still have to win games, so get ready to fight for your 50 dubs!
Plunder Victories – Get 1 / 10 / 50 / 200 / 300 Victories playing Warzone Plunder
Reward: 10,000 XP (1) / 25,000 (10 / 50/ 200 / 300)
Winning a Plunder match involves knowing every single point of interest within Verdansk where Cash, Supply Boxes, and Contracts can, and will, spawn. Want that juicy intel? Well, we have an Atlas for that – study it thoroughly and leave no stone unturned with a full squad on a mission for mad cash.
Warzone Victories – Get 5 / 25 / 100 / 300 / 400 Victories playing Warzone 
Reward: 10,000 XP (5) / 25,000 (25 / 100 / 300 / 400)
This marks the last "career" Mastery challenge, and it brings up two extremely important facts for this trio of extremely long and difficult challenges:
1. These three aren't meant to be completed in one sitting, so let the victories come as they may.
2. Although you could be a solo player, squadding up with solid teammates – or even better, friends – might make these victories easier to come by, if not more fun as you all work towards becoming masters of the Warzone!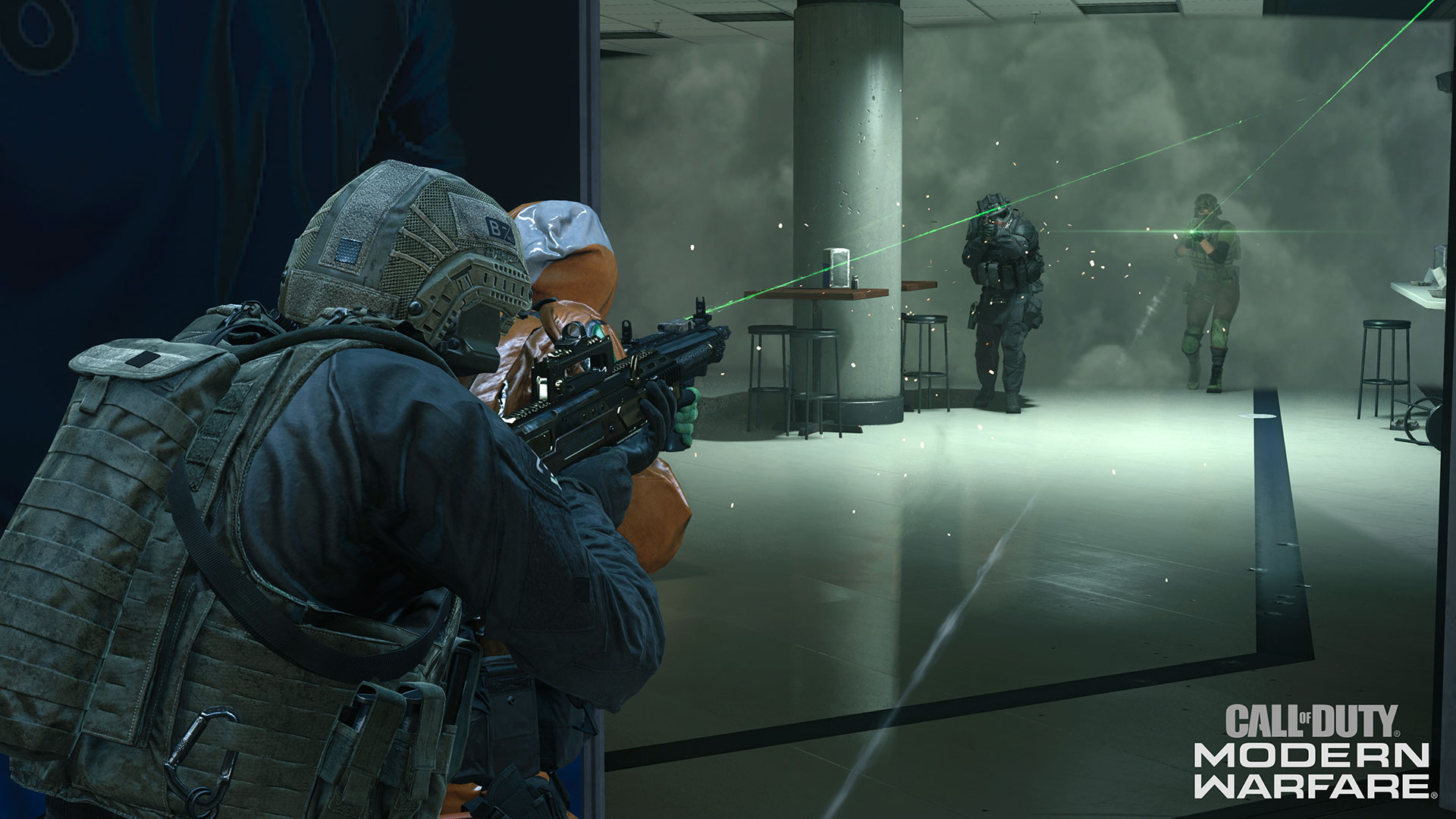 Immortal Contract Squad – Complete your fifth Contract in a single match with all team members still alive
Reward: 5,000 XP
Afraid of losing this due to an unfortunate Recon, Bounty, or Most Wanted Contract at the last second? Play smart and hard by prioritizing Supply Run and Scavenger Contracts, which are "lower risk". Scout out a vehicle to make completing Contracts easier, and consider putting a Trophy System on your ride for maximum protection.
Broken Arrow – Kill 3 or more enemies with an air strike or cluster strike targeted within ten meters of yourself, and survive
Reward: 5,000 XP
Technically, "ten meters of yourself" is horizontal distance, not vertical. If you are underneath a full squad sniping on top of a building, call that strike directly onto you while you are safe on the ground floor, and hope they don't realize this sneaky strategy is about to unfold.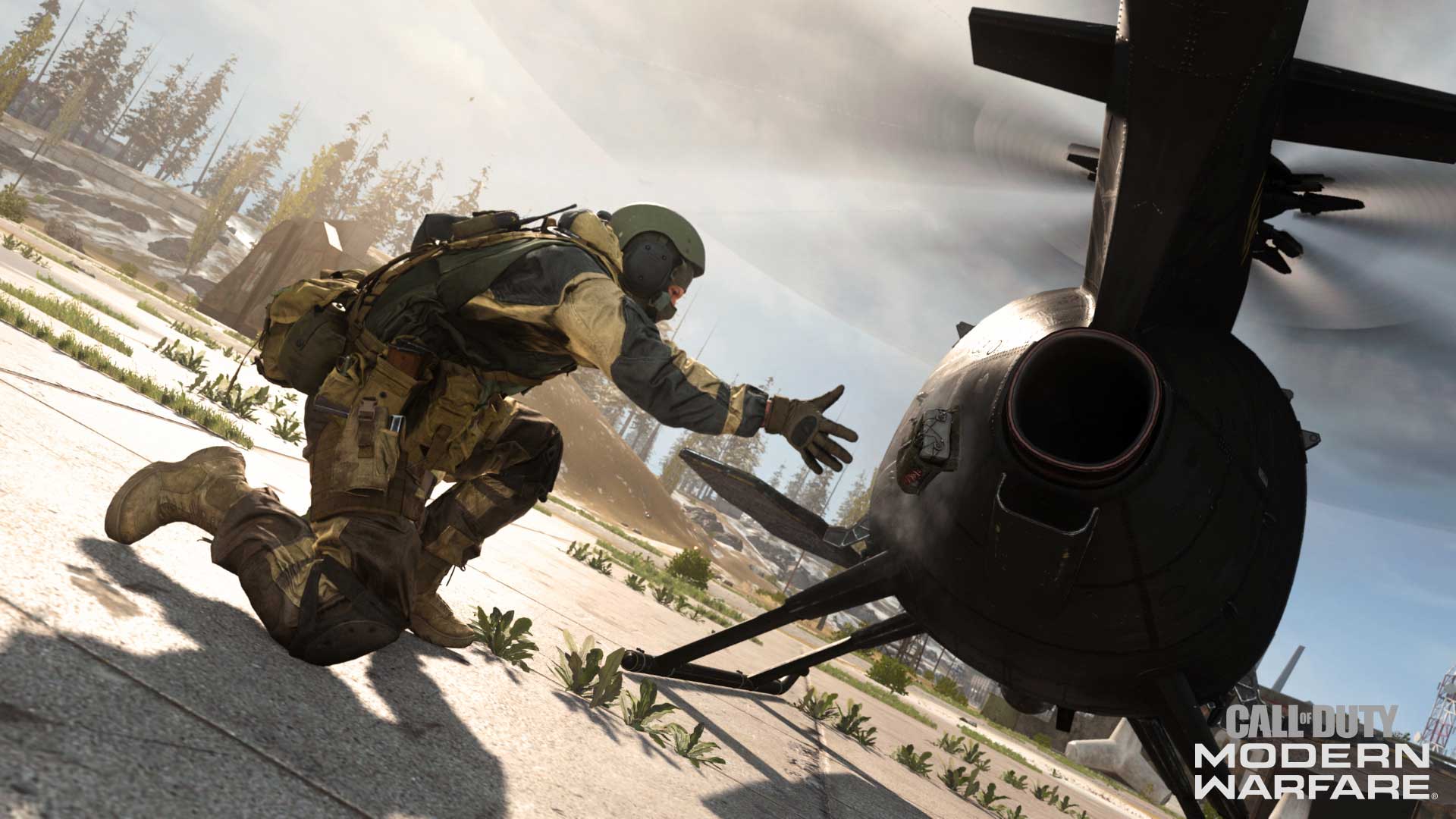 C4 Vehicle Multi-Kill – Kill three or more enemies at one with a C4 attached to a moving vehicle.
Reward: 5,000 XP
Bale has a unique idea here; find a helicopter and hide a C4 in the back. Then, when you notice it's missing on your Tac Map, pull the trigger.
Ghostride the Whip – Kill three or more enemies within a few seconds of leaving a moving vehicle's driver seat
Reward: 5,000 XP
Combine this challenge with the above by turning your vehicle into a rigged-up death trap. Plant C4 in the back and head towards a full squad. Then, when you're ready, bail out, let it roll towards them, and detonate it for a potential squad wipe.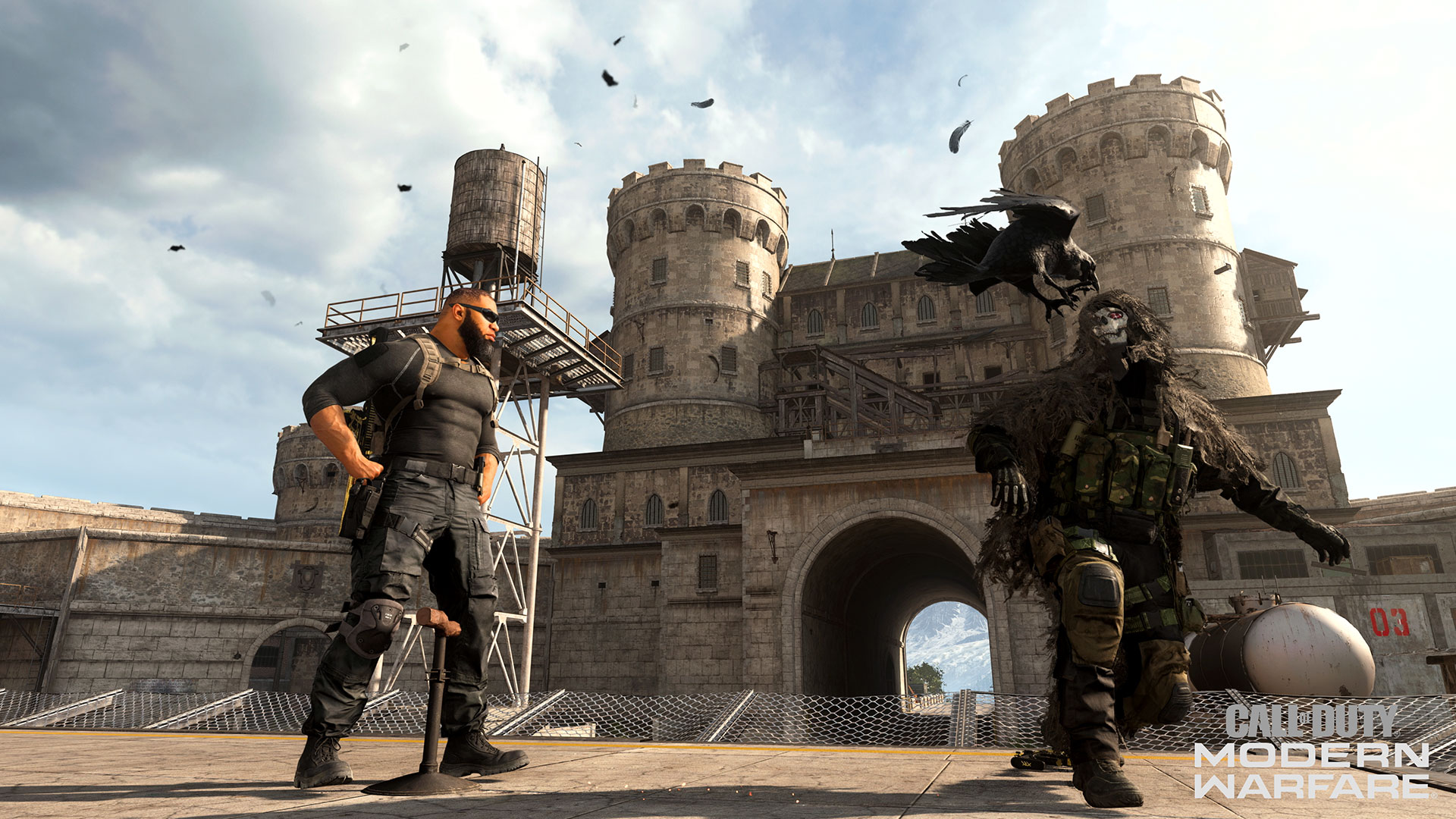 Superhero Kill – Score the match ending kill with an execution
Reward: 5,000 XP
I personally got this thanks to a Riot Shield and a distraction from a squadmate. Let your squad draw all the attention as you sneak up behind the final enemy in a Battle Royale game, then hold that melee command while at their back to finish the job with some finesse.
Gunsmith Custom Creation

This week, we're building our creation around the Mother Lode blueprint, part of the Assault Rifle Juliet family. This blueprint is firmly planted within the Warzone meta due to its low recoil, high fire rate, and solid damage range.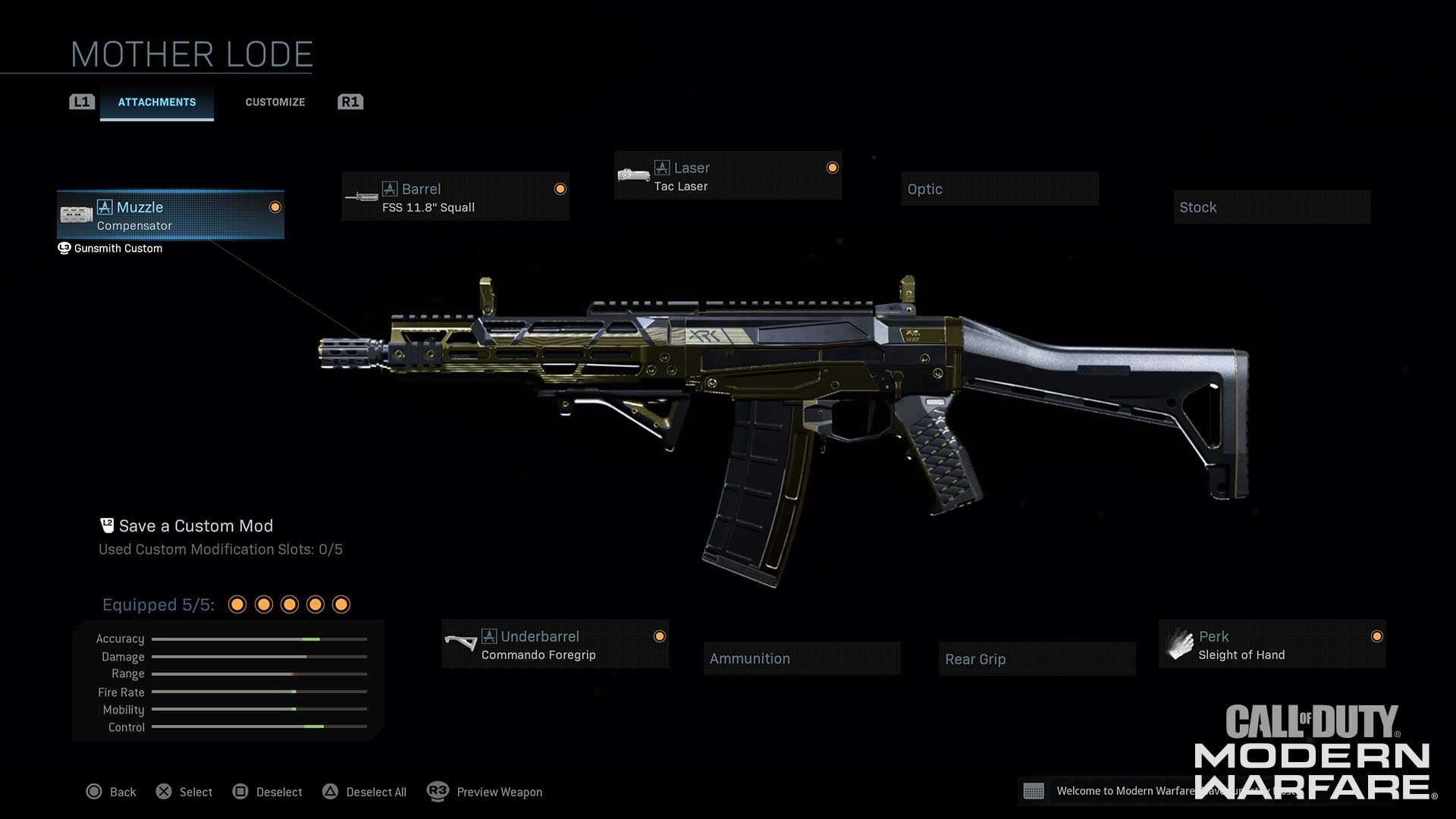 Even if you aren't striving towards Warzone Mastery, this weapon provides a platform for any Operator to use across Verdansk.
Oh, and it has some cool Gold Tracer Rounds, which is where I got the name of this Gunsmith Custom Creation – the "24K Master" – from.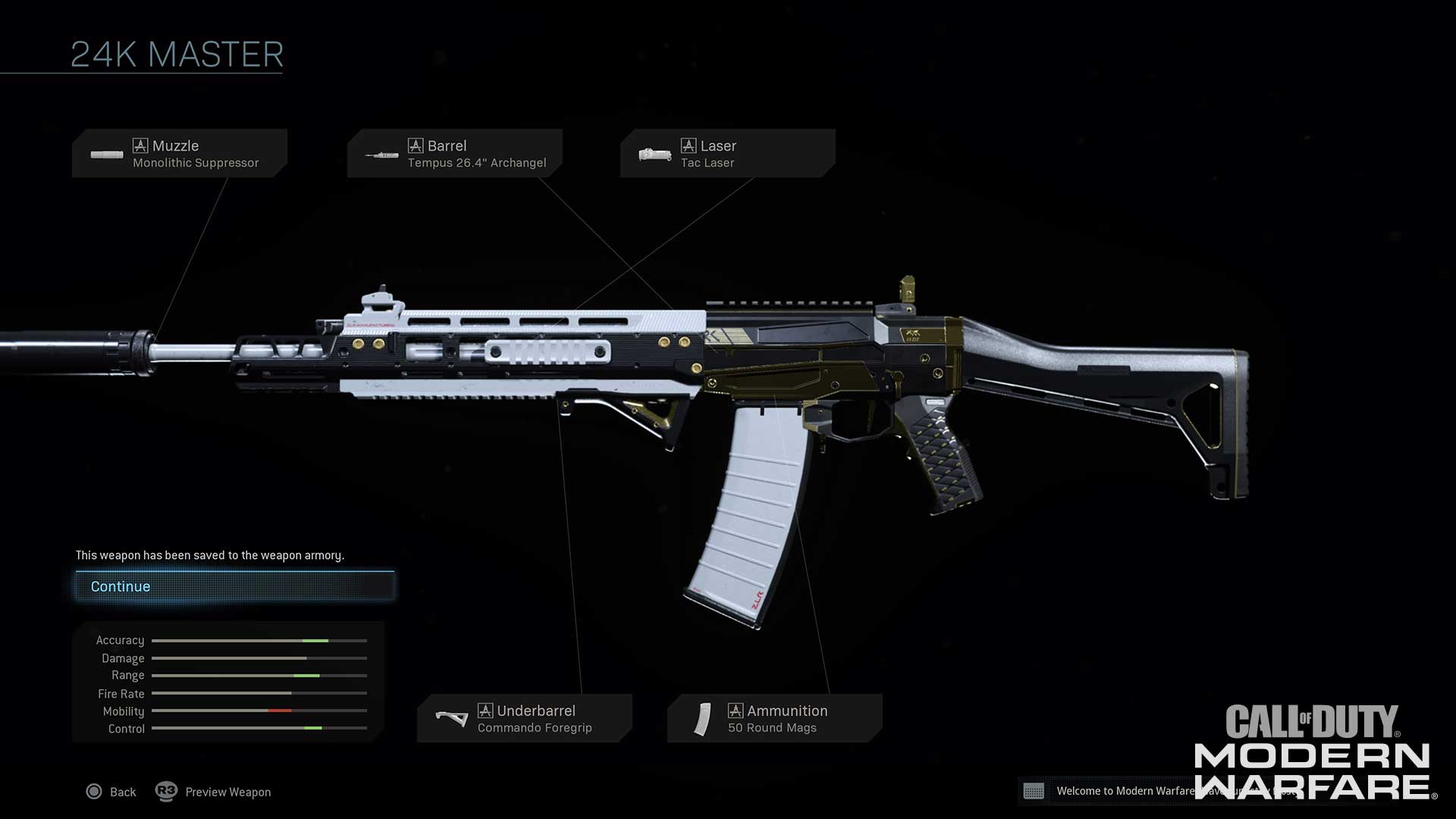 First – something I want to stress every time we talk about Tracer Rounds – your weapon will have the Tracer Rounds of the blueprint that you base your Gunsmith Custom Creation on.
Therefore, if you want Gold Tracer Rounds on this weapon select the Mother Lode blueprint for your Loadout and customize it in the Gunsmith from there. Speaking of the Mother Lode, we're also keeping its Tac Laser and Commando Foregrip.
Next, slap on the 50 Round Mags and Tempus 26.4" Archangel Barrel, found on the Alabaster blueprint weapon from Season Four's 'SERE Kit: Plunder Player' bundle. Finally, even though we could take the Monolithic Suppressor from the Alabaster, we're going to steal that attachment's style from the Rocker Box, which is in Season Four's 'SERE Kit: CQB Specialist' bundle.
Reason being? So this weapon can look golden when you put on a certain mastery camo…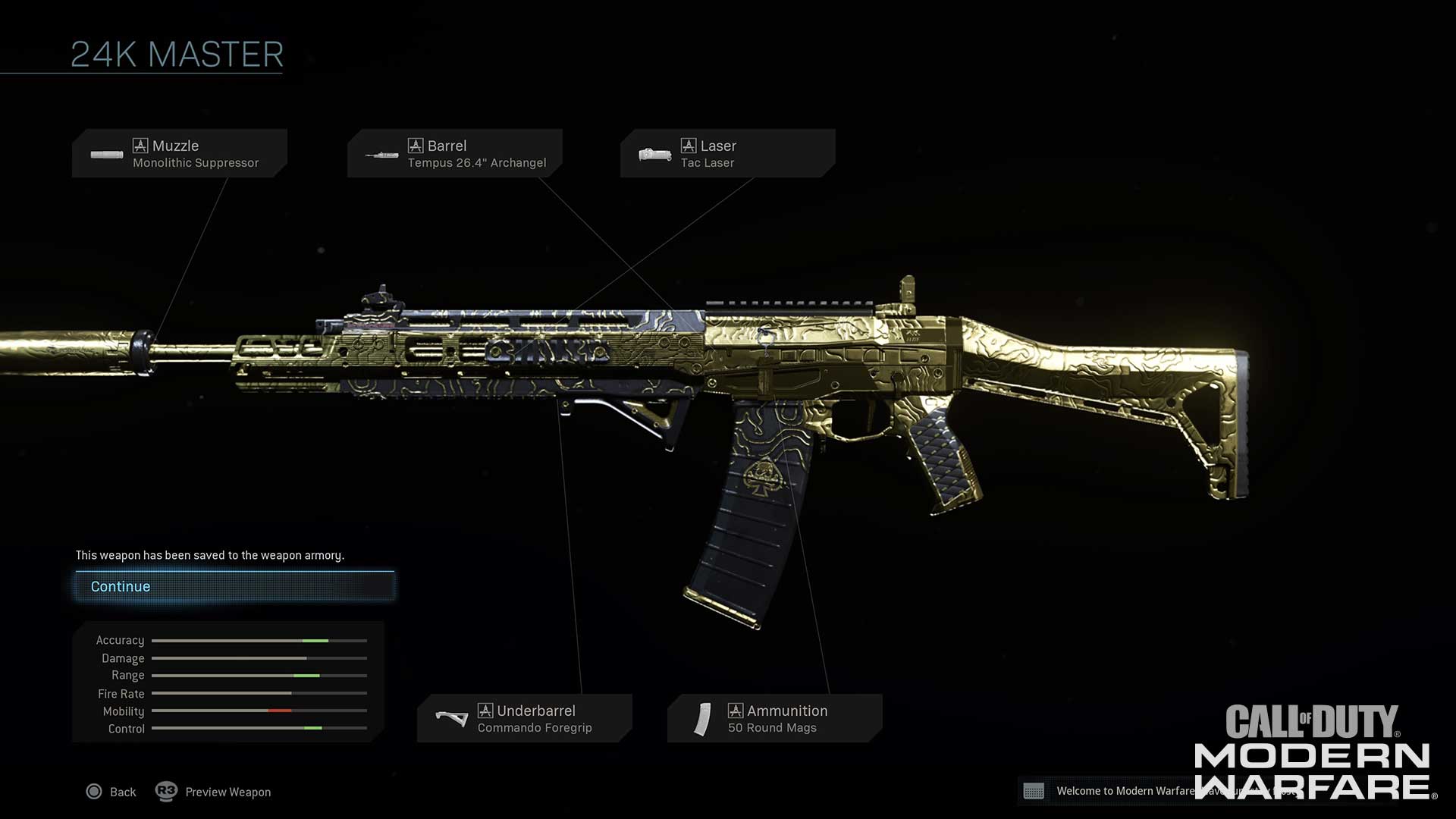 In practice, this weapon is incredibly balanced albeit with less mobility. While your movement and aim down sight (ADS) speeds won't be as fast as that of Operators using other weapons, this configuration maximizes this specific assault rifle's effective range, offers great recoil control, stabilization, and aiming stability, and includes a generously sized magazine.
Basically, it's a weapon that's ready for any non-extreme range (close or long) scenario in Warzone, from chaotic Solo free-for-alls to Plunder squad battles. Those who know they can finish the job with a standard mag could swap the 50 Round Mags out for an XRK Void Grip, which allows for quicker ADS speed, or an optic attachment for a more precise sight picture.
However, no matter how you configure this weapon, treat this as one of the gold standards of mid-range weaponry within Verdansk.
Have fun using this – or any other weapon – in your pursuit of Warzone Mastery, or just for partying up with the squad for a weekend's worth of fun. 
I'll see you online; stay frosty.
For more information and the latest intel on Warzone, visit www.callofduty.com/warzone and follow @CallofDuty on Twitter, Instagram, and Facebook. 
For more information and the latest intel on Call of Duty®: Modern Warfare®, check out: www.callofduty.com, www.youtube.com/callofduty and follow @InfinityWard and @CallofDuty on Twitter and Instagram and Facebook.
© 2020 Activision Publishing, Inc. ACTIVISION, CALL OF DUTY, WARZONE, and CALL OF DUTY WARZONE are trademarks of Activision Publishing, Inc. 
For more information on Activision games, follow @Activision on Twitter, Facebook, and Instagram.