With the launch of Season Four comes two new weapons that are completely free for all Operators – including those in the Warzone – to unlock via the Battle Pass system.
Out of this new dynamic duo of primary weapons, the first weapon you'll unlock is the Fennec:
"An aggressive full auto sub machine gun with buttery smooth recoil and a blazing fast rate of fire that is exceptional for strategic room clearing and holding down the front line."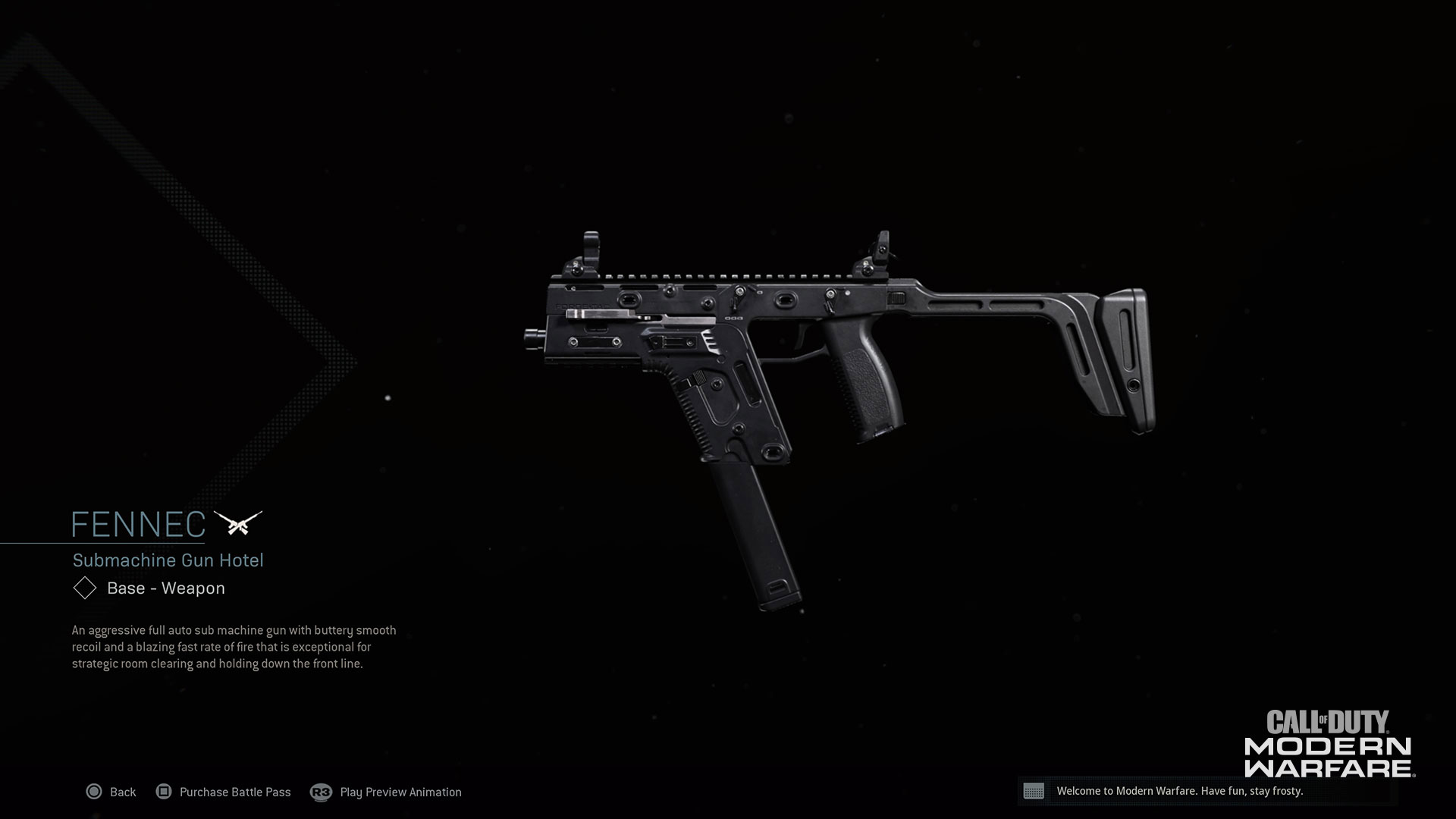 Fennec Overview
The Fennec is as advertised: a fast-firing SMG that can tear through a few enemies quickly before needing a reload.
Expect four shots to down an enemy with no armor at close range and be prepared to expend more ammo if your target is more than a dozen meters out. If you mix a headshot in there, you could even down an enemy in three shots. 
The optional .45 Hollow Point Rounds, which turn the weapon into a two-round burst gun, allow kills after three shots to the torso, and a kill in a single-burst if both bullets land as headshots. In terms of recoil, the weapon kicks upwards always, and shifts slightly left during sustained periods of fire. That being said, the recoil is manageable even as its effects intensify at longer ranges.
The reload speed is longer than most SMGs, and with the standard magazine holding just 20 bullets, it's worth considering the Sleight of Hand weapon perk and the 40-round magazine attachment. Also consider a strong secondary like the Hot Nugget blueprint or another sidearm to ensure you can finish off enemies if you need to switch weapons. 
Blueprint Review and Loadout
Silver Fox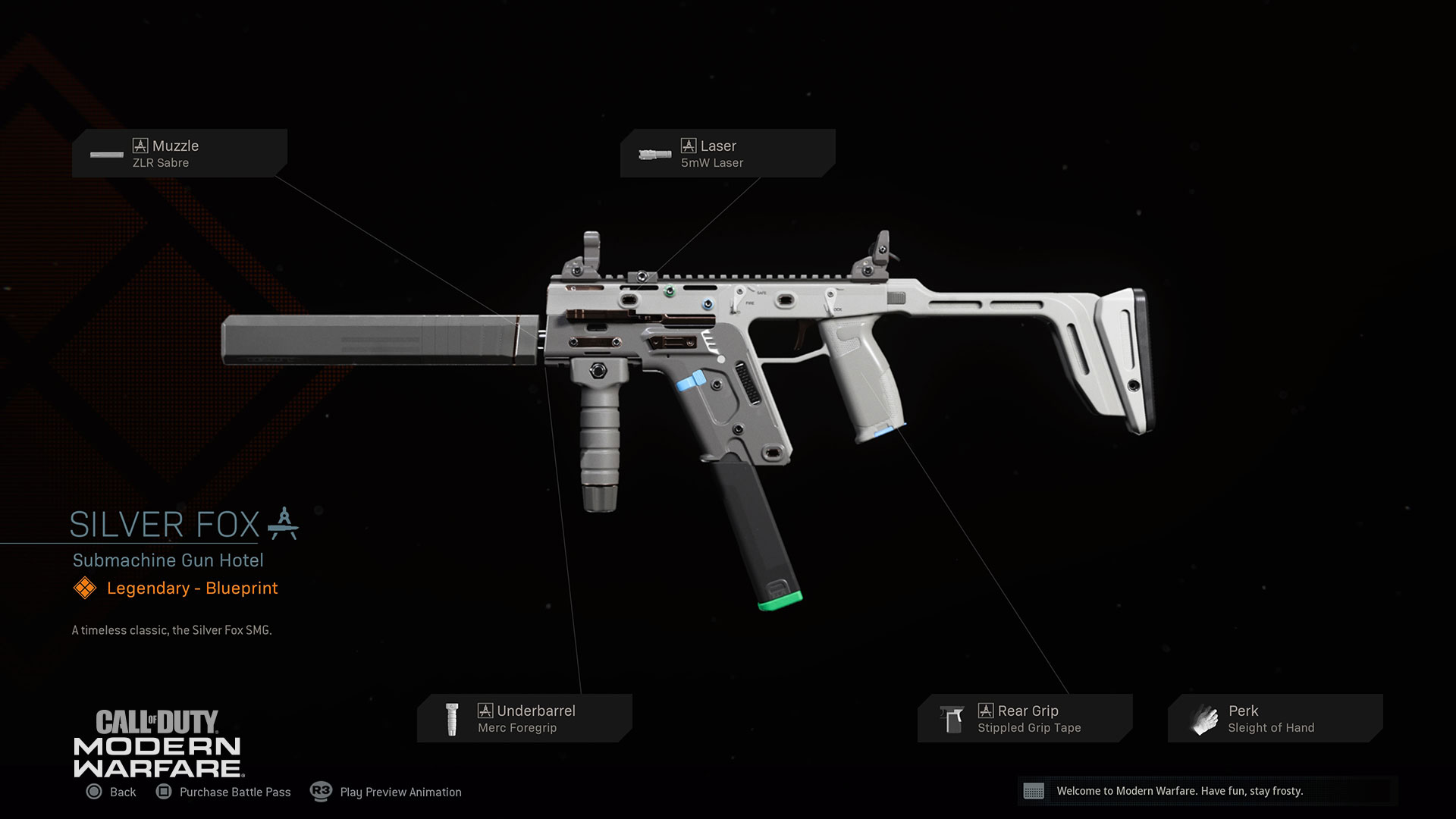 Available at Tier 75 in the Season Four Battle Pass, the Silver Fox does a phenomenal job of playing to the Fennec's strengths.
Its fast fire rate is complimented by the 5mW Laser and Merc Foregrip, allowing you to spray-and-pray to your heart's content. If you want to engage in combat while aiming down sights, the Stippled Grip Tape ensures a quicker ADS, while the ZLR Sabre extends the weapon's range while also providing a silencer.
Plus, the Sleight of Hand perk comes as the fifth "attachment" to cut your reload times down by a good margin.
Here's a loadout you could use with this blueprint for Warzone and Multiplayer:
Primary: Silver Fox Blueprint
ZLR Sabre Barrel, Merc Foregrip, 5mW Laser, Stippled Grip Tape, Sleight of Hand.
Secondary: Callous (Available at Tier 1 of the Season Four Battle Pass system)
Perks: Warzone/Multiplayer: Double Time, Ghost, Battle Hardened 
Equipment: Throwing Knife, Stim
A reliable fallback option, use the Callous when you can't reload your Fennec in time for the next engagement.
Double Time, Ghost, and Battle Hardened combine to form a loadout that will make an Operator faster while crouched and double Tactical Sprint distance (Double Time), keep them off radars (Ghost), and protect them against tactical equipment (Battle Hardened)
Speaking of equipment, the Stim is great for healing quickly out in Verdansk or Multiplayer when engagements happen rapidly one after the other. As for the Throwing Knife, keep it handy for one-hit melee kills, or to make those epic bank shots for the final Killcam.
Two Warzone Loadout Suggestions
1. Backup Plan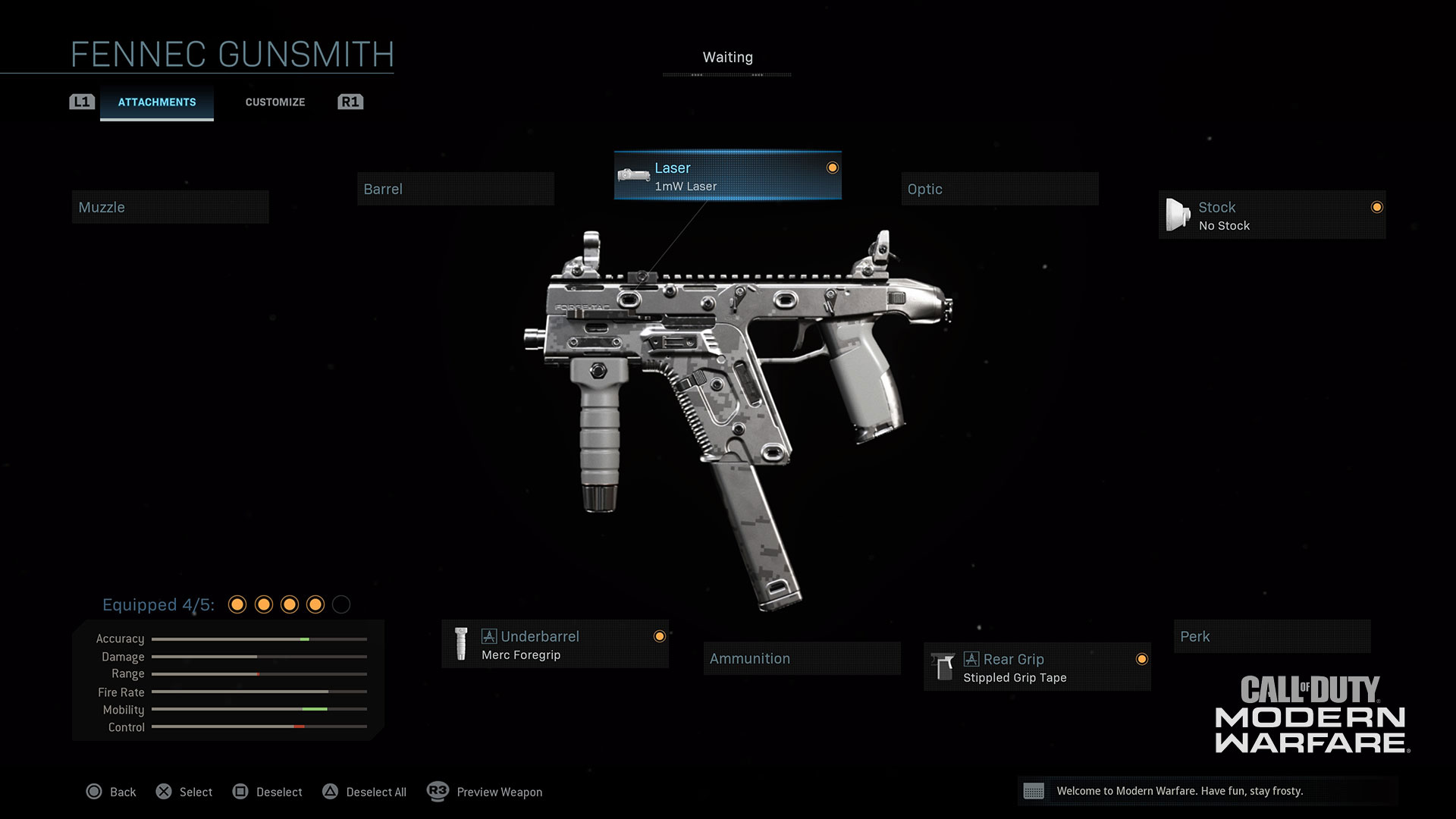 Primary: Brookside (Available at Tier 81 in the Season Four Battle Pass)
Secondary: Fennec
Merc Foregrip, 1mW Laser, .45 Hollow Point 12-R Mags (NOT SHOWN), Stippled Grip Tape, No Stock
Perks: Kill Chain, Overkill, Amped
Equipment: Proximity Mine, Heartbeat Sensor
In Warzone, where long-distance fighting is all-too common, going with a sniper rifle primary is most Operators bread-and-butter loadout. But the Fennec can be a powerful Plan B.
This configuration is the smallest for the Fennec, making it as close to a burst machine pistol as possible. Kitted for near-maximum movement speed and hip fire bonuses, this Gunsmith configuration will punish players who try to counter your sniper up close, thanks to the powerful damage of its two-bullet burst fire Hollow Point rounds.
Swap to this weapon quickly courtesy of the Amped perk, and with Kill Chain, you'll get a better chance of looting Killstreaks, another way for snipers to defend themselves and gain recon in Verdansk. For equipment, the Proximity Mine and Heartbeat Sensor will help you watch your own six, should your squadmates fall or if you are playing Solo.
2. Range of Destruction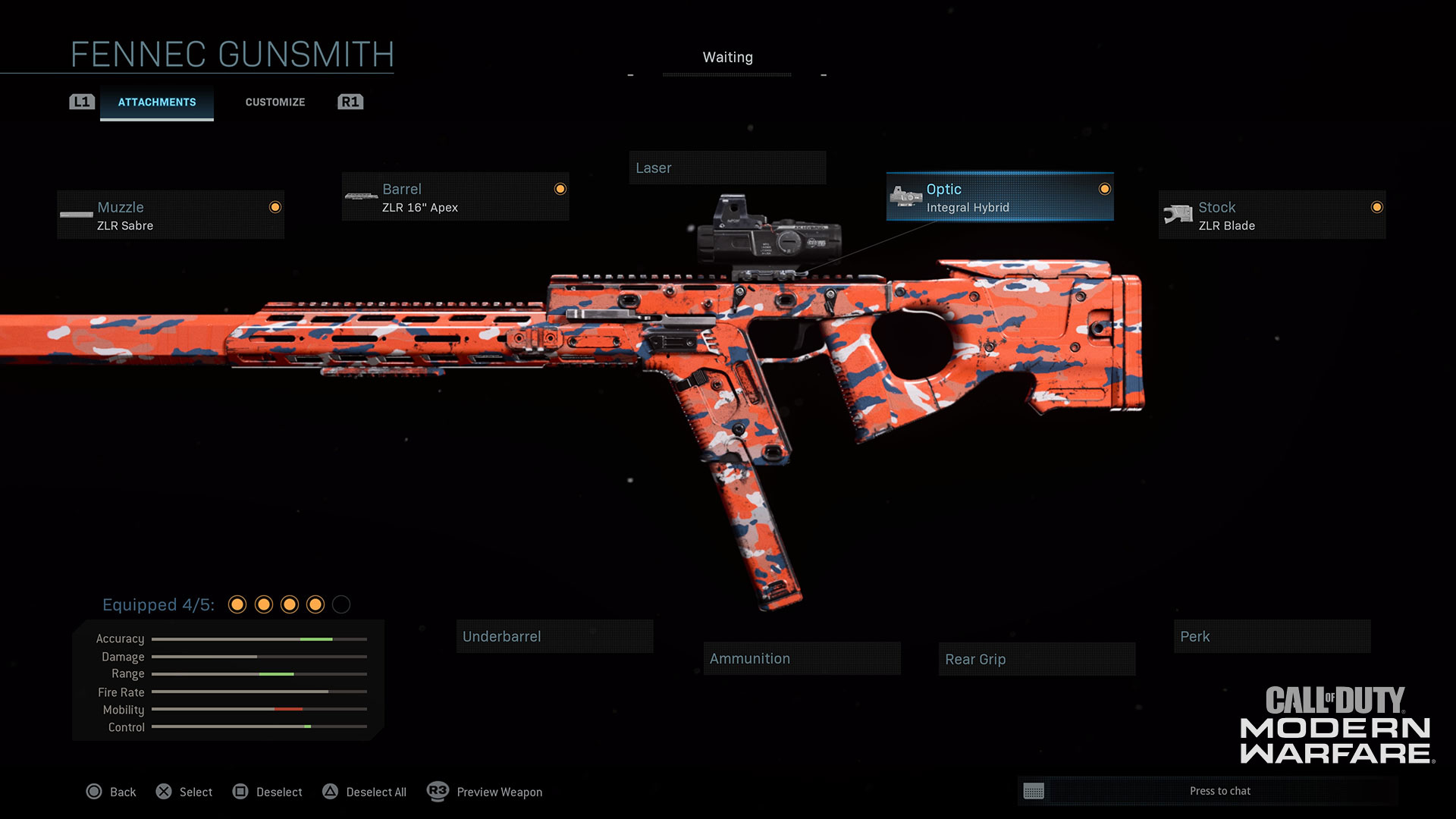 Primary: Fennec
ZLR Sabre, ZLR 16" Apex, 40 Round Drum Mags (NOT SHOWN), Integral Hybrid, ZLR Blade
Secondary: PILA
Perks: Cold-Blooded, Pointman, Spotter 
Equipment: Thermite, Flash Grenade
This Fennec is kitted for maximum range, as the Apex and ZLR Sabre combine for a range boost while the 40 Round Drum Mag, a Hybrid Sight, and the ZLR Blade Stock, keep you stocked and locked for a fight.
The rest of this loadout is for a Plunder player that wants to help their squadmates take down vehicles (PILA, Thermite, and the Cold-Blooded and Spotter perks) and earn more money on Contracts (Pointman). If an engagement is brewing, pop a Flash in the enemy's general direction before laying down an accurate burst of rapid fire.
Two Multiplayer Loadout Suggestions
1. Judge, Jury, And…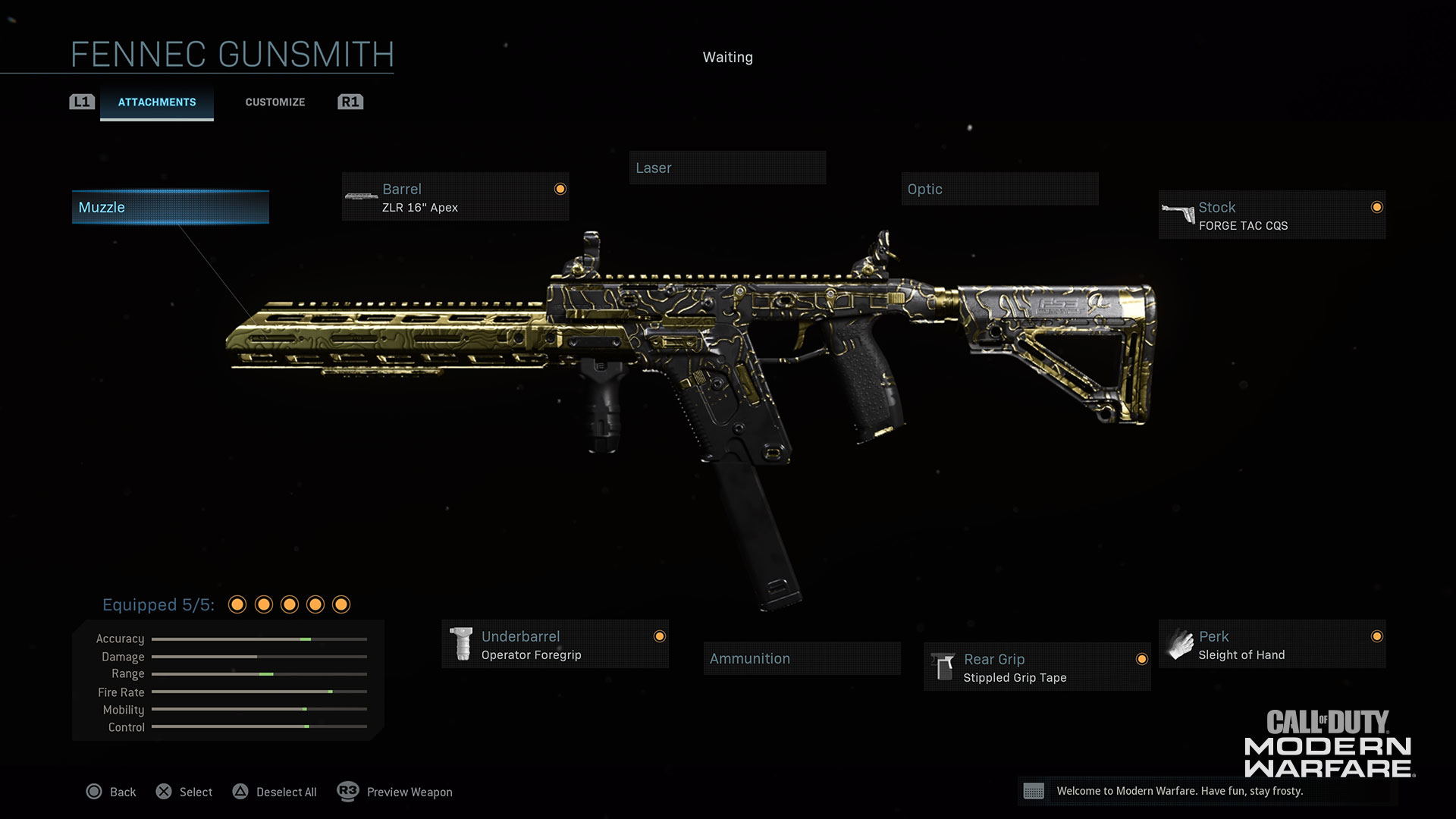 Primary: Fennec
ZLR 16" Apex Barrel, Operator Foregrip, Stippled Grip Tape, FORGE TAC CQB, Sleight of Hand
Secondary: Gavel (Available at Tier 55 of the Season Four Battle Pass system)
Perks: E.O.D., High Alert, Tracker
Equipment: C4, Stun Grenade
This balanced weapon loadout brings two ADS-quickening attachments (Stippled Grip Tape and CQB Stock), an attachment that helps control recoil (Foregrip), another that boosts range AND reduced recoil further (Apex Barrel), and the Sleight of Hand perk to deal with slow reloads.
The secondary is a powerful hand cannon to deal with longer-range threats in a pinch. E.O.D., High Alert, and Tracker give those super-human senses and resistance to explosives. And C4 and Stuns are your explosive and stunning options respectively against threats on top of your two weapons.
2. Ice Cold Killer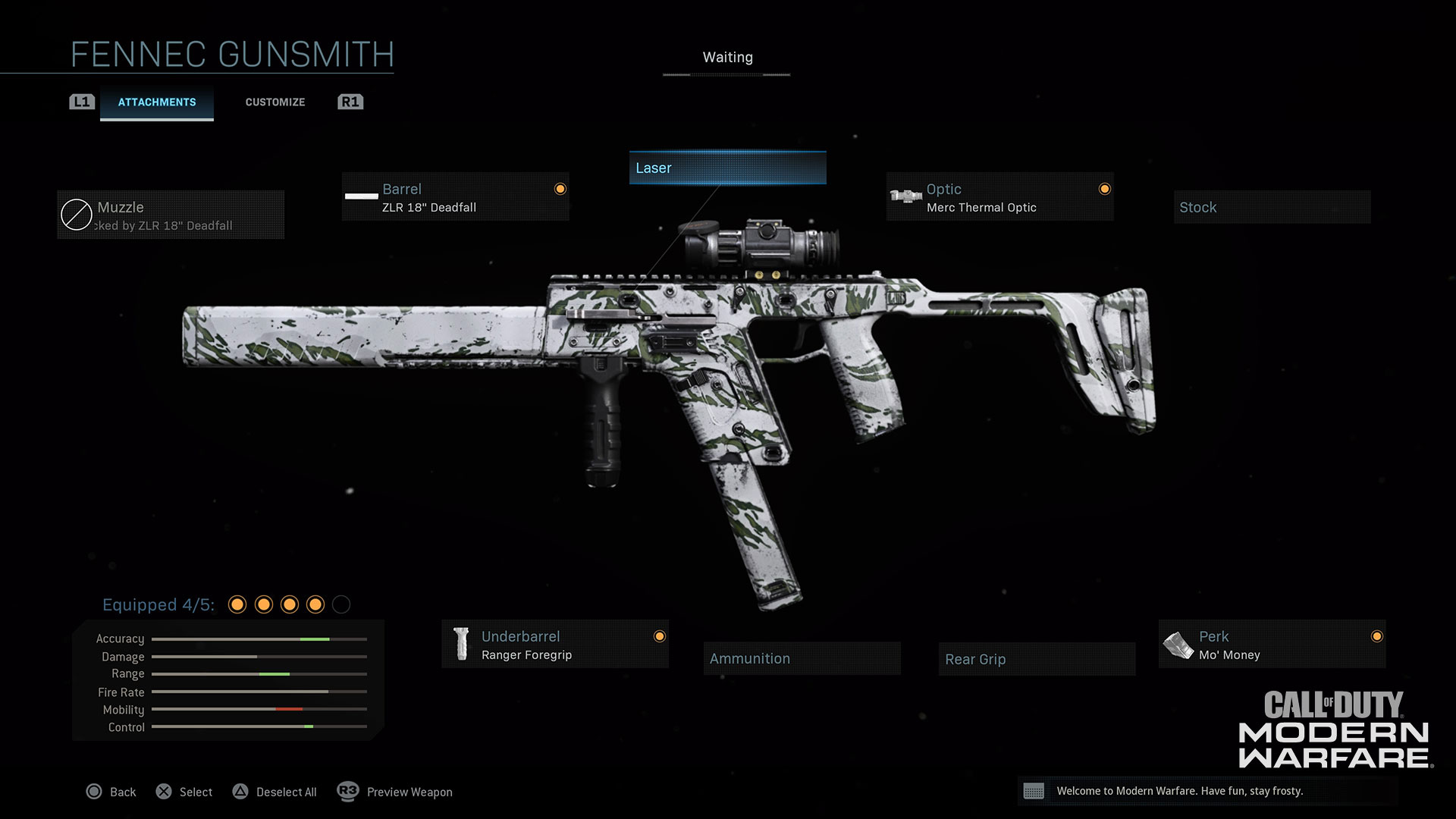 Primary: Fennec
ZLR 18" Deadfall Barrel, Ranger Foregrip, .45 Hollow Point 12-R Mags (NOT SHOWN), Merc Thermal Optic, Mo' Money
Secondary: Combat Knife
Perks: Cold-Blooded, Ghost, Tune Up
Equipment: Throwing Knife, Decoy Grenade
Looking for longshots? This may be a great build for chasing those while also adopting a stealthy playstyle.
The Deadfall Barrel is a 2-for-1 range extender and suppressor, the foregrip helps with recoil, the mag upgrade let's you deal more damage in fewer shots, the Thermal Optic provides a better sight picture down range and through smoke… And Mo' Money gives more XP for every headshot kill, which is what you'll want if you want to accelerate your progress to max rank in Season Four.
Once you hit max rank, feel free to swap this perk out with another one: Frangible – Disabling rounds to punish enemies further, Recon for nameplate visibility at longer ranges, or a stock or rear grip for better recoil control or stability.
Equip the Dead Silence Field Upgrade and earn it faster with Tune Up, and you got yourself a stealth perk trifecta along with Cold-Blooded and Ghost. Combined with a Throwing Knife (stealthy kills), Decoy Grenades (confusing enemies on your location), and a new Combat Knife, this loadout is the definition of what an Operator with ice in their veins will use when the chips are down.
These are only just a few ways to configure the Fennec in the Gunsmith. Have fun with it once you unlock it and keep levelling it up to see the near-infinite possibilities it provides for your loadouts.
We'll see you online. Stay frosty.
For more information and the latest intel on Warzone, visit www.callofduty.com and follow @CallofDuty on Twitter, Instagram, and Facebook. 
For more information and the latest intel on Call of Duty®: Modern Warfare®, check out: www.callofduty.com, www.youtube.com/callofduty and follow @InfinityWard and @CallofDuty on Twitter and Instagram and Facebook.
For more information on Activision games, follow @Activision on Twitter, Facebook, and Instagram.