Season Three is underway and the battle for Verdansk continues. In this second part of the Season Three 'Designed for Engagement' series, we're highlighting three more weapon blueprints to help you on your way to becoming a Warzone master. 
Read on for three suggested Warzone loadouts that feature weapon blueprints now available in the Season Three Battle Pass system.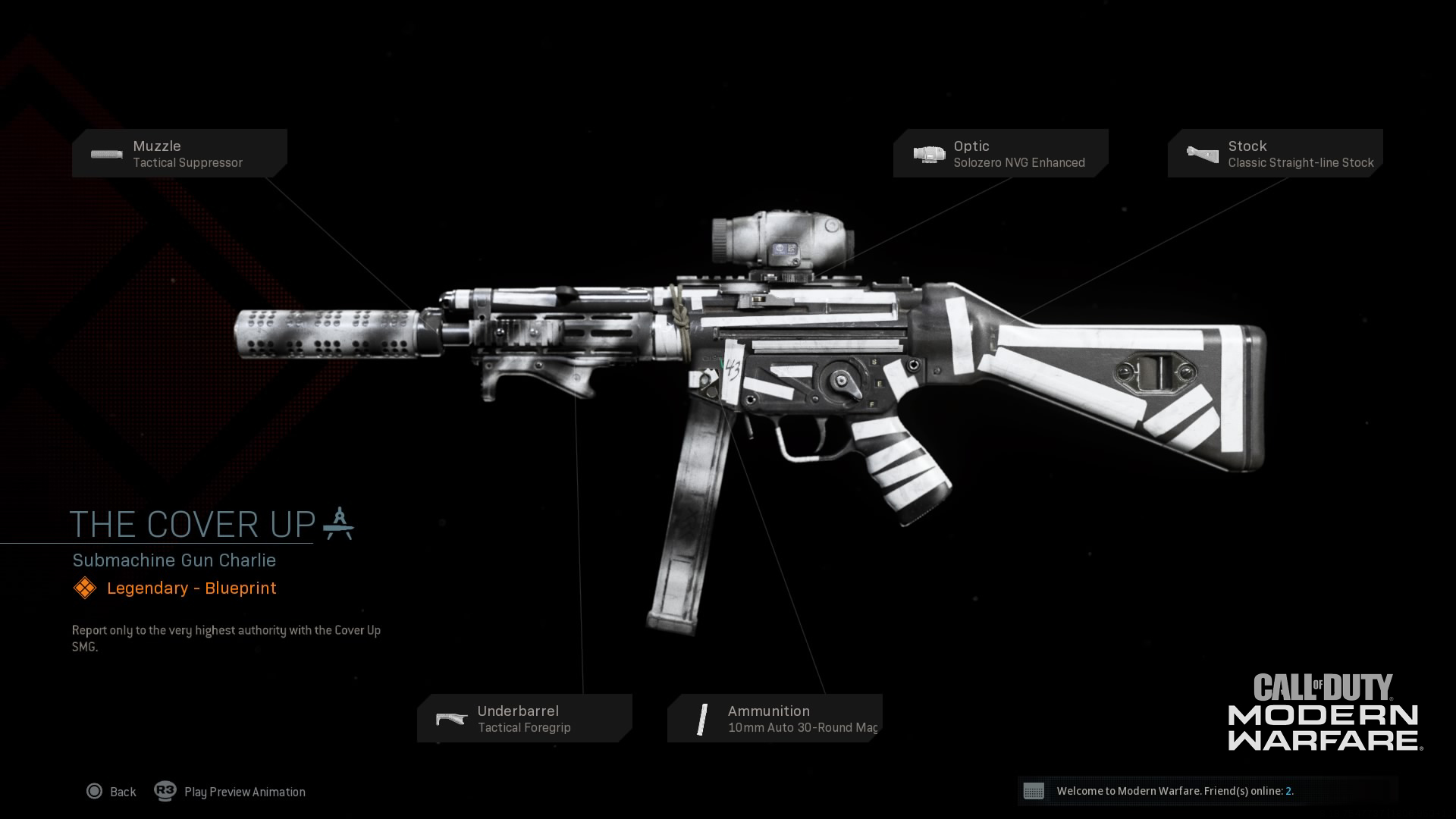 Plunder Huge Cash with The Cover Up
Primary Weapon: The Cover Up (Tier 38)
Secondary Weapon: Pistol
Perks: Double Time, Ghost, Tracker
Equipment: Stim, C4
Field Upgrade: Dead Silence (*Field Upgrades are only useable in Plunder)
Raid banks and get rich in Plunder using The Cover Up weapon blueprint. This blueprint comes equipped with 10mm rounds for improved damage and range — essential for those sudden fights on open ground — supported by a 3.25x magnification NVG enhanced sight for bright target acquisition against enemies not protected by Cold-Blooded. The Classic Straight-line Stock and Tactical Foregrip improve weapon stability to keep you on target, and the Tactical Suppressor helps maintain a low profile.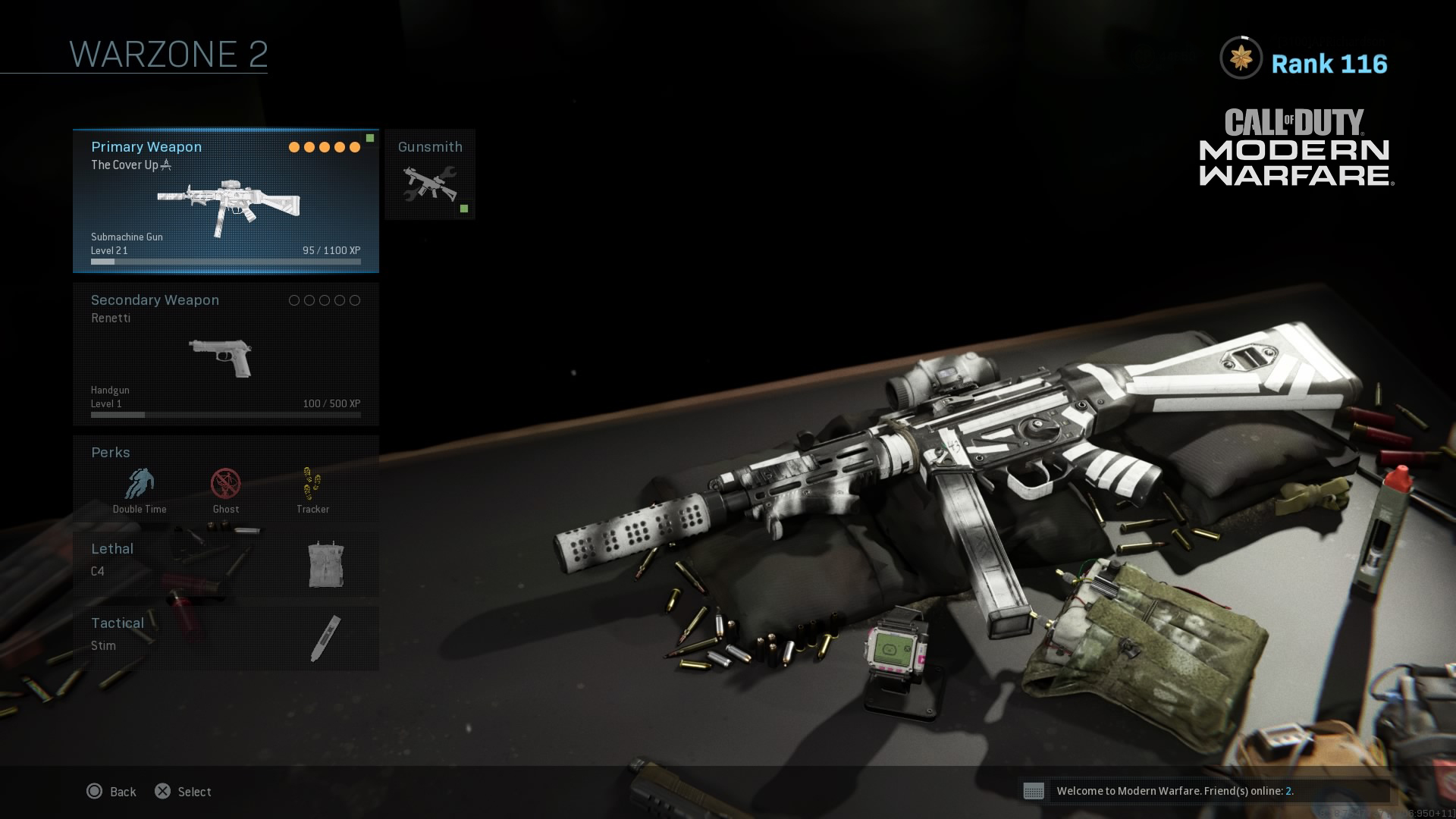 This class is highly mobile courtesy of the lightweight SMG and Double Time — break in, grab the Cash, empty the Supply Boxes, and get out. Ghost keeps you off the enemy radar, and Tracker helps you hunt down nearby enemies, an especially important perk when you run into an enemy team looting the same building. Pop Dead Silence when you're tracking someone to keep from giving up your position. Enemy on your trail? Set a trap with your C4 and heal up with Stim as needed.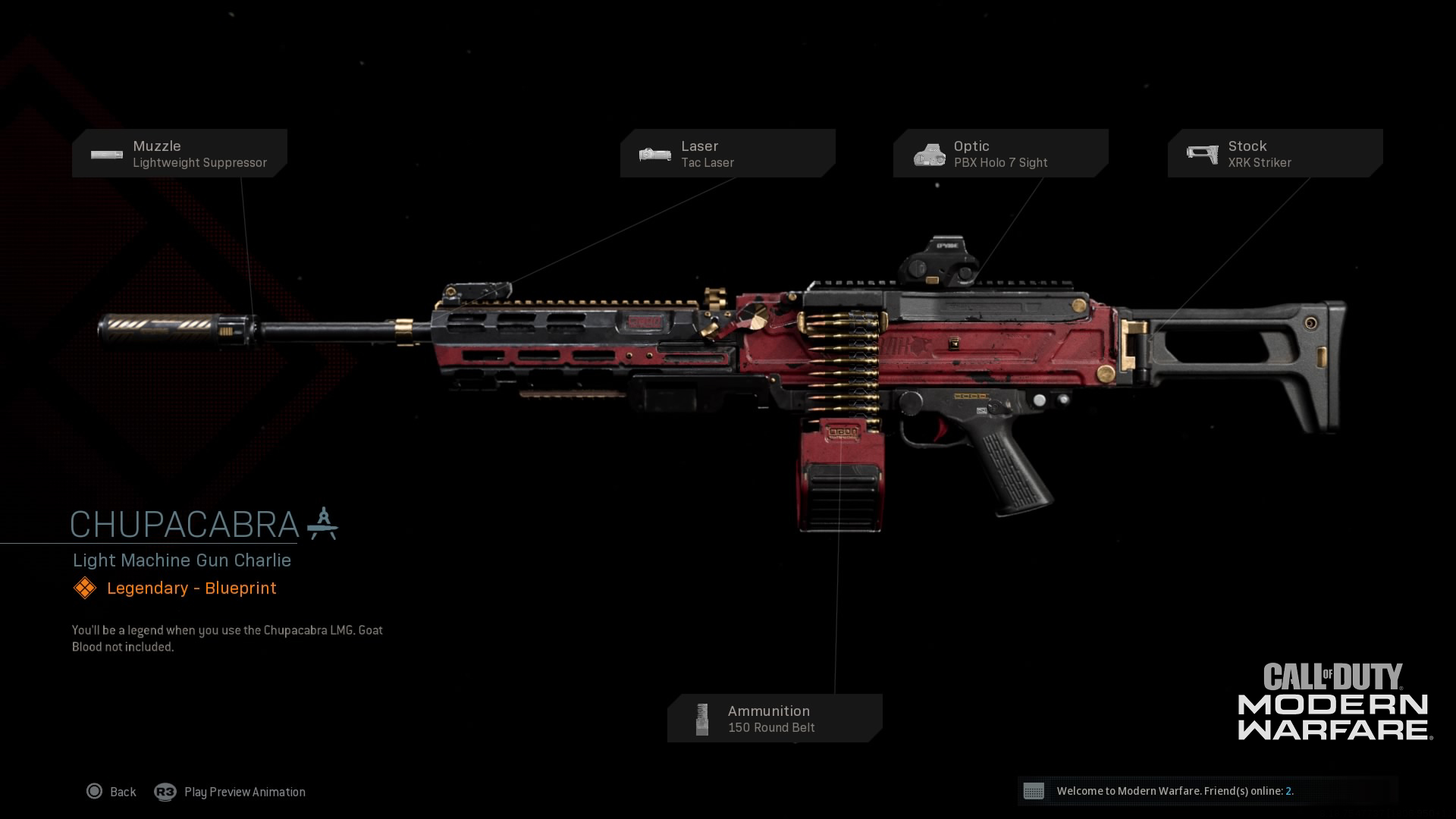 Support Your Team with the Chupacabra
Primary Weapon: Chupacabra (Tier 45)
Secondary Weapon: Pistol
Perks: Cold-Blooded, Restock, Tune Up
Equipment: Snapshot Grenade, Proximity Mine
This monster weapon blueprint is ideal for supporting your Battle Royale team in Trios and Quads. It handles well for an LMG, too, with the Tac Laser and XRK Striker improving ADS speed to help counter the weight brought on by the massive 150 Round Belt. The Chupacabra's versatile optic performs well in close-up building fights and out in the open, and the Lightweight Suppressor keeps enemies guessing where you are as you pummel them down. Take the lead on Bounty and Recon Contracts: the Chupacabra is perfect for hunting down targets and holding a position.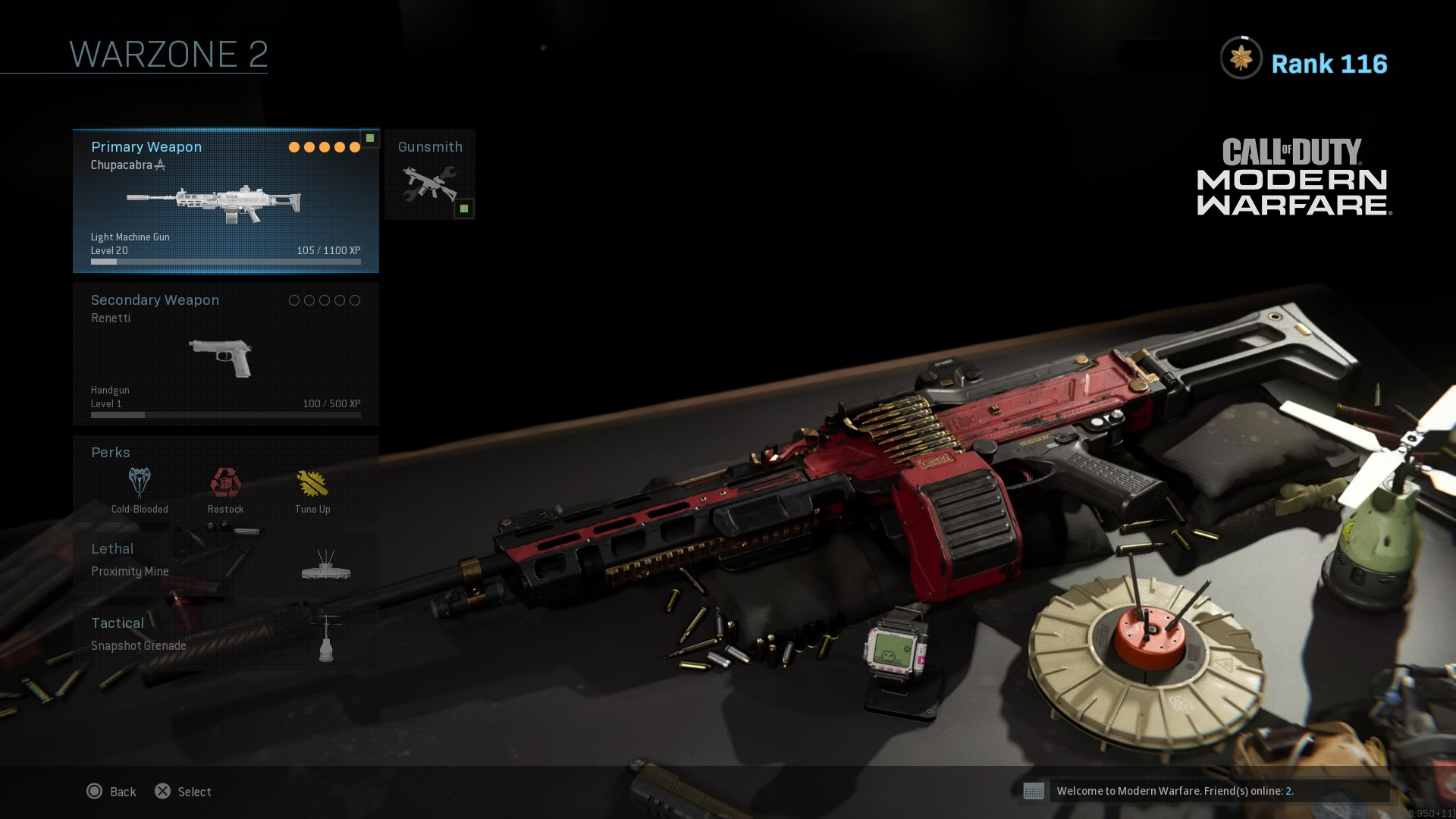 Equip Cold-Blooded for protection against thermal scopes and targeting systems and Restock for continued use of your equipment throughout the match. Further your support role with Tune Up to get fallen teammates back into the fight more quickly. Keep your pistol or swap it out with a lightweight weapon you can switch to for faster movement when changing position and escaping the collapsing circle.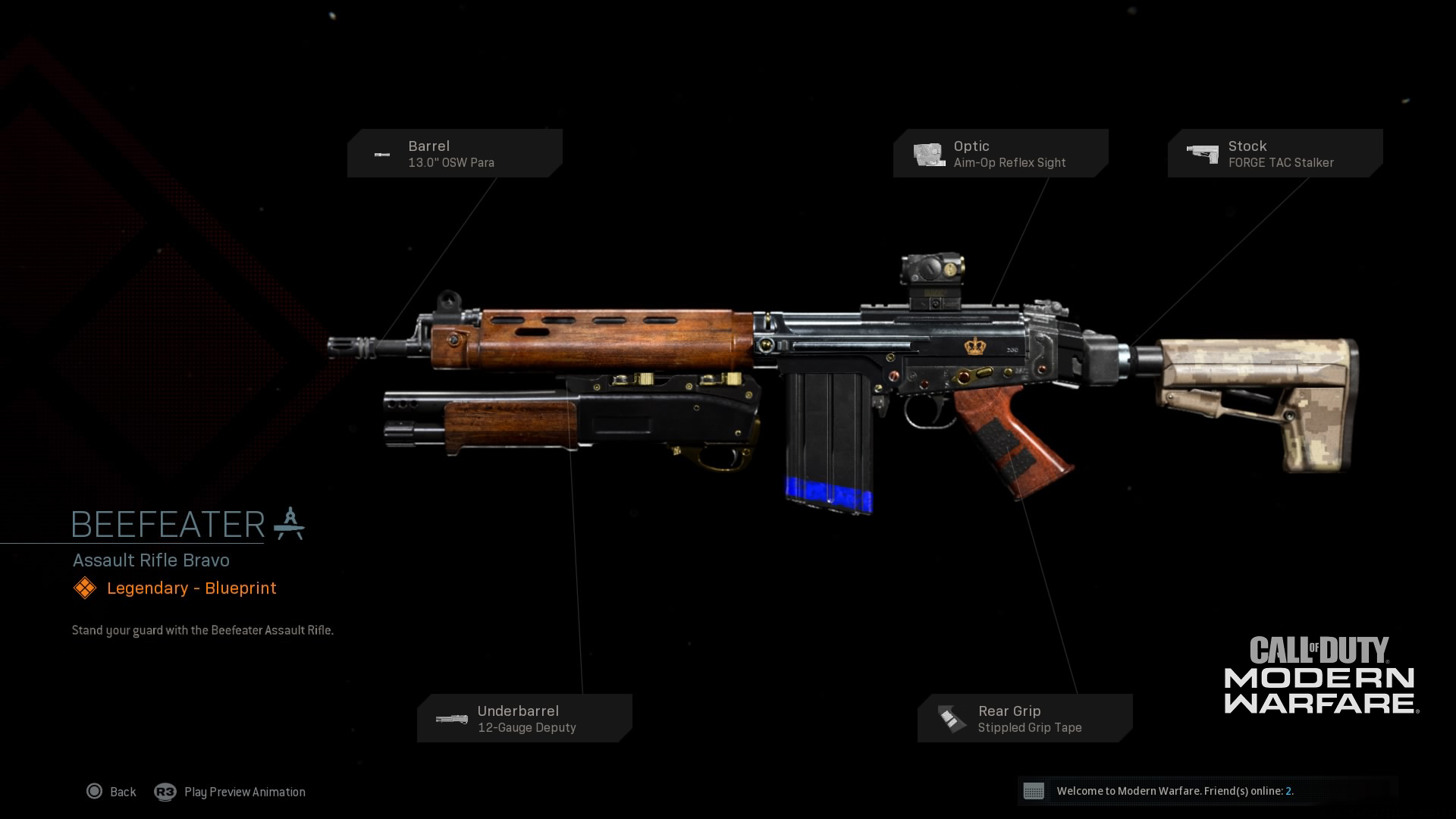 Go Solo with the Beefeater
Primary Weapon: Beefeater (Earn Free at Tier 55)
Secondary Weapon: Chuckwalla (Tier 59)
Perks: Kill Chain, Overkill, Battle Hardened
Equipment: Heartbeat Sensor, Thermite
When you're going Solo, you need a versatile weapon, and the Beefeater provides just that. This free Legendary weapon blueprint unlocks at Tier 55 and is built for speed and versatility. Snap onto enemies using the improved ADS speed provided by the Stippled Grip Tape and the 13.0" OSW Para, with an Aim-Op Reflex Sight for precision targeting. Switch to the 12-Gauge Deputy when things get hairy in close-quarters, especially useful when checking staircases or moving in confined places like Atlas Superstore and the Verdansk Hospital.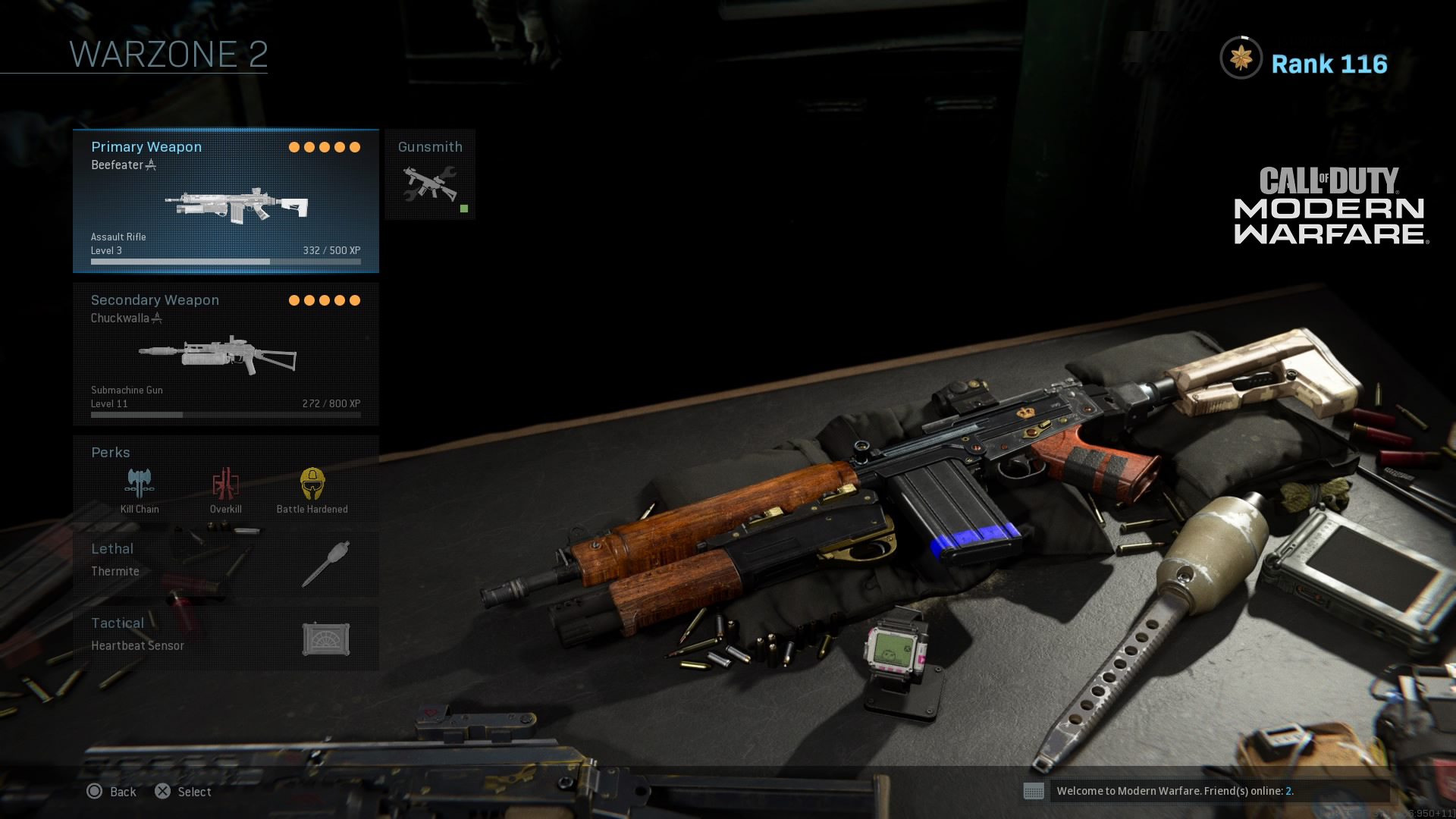 Try to buy your Loadout Drop early to get the most out of Kill Chain when opening Supply Boxes, not to mention access to a second primary weapons via Overkill: pull out the Chuckwalla when you need to hose down enemies in close quarters. Battle Hardened increases in usefulness as the circle collapses and players get squeezed together, preventing sustained disorientation from tactical grenades. Take a Thermite for anti-vehicle support and the Heartbeat Sensor for extra intel when the enemy starts closing in.
Blueprint Specific Tips for Warzone
1.     The Cover Up blueprint is a great example of an SMG kitted out for success in Warzone. Its thermal 3.25x sight and upgraded 10mm rounds extend its performance out to longer ranges while maintaining the movement and handling speed of a light weapon.
2.     Bait with the Chupacabra. Just because you have 150 rounds, it doesn't mean you need to fire them all at once. Sometimes it's best to hold your fire, make the enemy think that you're reloading, and then take them out when they come rushing toward you.
3.     Having fun with the Beefeater's shotgun attachment? Experiment with other underbarrel attachments like the M203 40mm Recon which fires Snapshot rounds for ranged intel, or set fire to your enemies with the M203 40mm Incendiary. 
4.     The Chupacabra's large ammo pool is great for shooting from and at a vehicle. Let a teammate drive so you can act as a sentry in the back; when enemies come driving after you, exit the vehicle near cover and fire away as they debate over which target to focus on.
5.     Experiment with different attachments. These Legendary blueprints come equipped with great five-attachment spreads, but there's nothing stopping you from swapping in different options to create the perfect personalized weapon. 
Purchase the Season Three Battle Pass and progress through the tiers to get these three Legendary weapon blueprints for your squad alongside other goods including Operator skins, vehicle skins, XP and Weapon XP Tokens, and instant access to the newest Operator — Alex. Preview all the goods of the Battle Pass by visiting the Battle Pass tab in-game. 
Want more information on Warzone? Read the Free Official Warzone Strategy Guide for over 250 tips, an interactive atlas of Verdansk, strategies on game modes, and more. 
We'll see you online.
For more information and the latest intel on Call of Duty®: Modern Warfare®, check out: www.callofduty.com, www.youtube.com/callofduty and follow @InfinityWard and @CallofDuty on Twitter and Instagram and Facebook.
For more information on Activision games, follow @Activision on Twitter, Facebook, and Instagram.