Verdansk is changing with more modes, twists in battles, and new weapons that have entered the fray since the launch of the Season. While the battle changes every drop, the goal remains the same – claim victory. Consider these three blueprints found in this Season's Battle Pass system to build distinct sniper loadouts that may help you control the battlefield.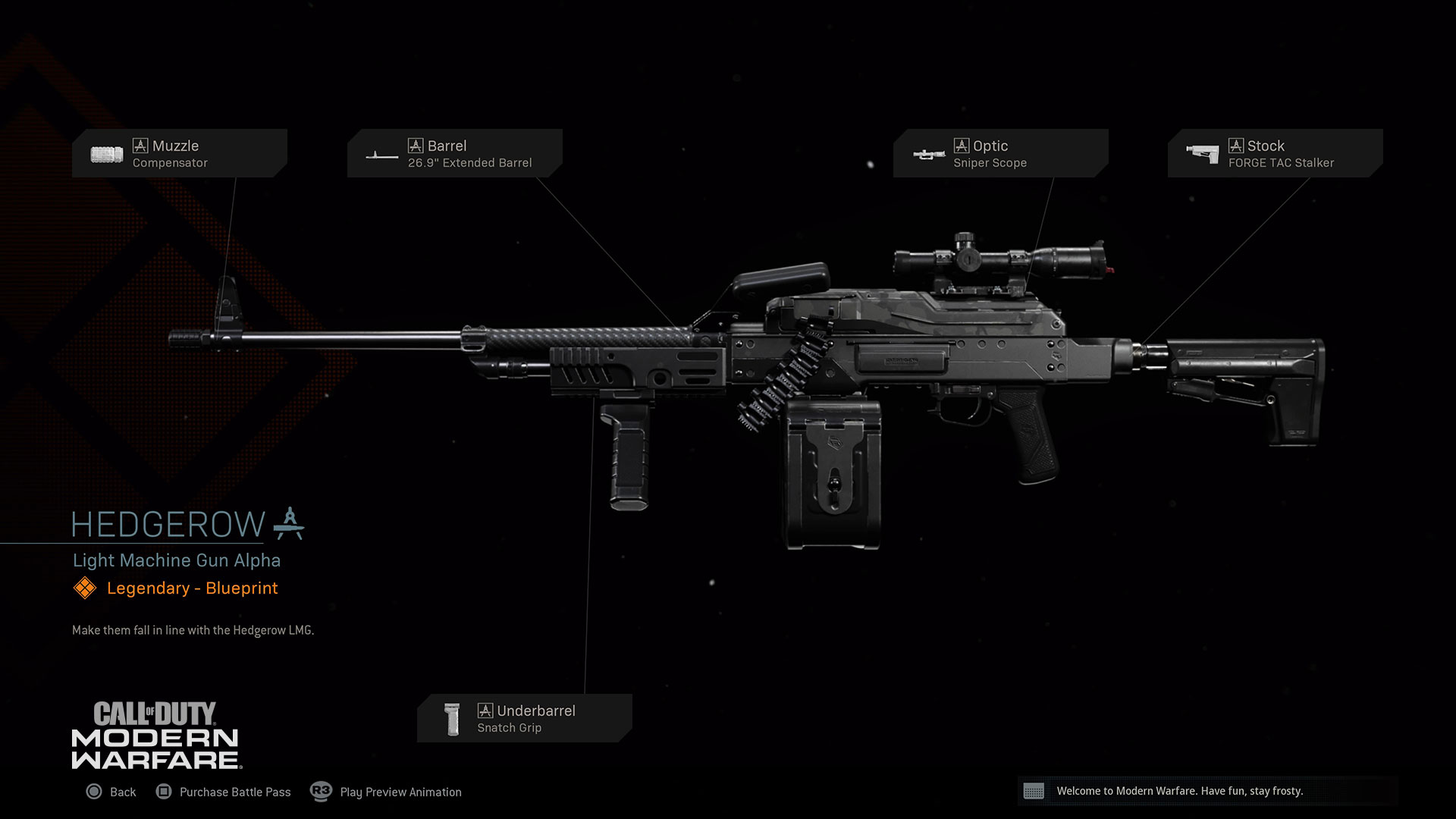 A Sniping LMG – The Hedgerow
Primary Weapon: The Hedgerow (Tier 71)
Secondary Weapon: Gavel (Free at Tier 55)
Perks: Kill Chain, Ghost, Spotter
Equipment: Stim, Proximity Mine
Field Upgrade: Armor Box (purchased at Buy Stations or found in-match)
The Hedgerow is a powerhouse of an LMG that is at its best when used similarly to a sniper rifle. Equipped with a Sniper Scope for top tier visibility, mount the weapon or lay down and survey the battlefield, then fire away. Tops of buildings in Quarry, Promenade, Dam, or Downtown are ideal area to position yourself and provide overwatch for your team. Quickly swap to the Gavel, a Legendary Blueprint of Handgun Echo, to dispose of enemies in close proximity.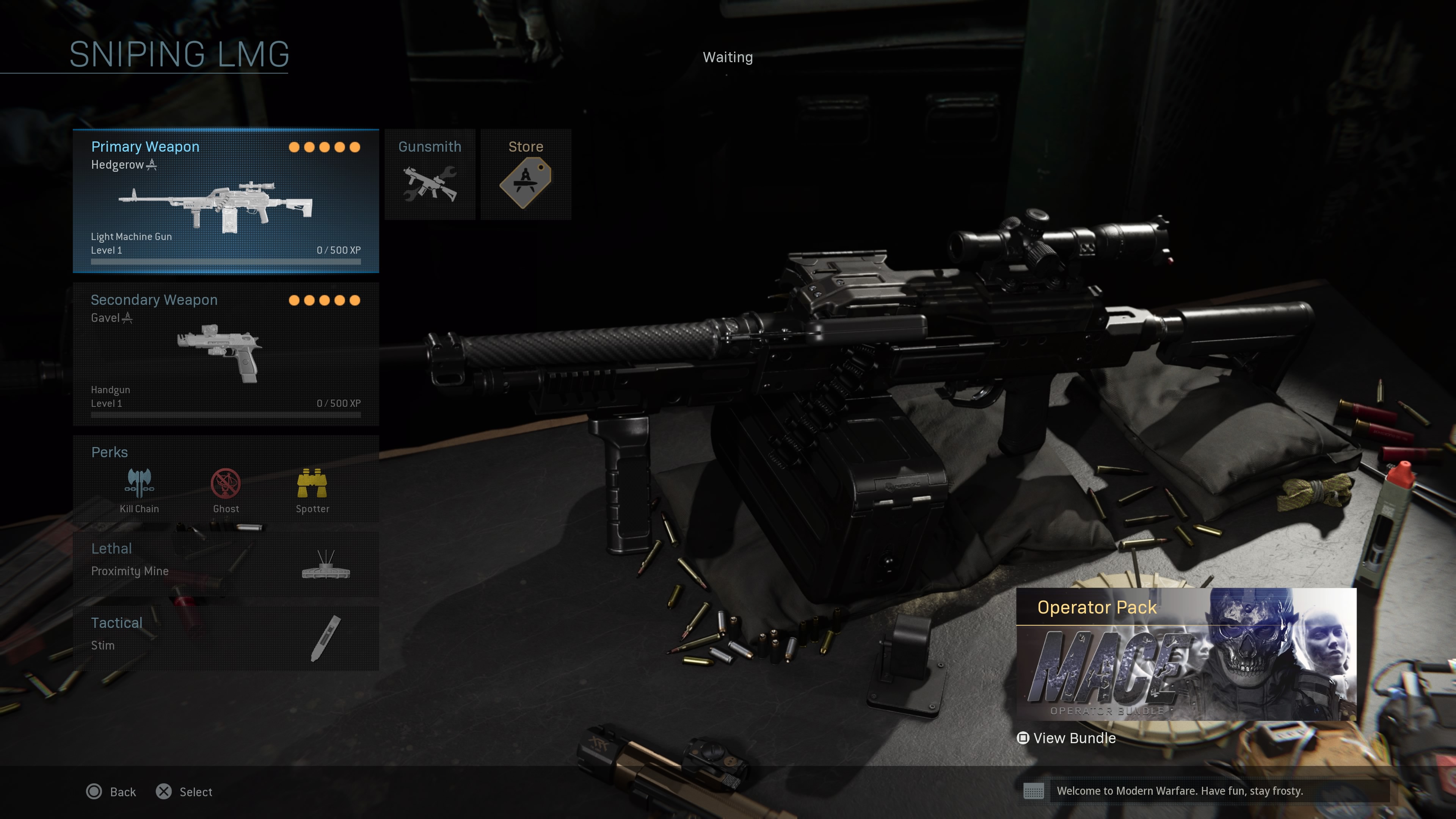 This loadout is rounded out with equipment to protect and enhance your LMG-sniper capabilities. Kill Chain will help increase your odds of finding Killstreaks in Supply Boxes, Ghost will keep you hidden from UAVs and Heartbeat Sensors, and the Spotter will keep your eyes open to helpful and harmful items in the field. Lastly stay healthy for engagements with the Stim and Armor Box and watch your own back courtesy of the Proximity Mine.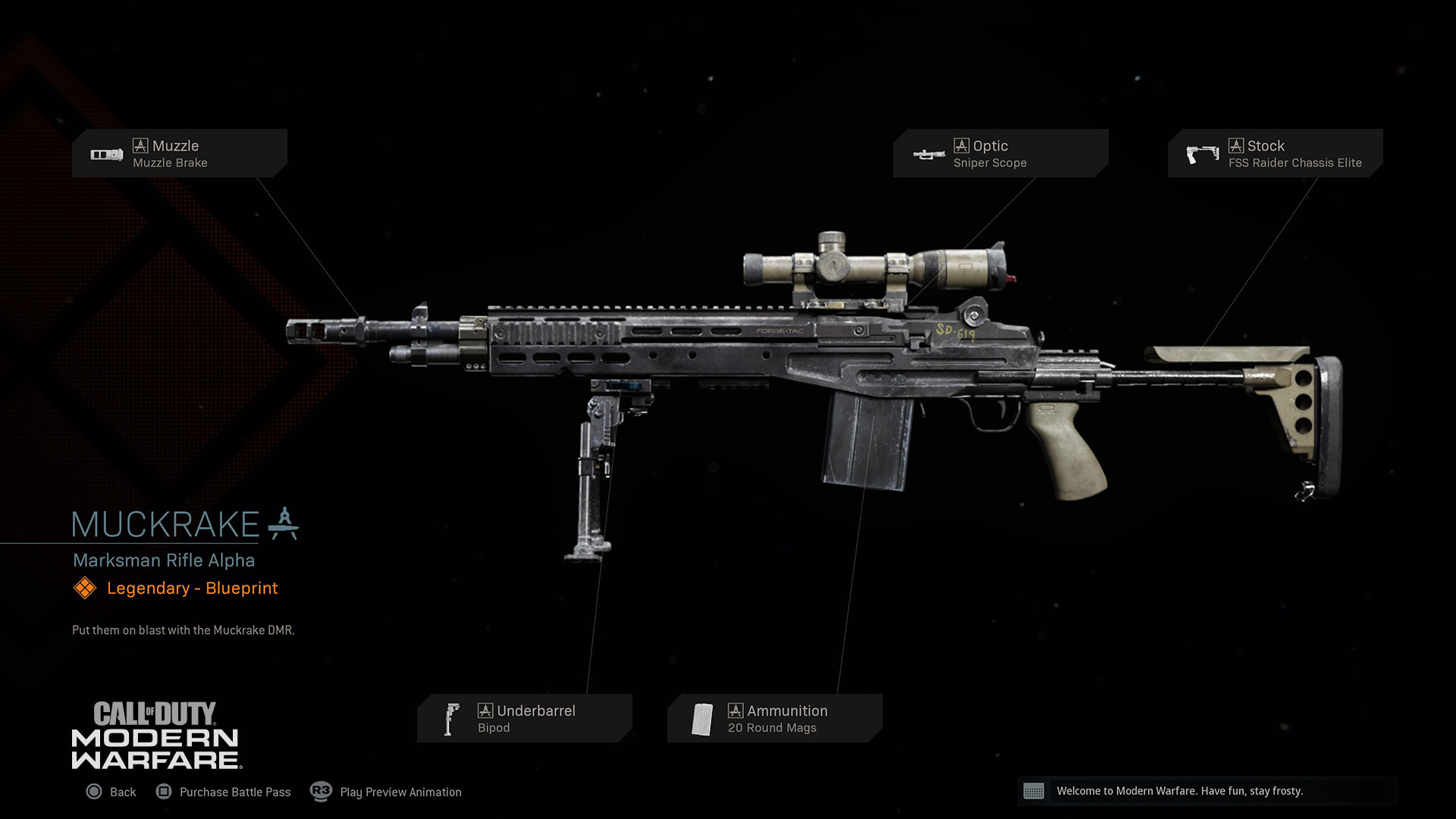 A Sniping Marksman Rifle – The Muckrake
Primary: The Muckrake (Tier 76)
Secondary: Underbrush (Tier 65) 
Perks: Double Time, Overkill, Tune Up
Equipment: Stun Grenade, Throwing Knife
Field Upgrade: Stopping Power Rounds (Useable in Plunder or found in-match)
A Legendary marksman rifle designed for high accuracy and stability thanks to the Bipod, the Muckrake is for players who want more ammunition down range. It's 20-round mag attachment gives you ample ammo to take down an entire squad, even if it requires multiple successive shots on target for each enemy combatant. The Underbrush Legendary SMG will give you the ability to handle closer enemies who don't require the distant sniper touch.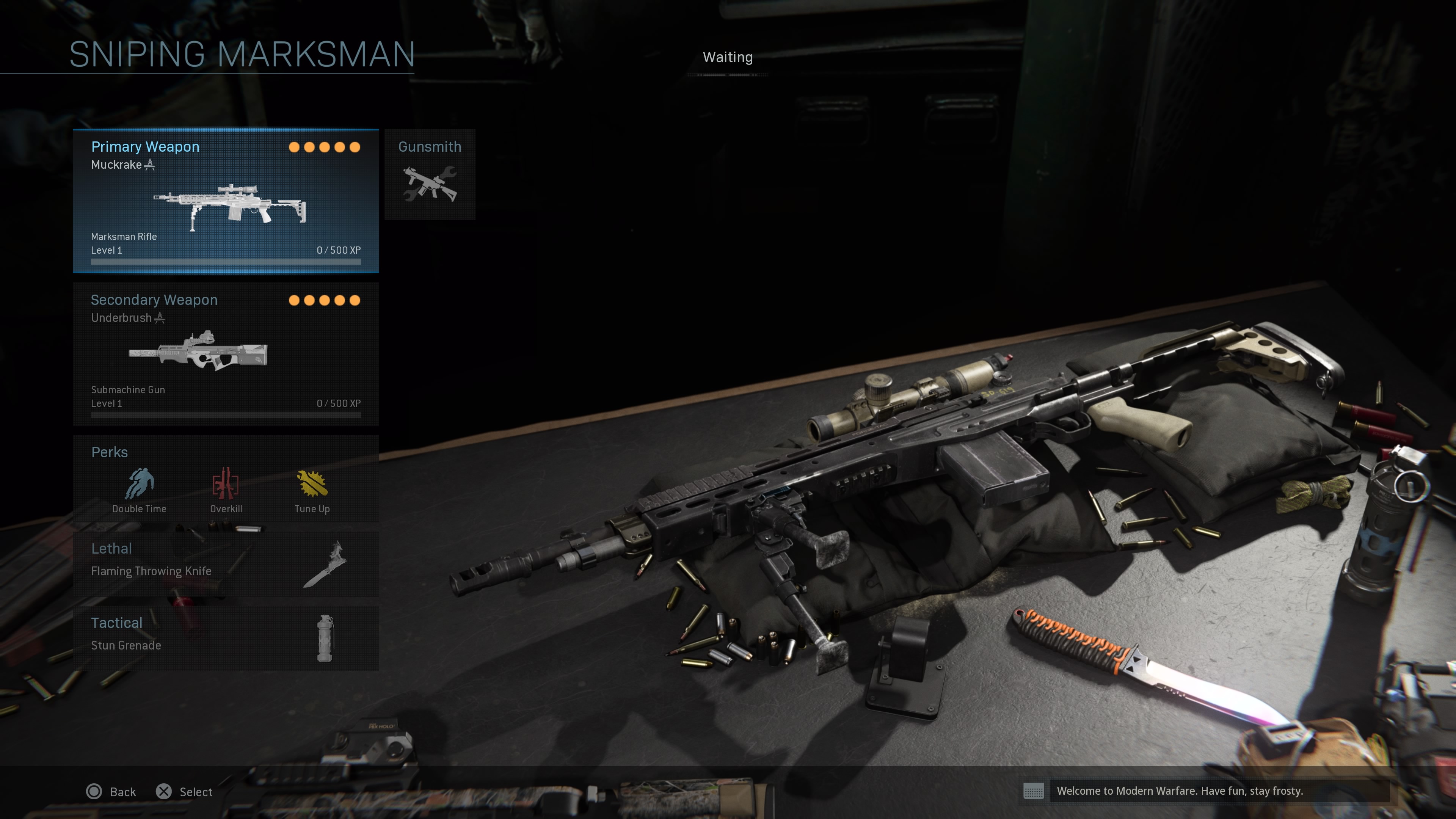 Move out of the encroaching gas with the help of Double Time and be the ultimate teammate with the fast revive help of Tune Up. The Stun Grenade will help slow enemies if you need to breach and clear buildings, and the Throwing Knife is ideal for a quick kill. Stopping Power Rounds will give you a damage boost to down enemies in fewer shots or give the accurate Underbrush deadly close quarters power.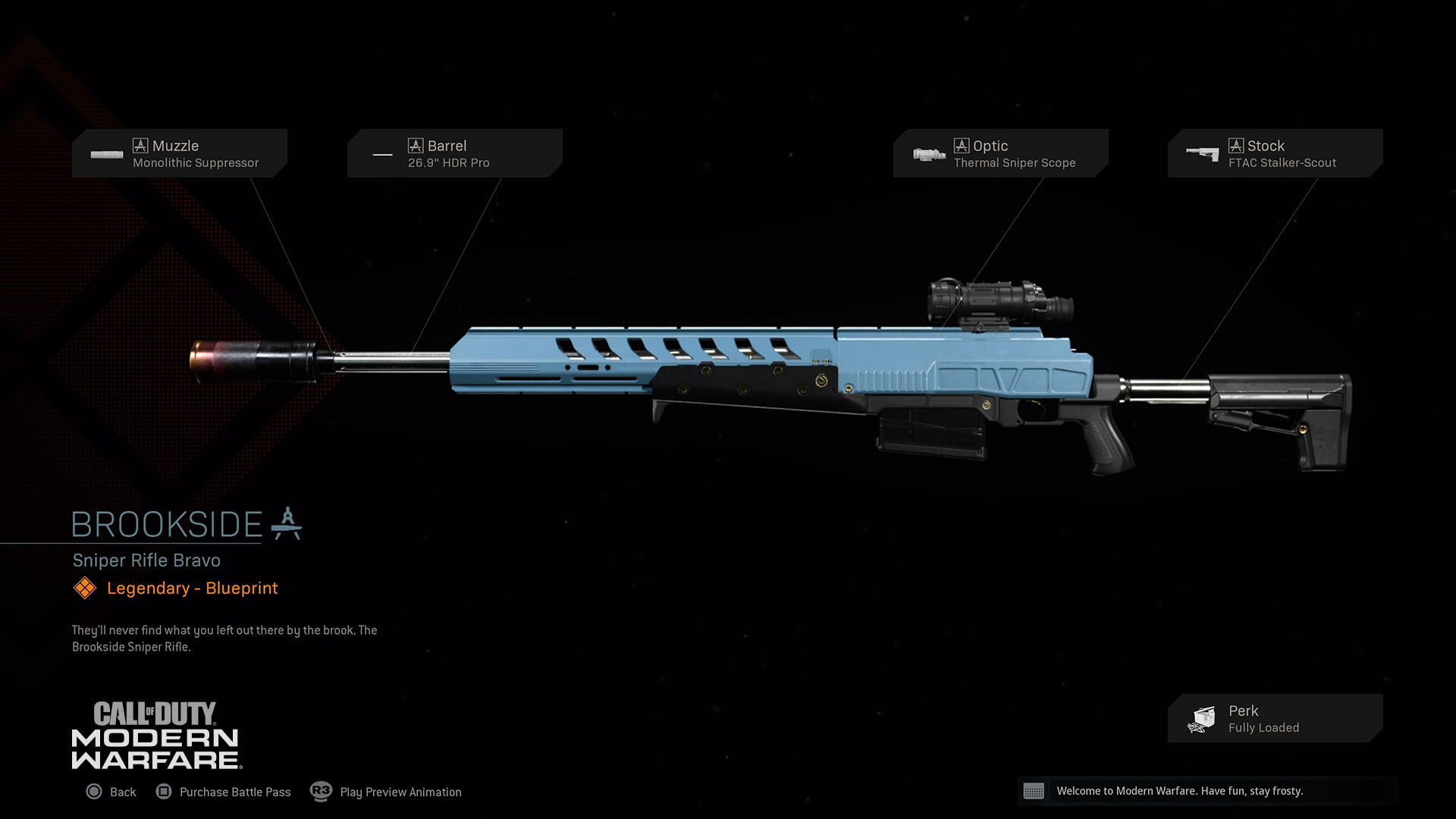 A Sniping Sniper - The Brookside
Primary: The Brookside (Free at Tier 81)
Secondary: Emissary (Tier 100)
Perks: Scavenger, Overkill, Shrapnel
Equipment: Heartbeat Sensor, C4
Field Upgrades: Recon Drone (Useable in Plunder or found in match)
The Brookside is elite (top tier) at what it does best – sniping. A Fully Loaded mag and a barrel that further extends its range, the Brookside makes a case to take up a permanent spot in your loadout. Exemplary at stationary, precise, deadly shots on target, the only thing that slows down your assault is its brief rechamber period. The Brookside is a one-shot kill (no armor) to the head, chest, shoulders, and body, and it can also eliminate armor (at closer ranges) with a single bullet.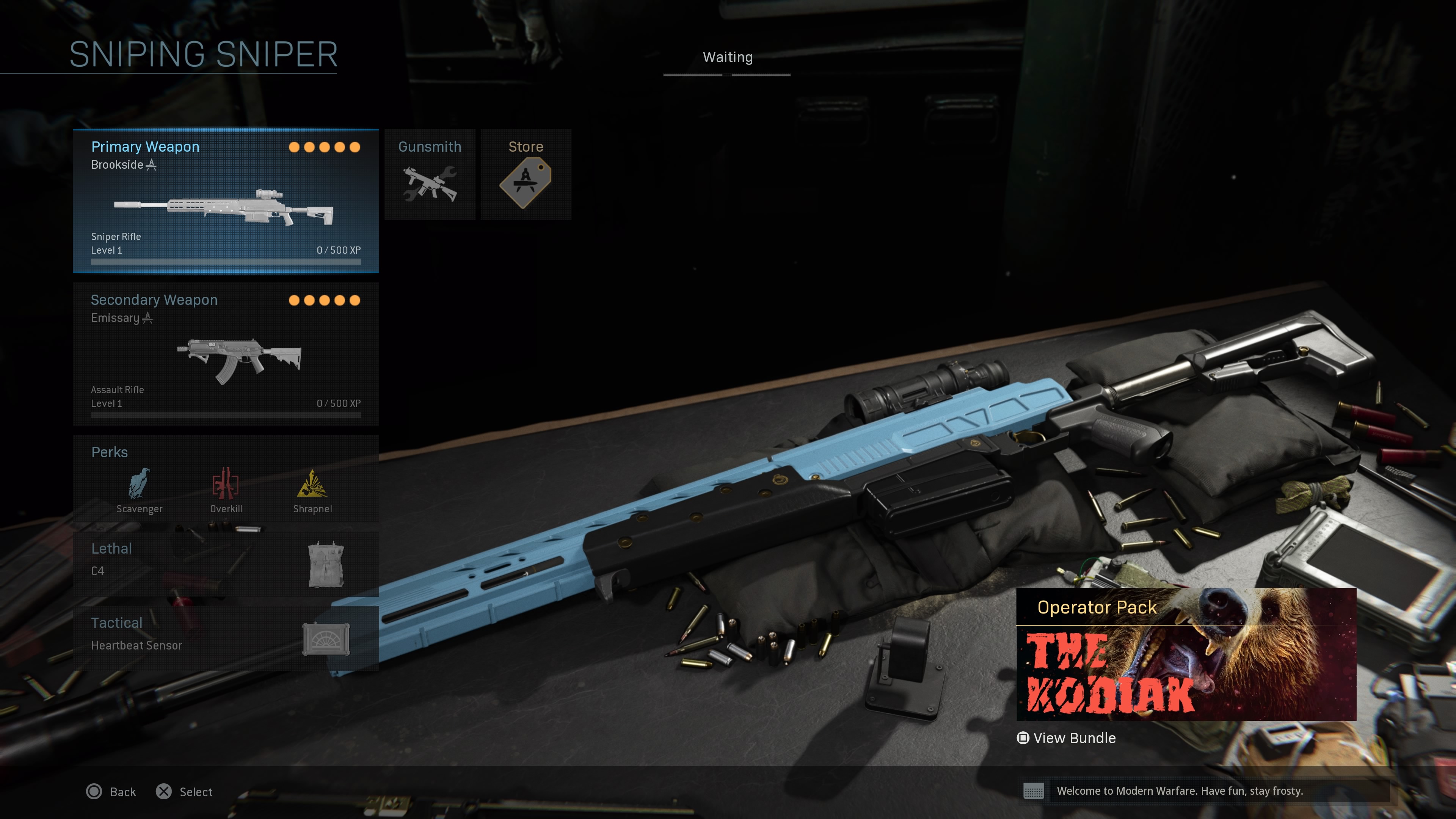 While long-range eliminations are the Brookside's bread and butter, it's not configured for quickscoping although it can still be done. Overkill brings the Emissary's versatility accuracy and reliability. The blueprint can easily handle threats at short to medium distances. Stay stocked in the field with Scavenger and get a double dose of C4 to handle vehicles or approaching enemies. The Recon Drone will help you determine which weapon to use at enemies and where to position the Brookside for lethal target practice. 
Blueprint Specific Tips for Warzone
1. The Brookside and the Emissary combo is one-two punch loadout. While the Brookside is a ranged beast, don't overlook the secondary in this loadout as it is completely devastating in its own right. 
2. If you go with the Hedgerow, maximize its high damage capabilities by using it at all ranges. Just know if you need a quicker ADS, especially for follow-up shots, the Gavel should be the go-to. 
3. The Sniper Scope attachment will reveal your position via scope glint. Use the Recon Drone, UAV (if you have one), or teammates callouts before ADSing to get the drop on unsuspecting enemies. 
4. Every wanted to snipe a target out of the sky? The Brookside is an ideal for configuration to catch parachuting foes. Remember to lead your target before firing and enjoy the special feeling of taking out an enemy before they hit the ground. 
5. While stationary sniper configured weapons aren't always the most agile, you may need to quickly re-position if spotted. If you claim the high ground, you can deploy your parachute to float to safety. From there, regroup and mount on cover to take down any pursuers. 
Purchase the Season Four Battle Pass to gain access to unlock all of the system's 100 Tiers, and progress through them to earn these weapon blueprints for your squad alongside other goods, including Operator skins, vehicle skins, XP and Weapon XP Tokens, and instant access to the newest Operator — Price. Preview all the goods of the Battle Pass by visiting the Battle Pass tab in-game. 
Want more information on Warzone? Read the Free Official Warzone Strategy Guide for over 250 tips, an interactive atlas of Verdansk, strategies on game modes, and more. 
We'll see you online. Stay frosty.
Test out these new blueprints in your loadouts to snipe with your heart's content. 
We'll see you online. 
Stay Frosty.
For more information and the latest intel on Warzone, visit www.callofduty.com/warzone and follow @CallofDuty on Twitter, Instagram, and Facebook. 
For more information and the latest intel on Call of Duty®: Modern Warfare®, check out: www.callofduty.com, www.youtube.com/callofduty and follow @InfinityWard and @CallofDuty on Twitter and Instagram and Facebook.
© 2019-2020 Activision Publishing, Inc. ACTIVISION, CALL OF DUTY, MODERN WARFARE, WARZONE, and CALL OF DUTY WARZONE are trademarks of Activision Publishing, Inc.
For more information on Activision games, follow @Activision on Twitter, Facebook, and Instagram.