Operation: Rank Up Report #0041
Day 287 – 03:17:04 PST
Somewhere in California
AGB – Lead Writer
Season Five's inaugural weekend seriously supercharged my ranking up, so much so that I'm well past the first 50 Officer Ranks already.
How did I do that in such little time? 
Well friends, I'm prepared to share one secret technique of the Rank Up Report, so let's get to ranking up:
Operator of the Week
The Shadow Company trio is officially complete.
Velikan is the featured Operator for the week, as he just dropped into the Store a few days back within his featured bundle. You can read all about it in this breakdown.
He's holding our Gunsmith Custom Creation of the Week, but before we detail that micro-monster Shotgun, here's a secret technique to ranking up: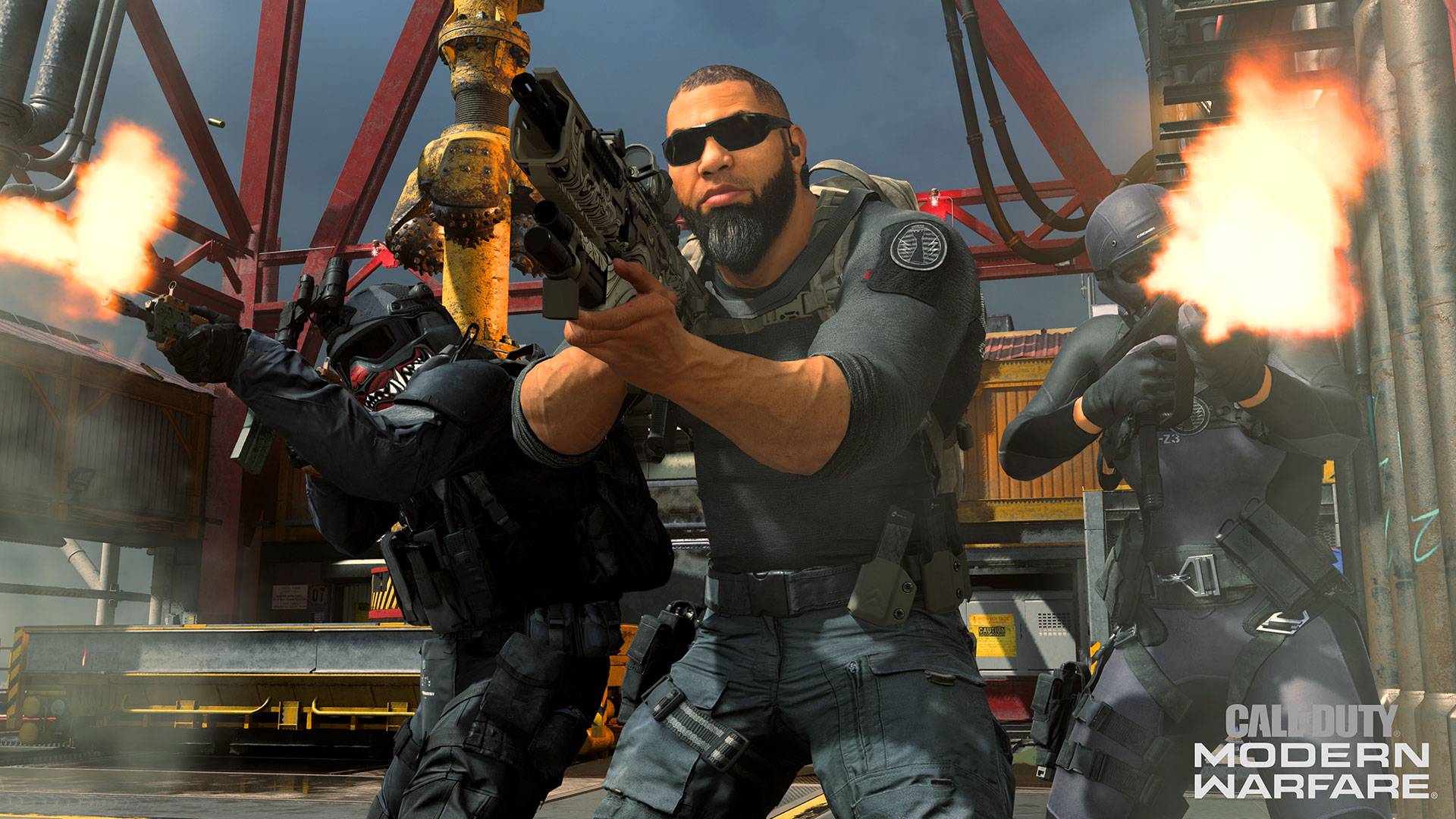 Top Rank Up Tip – The (Totally Obvious and Not Secret) Loadout Building Officer Rank Challenge Completion Technique
Friends, I want you to get that badass skull-centric animated emblem ASAP. Why? Because it's badass.
Therefore, I'm finally revealing my "speed run" strategy – a four-step, totally (not) secret process – for Officer Challenge completion in detail. 
Especially in early ranks, this strategy can cause your rank to skyrocket when done withinMultiplayer, or more frenetic Warzone™ modes like Warzone Mini Royale or Plunder particularly when paired with Double XP boosts.
This is one of many secrets of the Rank Up Report:
Step 1. Check Your Officer Progression Screen
As you gain Officer Ranks, new challenges will open. 
Make notes – mental or physical – on their criteria and current progress. Do this as you go, or be spoiled on future Officer Progression challenges through friends or community members.
Step 2. Combine Challenges Via Loadouts Before Dropping In
This is the most important step.
You have ten Loadouts. Personally, I divide them up so that one is open for Challenge completion, including Operator Missions, Daily Challenges and, the subject of this article, Officer Challenges.
Change it frequently after games – or even during games, with the pause menu loadout editor – as you complete challenges.
Step 3. Jump in and Play
This is all on you: have fun using the loadout you built in-game, complete your Challenges, and adjust according to progress.
Step 4. Bring in XP Rewards
With proper performance of this strategy, you would progress through MULTIPLE challenges at once. Combined with Double XP weekends or tokens, this is how I rank up quickly in Modern Warfare and Warzone. No joke.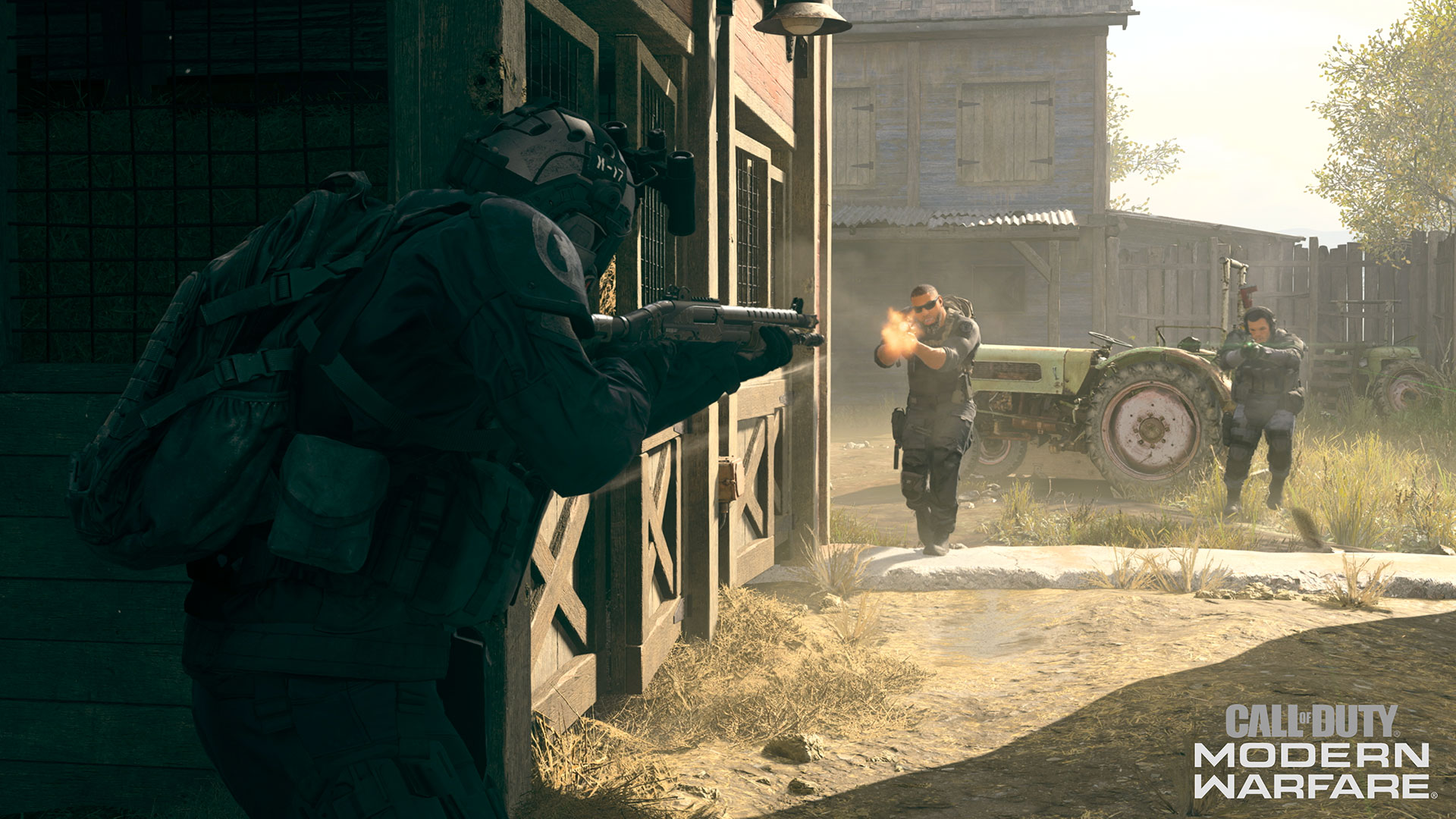 Step 2 in Practice
Here's an example of how I stack challenges, starting with weapons, then attachment limits, then any additional loadout ones, including Field Upgrades and Killstreaks:
1. Weapon-Related Challenges – Pick Your Weapon
Launcher Kills – Get 15 Kills using Rocket Launchers – Rank 57 (1,500 XP)
·      Launcher Popcorn – Get 7 Multi Kills using Rocket Launchers – Rank 103 (9,000 XP)
·      Secondary Weapon Kills – Get 75 Kills using your Secondary Weapon – Rank 98 (6,000 XP). Additional challenge since Launcher = Secondary.
Shotgun Kills – Get 275 Kills using Shotguns – Rank 67 (15,000 XP)
·      Shotgun Headshots – Get 25 Headshot Kills using Shotguns – Rank 97 (9,000 XP)
·      One Shot – Get 40 One-Shot kills – (12,000 XP). Additional challenge since a Shotgun can pull off One-Shots.
2. Attachment-Related Challenge – Customize Your Weapon (Shotgun)
High Five – Get 125 Kills with weapons with 5 attachments – Rank 106 (9,000 XP)
3. "Additional Loadout Ones" – Complete the loadout
Ghost – Get 300 Kills while equipped with the Ghost perk – Rank 58 (15,000 XP)
UAV – Call in the UAV Killstreak 40 times – Rank 61 (15,000 XP)
Dead Silence – Activate the Dead Silence Field Upgrade 25 times – Rank 95 (6,000 XP)
Flash Grenade – Blind 5 Enemies using a Flash Grenade – Rank 105 (1,500 XP)
The Final Product
Remember, this is JUST a single stacking example, as there are numerous objectives to stack, including Operator Missions, regular Missions, and Daily and Weekly Challenges. And as I complete individual challenges, I change this loadout to fit other ones. 
Gunsmith Custom Creation
The Shadow Company does not play by "typical rules of engagement," as we've all seen at the beginning of Season Five.
When I'm going for challenge completion, I don't either… Or at least, I go against "popular" loadout choices.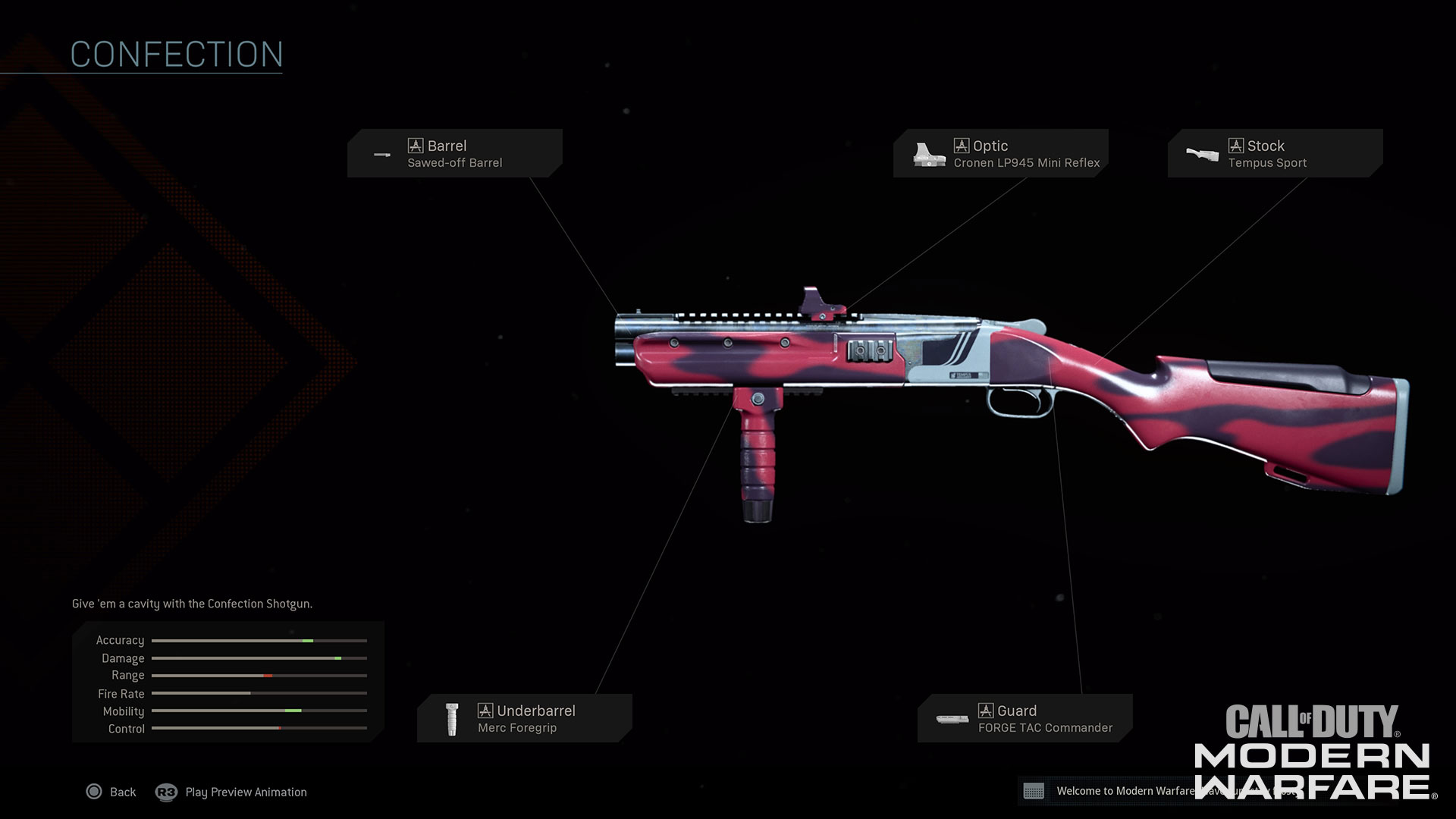 Enter the Confection blueprint from the recently added 'Weekend Chillin' bundle. 
Looks sweet, right? Well, this double-barreled shotgun dishes out two bitter pills for unlucky enemies. Because of that, I'm calling my Gunsmith Custom Creation for the week "Bittersweet."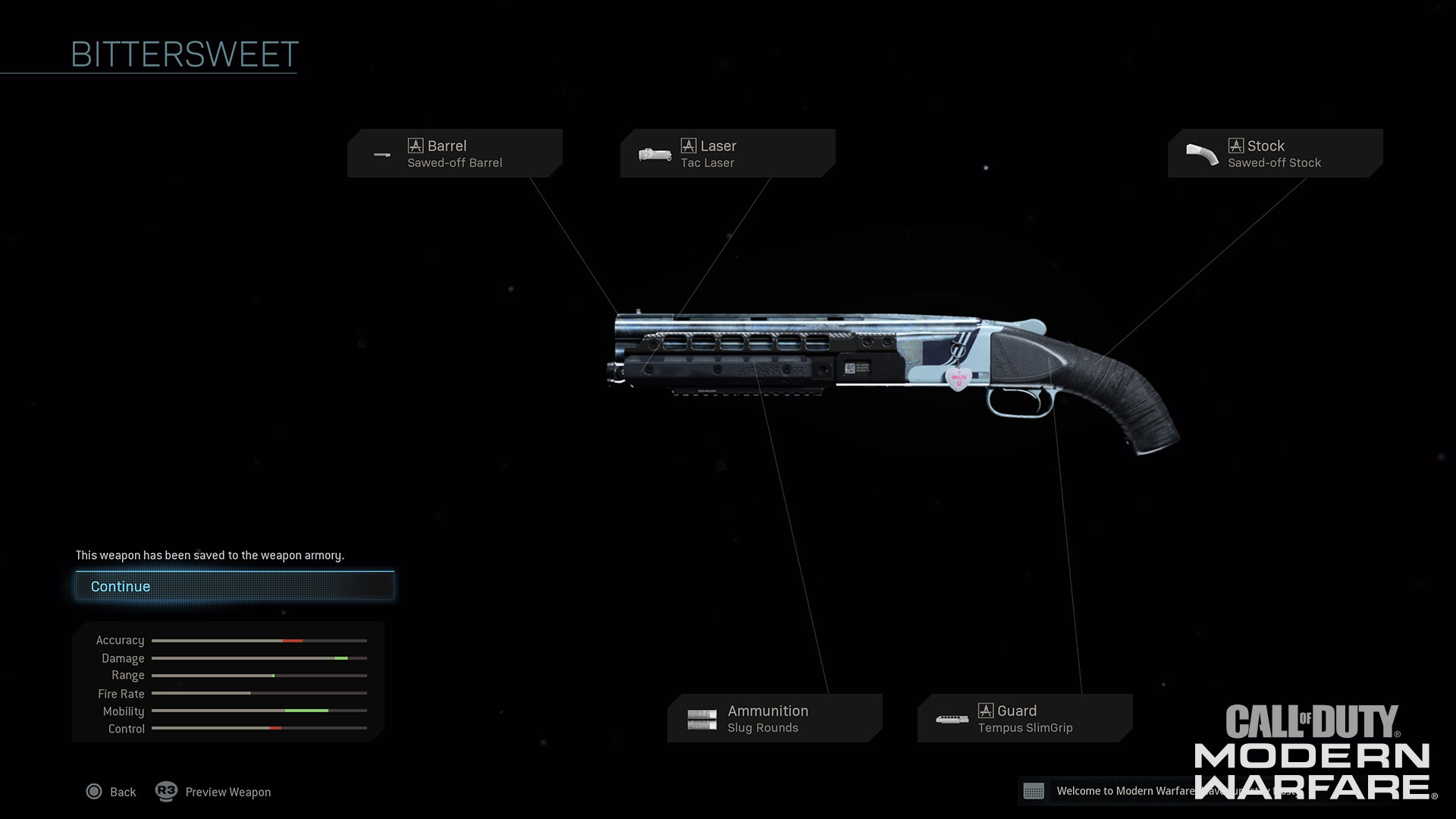 I kept the blueprint's Sawed-Off Stock. The Sawed-Off Stock and Tempus SlimGrip appearance is from the CQBoom blueprint (Season Two "Close Quarters" bundle). The Tac Laser (not visible in image) can also be found on the Muskeg blueprint (Earned by completing the "Proactive Assault" Multiplayer Mission Set). The Slug Round's cosmetic appearance doesn't matter.
I choose most of my attachments to maximize movement and sprint to fire speed and included some surprises. 
 Slug Rounds takes buckshot round (standard ammo) spread out of the equation. At the cost of removing the "safety net" for accuracy, it provides the ability "snipe" with a shotgun across dozens of meters, a range that buckshot ammo can't do so consistently.
When using Slug Rounds, aiming down sight (ADS) with your shotgun maximizes its accuracy. In summary, this blueprint is a two-shot wonder that gives both incredible mobility and one-shot kill potential to an Operator who can handle it.
In fact, I built this weapon for the Officer Challenge-stacking loadout, and now it's part of my standard primary weapon rotation. Although it's great, be sure to switch to a secondary if you don't have time to reload, or you may be caught without a means of defense. 
Some may call this blueprint dirty, but I call it maximizing rank up potential. Go out and rank up, no matter what it takes, and I'll see you online.
Stay frosty.
For more information and the latest intel on Warzone, visit www.callofduty.com and follow @CallofDuty on Twitter, Instagram, and Facebook. 
For more information and the latest intel on Call of Duty®: Modern Warfare®, check out: www.callofduty.com, www.youtube.com/callofduty and follow @InfinityWard and @CallofDuty on Twitter and Instagram and Facebook.
For more information on Activision games, follow @Activision on Twitter, Facebook, and Instagram.