Snipers rejoice! Part of the huge Season Four Reloaded update, the Rytec AMR sniper rifle is a powerful new addition to the sniper rifle weapon class, available for all players to unlock through completing an in-game weapon challenge.
What makes this new sniper rifle so powerful? Glad you asked. Here's the in-game description:
"This semi-automatic Anti-Material Rifle is chambered in .50 BMG for dominant long range assaults. A 25x59mm high-explosive payload variant is officially listed as 'experimental', but has been deployed on multiple classified missions with great effectiveness."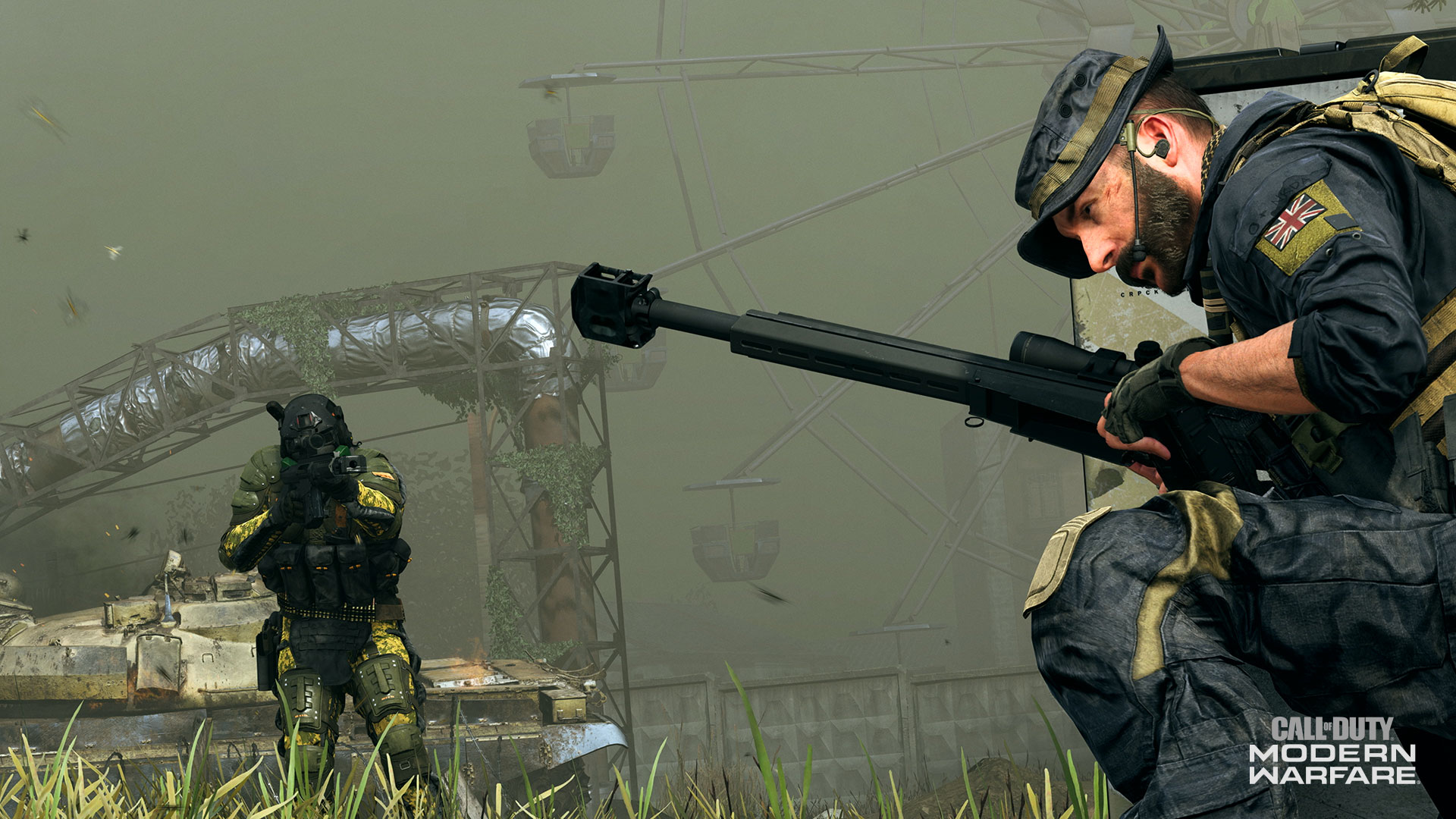 Rytec AMR Overview
After fulfilling the Rytec AMR unlock criteria, it's time to get familiar with your new weapon.
This .50 caliber-chambered rifle inflicts one shot kills on hits to the head, chest, and torso. This high lethality is balanced with a 5-round magazine and a slow reload, so make your shots count. Its recoil kicks up and slightly to the right, and it doesn't re-center after the kick, meaning you'll need to manually pull it back down after each shot. Get used to the handling, and the power more than makes up for it.
The included picatinny rail allows for all kinds of customization options, but the ammunition conversion kits are especially interesting. Equipping the explosive or thermite rounds results in a lower ammo reserve as well as decreased bullet velocity, recoil control, and fire rate.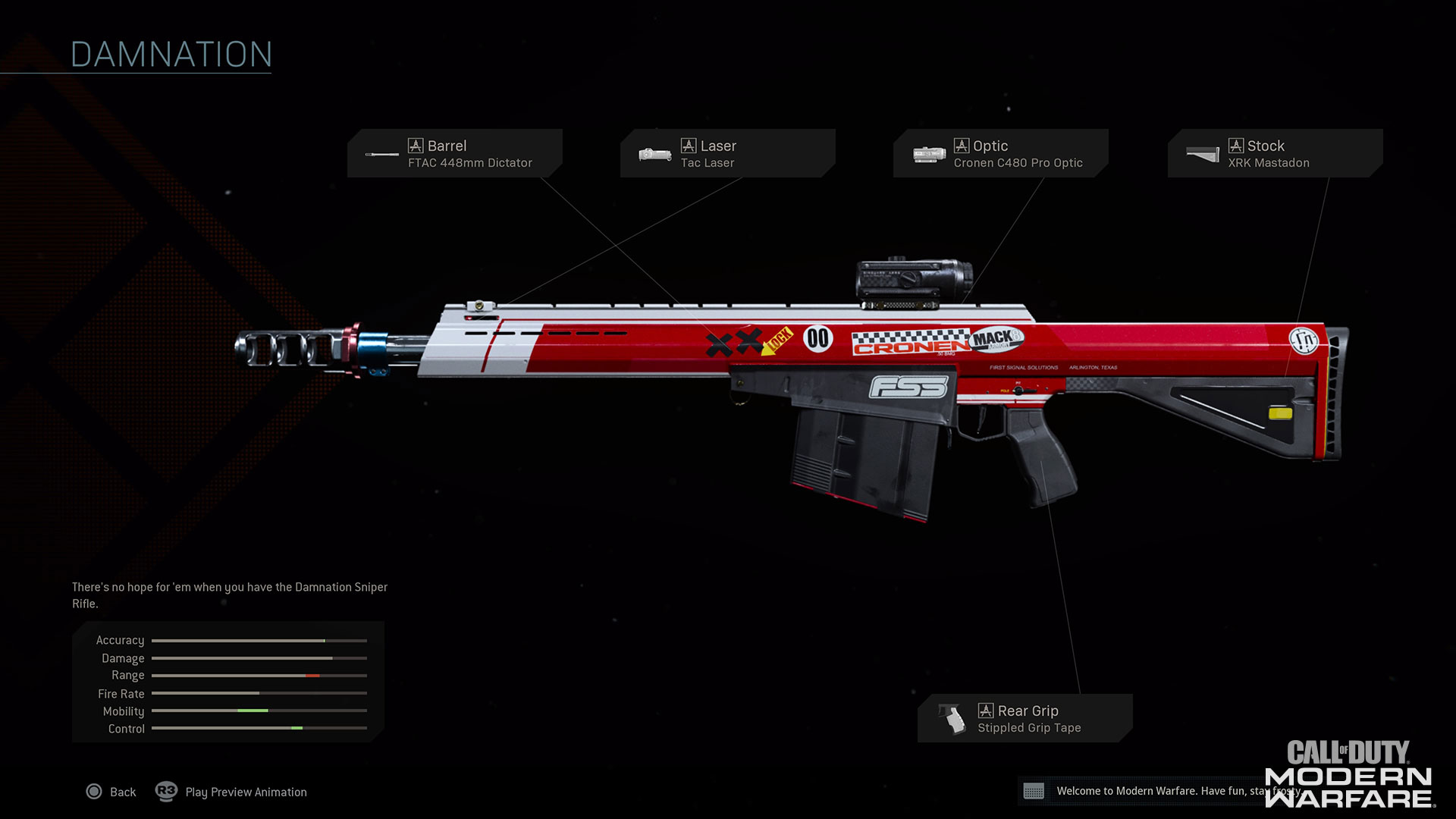 Blueprint Review and Loadout
Damnation
Now available in the Store, the 'Lost Souls' bundle includes the red and white Damnation weapon blueprint. The Damnation utilizes several improved ADS speed attachments along with a mid-range optic for a sniper rifle that competes well in mid- and long-range engagements.
The FTAC 448mm Dictator barrel, Tac Laser, Stippled Grip Tape, and the lightweight 3.5x magnification Cronen C80 Pro Optic all work to improve the Damnation's ADS speed along with other mobility-enhancing benefits. To keep your crosshairs on target, the final XRK Mastadon attachment maintains aiming stability. This results in a snappier rifle that won't feel burdensome when the enemy closes in.
Here's a suggested loadout for the Damnation weapon blueprint that can be used in Warzone or Multiplayer:
Primary: The Damnation Blueprint
Secondary: CR-56 AMAX (Available at Tier 31 in the Season Four Battle Pass system)
Perks: Quick Fix, Overkill, Battle Hardened
Equipment: Frag Grenade, Snapshot Grenade
This versatile loadout gives you the option to punch down enemies fast using the Damnation, or to trade some power for mobility by switching to the new CR-56 AMAX assault rifle.
Quick Fix heals you up between engagements, especially important after taking damage while acquiring your target with the Damnation, and Battle Hardened keeps you focused when the enemy gets close and starts tossing in tactical grenades. Tag them with your Snapshot Grenade and then shoot down the identified targets or blast them with your frag.
A good strategy in Warzone and Multiplayer is to take out one or two enemies with the Damnation and then switch weapons once your position is known and you need the faster handling speed. Of course, if your Warzone squad has your back, fire away— your high damage output will clear the area in no time.
Two Warzone Loadout Suggestions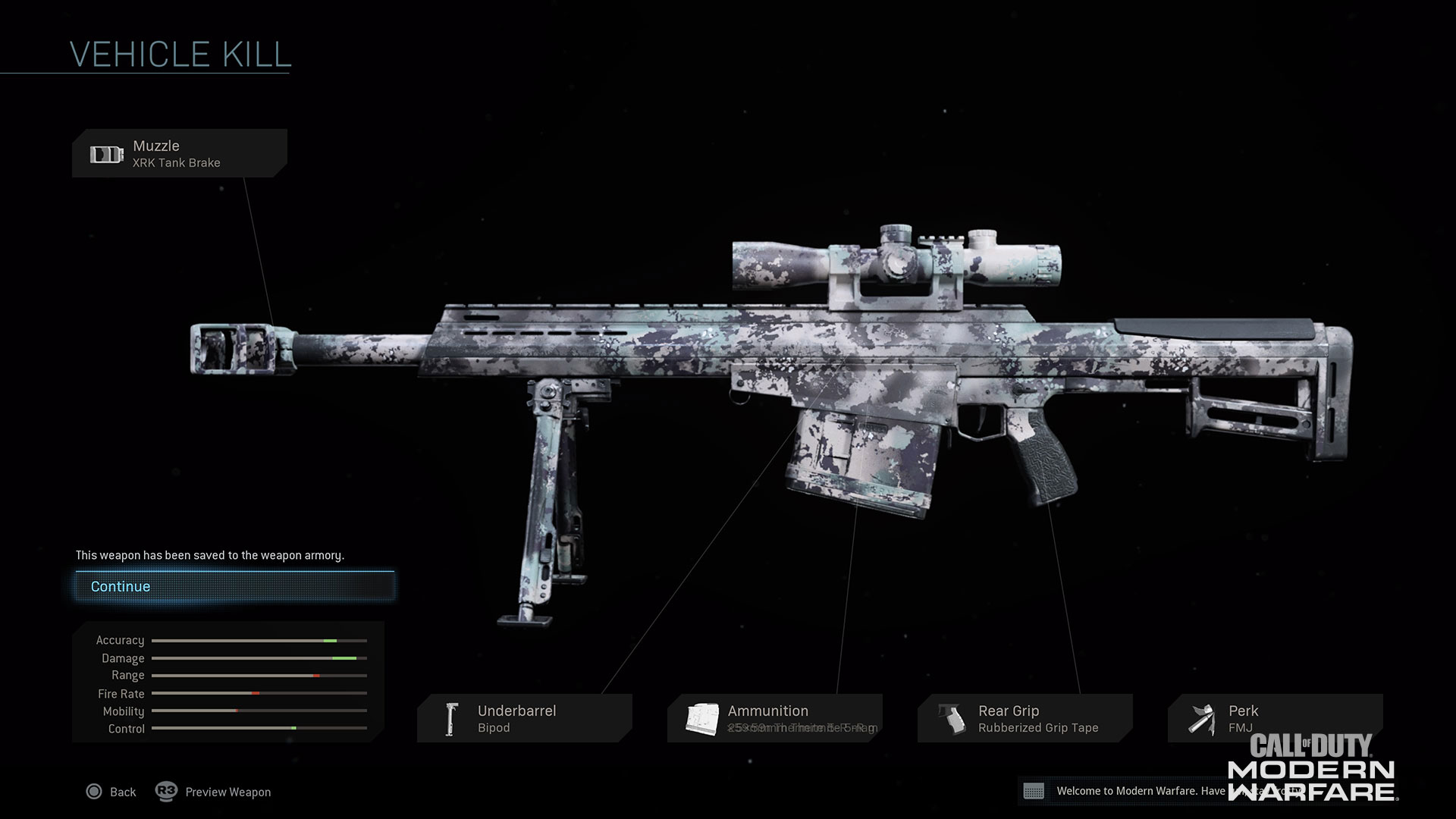 1. Vehicle Killer
Primary: Rytec AMR
XRK Tank Brake, Bipod, 25x59mm Thermite 5-R mag, Rubberized Grip Tape, FMJ
Secondary: Renetti
Perks: Double Time, High Alert, Amped
Equipment: Thermite, Gas Grenade
Drivers beware. This loadout takes the Rytec AMR's anti-material description to the extreme. Thermite rounds and FMJ combine to devastate vehicles and the enemy soldiers inside them, so that you come to welcome instead of fear those foolhardy drivers who try to turn you into roadkill. The XRK Tank Brake, Bipod, and Rubberized Grip Tape all improve recoil control to keep you from losing sight of moving targets. Your ADS speed and aiming stability take a slight hit, so set up in advance and hold your breath when lining up your shots.
High Alert will warn you of enemies on your flank, while Double Time gives you the speed to get in position and respond. Pair Amped with the Renetti for a rapid weapon switch in close-quarters or replace the pistol with something else you've found in the field, whichever you prefer. Take a Thermite in case you need to finish off a vehicle that's come too close to scope in on and toss a Gas Grenade to disorient enemies who jump from their ride.
2. This Will Be Painful
Primary: Rytec AMR
Rytec AMR Suppressor, FTAC Seven Straight, Thermal Sniper Scope, Granulated Grip Tape, Fully Loaded 
Secondary: RPG-7
Perks: Cold-Blooded, Ghost, Spotter
Equipment: Claymore, Smoke Grenade
Distance and power. There are no illusions when using this loadout — you are the sharpshooter. The Rytec AMR Suppressor provides added range and sound suppression, with further range plus velocity enhancements via the FTAC Seven Straight. Use Granulated Grip Tape for additional aiming stability and enjoy more total shots using Fully Loaded. The Thermal Sniper Scope highlights enemies for easier tracking, as well as allowing you to see through your Smoke Grenades provided the enemy isn't using Cold-Blooded.
Make sure you're the one who fires first by making it harder for enemies to detect you using Cold-Blooded and Ghost, and easier for you to detect them through Spotter. Cover your back with a Claymore and use the Smoke Grenade when you need to hightail it out of there. If anyone tries coming at you with a vehicle, switch to the RPG-7 and show them the error of their ways.
This loadout excels in areas where height and distance come into play, such as Downtown Tavorsk District and the Karst River Quarry. It's also great for completing Bounty Contracts from a distance, so you don't have to go completely off course in pursuing your target.
Two Multiplayer Loadout Suggestions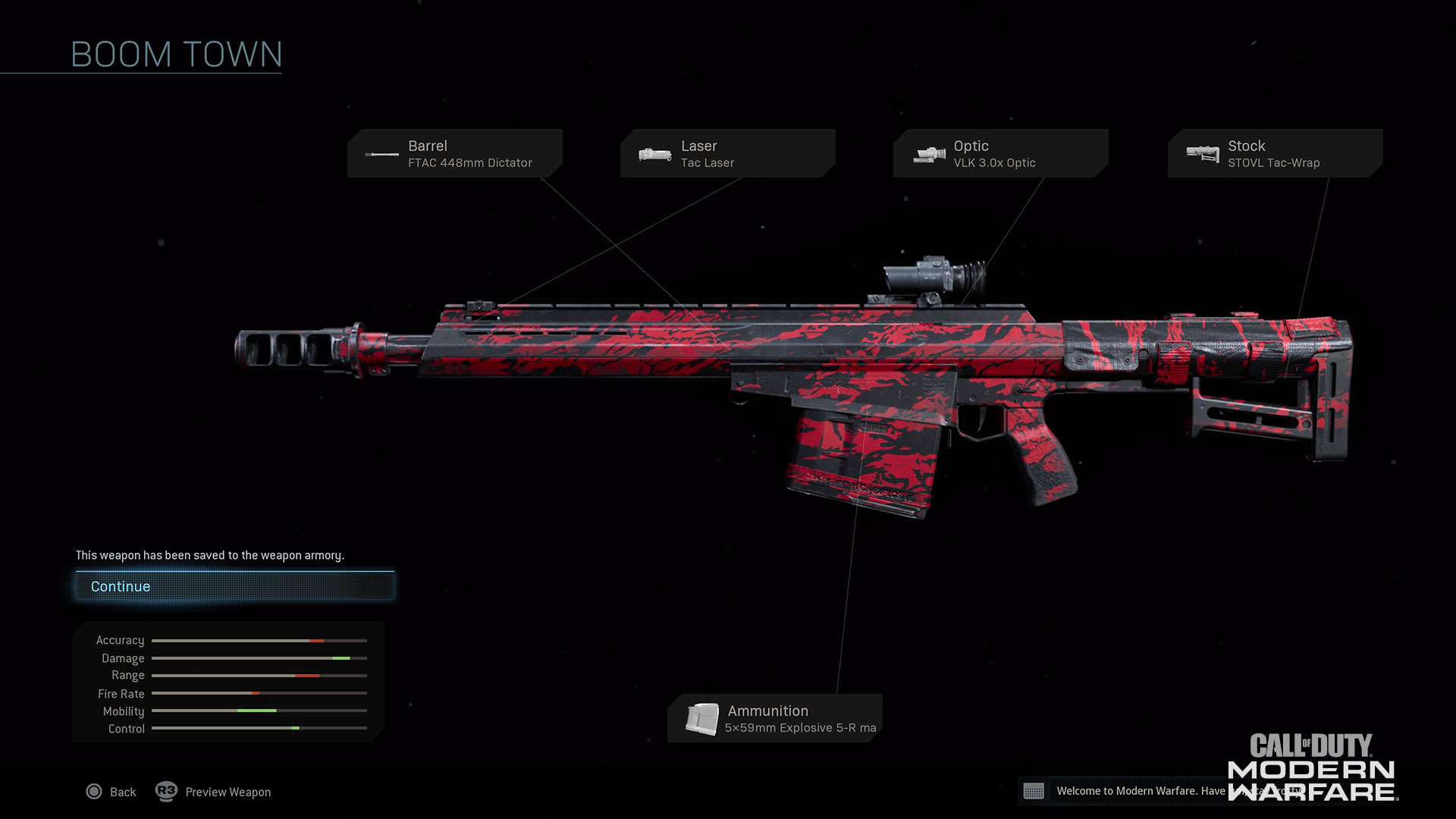 1. Boom Town
Primary: Rytec AMR
FTAC 448mm Dictator, Tac Laser, VLK 3.0x Optic, STOVL Tac-Wrap, 25x59mm Explosive 5-R mag
Secondary: Gavel (Available at Tier 55 of the Season Four Battle Pass system)
Perks: Scavenger, Restock, Shrapnel
Equipment: C4, Stim
Bad guy go boom. This wild loadout features the Rytec AMR's experimental explosive rounds for huge damage and showy kills in your Multiplayer matches. The FTAC 448mm Dictator, Tac Laser, VLK 3.0 Optic, and STOVL Tac-Wrap all improve ADS speed to keep the action high as you snap and fire, snap and fire one after the other using a mid-range optic for greater flexibility.
Use Scavenger to keep up your ammo reserves and pair up Restock with Shrapnel for even more explosive options. Plant your C4 near objectives to blast approaching enemies or toss it into a window to clear the room before you take up residence. If you get too excited and catch a scratch in the blast, administer a Stim shot to heal back up for the next fight. If any remaining stragglers attempt a last chance kill, dash their hopes with a punch from the Gavel. This loadout competes in even the most hectic of Multiplayer matches.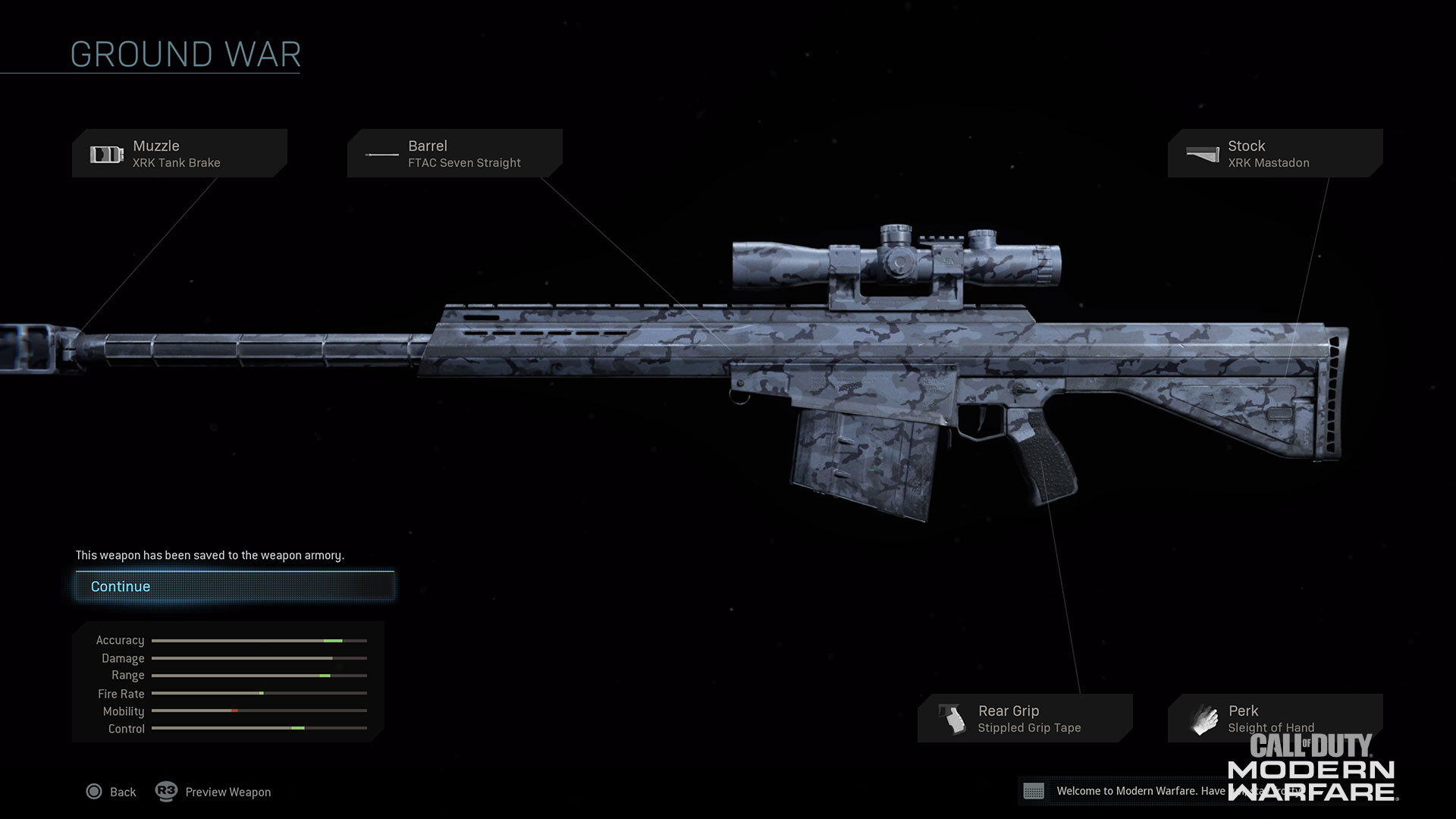 2. Ground Warmonger
Primary: Rytec AMR
XRK Tank Brake, FTAC Seven Straight, XRK Mastadon, Stippled Grip Tape, Sleight of Hand
Secondary: Sunset Hue (Available at Tier 18 of the Season Four Battle Pass)
Perks: Kill Chain, Hardline, Spotter
Equipment: Throwing Knife, Heartbeat Sensor
If you're looking for a reliable Ground War killer, this is it. We've opted for stability over flash with the XRK Tank Brake for improved recoil stabilization, extended damage range and bullet velocity using the FTAC Seven Straight, and extra aiming stability from the XRK Mastadon. The Stippled Grip Tape offsets the ADS speed penalties of the former, with Sleight of Hand cutting down reload times so you can keep up the pressure with minimal downtime.
When the fighting gets intense, pull out the Sunset Hue to lay down suppressive fire. Reach your preferred damaging killstreaks more quickly with Hardline and use them to work toward the next killstreak with Kill Chain. Use Spotter to detect potential threat points and then neutralize those threats. Pull out the Heartbeat Sensor if you suspect that your own position has been compromised and take the attacker out in a flash with the Throwing Knife.
Stick near the perimeter of highly contested objective points and if your squad goes down, pull back to safety until they spawn back on your location. They'll move right back into the action and you'll be there to cover them.
We've only scratched the surface of what's possible with the Rytec AMR. Get your hands on this monster sniper rifle and see what kinds of crazy loadouts you can come up with.
See you online, sharpshooter.
For more information and the latest intel on Warzone, visit www.callofduty.com/warzone and follow @CallofDuty on Twitter, Instagram, and Facebook. 
For more information and the latest intel on Call of Duty®: Modern Warfare®, check out: www.callofduty.com, www.youtube.com/callofduty and follow @InfinityWard and @CallofDuty on Twitter and Instagram and Facebook.
© 2019-2020 Activision Publishing, Inc. ACTIVISION, CALL OF DUTY, MODERN WARFARE, WARZONE, and CALL OF DUTY WARZONE are trademarks of Activision Publishing, Inc.
For more information on Activision games, follow @Activision on Twitter, Facebook, and Instagram.