The DR-H entered the deep pool of assault rifle choices within Call of Duty: Mobile via the Forge's Battle Pass.
Completing Tier 21 in this season's Battle Pass will grant you the DR-H, as it is a free tier item that does not require the Premium Pass to unlock. However, at Tier 50, Premium Pass holders can grab the epic DR-H Chained skin.
As you climb up the Battle Pass towards both of these goods – and a ton more awesome loadout and personalization items – here's what you need to know.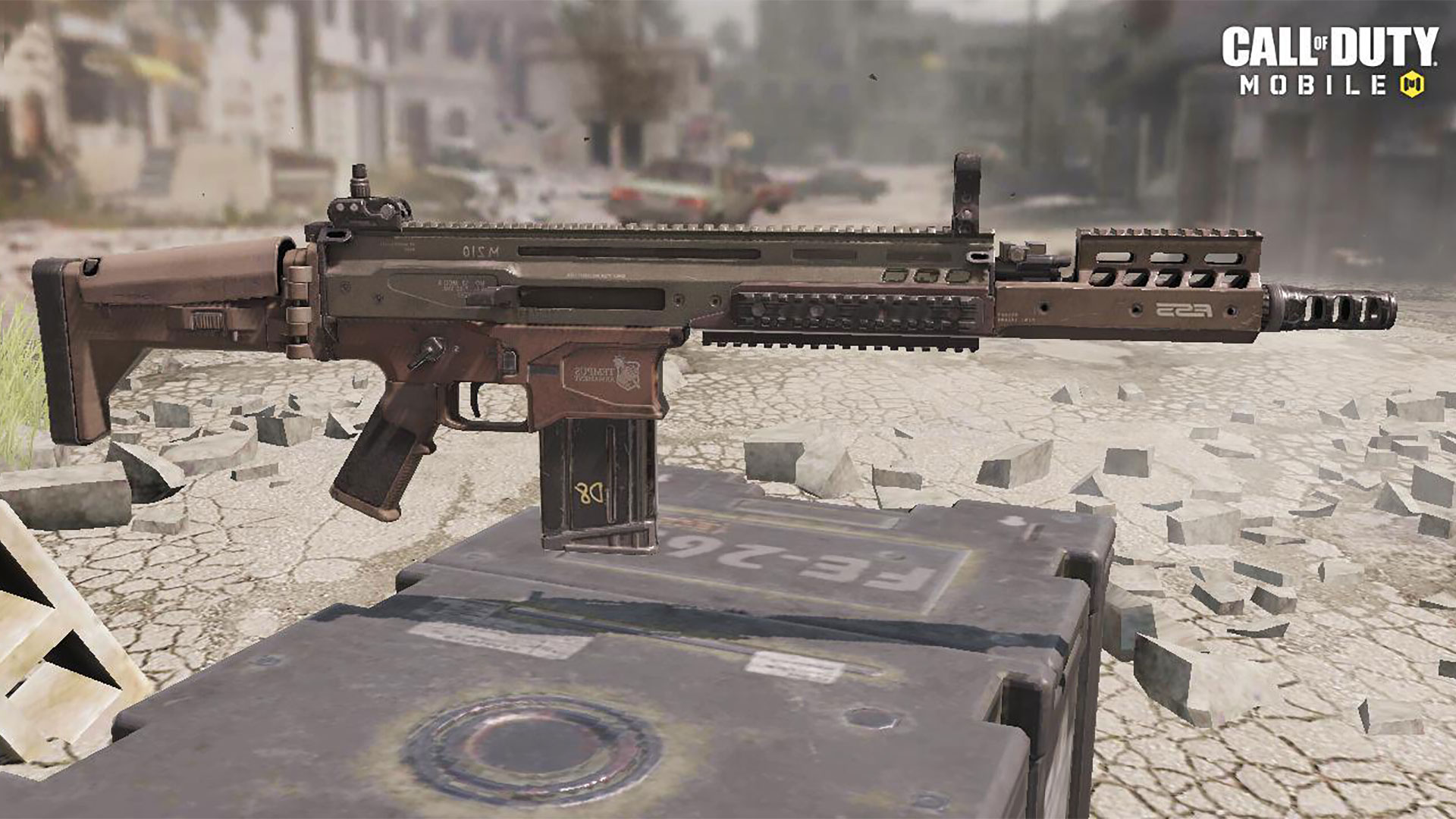 DR-H Overview
The DR-H is a high damage, high recoil assault rifle with a moderate rate of fire. What this boils down to is a weapon where precise fire – especially headshots – will separate the recruits from the veterans when using it.
Landing those headshots will make this weapon unparalleled within 35 meters, especially in that 25-35 meter range where assault rifles are designed to shine. 
Those who struggle to hit headshots can equip the unique OTM attachment. This buffs the damage on the weapon. So, if you have the OTM equipped on a DR-H, landing a body shot will deal the same amount of damage as a headshot, regardless of range.
However, it could be difficult to land headshots – or any shots in general – due to this weapon's recoil pattern; it has a heavy kick that starts leftwards before slicing to the right. Furthermore, this powerful weapon is heavy, which means it has a sluggish aiming down sight (ADS) speed, and it can normally only carry 20-round magazines without an additional attachment.
These three concerns – a low magazine capacity, high recoil, and slow ADS speed – are all the nature of this beast. Taming it, whether with trigger discipline, attachments, or both, is key to unlocking its true potential. And if you can control DR-H, the DR-H could help you control the tide of battle itself.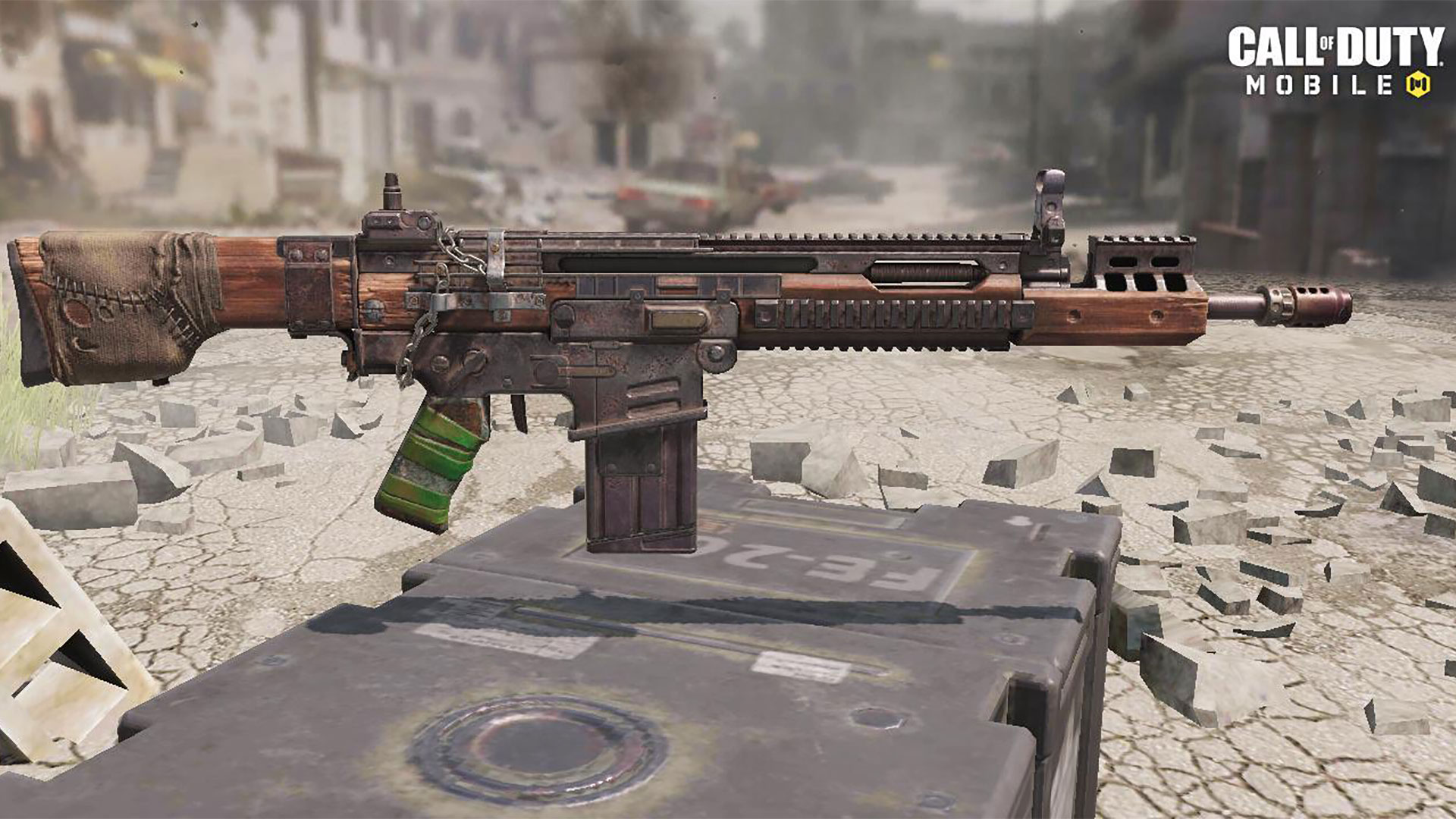 Skin Spotlight
Along with its base version, an Epic skin for the DR-H, the DR-H – Chained, is also available within the Forge Battle Pass.
As mentioned before, this skin is unlocked at Tier 50 for those holding a Premium Pass and has two weapon perks: it increases the weapon's base firing range and kills are broadcasted with effects. While the latter perk shows some flair, the former increases the weapon's effective range slightly.
In using the DR-H, it's worth considering picking up this Epic skin, but you are not at a severe disadvantage with only using the base weapon or opting for another skin if one becomes available in the future.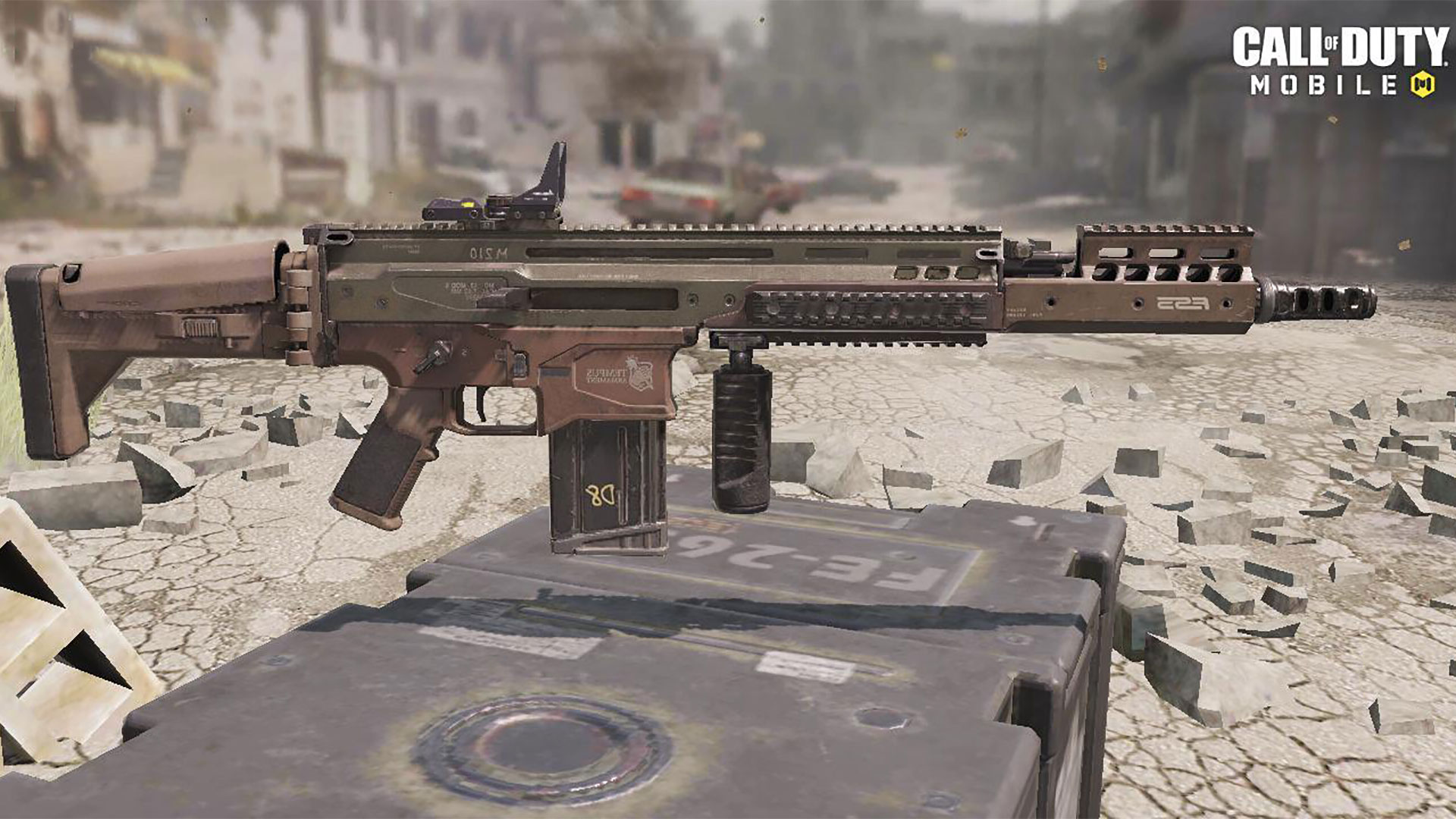 Configuration Recommendation
Ultimately, the best attachment configuration on the DR-H is the one you are most comfortable with. However, the above configuration shows one way to kit the weapon to its strengths, especially within 35 meters.
On this specific weapon, there is a Red Dot Sight for a more precise aiming picture, a Foregrip for better recoil control, and an Extended Mag for more ammo per clip. The grip is to slightly counteract the weapon's harsh recoil, while Extended Mag brings up its concerning 20-round clip to a more reasonable 28.
The final attachment is the unique OTM modification. As mentioned in the overview, this attachment allows deal headshot-like damage to all body parts, making it easier to land those quick kills.
A runner-up for attachments is the Quick Draw, which counters the weapon's slow ADS speed. Because there are only three attachment slots, it's up to you to figure out where it fits. 
Don't mind the weapon's unruly recoil? Take out the Foregrip. Confident in your overall accuracy? Forgo the Extended Mag. Skilled enough to hit headshots consistently? Although it may be a steep learning curve, those that can maximize the DR-H's damage potential without OTM can consider themselves savants of this powerful weapon.
As for perks, lethal/tactical equipment, and Operator Skill, personal preference will ultimately rule, but here are a few suggestions for a mid-range configuration:
For the Red perk, Agile can significantly help with this weapon's sluggish mobility and buff your ability to aim after sprinting. Toughness, a Green perk, is great to have in order to stay on target while being damaged, while the Blue perk, which is more of a toss-up for the DR-H, could go to the tactical equipment-mitigating Tactical Mask.
Pick any lobbed explosive for the lethal equipment – a Frag could do just fine – and a Flash or Concussion Grenade to disorient or slow an opponent before going in for the kill. Finally, when it comes to Operator Skills, the Transform Shield could provide great mobile cover in a pinch, or pick up any of the offensive options to up the carnage after dominating with the DR-H.
All of these choices, including the attachments you put on the DR-H , is up to what you want to focus on in your loadout, but ultimately, the DR-H – whether it is the base weapon or its Chained skin – deserves a place within them.
We'll see you on the go, and online.
For the latest intel, be sure to visit the Call of Duty: Mobile website. Also check out www.callofduty.com, www.youtube.com/callofduty, and follow @CallofDuty on Twitter, Instagram and Facebook.
© 2019 Activision Publishing, Inc. Activision, Call of Duty, Call of Duty: Black Ops and Call of Duty: Modern Warfare are trademarks of Activision Publishing, Inc. All other trademarks and trade names are the properties of their respective owners.
For more information on Activision games, follow @Activision on Twitter, Facebook, and Instagram.