Playing a Call of Duty® game is about channeling the classic Call of Duty feel and being immersed in an epic battleground complete with high fidelity visuals. Now with The Making Call of Duty Modern: Warfare art book, you can get a close-up and behind the scenes look at all of the art used in the game.
As you'll learn throughout this book, the various art used in a Call of Duty game is typically broken down into four teams or departments: character, weapon, vehicle, and environment. In the creation of something as grand as a Multiplayer map or Campaign level, all art departments are utilized to bring everything to life.
Character – The team that designs everything that relates to the characters in all the modes of the game.
Weapon – The team that designs all of the weapons. This typically includes attachments and camos.
Vehicle – The team that designs all of the vehicles in the game. This can include drive-able vehicles like the Infantry Tank and Killstreaks like the Wheelson.
Environment – The team that designs all of the set pieces within a map or level.  This can include trees, buildings, and posters/flyers that may be strewn about the environment.
Let's take a closer look at the art for those departments that are highlighted in The Making Call of Duty: Modern Warfare.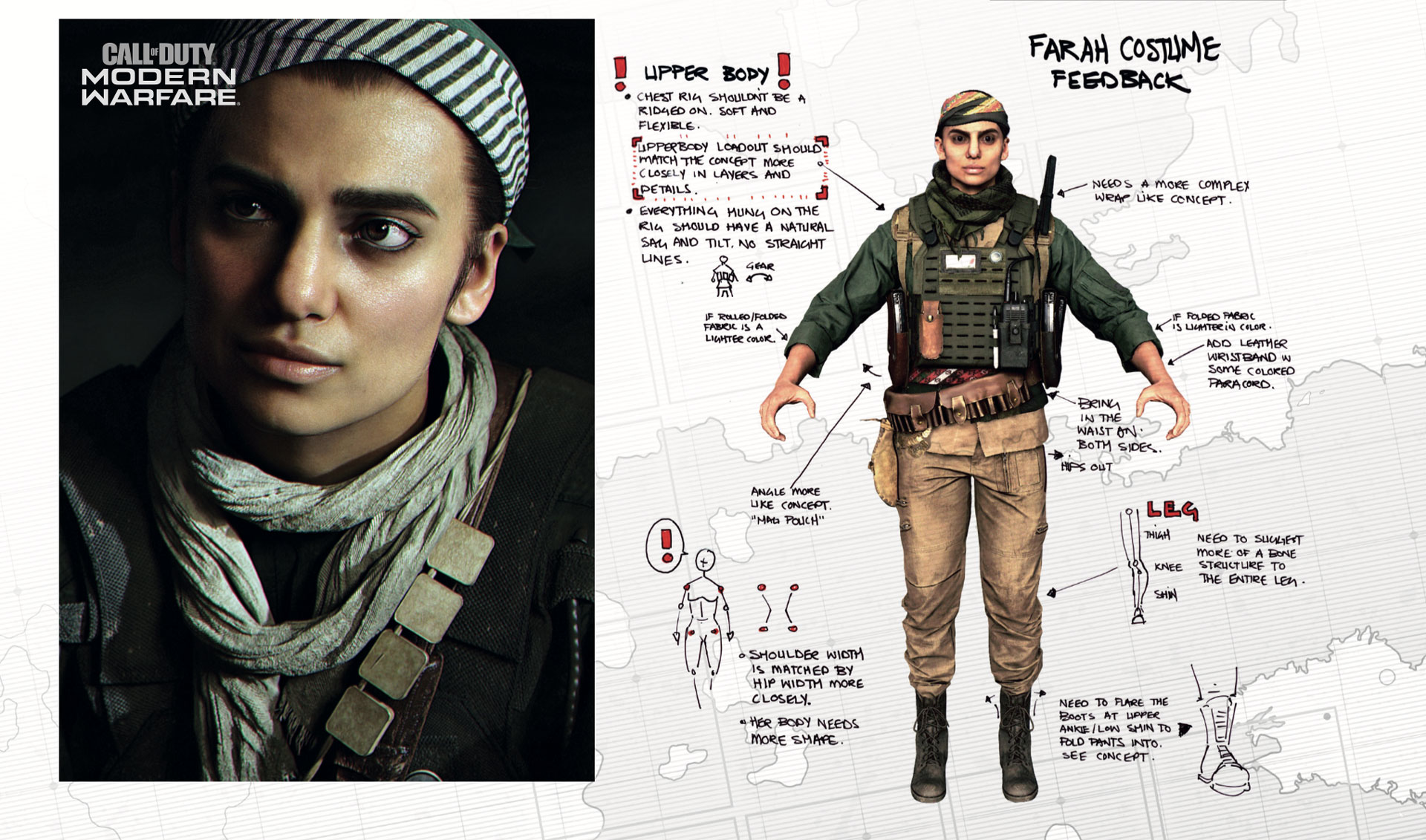 Characteristics of Character Art:
Character art includes the character's face, hair, and outfit including any weapons they may typically carry like a pistol or knife. Depending on how the art looks you might gravitate toward a particular character as a hero or a villain…
Included in the art book is character art for Farah, a playable character in the Modern Warfare Campaign, Bale a Tier One Spetsnaz Operator from Multiplayer, the eponymous Captain Price, and more. In addition to an up, close and personal inspection of many of Modern Warfare's characters, you can gain tidbits of information about the characters through aesthetic choices. Did you know the Infinity Ward team considers clothes, posture, and even skeletal structure when designing the art associated with a character?
In addition to character art, the art book gives images and insight relating to motion capture. Motion capture takes place at a studio where live actors act out the scene, which is then captured and further animated. Before a scene is mo-capped teams will design storyboards and animatics and sometimes record audio dialogue to ensure the capture session gets every critical moment.
The capture session is then handed off to artists from multiple departments to bring a high-fidelity cut scene to life.
More art included in the book outlines technical rigging which speaks to the intersection between art and animation.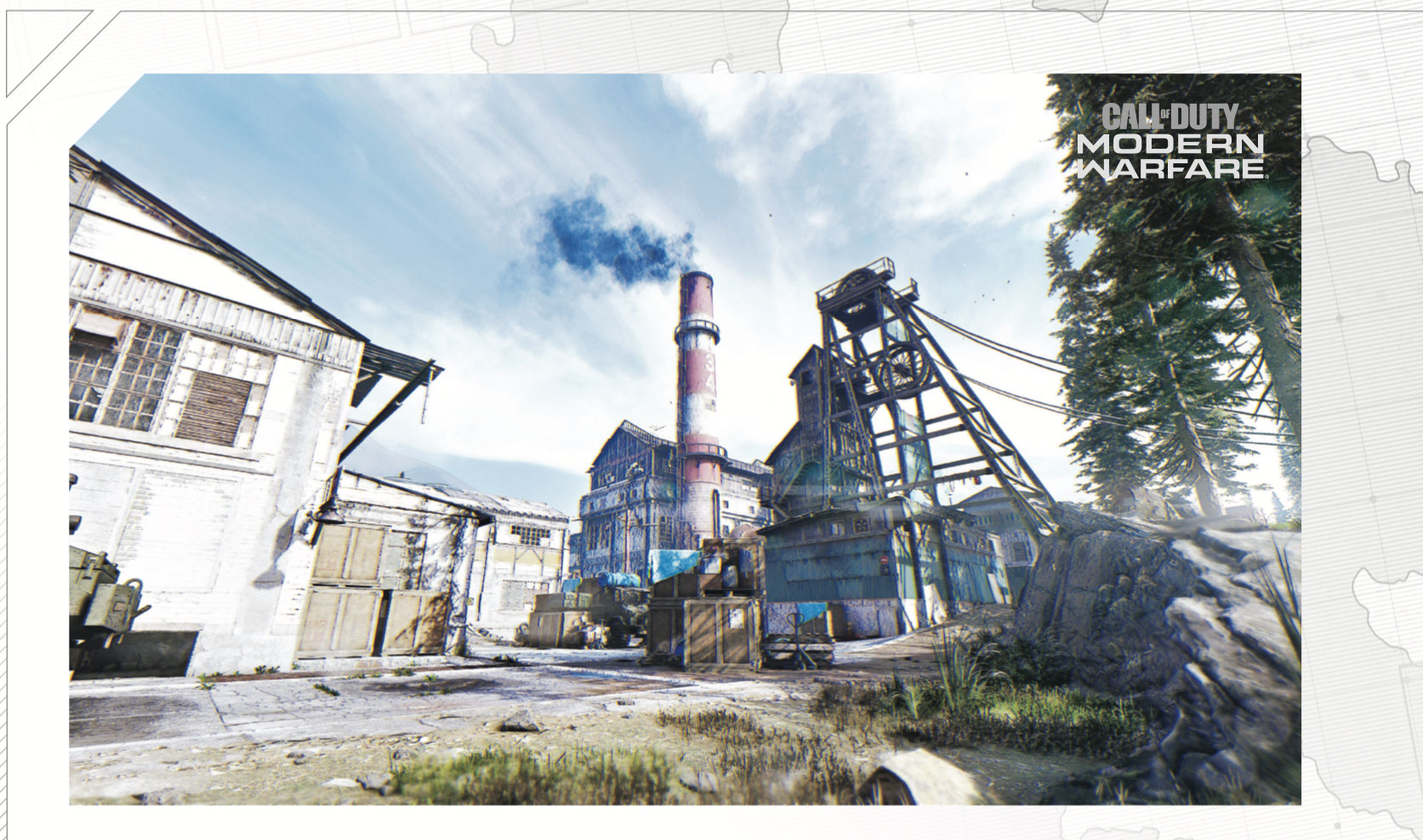 The Lay of the Land:
For Multiplayer player fans, you'll find art and background information on maps like Hackney Yard and Gun Runner. The art found in Multiplayer maps includes both vehicle and environment art.
If you are firing at an enemy around a tank, that tank is the work of a vehicle artist. If you mantle over a windowsill to take a Headquarters objective, you're interacting with environment art.
Both pieces of art build upon the narrative of any Call of Duty Multiplayer map and can impact gameplay, like providing cover or, in the case of vehicles, explosive firepower.
The map artwork and that of other locations contained within the book also includes additional lore to give insight into the map's background and other neat components; extra detail that you may miss while actively engaged in combat.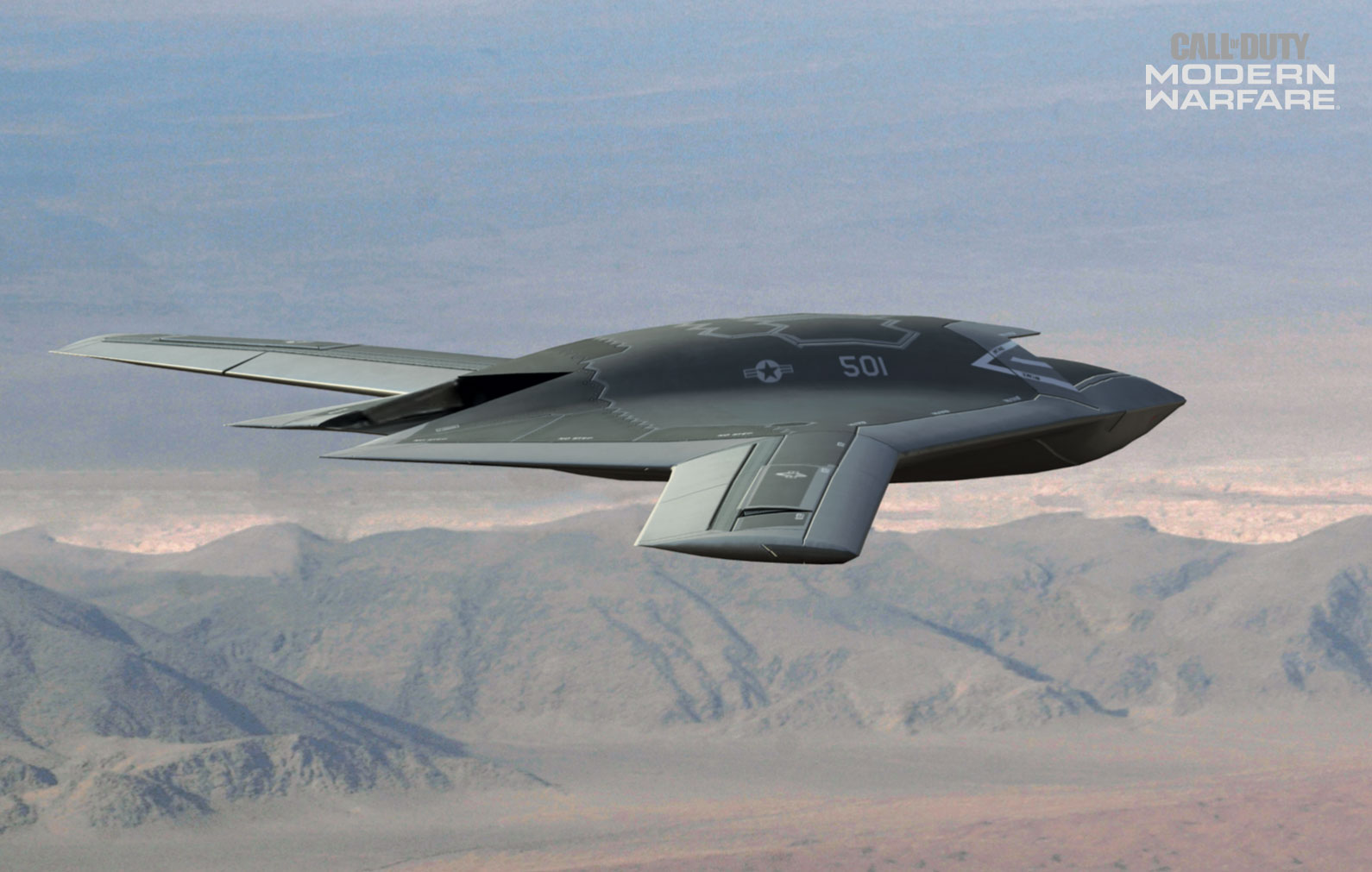 Weapons Galore
In a first-person shooter, the equipment a player sees the most regularly is their weapon. So, it's no surprise that there is a dedicated team to make weapons appear visually compelling and accurate.
The process and detail involved in design weapon art has to be both functional and a quality design. For instance, depending on your weapon attachments that you affix to your armament in the Gunsmith, the overall look of the weapon can change, sometimes radically. Pre-production versions are showcased in the book.
In additions to weapons, you'll find information on other gadgets and items that are included in a Tier One Operators arsenal. Throughout the pages of the book, you're able to take a closer look at art for the night vision goggles used predominantly across Multiplayers NVG maps. Without the threat of enemies, you have the time to study the wristwatch worn by Operators which can be customized by the player in-game, or even examine Killstreaks (such as the UAV) earned in Multiplayer.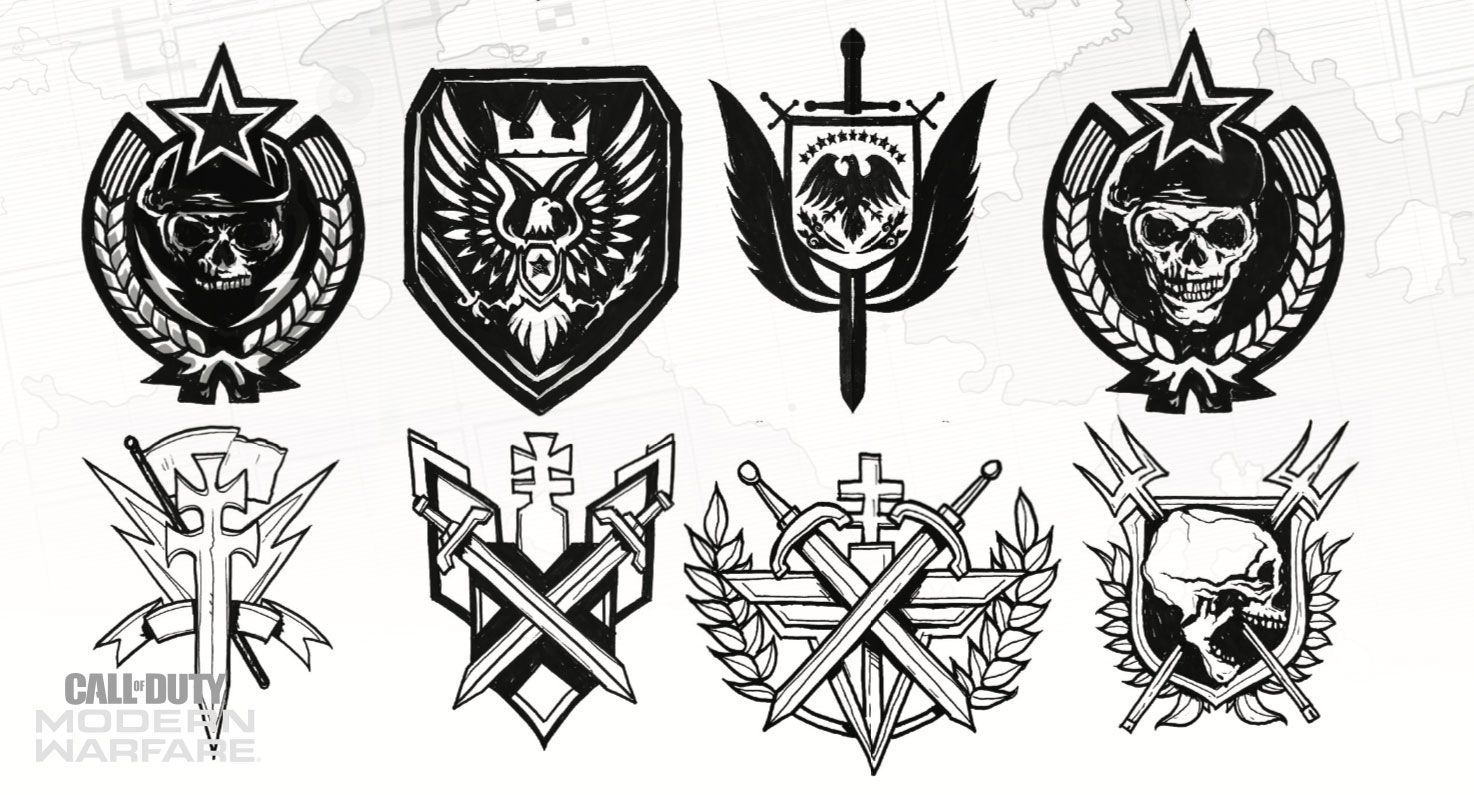 More Art in Modern Warfare
Aside from art that you interact with while playing a match, there is much more art in a Call of Duty game like icons, body art, and other graphics.
In Multiplayer, the two factions – Coalition and Allegiance – have their own icons. There are also sub-factions (known as Fireteams) like Spetsnaz or Warcom that you can choose, and selectable insignias you can pick that best represent their personality.
This type of art is typically done by the UI team, along with body art. The Art Book goes behind the scenes to reveal some of the many and varied pieces of iconography created for the game.
Also, to further customize your Operator, players can equip body art, like tattoos. The art book displays many body art options and shows the detail the Infinity Ward team went out to support player customization options.
More graphics can be found in the art book like in-game brands logos, posters, and other advertisements. All of these are fictionalized brands which are created by the team in order to enhance and add to the authenticity of a location.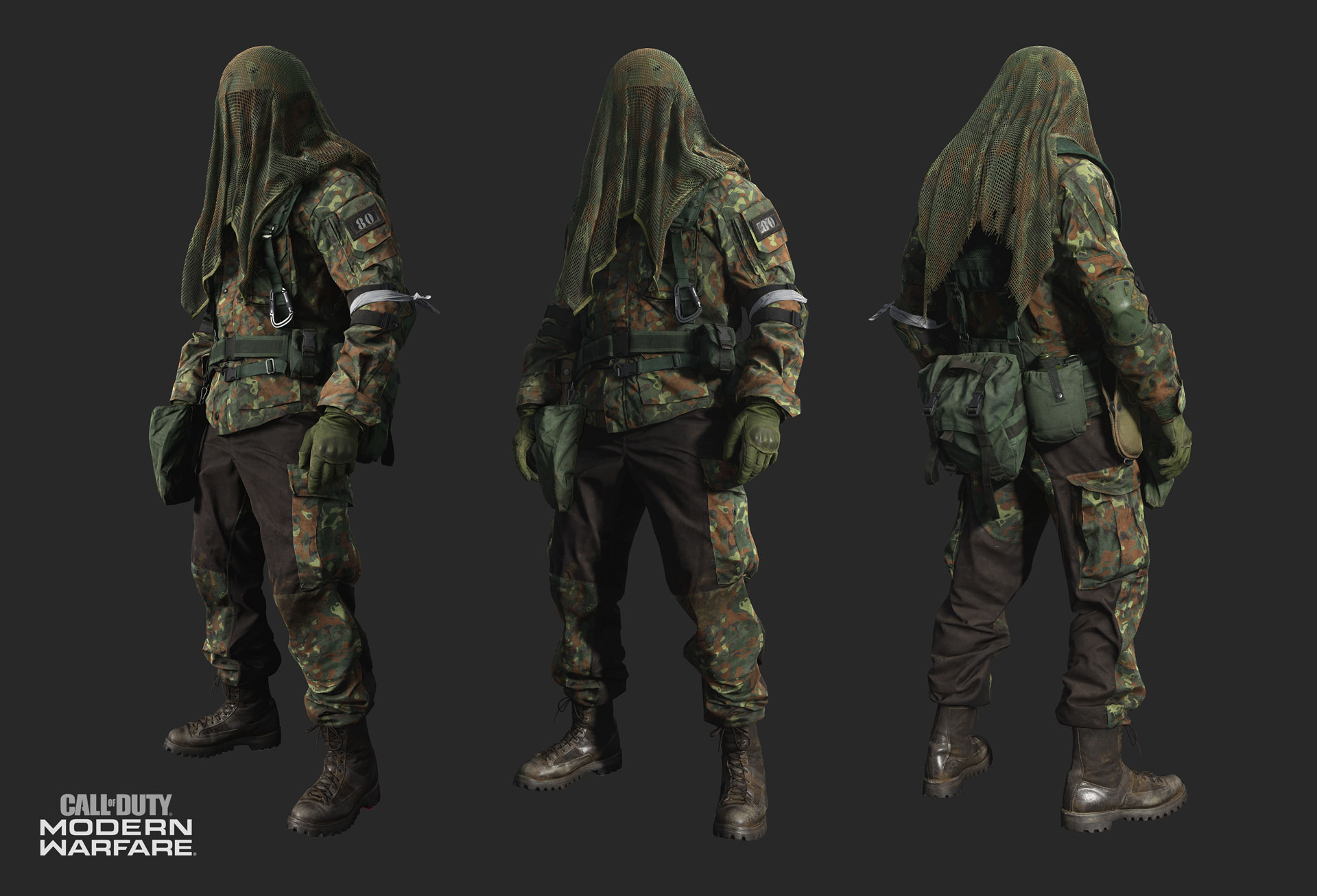 The Making Call of Duty Modern Warfare art book is available today; October 22.  Plus, everyone that picks up the Call of Duty: Modern Warfare art book will receive a bonus in-game Operator skin for Allegiance Operator Krueger. For in-depth visual and aesthetics for all matter related to Modern Warfare including details to characters, maps, and more, check out the Call of Duty: Modern Warfare art book and be sure to play Modern Warfare when it launches on October 25. 
For more information and the latest intel on Call of Duty®: Modern Warfare®, check out, www.youtube.com/callofduty and follow @InfinityWard and @CallofDuty on Twitter and Instagram and Facebook.
For more information on Activision games, follow @Activision on Twitter, Facebook, and Instagram.