"Man, you look like a clown in that outfit." – Staff Sgt. Griggs, Call of Duty® 4: Modern Warfare®
Before your next infiltration take a look at your Operator. Do they represent you and your playstyle? Call of Duty: Modern Warfare has an arsenal full of customization options ranging from weapon camos and stickers to Operator skins to personalize your experience.
Here are some ideas on bringing some style and flavor, starting with your Operator.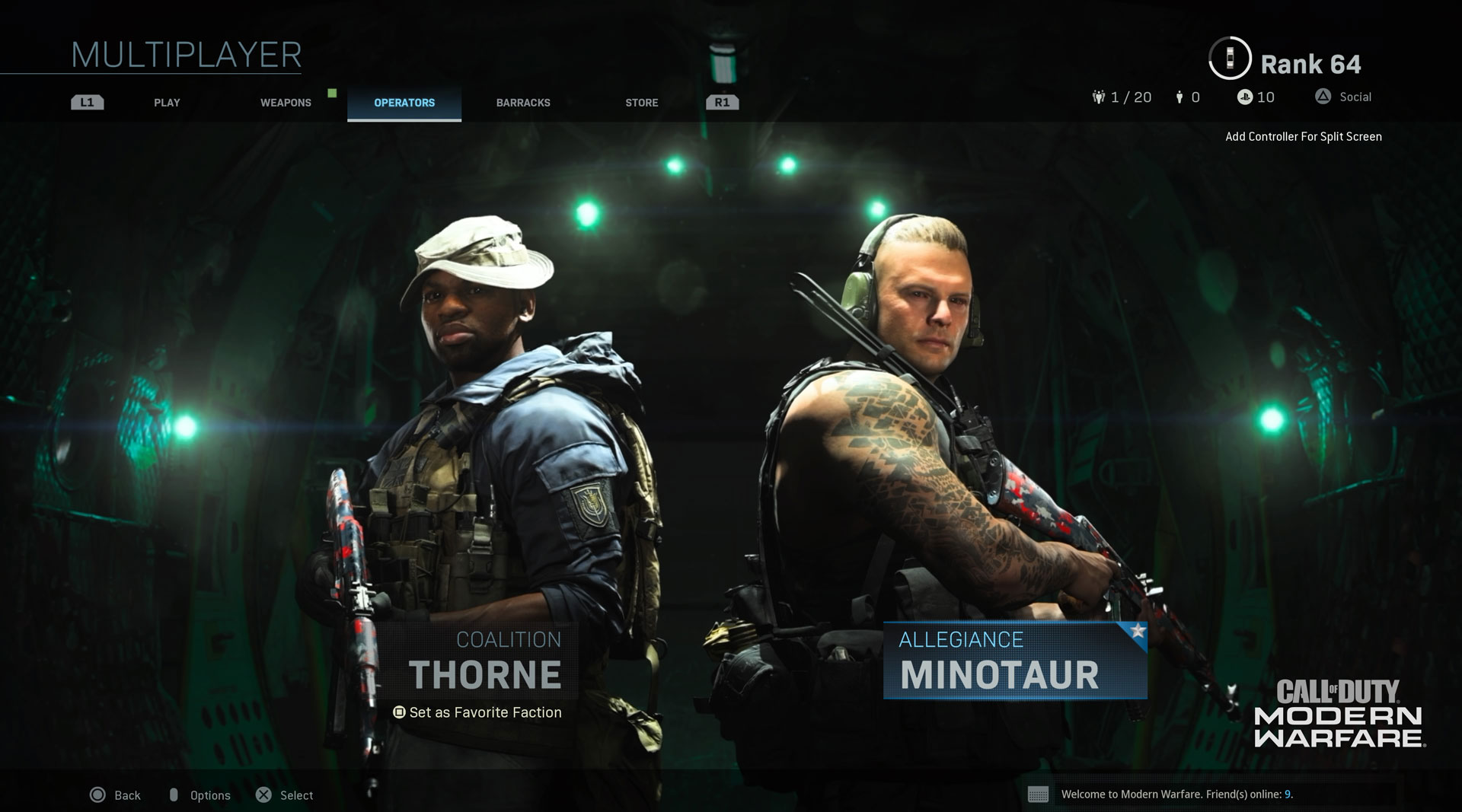 Operators
A host of unique characters, each with their own backstory, nationality, character dialogue, character skins, and customization options, are available to choose from prior to each Multiplayer or Special Ops infiltration.
Currently, there are 20 different Operators that you can choose from to take into battle. Half of the Operators at launch represented the Allegiance…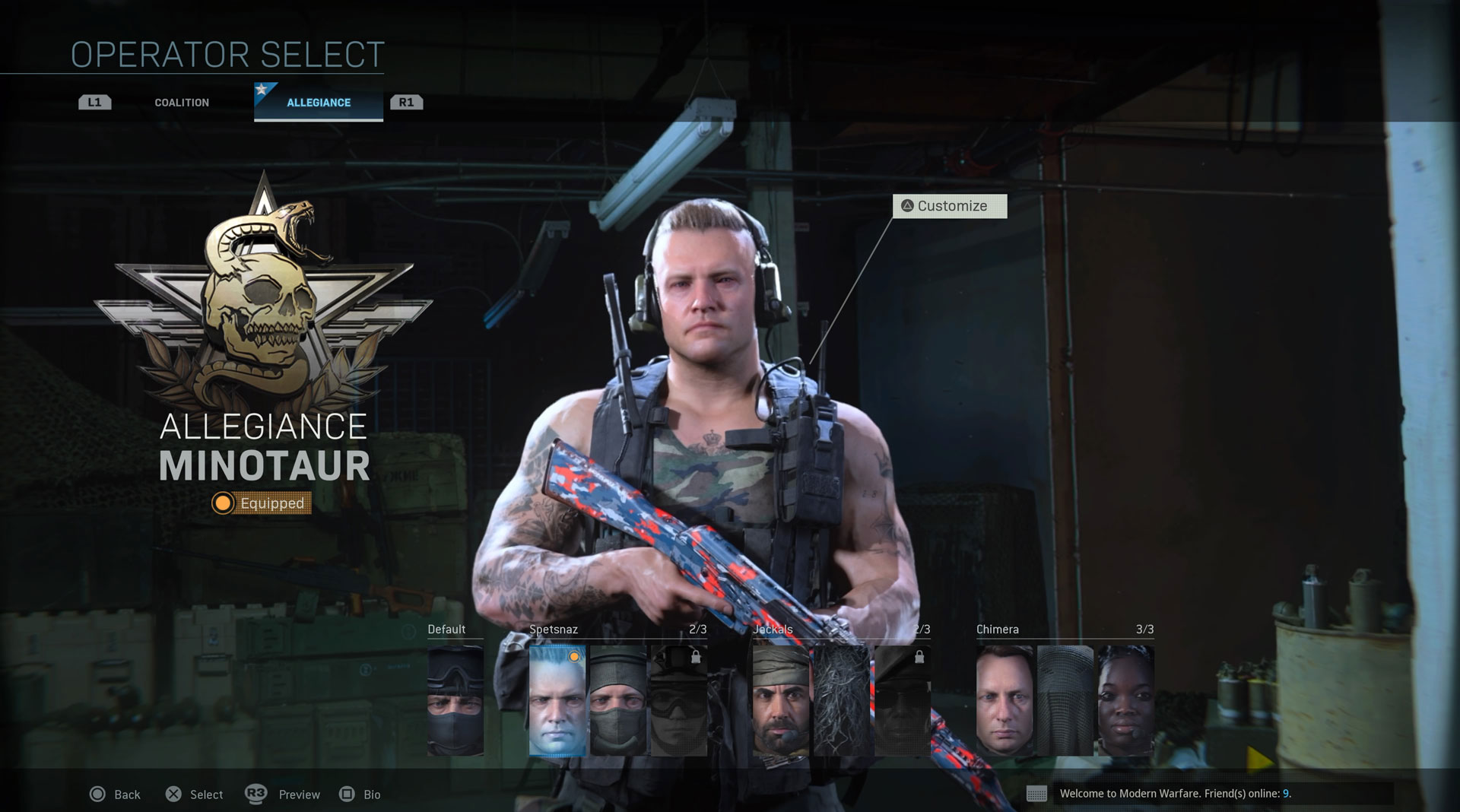 … While the other half, available at launch, belonged to the Coalition.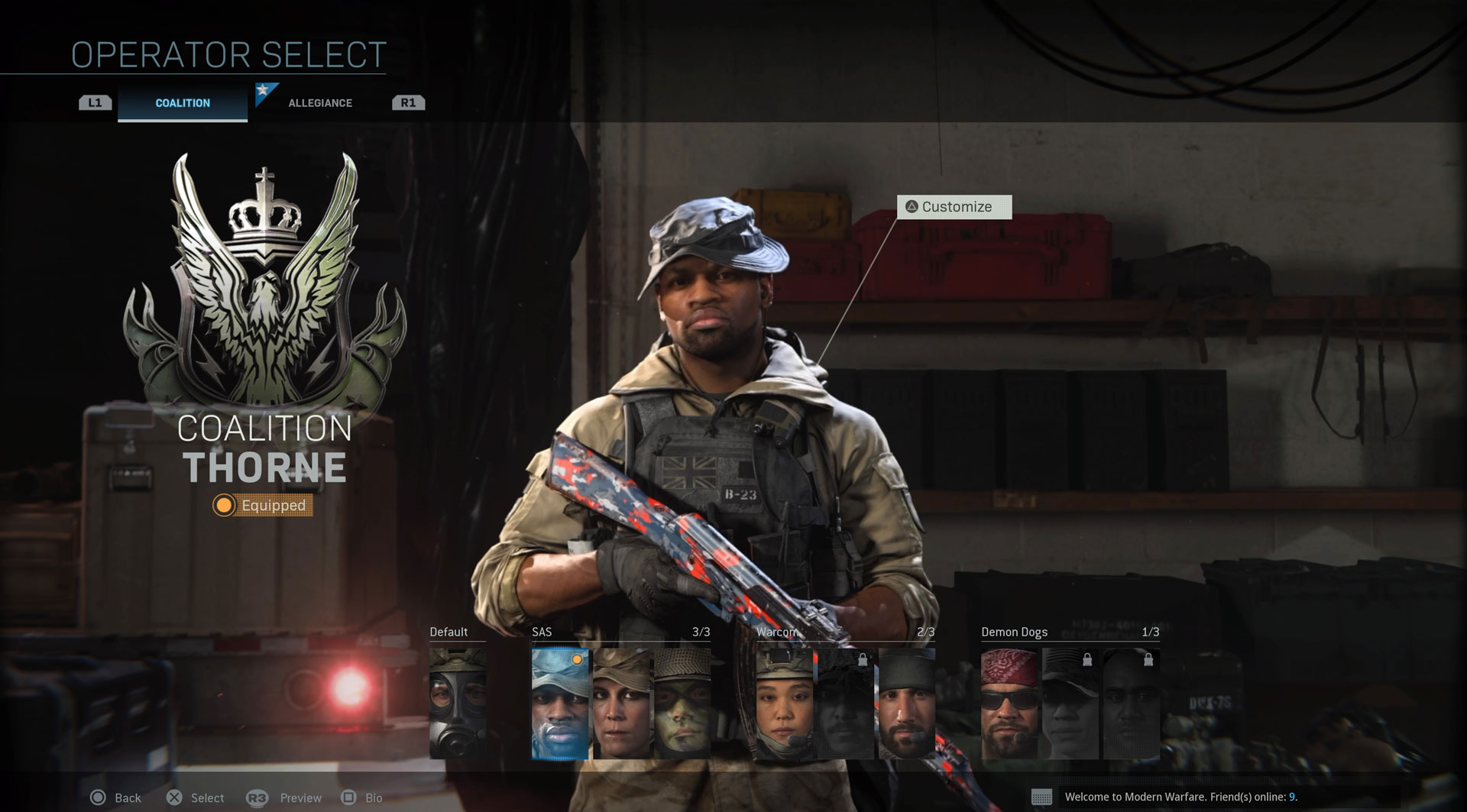 At the main Operators menu screen, you have the option to set either Coalition or Allegiance as your favorite faction; one will be initial selected by default. As you matchmake, if you made a preference the game attempts to place you with your preferred faction. This may not always occur, based on available players and other game elements.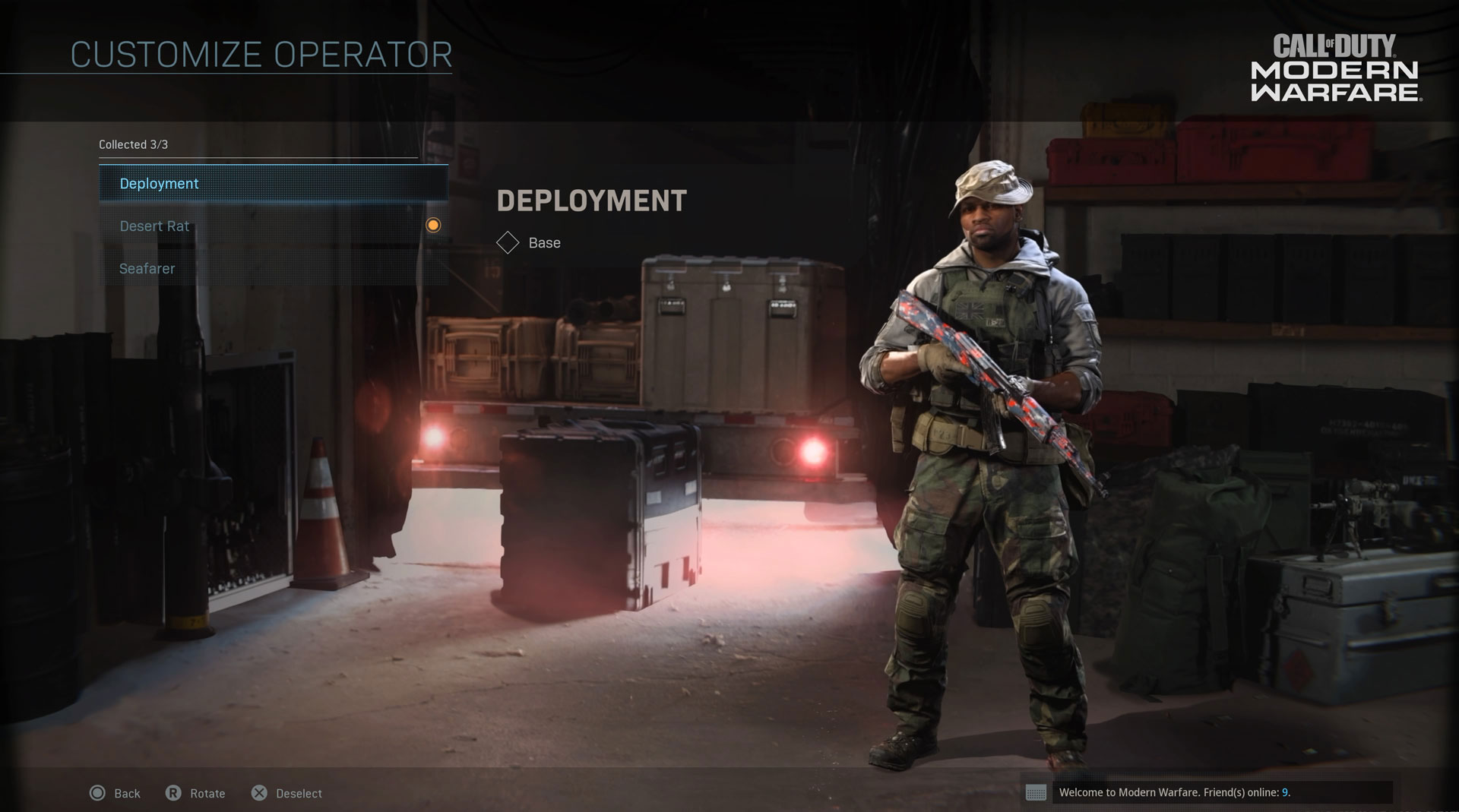 As seen here, Operators have skins that can be equipped by pressing the customize button prompt (Triangle on PS4).
Here, you can select what skin your Operator can wear in game. By default, Operators have three skins. Here are Thorne's other two: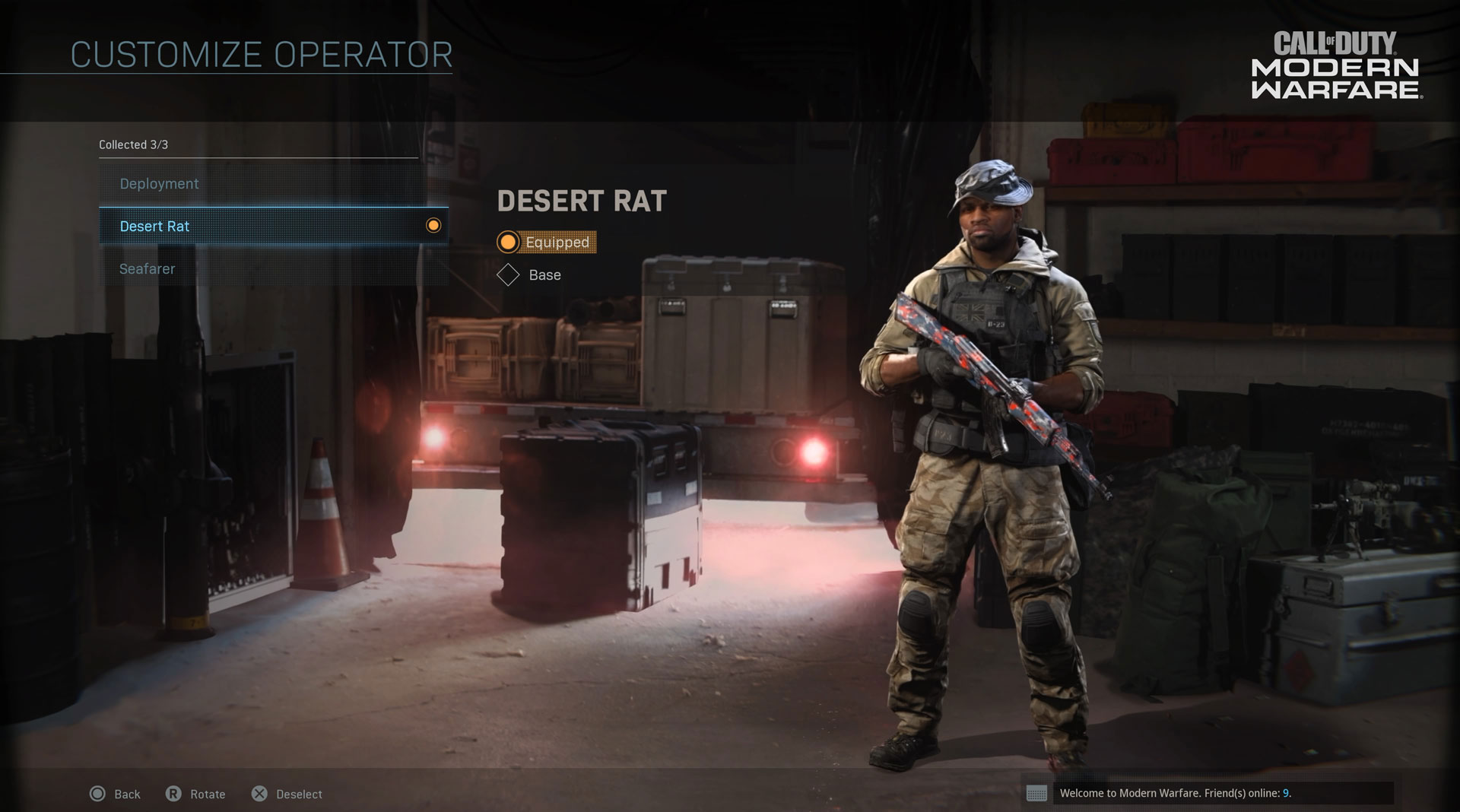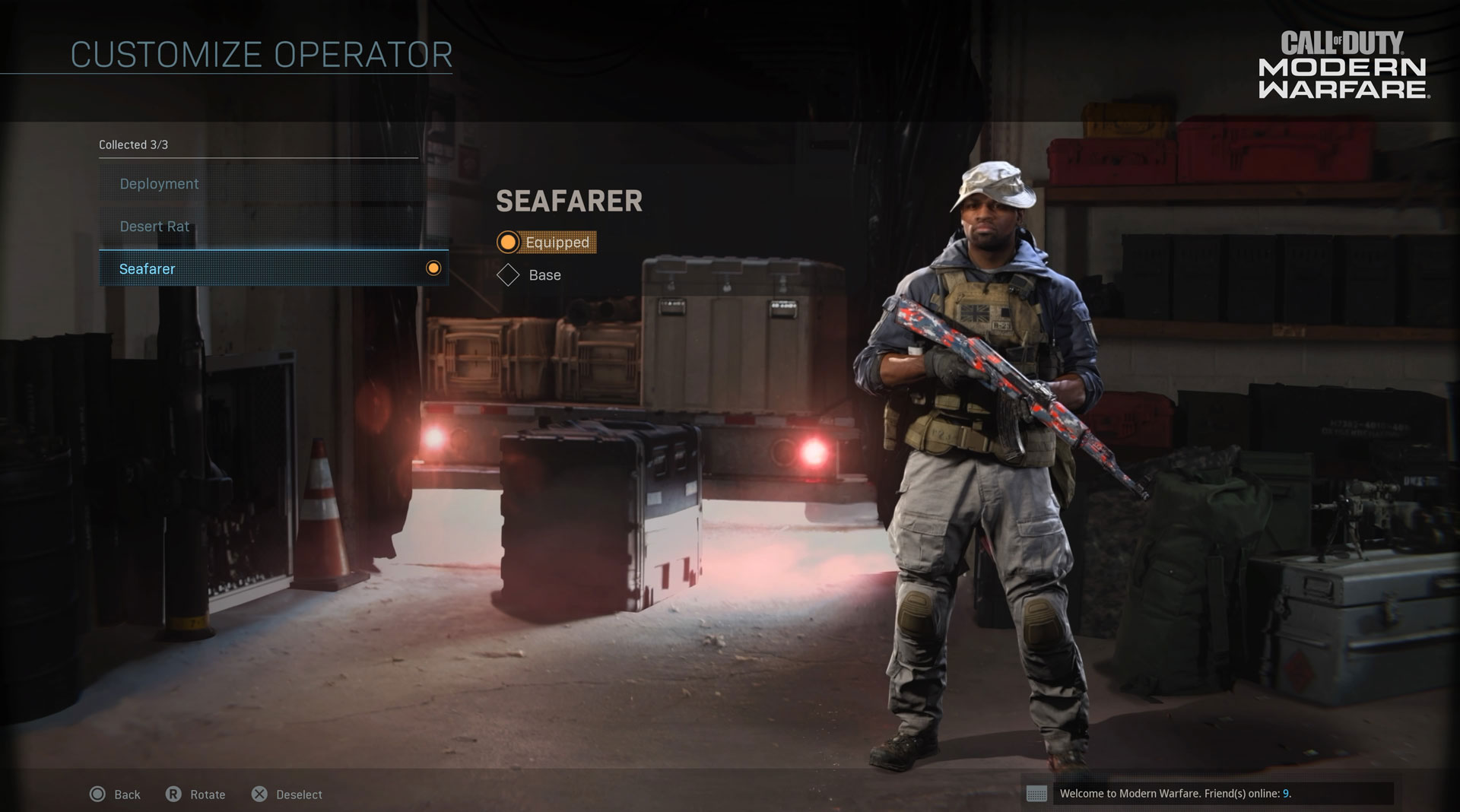 Here are Minotaur's three Operator skins: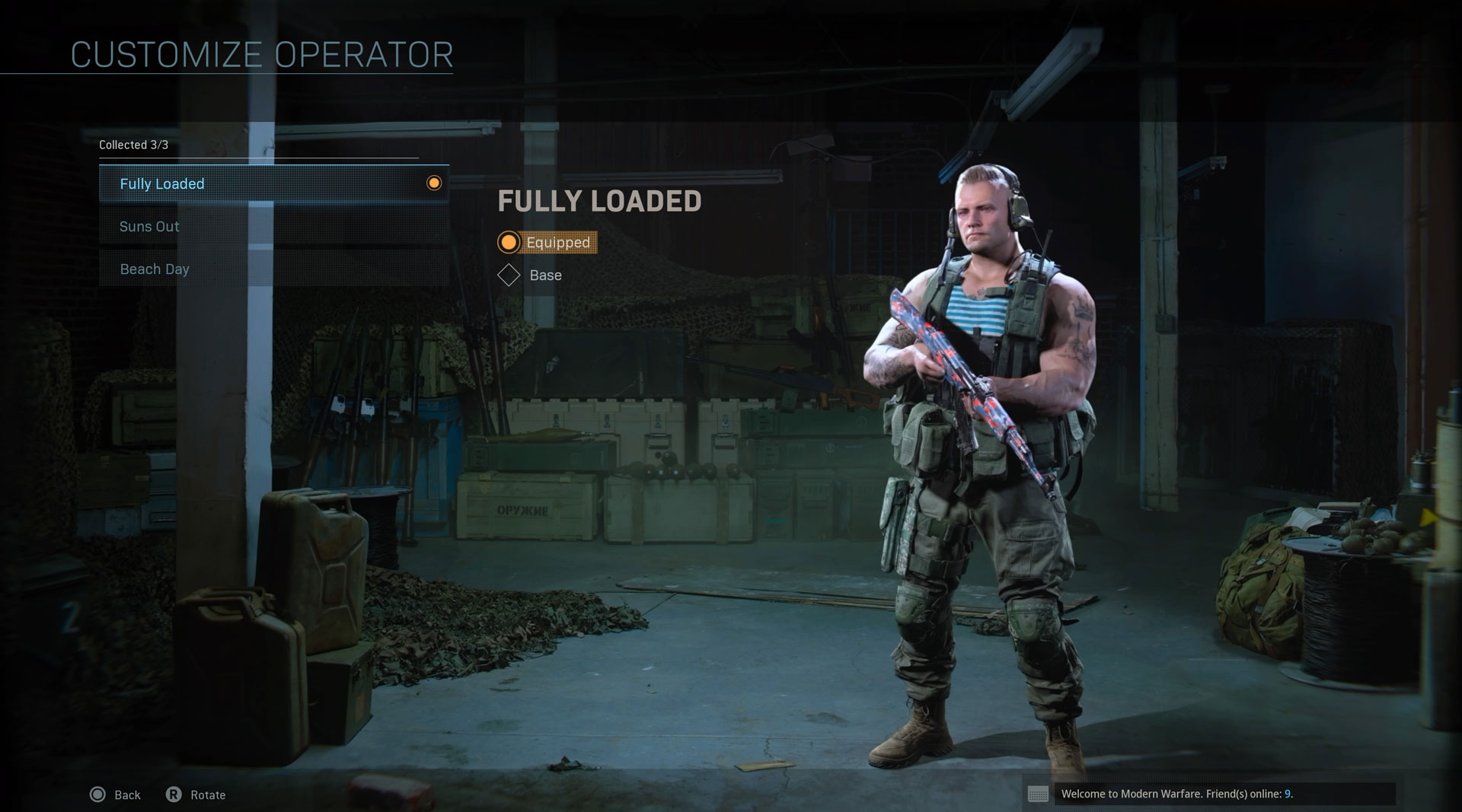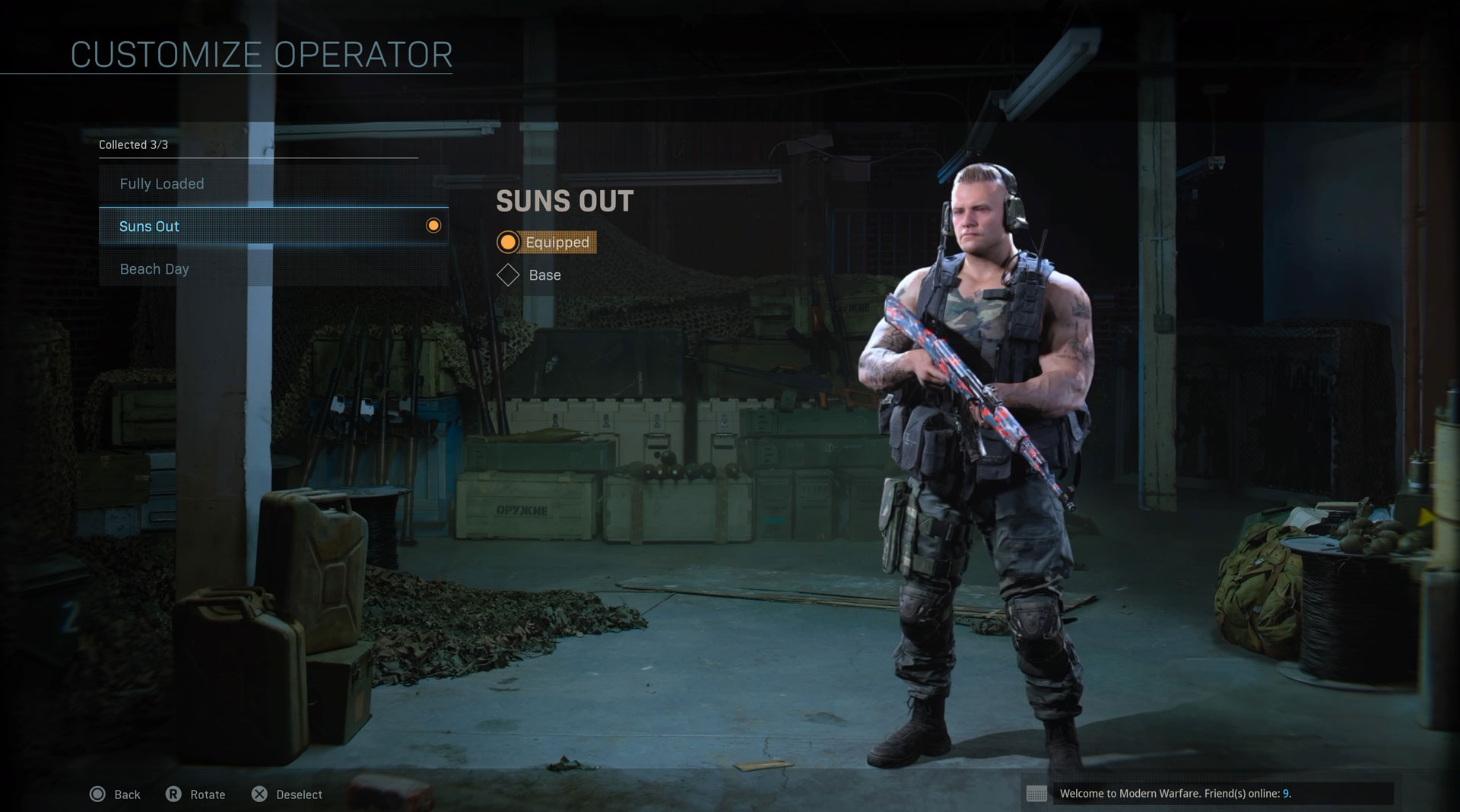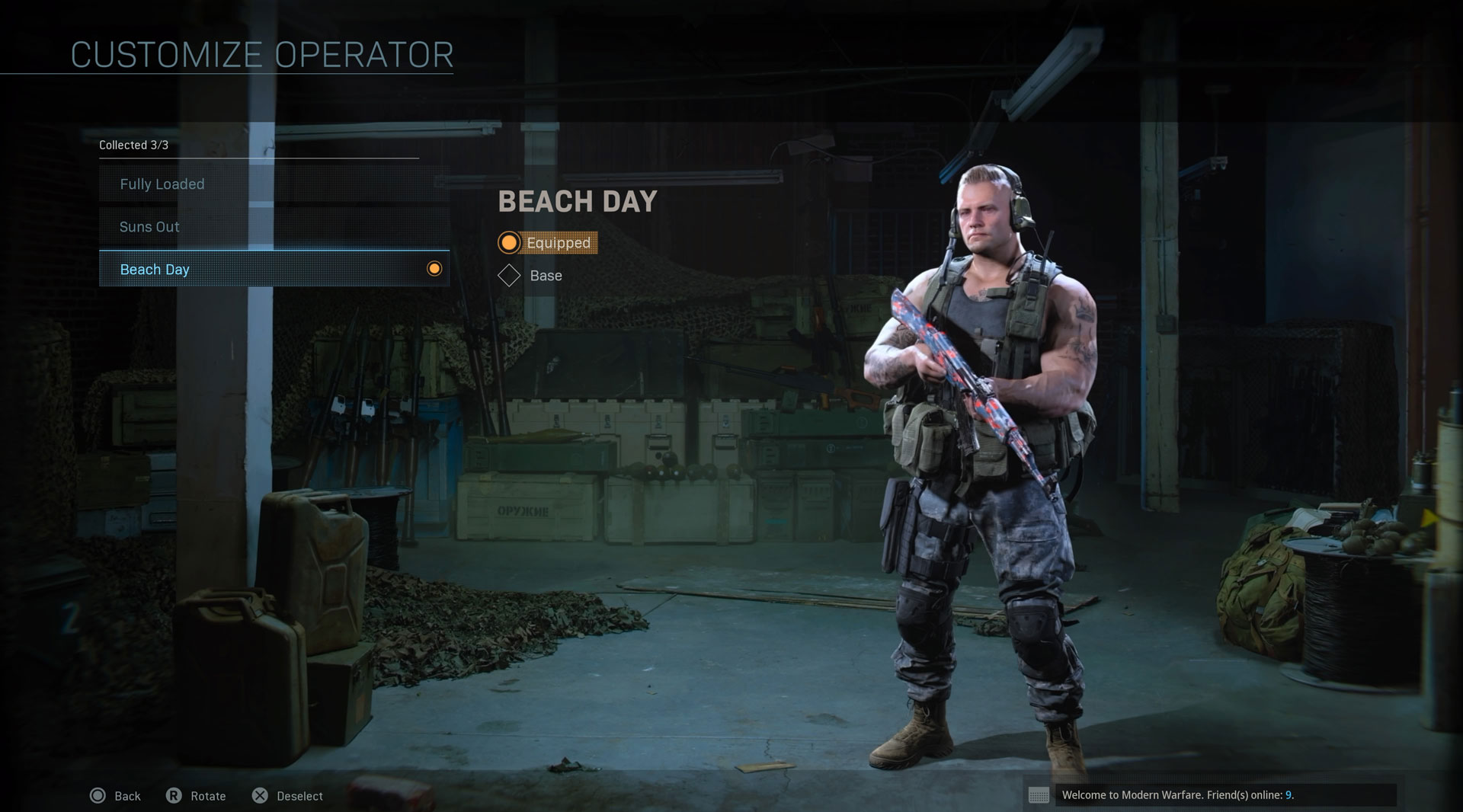 More Operator skins will become available in the coming months, much like other personalization content such as…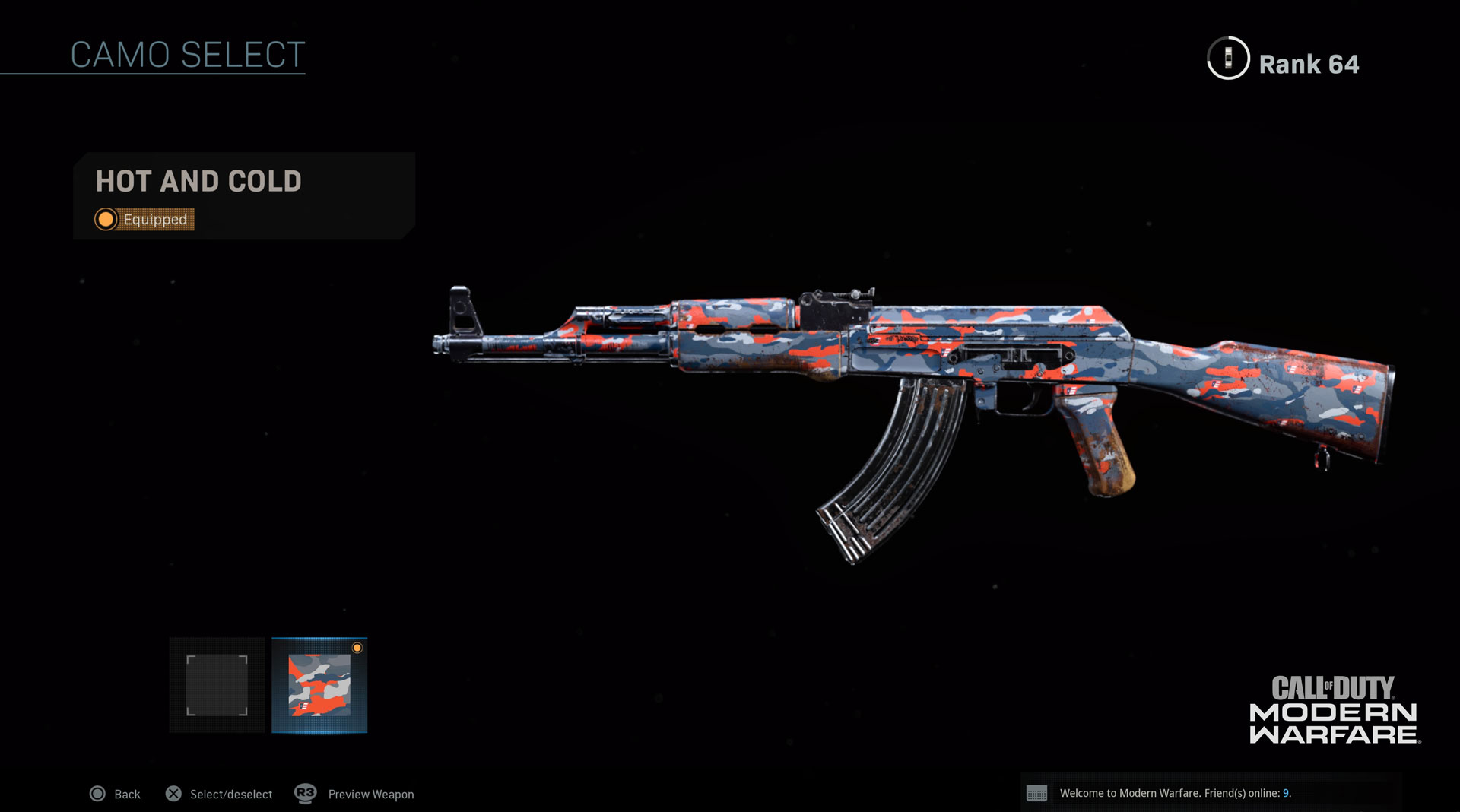 Camouflage, Charms, Stickers, and Reticles
Every weapon in the game can be equipped with camouflage, a layer of paint that gives it a cool, yet tactical, aesthetic. Some weapons can also have charms and stickers, which add additional layers of flair to your loadout.
These can all be accessed through Gunsmith via the Loadouts menu; just tab over from the attachments section for all these customization options.
As an example, we've shown the 'Hot and Cold' camo, which can be equipped by players who purchased the Call of Duty Endowment Defender Pack.
There are currently over 100 camo patterns that can be earned and even more that will become available at a later date.
As an example of weapon charm, players who purchased the Call of Duty Endowment Defender pack can also equip the 'Honor the Call' weapon charm, shown below.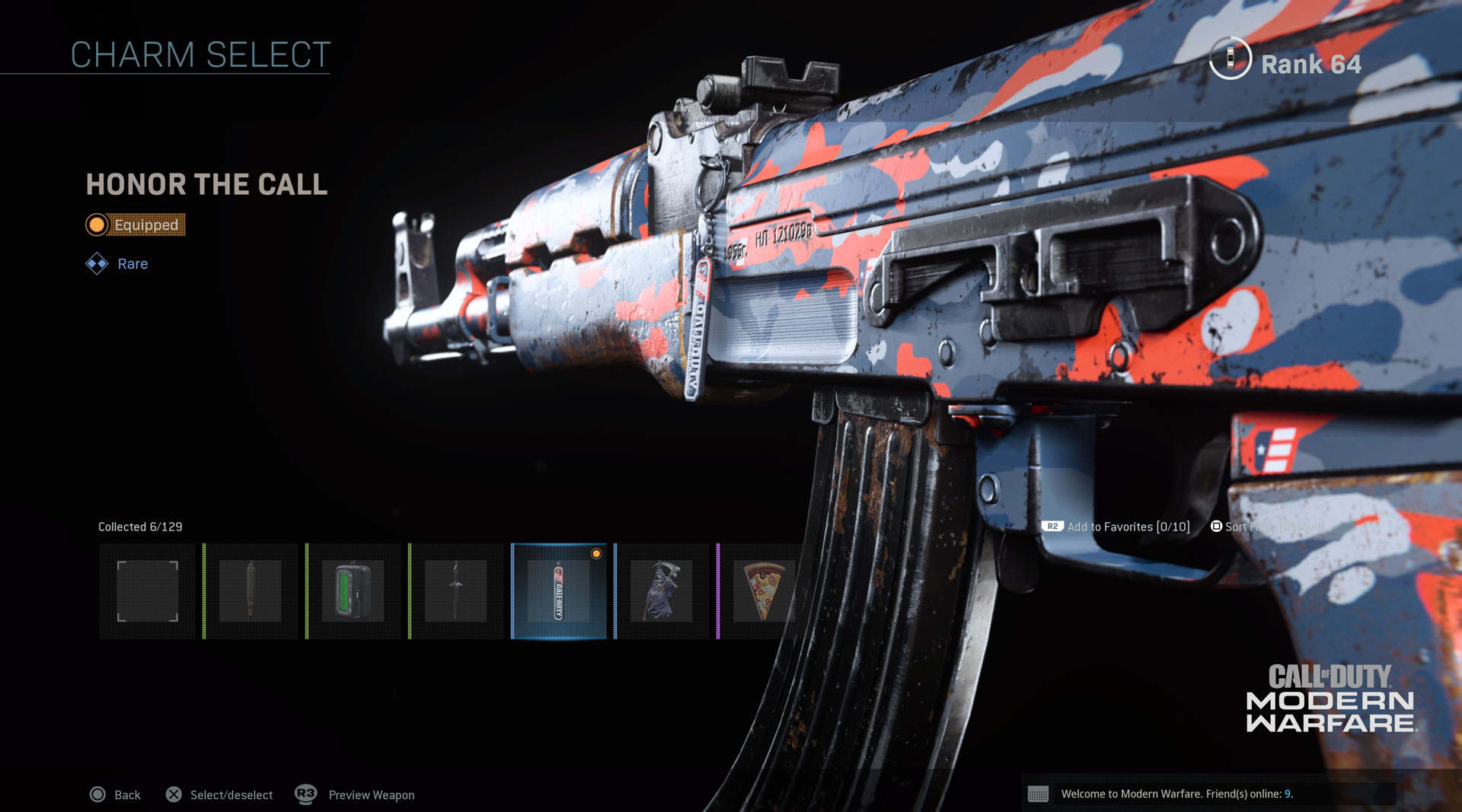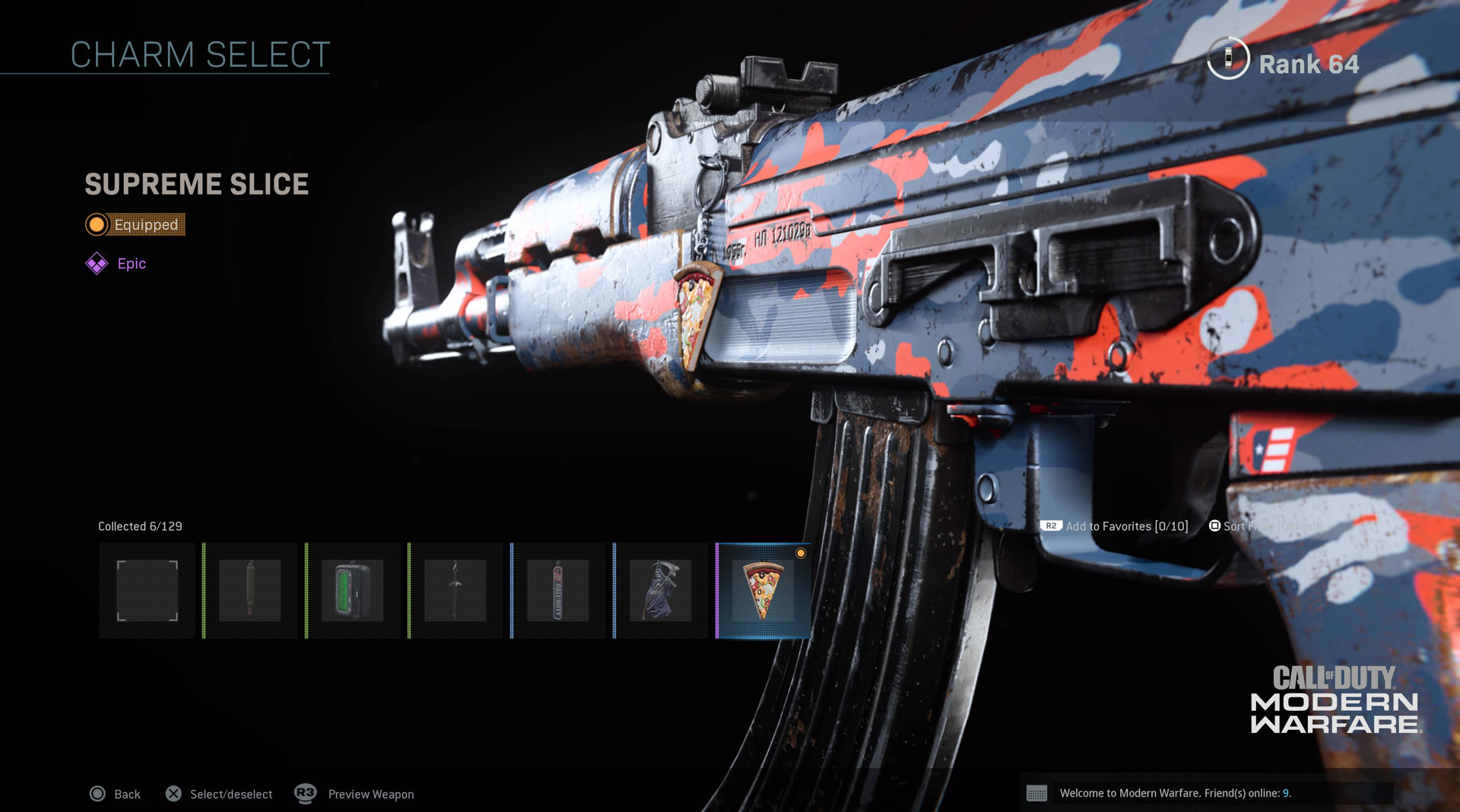 Right next to the charm selection menu within the Customize tab are stickers, additional designs for your weapon. Weapons have a varying degree of stickers to be equipped; in this example, we have four attached onto the AK-47, with two of them – Hot Head and Remarkable Marksman – earned through Multiplayer Mission sets.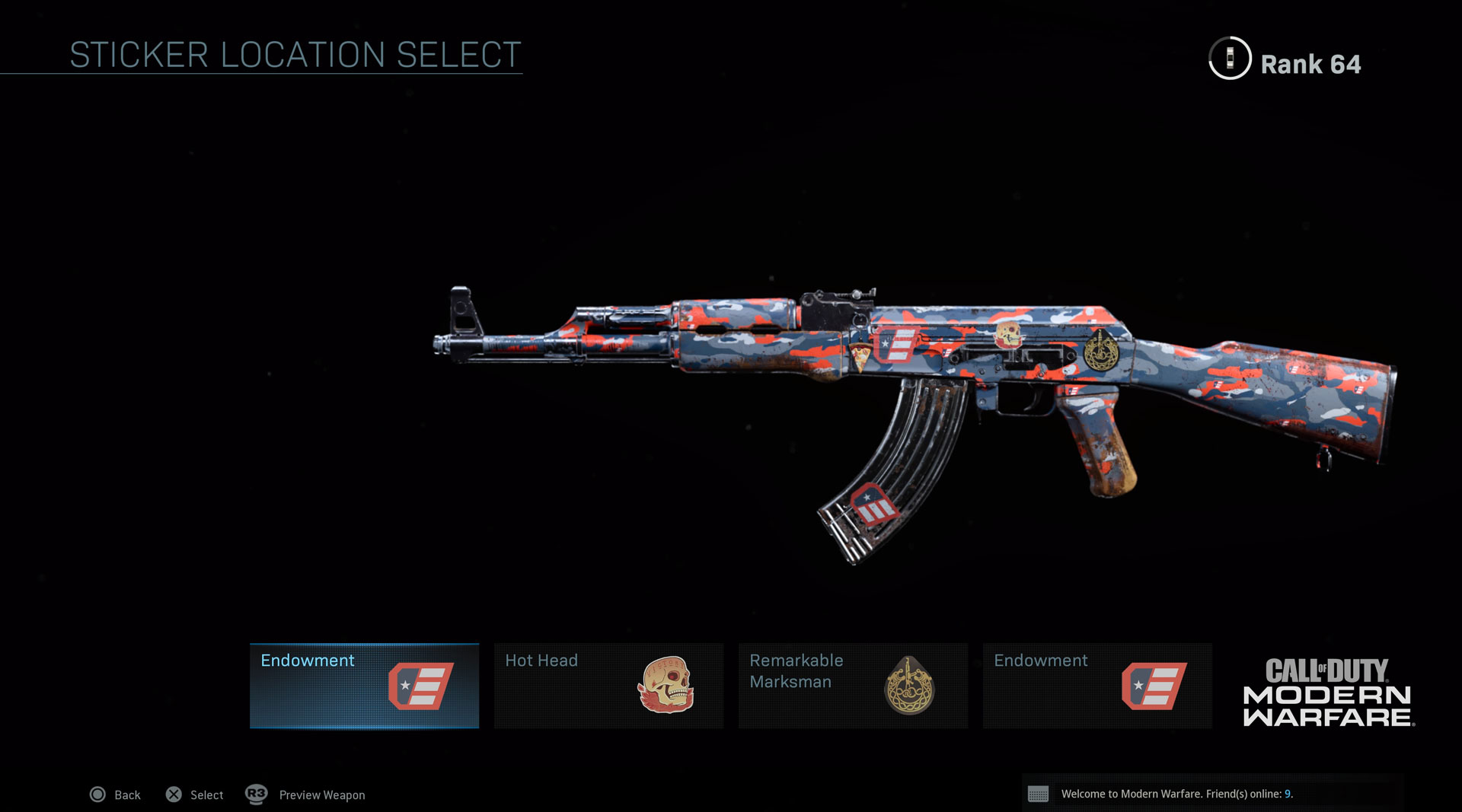 Furthermore, if you are using an optic on a weapon, you have the option to customize the optic's reticle. More reticles can be unlocked for specific optics across multiple weapons through reticle challenges. You can view these challenges by hovering over the locked reticle.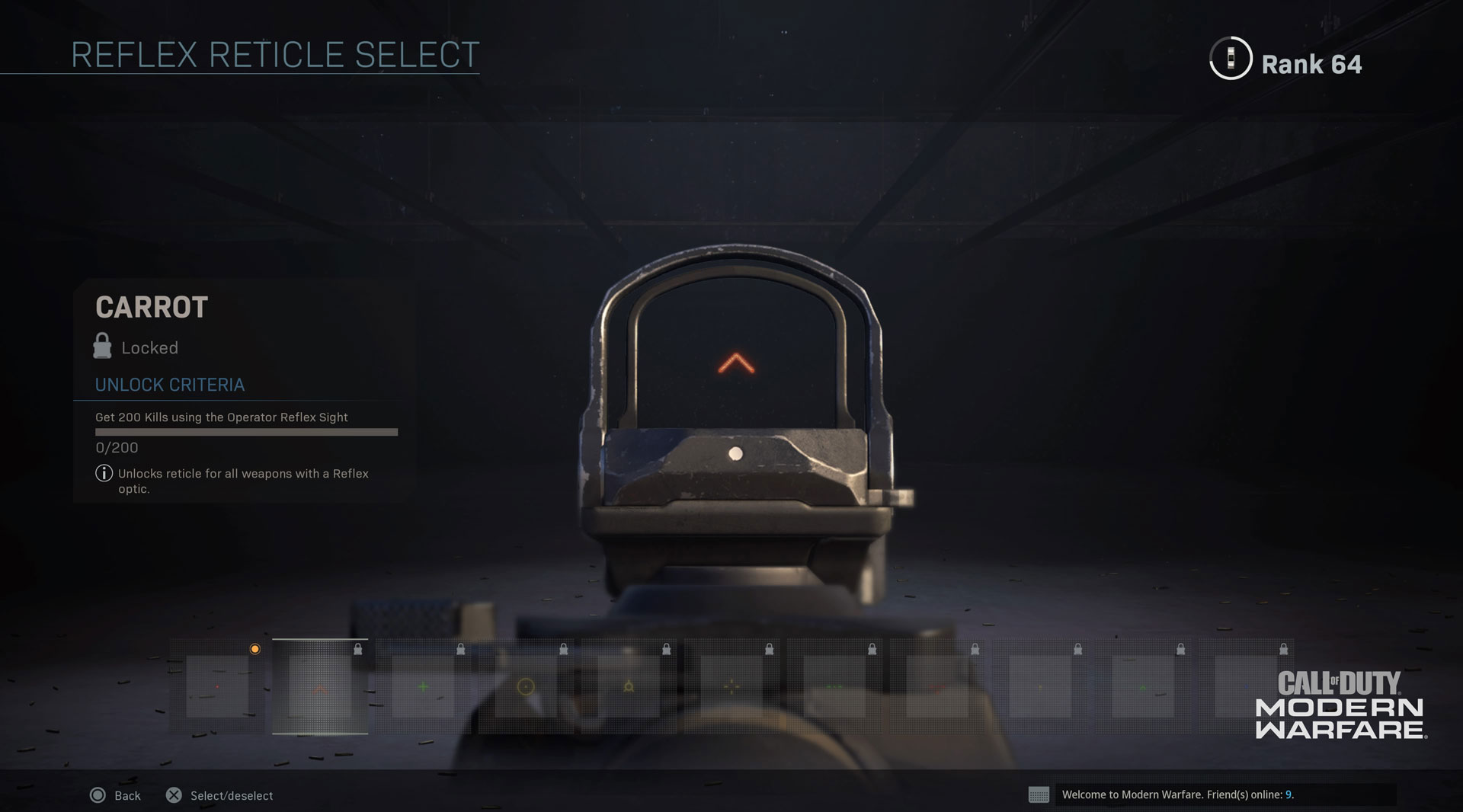 Weapons can also be modified by weapon blueprints, which are unique set of an attachments that emphasize a specific weapon's playstyle. Or by creating your own unique loadout in Gunsmith.  Check out past blogs to learn more on weapon blueprints and loadouts in Gunsmith.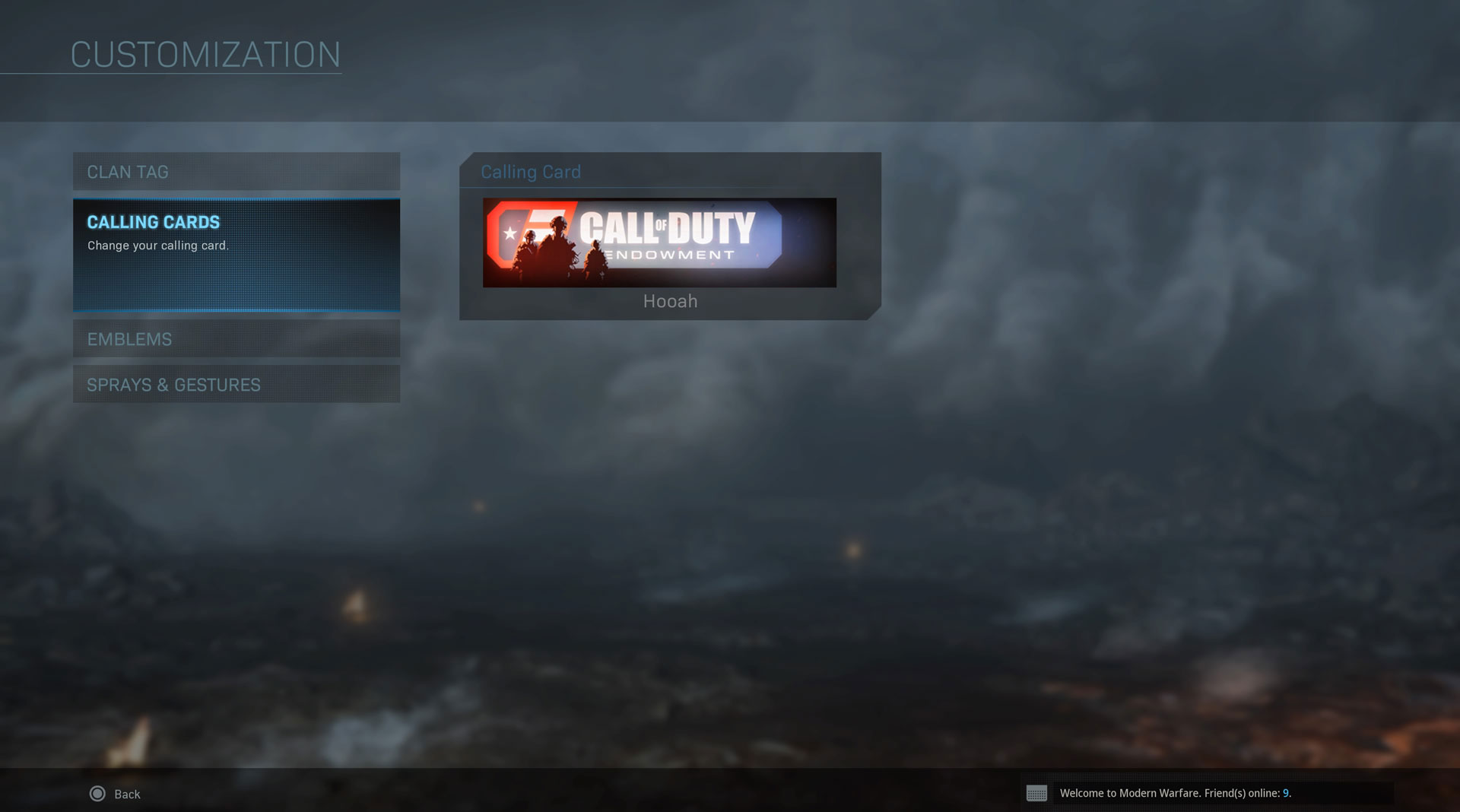 Player Profile Customization – Calling Cards, Emblems, Sprays & Gestures
The last place to fully personalize your Modern Warfare profile lies within the Barracks. Here, in the Customization menu, you can write out a clan tag, an up-to-five-character tag that goes before your in-game name, as well as equip calling cards, emblems, sprays, and gestures. Here you seen an example of a calling card that you can equip by purchasing the Call of Duty Endowment Defender Pack.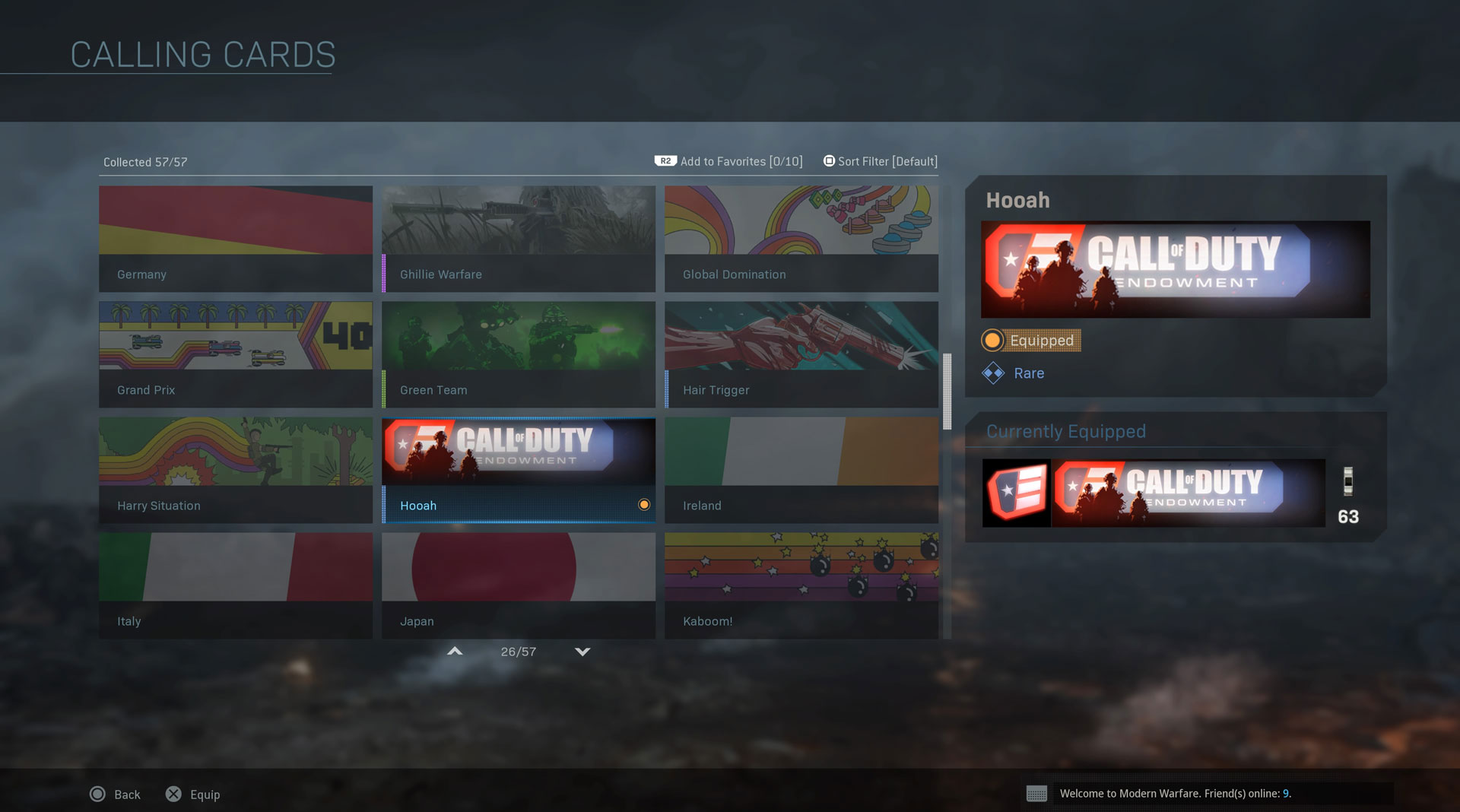 Calling cards and emblems make up your player profile which, along with your player level and rank, paints a full picture of your epic Modern Warfare career.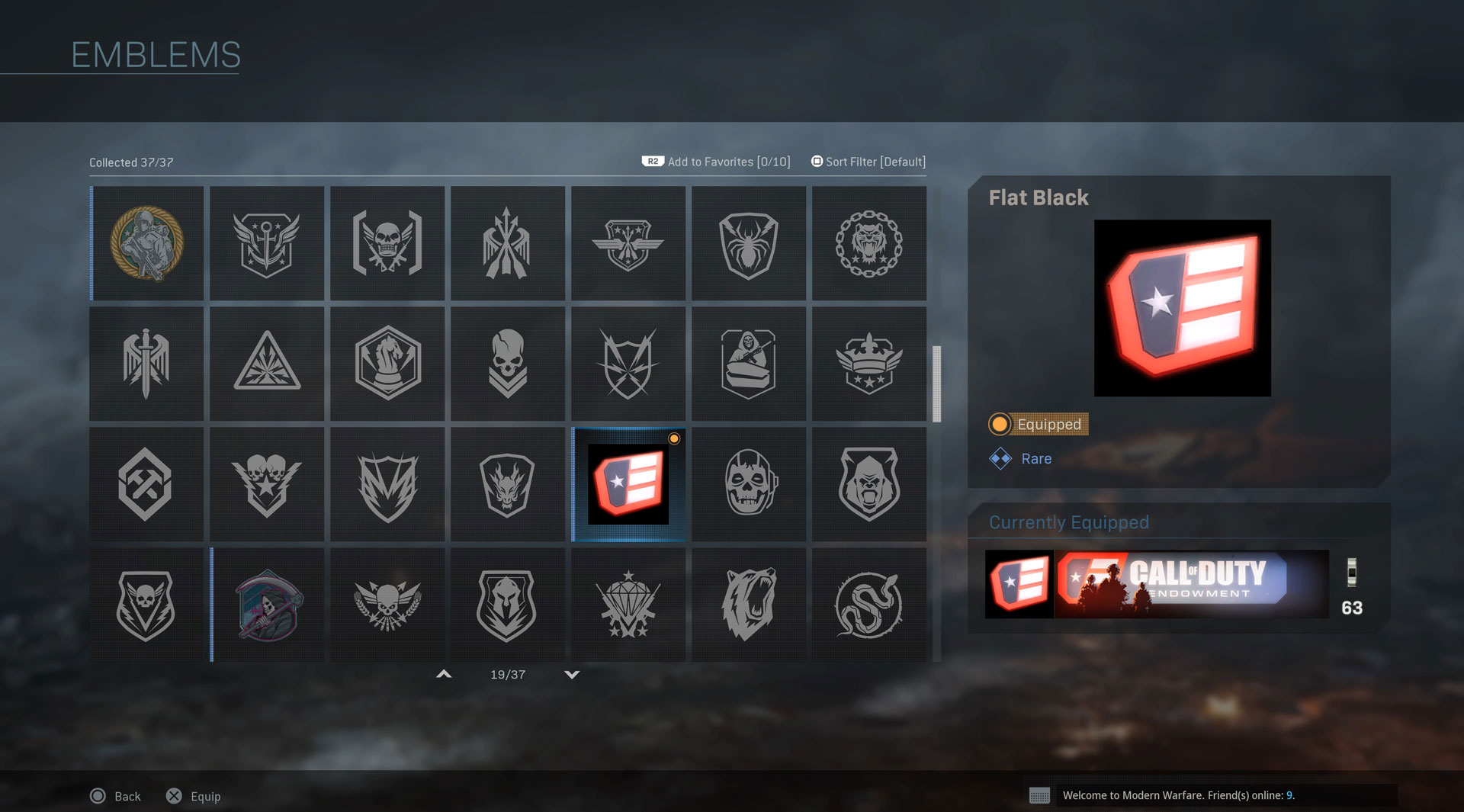 You'll have a few dozen calling cards and emblems just from booting up the game – including some Activision 40th Anniversary edition calling cards – but you can also earn and get more through events and other means.
As for sprays & gestures, these are in-game emotes that can be done by your Operator.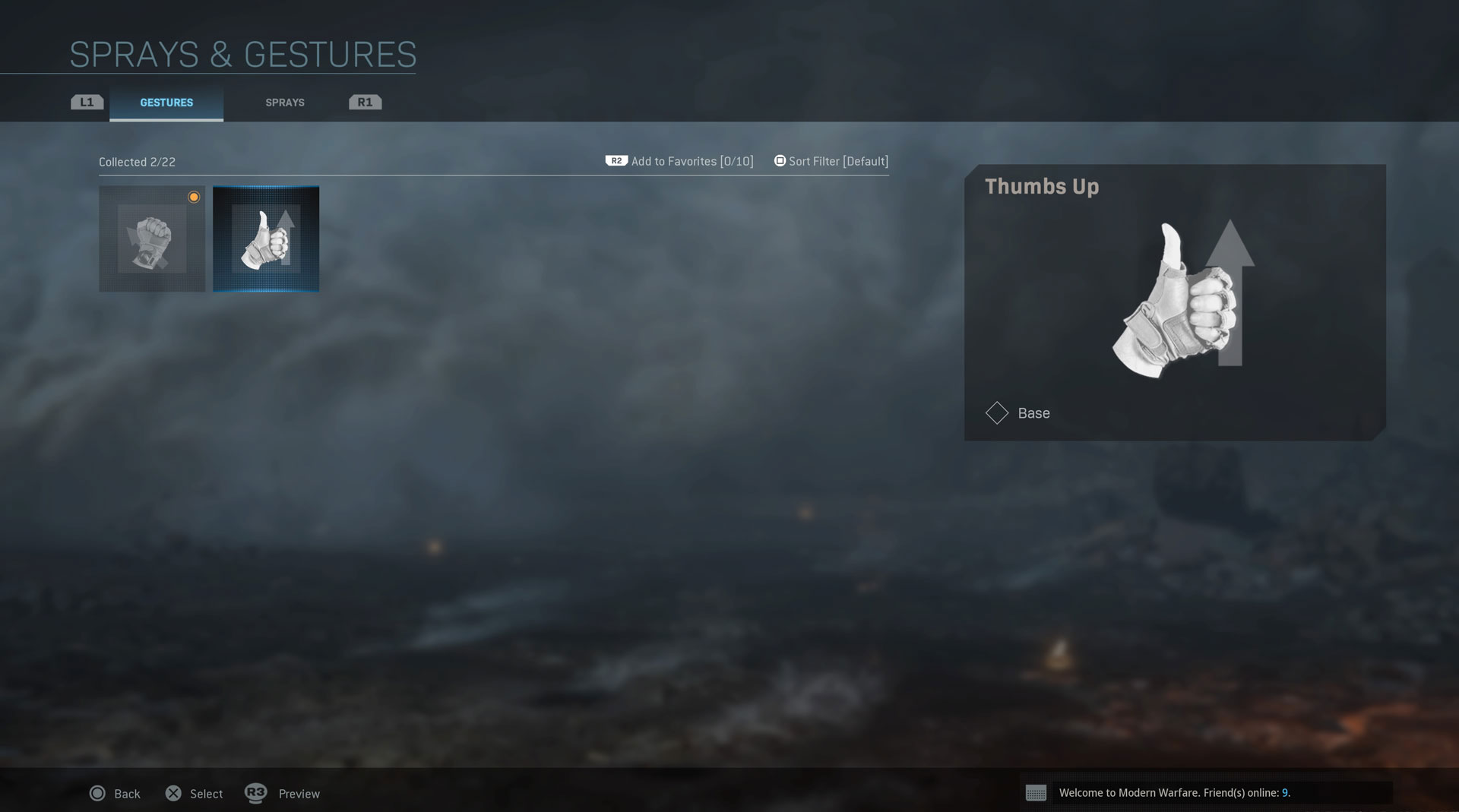 Within this menu, you can select a gesture or spray and put it on a radial menu. Then, while in-game, you can activate the desired spray or gesture to give your Operator even more personality.
Now that you have all the customization options at your disposal, we expect you to start looking cool – or dare we say, frosty? – on that next infiltration. 
For more information and the latest intel on Call of Duty®: Modern Warfare®, check out: www.callofduty.com, www.youtube.com/callofduty and follow @InfinityWard and @CallofDuty on Twitter and Instagram and Facebook.
For more information on Activision games, follow @Activision on Twitter, Facebook, and Instagram.