Dark Edition Revealed!
The Call of Duty: Modern Warfare Dark Edition is available globally for pre-order at select retailers now! With only limited quantities in production, don't miss out on your chance to order this collector's edition of the game. Here are all the physical and digital items to expect if you get the Dark Edition of Modern Warfare: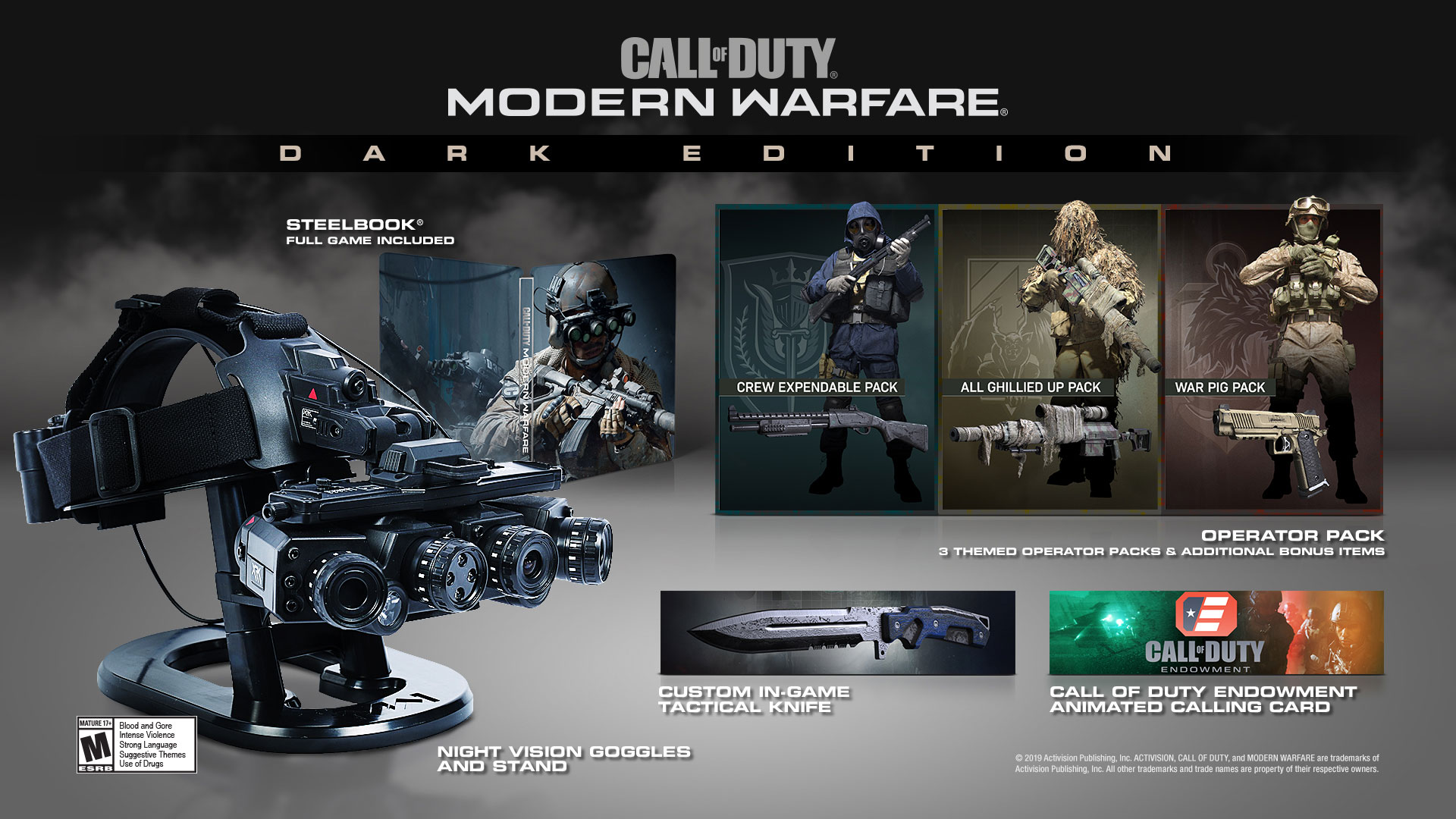 Physical Items:
·      Call of Duty: Modern Warfare game
·      Steelbook
·      Night Vision Goggles
·      Display Stand for Night Vision Goggles
Digital Items:
·      Custom in-game Tactical Knife
·      "All Ghillied Up" Operator Pack
·      "Crew Expendable" Operator Pack
·      "War Pig" Operator Pack
·      Call of Duty Endowment (C.O.D.E.) Animated Calling Card – included at participating retailers only
Do you require more information about the Digital items? Then check out this post detailing the Operator Edition of the game.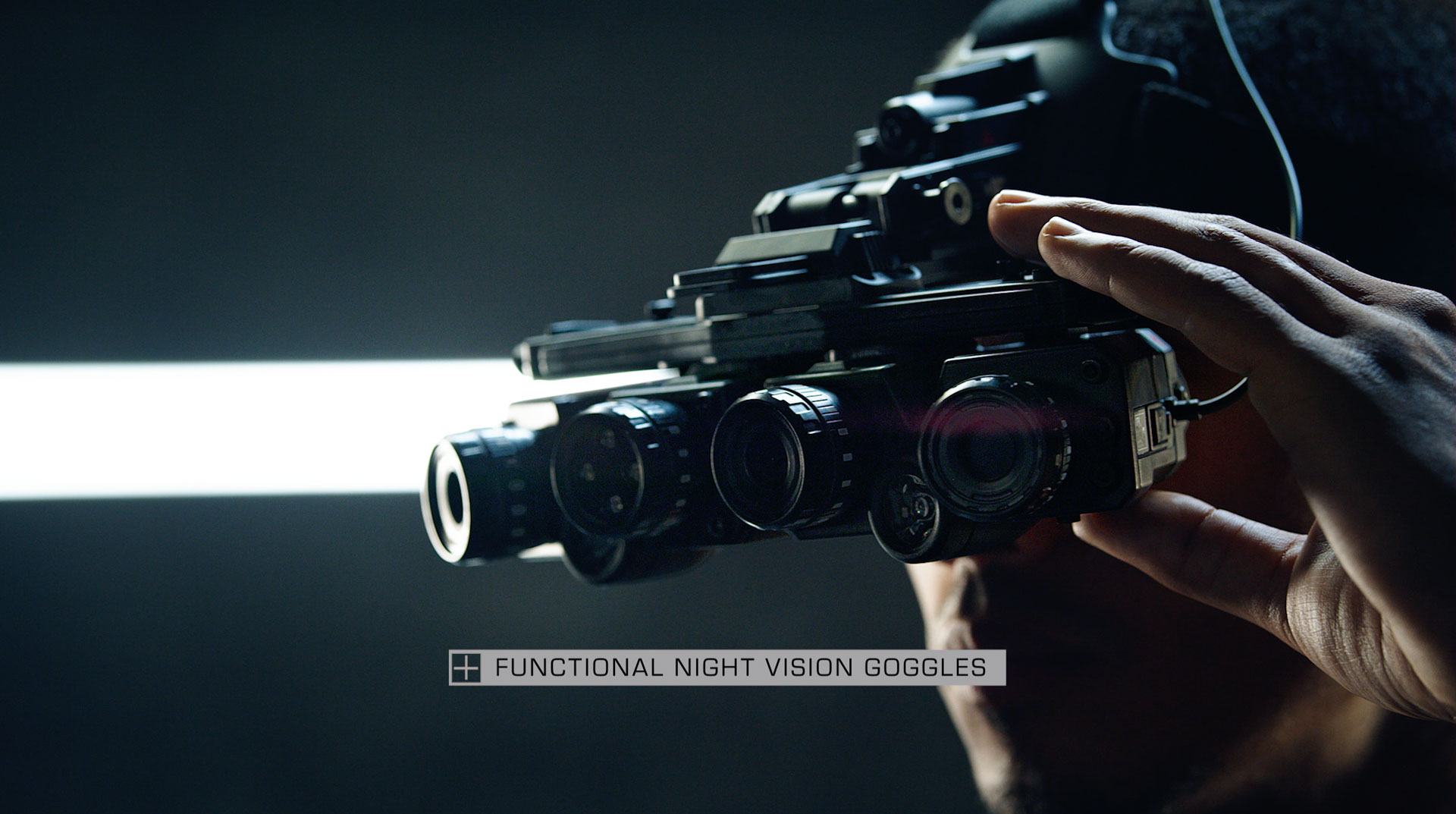 Night Vision Goggles: Overview
The functioning Night Vision Goggles that only come with the Dark Edition are wearable, and developer Infinity Ward has outfitted these adjustable goggles with game-inspired custom decals and design details. The NVGs have three visual modes:
·      Daylight Running Mode: Allows you to use the goggles during normal daylight conditions.
·      Night Vision Mode: Automatically switches to night vision mode during low-light situations.
·      Long Range IR Mode: A manual button allowing the Goggles to operate at full power, enabling up to 65 feet (20 meters) of vision in complete darkness.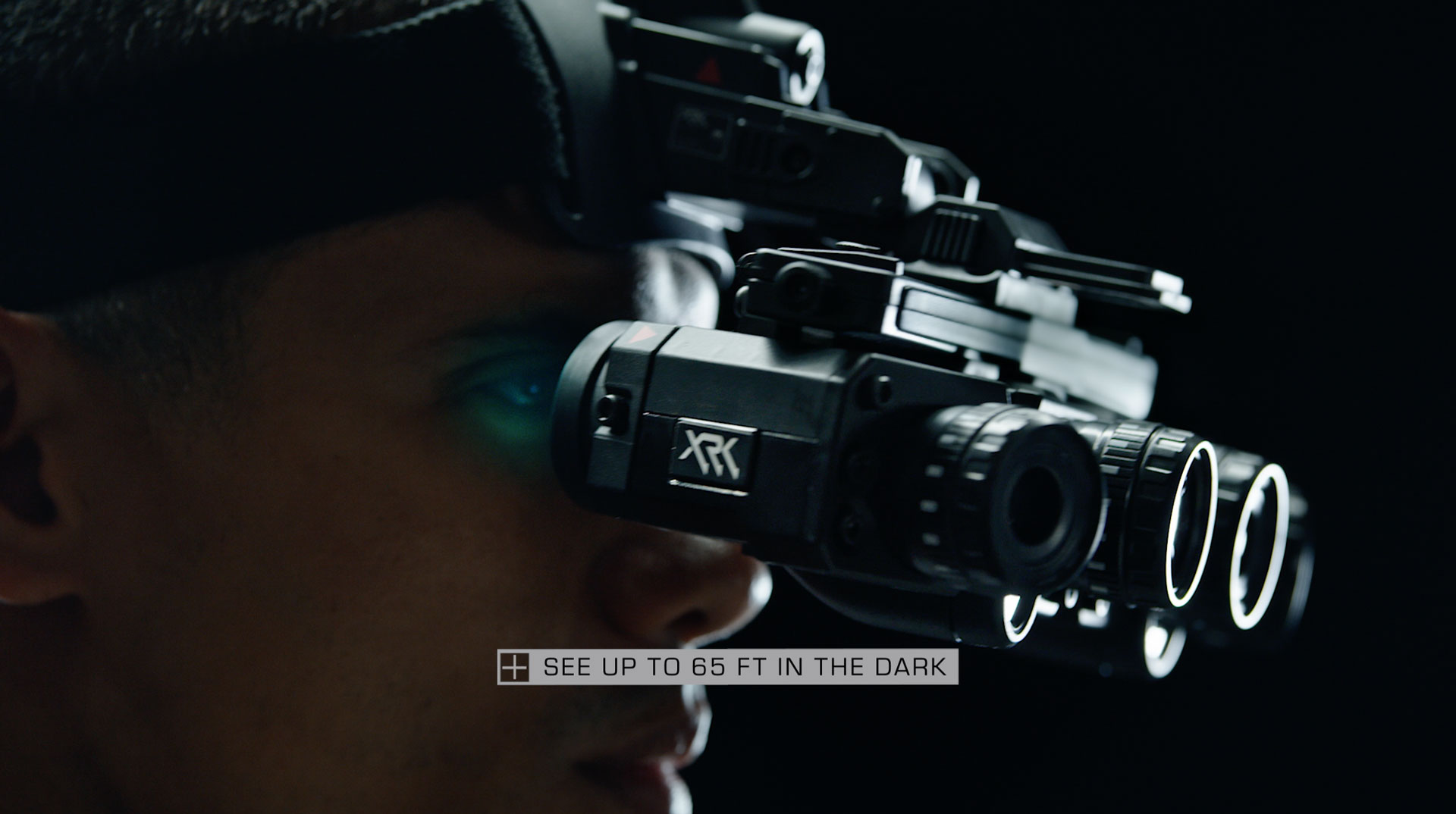 The goggles come with adjustable straps designed to fit your head shape, and a top strap allowing you to set the goggles horizontally without the need to tilt your head or goggles up and down. The Modern Warfare NVGs also comes with a number of adjustment buttons, sliders, and other functions enabling the following changes to your viewing, depending on the situation:
·      Left and right focus adjustment sliders.
·      Power on and off switch.
·      Night Vision mode adjustment: When operating at Night Vision mode, you can switch between a black and white screen, and the default blue screen.
·      Long Range IR mode: Toggle to this mode and the NVG operates at full power and emits a (barely visible) ring of red light. This mode allows you to see up to 65 feet (20 meters) in complete darkness.
·      Hinge Release button: Press this to flip the goggles up when you wish to wear, but not use them. Press again to flip down to wear the goggles again.
·      Eye Width and Distance Adjustments: There are left and right knobs that adjust the transverse displacement, and a pair of buttons to release and lock a slide to adjust the distance between the goggles and your eyes.
·      USB Charging Port: Beneath a soft lid on the left side of the goggles is a USB charging port. Plug this into a suitable USB charging cord to charge the goggles.
·      Collectors Stand: This stand can be used to display the goggles when they're not being used.
Contact your local games retailer to pre-order the Call of Duty: Modern Warfare Dark Edition now, before supplies run out!
    If you're in the USA, you can purchase the Dark Edition here, at GameStop.
    If you're outside the USA, here's where you can buy:
Region

Retailer

Australia

Australia

Canada

Denmark

Denmark

Finland

Finland

France

France

France

France

France

France

France

France

Germany

Germany

Italy

Italy

Nordics

Nordics

Nordics

Norway

Norway

Spain

Sweden

Sweden

Switzerland  

UK

USA
Pre-orders at participating retailers are available now!
If you're looking for official information and deep dives about a host of Multiplayer content, with intel straight from the developers at Infinity Ward, prepare for some return visits to the Call of Duty and Activision Games Blogs. The Modern Warfare Blog Takeover is now on, with multiple new stories a week, starting tomorrow. Do you need specific, confirmed, and official reports on the creation of Multiplayer, the Heads-Up Display, Operators, Loadouts, Game Modes, Maps, Killstreaks, and Field Upgrades? Head back here beginning tomorrow, August 2nd!
For more information and the latest intel on Call of Duty®: Modern Warfare®, check out: www.callofduty.com, www.youtube.com/callofduty and follow @InfinityWard and @CallofDuty on Twitter and Instagram and Facebook.
For more information on Activision games, follow @Activision on Twitter, Facebook, and Instagram.