Operation: Rank Up Report #0036
Day 252 – 10:25:30 PST
Somewhere in California
AGB – Lead Writer
For the past 35 Rank Up Reports, we've gone over some great tips and strategies for Multiplayer and Warzone™, and this time, we're covering another mode that can seriously help you rank up quickly thanks to its offering of a boatload of XP, not to mention weapon blueprints, Operator skins, and more.
Let's get to Ranking Up:
Operator of the Week
This was a massive few weeks for the Allegiance. Not only did they receive a new Operator a few days ago, but the Store came out with plenty of new skins. 
However, even though plenty of worthy Operators could have been highlighted, I went with Yegor and his 'Chilled Out' skin. He's holding the Gunsmith Custom Creation of the Week, which we'll break down towards the end of this report.
How did I get our friend Yegor suited up in some combat khakis? Well… That brings us to our Top Rank Up Tip:
Top Rank Up Tip
Available in Modern Warfare®, Co-Op is the blade in between Warzone and the Store in the main menu and is the home of Special Ops, an up-to-four player tactical PvE experience. This is what I recommend to all players who want to test out loadouts in a no-frills environment, try out some new weapons, or dive deep into the Modern Warfare universe's lore…
And, best of all, those who are right alongside me on this journey to ranking up and completing the game will find that Special Ops has a ton of XP, blueprints, Operator skins, and personalization items to earn. And that, in general, is how you unlock Yegor's 'Chilled Out' skin.
How do you specifically unlock it? See below: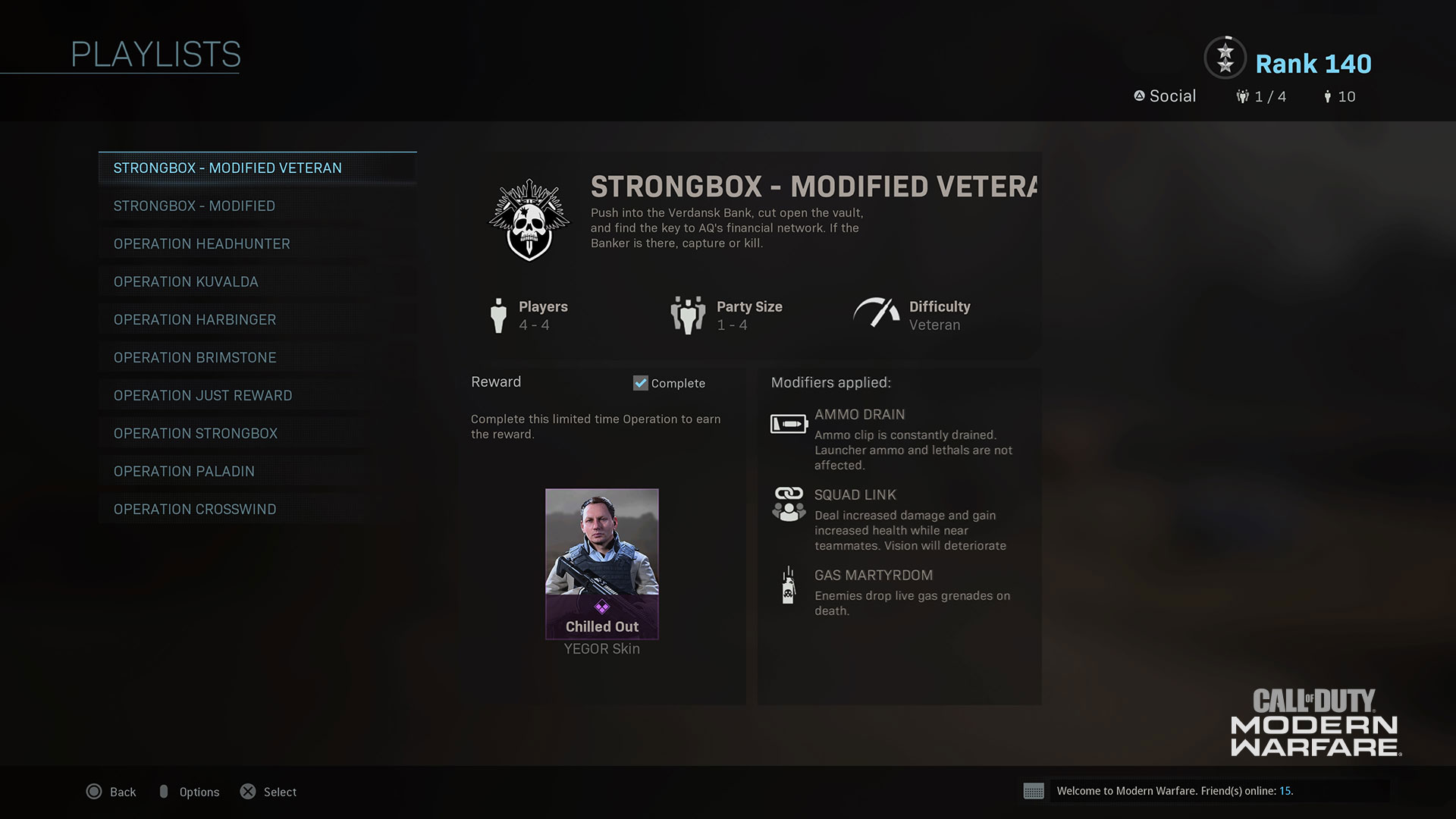 As part of Season Four Reloaded, Operations in Special Ops received an update--modified playlists. These add new twists to existing Operations, challenging you and your squad to tackle these experiences in interesting or unconventional ways.
The first modified playlist – Operation Strongbox – has two versions (Regular and Veteran difficulty) that have the same modifiers shown above. Completing the Regular version unlocks a calling card, while overcoming the Veteran version gives you Yegor's 'Chilled Out' skin.
Now, I'm not just here to tell you about this new version of the Operations – I got five tips for you to go out and crack open this Strongbox like a master thief: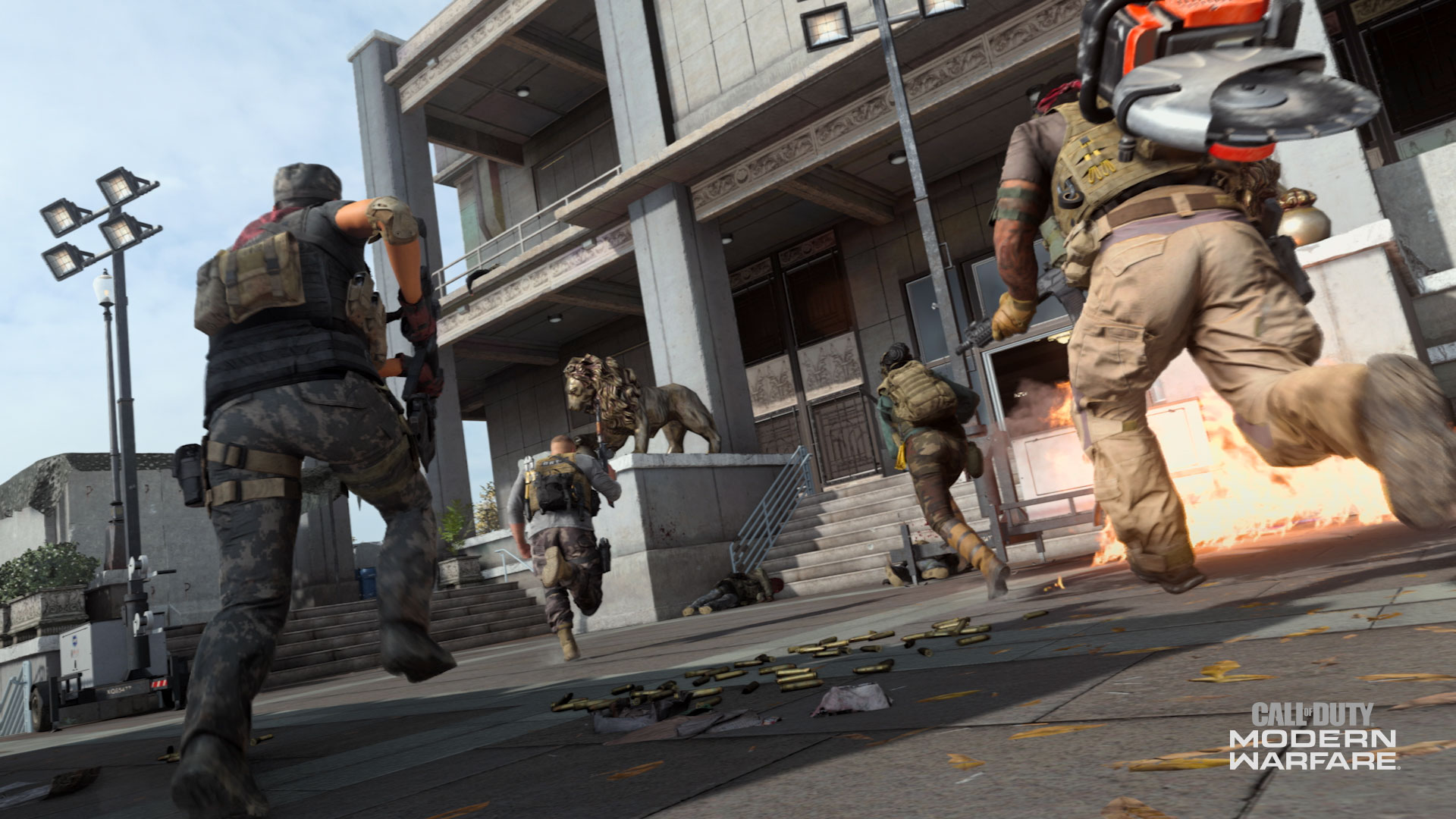 1. Beat the Drain. The Ammo Drain modifier within this playlist doesn't count towards launchers or equipment, so carrying a big ol' rocket launcher and equipping the Restock perk to continually replenish equipment helps, especially against enemy equipment or groups. Alternatively, consider taking Ammo Crates for your Munitions to offset this modifier.
2. Stick Together… But Keep Your Distance. With the Squad Link modifier, a good rule of thumb is to stay between three and five meters away from your squadmates. That's close enough for the damage and health buffs, but not too close for a single mortar or Juggernaut to pulverize the entire squad.
3. No Seriously, Keep Your Distance. Even without the Gas Martyrdom modifier, you should already be keeping your distance from enemies within Operation Strongbox, as there are bombers who would love to one-shot you up close. Take a few seconds to reload and check your supplies after big firefights rather than rushing in, as even with Battle Hardened, the gas can easily overwhelm your senses.
4. All Other Strategies Apply. Remember: this is still Strongbox. Get to the bank quickly with a saw, defend your designated saw player as they access the vault, and try configuring your favorite LMG or shotgun with the FMJ weapon perk – like our Gunsmith Custom Creation of the Week – to quickly tear through enemy Juggernauts and equipment.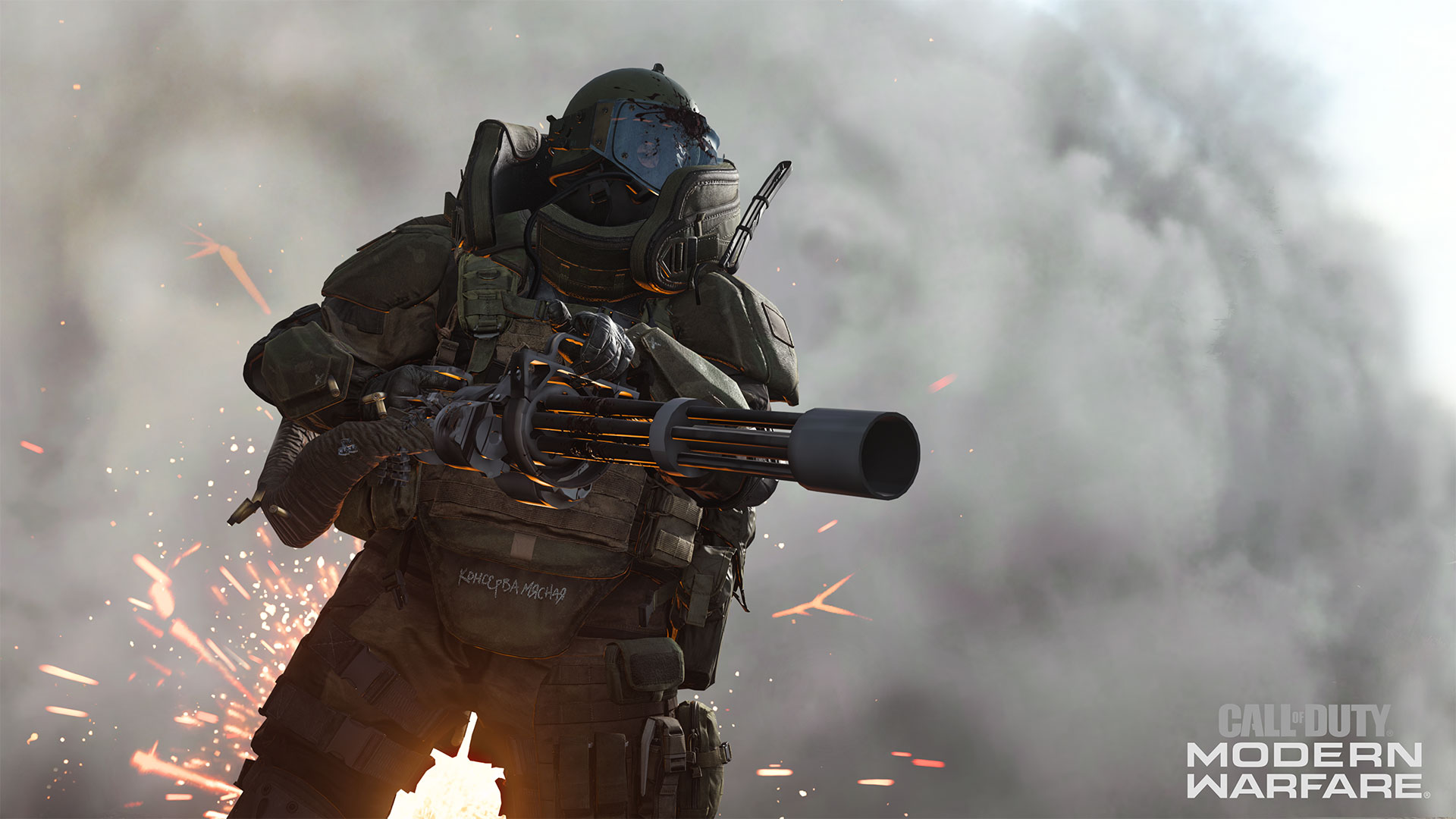 5. Go for the Jug(g)ular. As you play Operations, you earn Munitions points that can be spent on awesome Killstreaks, Field Upgrades, or Deployable Crates to bring in for your next Operation. Although it costs 1,000 points, the Juggernaut suit is fantastic in Strongbox for two reasons: most engagements will take in and around the Acropolis National Bank, meaning aerial Killstreaks may not be as effective, and the included Minigun can rip through enemy Sentry Guns, Wheelsons, and Juggernauts.
So, was this modified Operation too easy for you? Want to have a few exclusive blueprints in your ever-growing Armory?
Like Warzone and Multiplayer, this game mode also has Mission sets that award XP and other rewards for completing challenges in Co-Op. For Season Four Reloaded, Infinity Ward came out with a self-proclaimed tricky challenge set: Hard Boiled.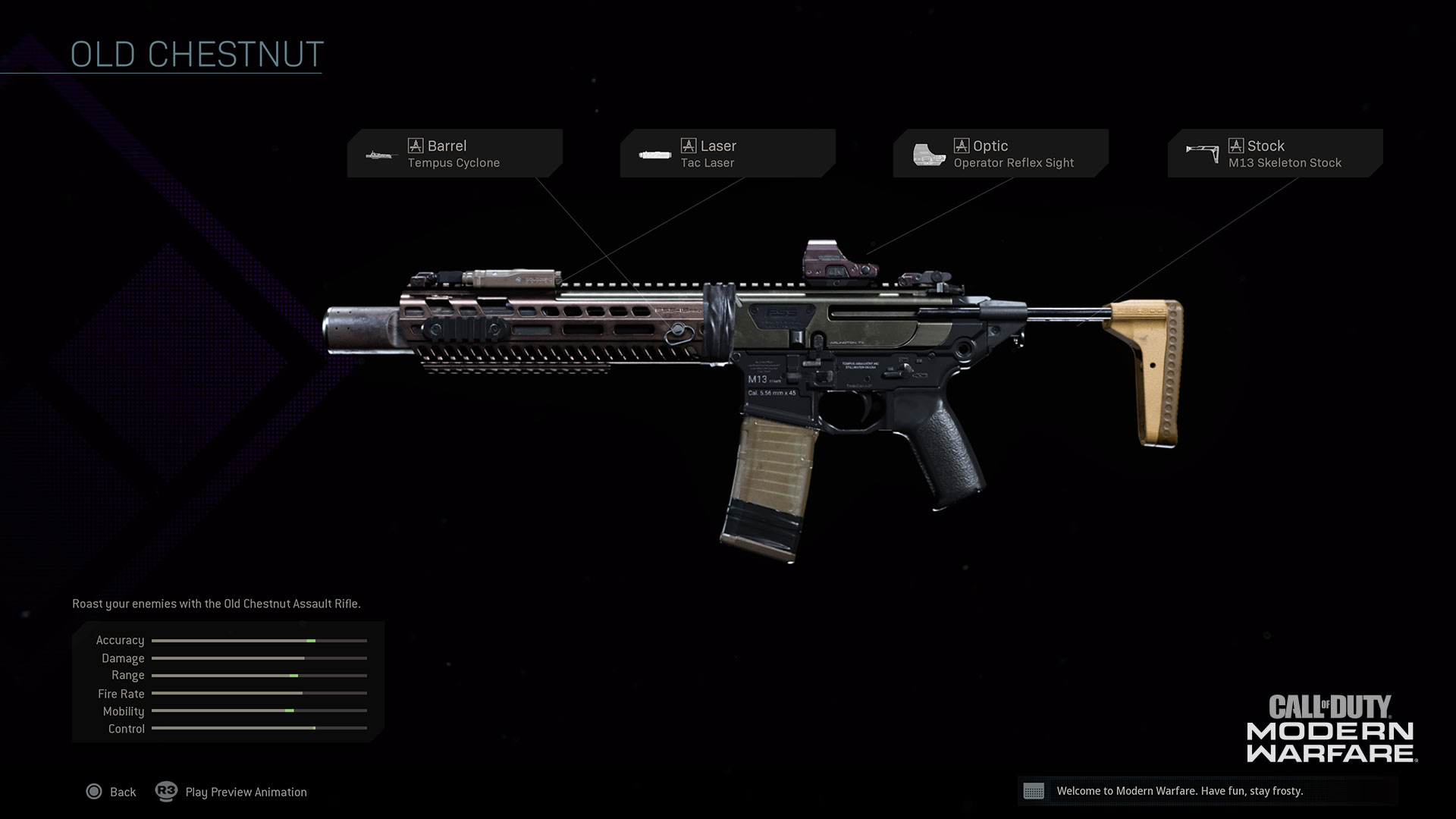 In order to get an epic assault rifle blueprint, you must complete six objectives, such as using the Recon Drone to mark 40 enemies who are riding in vehicles or getting 10 sliding Crossbow Kills while playing as Alice.
Again, these challenges are a tough nut to crack, but the XP, personalization items, and of course, the Old Chestnut blueprint weapon, are some fantastic rewards for your demonstration of awesome skill.
Gunsmith Custom Creation of the Week
So, what is our Operator Yegor holding? If you can believe it, the base for our Gunsmith Custom Creation of the Week is found within Classic Special Ops, another key experience within Co-Op.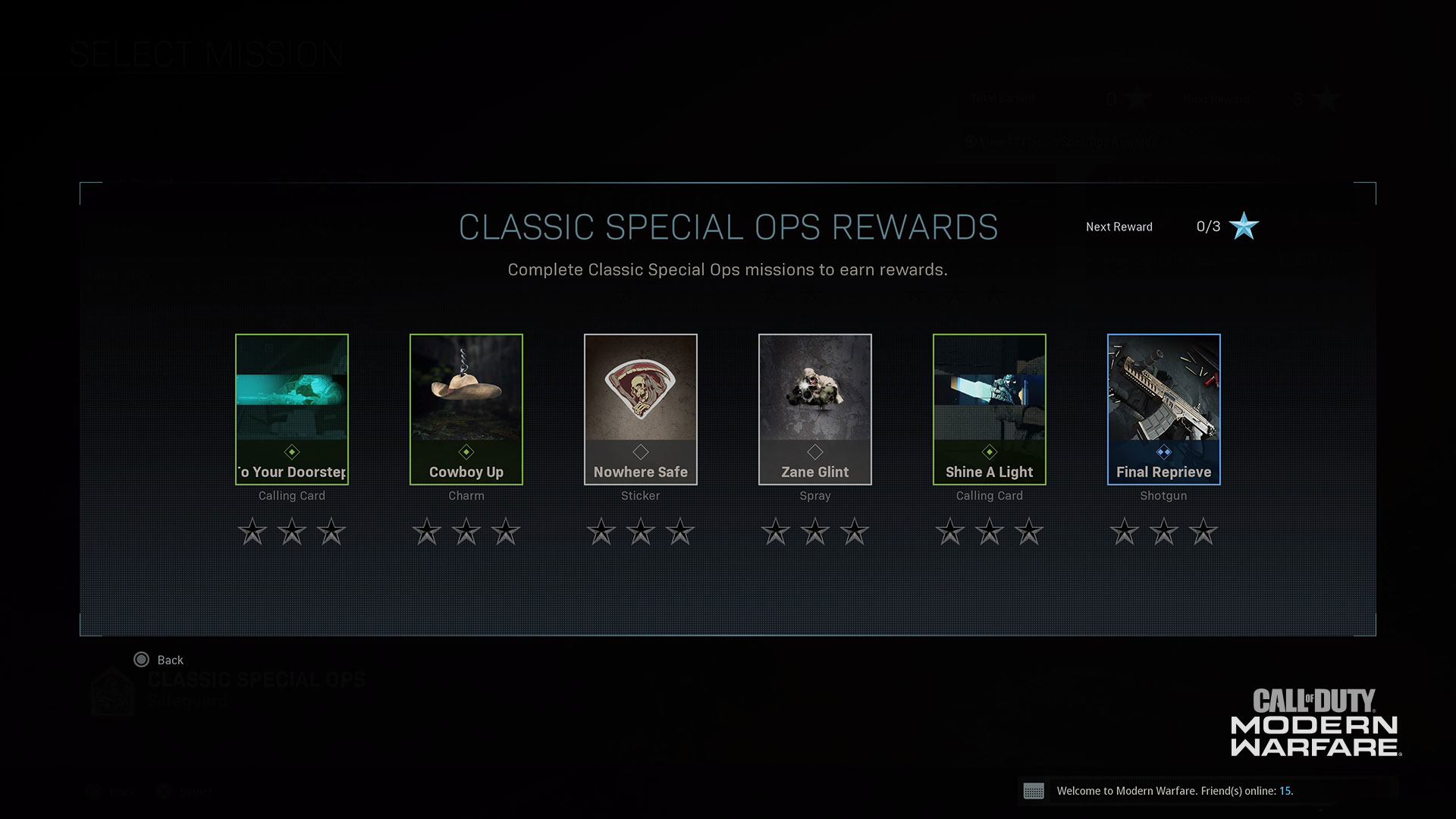 Getting Three Stars on all Classic Special Ops missions, which are reminiscent of the Special Ops experience in Modern Warfare® 2 and 3, will grant you this rare shotgun blueprint. Along the way, you'll unlock two calling cards, a charm, a sticker, and a spray. But, here's your big ticket prize for mastering Classic Special Ops: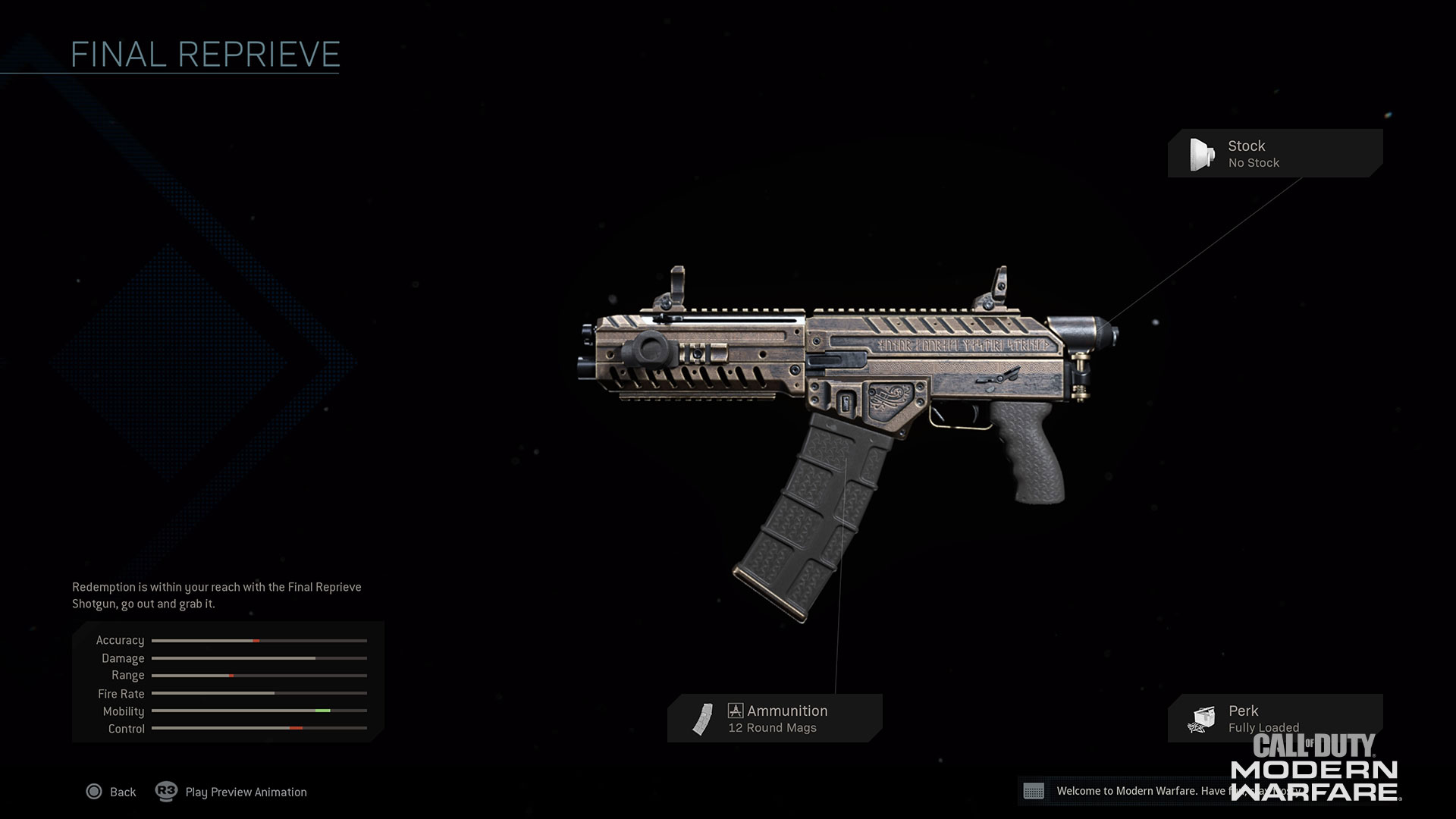 On its own, this shotgun has a great skin and solid attachments. However, we tend to push the envelope for Gunsmith Custom Creations, so rather than the Final Reprieve, I created the 1st Charge: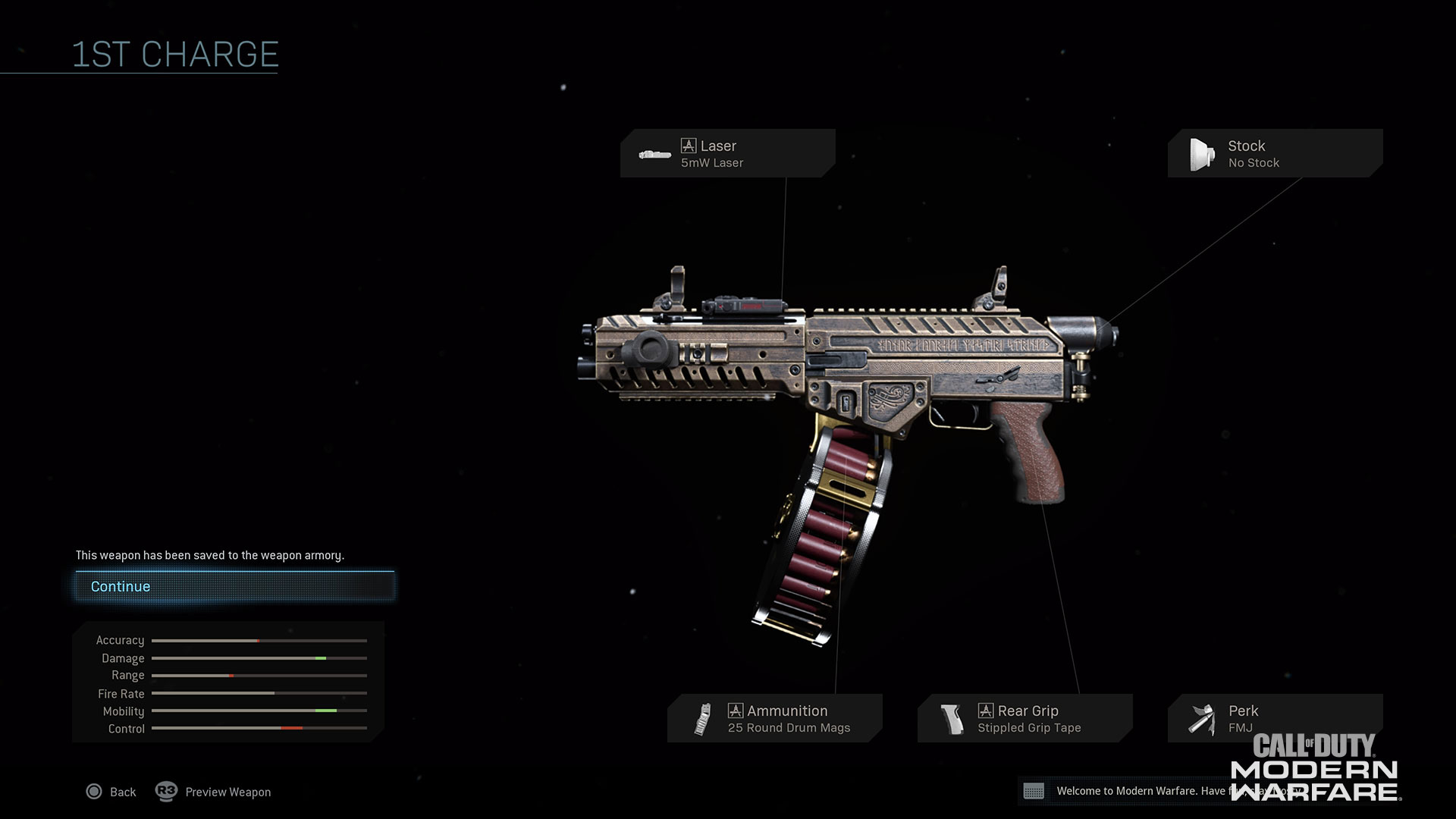 This shotgun combines elements from the Bloodlines, Bankroll, and Final Reprieve blueprints. 
From our base Final Reprieve, we kept No Stock. Then, I swapped out the 12 Round Mags for the 25 Round Drum Mag – it gives the most reserve ammo outside of the Fully Loaded perk – and brought in the Stippled Grip Tape. Both attachments are from the Bankroll blueprint, found in the 'Fool's Gold II' Store bundle from Season Three. 
The last physical attachment is the 5mW Laser from the Bloodlines blueprint, unlocked at Tier 81 of the Season Four Battle Pass.
Finally, I loaded up FMJ for my weapon perk, which gives all my shots increased penetration through walls and enemy equipment, including Killstreaks.
This configuration can punish entire squads or enemy waves, including their equipment and Killstreaks, without slowing an Operator down too much or having the need to reload often. The Grip Tape, Laser, and No Stock minimizes the weapon's sprint to fire speed – the time it takes to fire after running – and maximizes movement speed so that the Drum Mag's weight isn't as much of an issue.
As for the Drum Mag and FMJ combo's purpose, it is fantastic for destroying Killstreaks, such as Juggernauts. It also excels at wiping enemies off objectives, or clearing interior spaces, including through weak cover. For example, the Office or the Shanty Town in Shoot House has plywood walls that are flimsy enough for FMJ 12-Gauge shells to punch through them.
Honestly, the 1st Strike is the exact configuration I use for my primary weapon in Co-Op, as I love the Engineer role, as it gives me increased damage output towards armored targets and vehicles. 
With that in mind, I pair the 1st Strike with a JOKR or Strela-P launcher along with a Thermite grenade. This way I can take out anything that may distract me or my squadmates from punching forward.
So, who's ready to party up? I'll see you online.
Stay frosty.
For more information and the latest intel on Warzone, visit www.callofduty.com and follow @CallofDuty on Twitter, Instagram, and Facebook. 
For more information and the latest intel on Call of Duty®: Modern Warfare®, check out: www.callofduty.com, www.youtube.com/callofduty and follow @InfinityWard and @CallofDuty on Twitter and Instagram and Facebook.
For more information on Activision games, follow @Activision on Twitter, Facebook, and Instagram.