Operation: Rank Up Report #0033
Day 231 – 12:32:10 PST
Somewhere in California
AGB – Lead Writer
"Then why have we got our hands tied? Let's just take the bloody gloves off and fight... sir."-Kyle "Gaz" Garrick, Call of Duty®: Modern Warfare®.
There's no other way to introduce this article than with words from our featured Operator himself, so let's get down to Ranking Up, shall we?
Operator of the Week
Around here, we call our Featured Operator – Kyle – by his nickname given to him within Task Force 141: Gaz.
The left side shows his 'Sabre' skin, an instant unlock after you purchase the 'Gaz Operator' bundle. The right is his 'Broadsword' skin, which I detailed the unlock criteria for it – and a few other goodies – in the article about our good buddy Gaz here.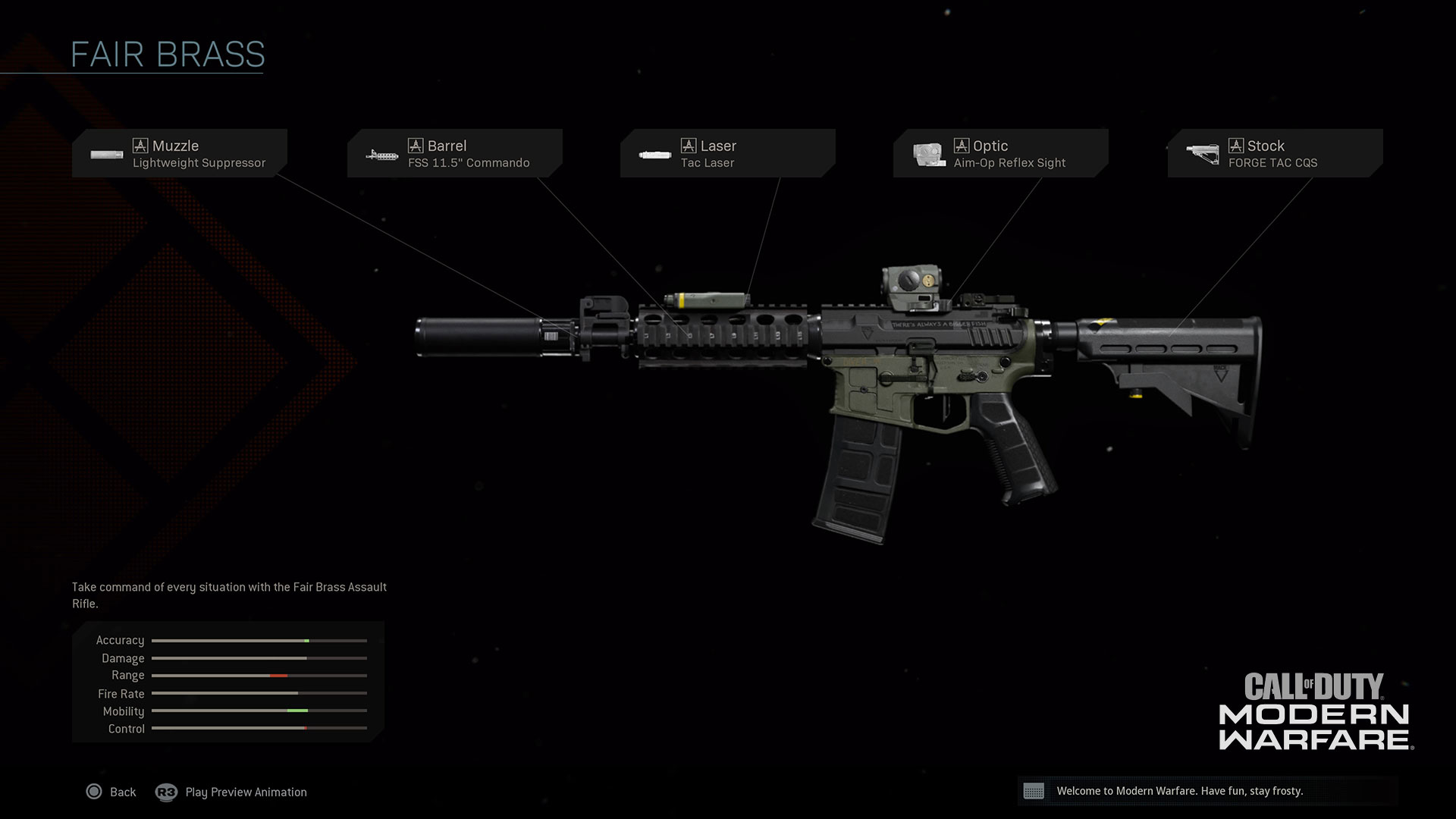 The featured weapon he's holding is the Fair Brass. I considered using another primary weapon, but with this weapon being THE signature weapon of Mr. Garrick, I couldn't bring myself to show another one on him.
It's quintessential Kyle "Gaz" Garrick, and this Rank Up Report is going to celebrate him far beyond this Operator of the Week honor.
Top Rank Up Tip
The 'Gaz Operator' bundle, from the weapons to the Operator Challenges, is basically built for CQB specialists. But what could be more up-close and personal than melee weapons?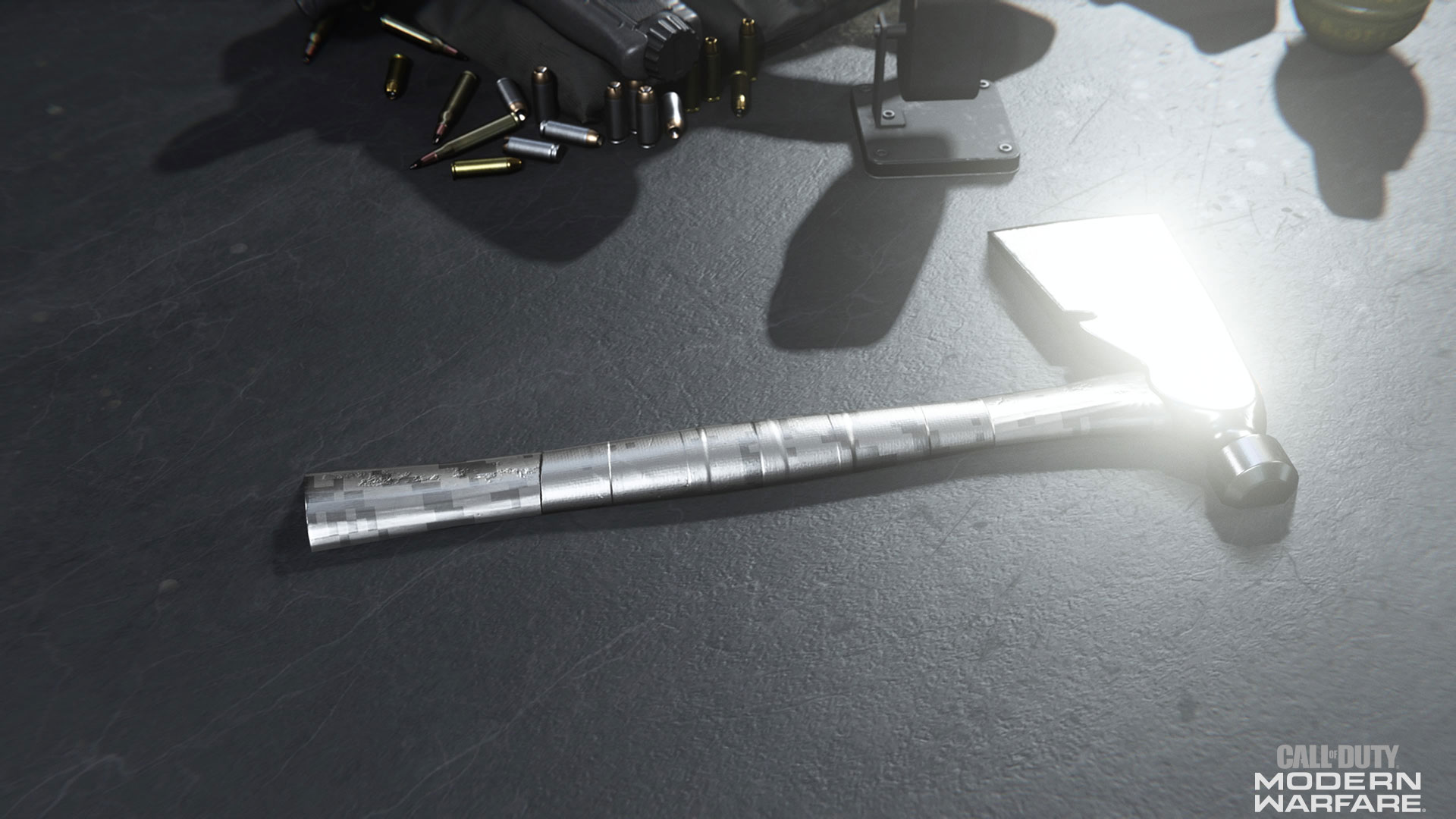 As you can see here, I've unlocked Platinum melee weapons. And yes, I'm using the Tall Tale Axe from the 'Lumber Tactical' bundle from Season Three.
Why? Because I love the Huntsmen – who doesn't love a little #T2P, the Sanderson Twins, Envoy the Goat, the Best 6th Man in the League General… – and for that matter, all 12 Call of Duty League teams. However, since their logo is very axe-heavy and I wanted to show a little love to the Call of Duty League™. 
… Okay and it also looks REALLY cool with the glint IW put on this weapon when it's just sitting on the bench.
So how do you unlock a Gold melee weapon, AKA the Riot Shield, Combat Knife, or Kali Sticks?
Here's a carousel of images for all these challenges, using the Carapace Riot Shield from the 'Dragon Turtle' bundle introduced to the Store in Season Four, as our giant canvas:
And here are my five general tips for using melee weapons in Modern Warfare and Warzone:
1. Don't Count Out a Good Melee. Even in Warzone, where fights can take place across hundreds of meters, a good block from a Riot Shield, slice of a Combat Knife, or whack of the Kali Sticks can turn the tide of battle. Whether it's down a tight alleyway or inside a small room, underestimating the power of melee weapons is a surefire way to get yourself downed.
2. Strongarm Opponents with Your Strengths. To that point, remember the key strengths of each melee weapon. Riot Shields can be used as a distraction tool by blocking bullets, Combat Knives can be great for sneaky one-hit (with no armor) takedowns, and Kali Sticks excel at covering great distances on foot.
3. Patience is a Virtue. Because you are bringing a knife – or shield, or sticks – to a gunfight, it's wise to do everything you can to not put yourself in the line of fire. Listen closely to enemy footsteps, use your eyes to spot hostile movements, and consider using recon tools – e.g. the Heartbeat Sensor, Recon Drone, and Snapshot Grenade – to get the intel necessary to know when and where to strike.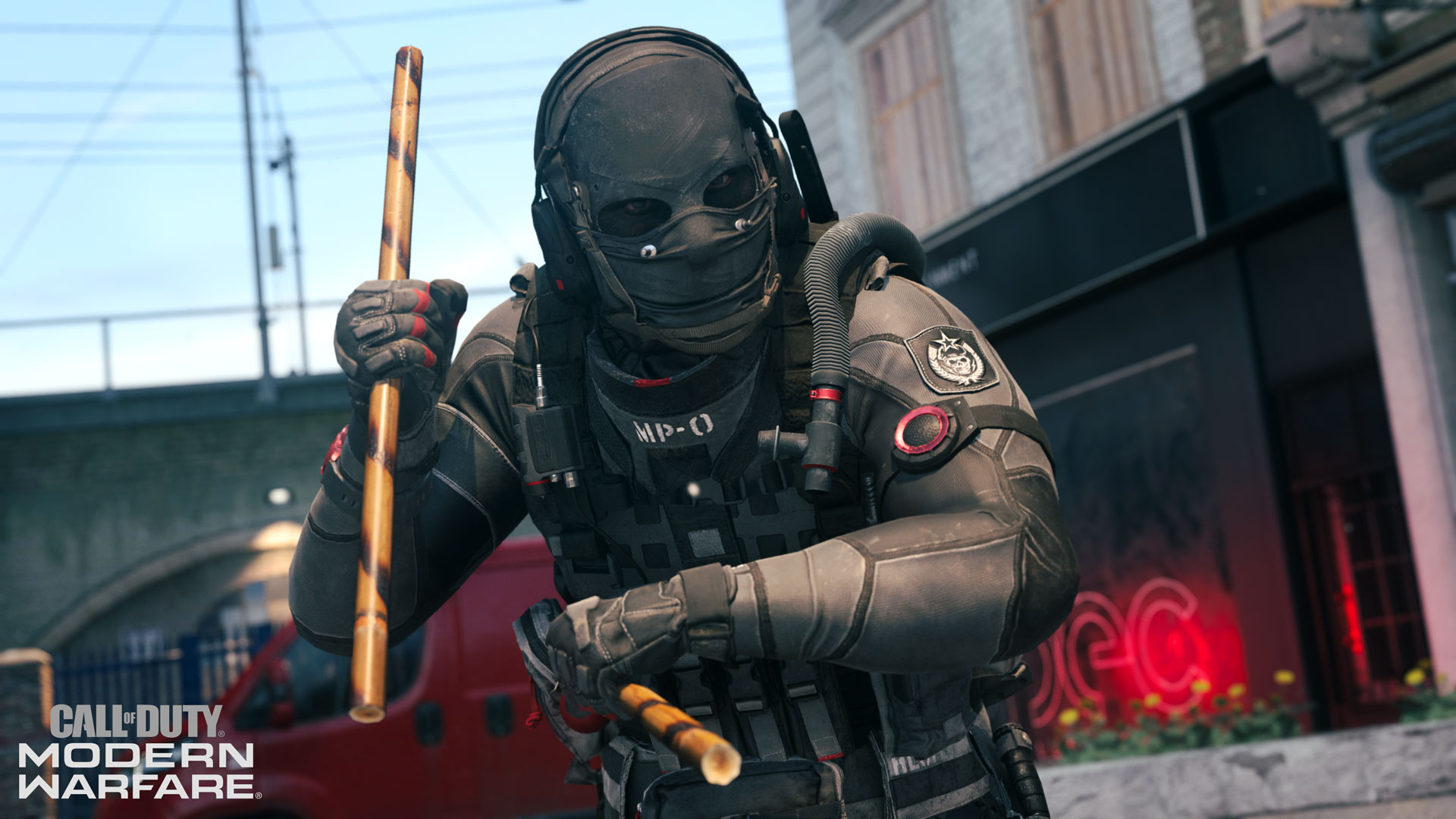 4. Know Your Range. Every weapon in the game has a lunge distance attached to it, with regular weapons (guns) having the smallest distance that triggers your Operator to move up and strike your enemy. Riot Shields have the second-smallest, followed by the Combat Knife, and then finally the Kali Sticks (above), which give you a whopping 3 meters of lunge distance! Know your lunge value, and get within this distance in order to lunge up and deal death to your enemy.
5. Be the Wild Card. Whether you are playing Solo or with a squad, going full melee makes you an unexpected threat in Warzone or Multiplayer. Use firefights created by your squadmates or other players to approach with your knife/shield/sticks, or cause your own chaos by firing some warning shots – at a safe distance – before you switch to your melee weapon for the kill.
Unlock the Gold Camo for both the Combat Knife and Riot Shield, and you'll also unlock the Platinum Camo for them both. If you have Platinum Camo for the two original melee weapons, you'll also earn it automatically for the Kali Sticks once you unlock that weapon's Gold Camo.
Gunsmith Custom Creation of the Week
Since this Rank Up Report is secondary-heavy, it's only right to feature a Gunsmith Custom Creation based off the Gaz Operator Bundle's Tanker handgun.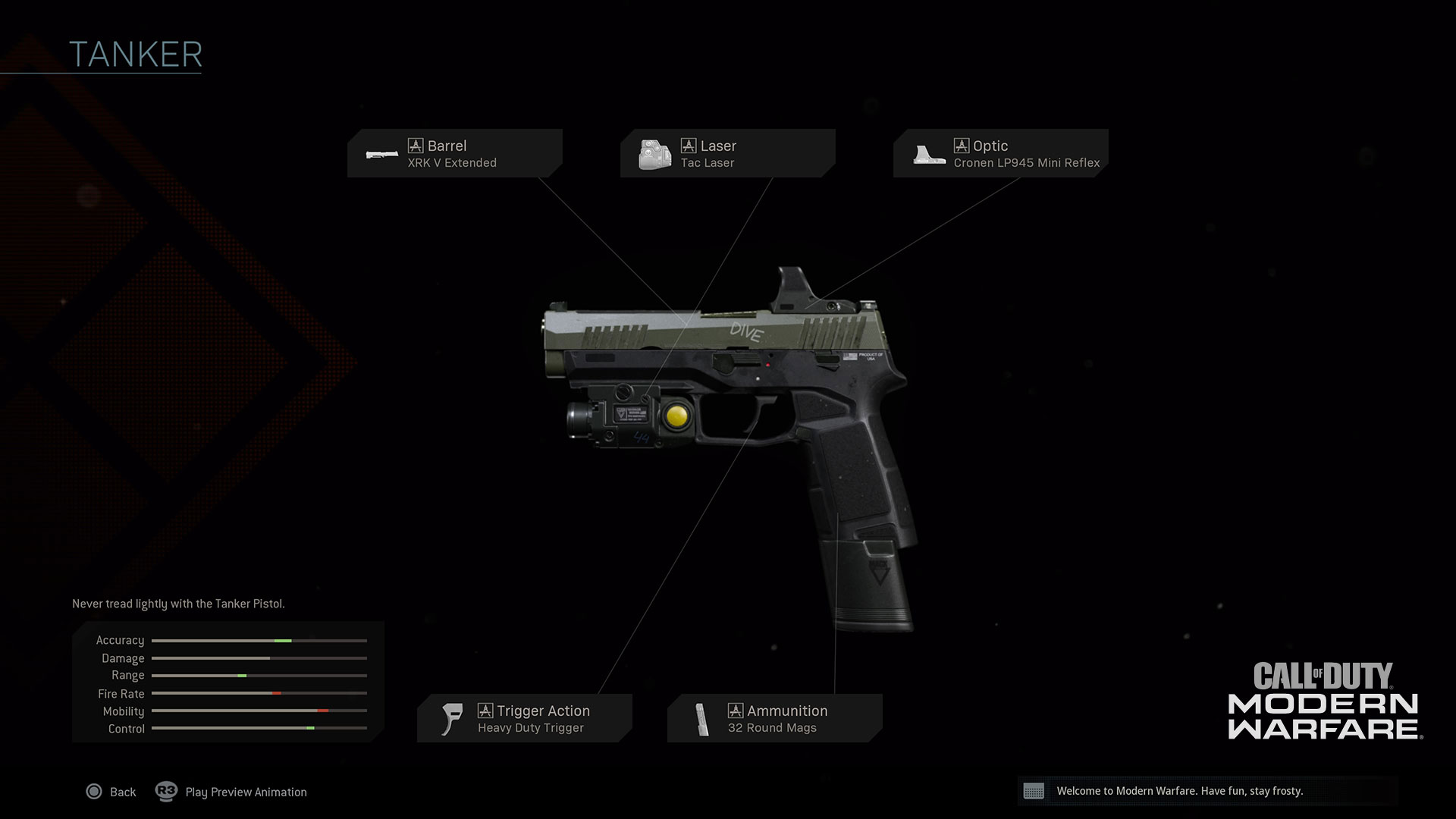 This weapon, on its own, is a fantastic tool for sending shots down-range. However, I prefer using this base weapon – Handgun Delta – as a fast-firing, high-mobility weapon in order to play to its strengths. My sentiments are shared with some of the best players in the game – the Call of Duty League pros – who use this weapon as their preferred Sidearm, if they aren't using a melee secondary for maximum movement speed.
So, based off the 'Tanker' blueprint, I present my Gunsmith Custom Creation of the Week: the 'Frigate.'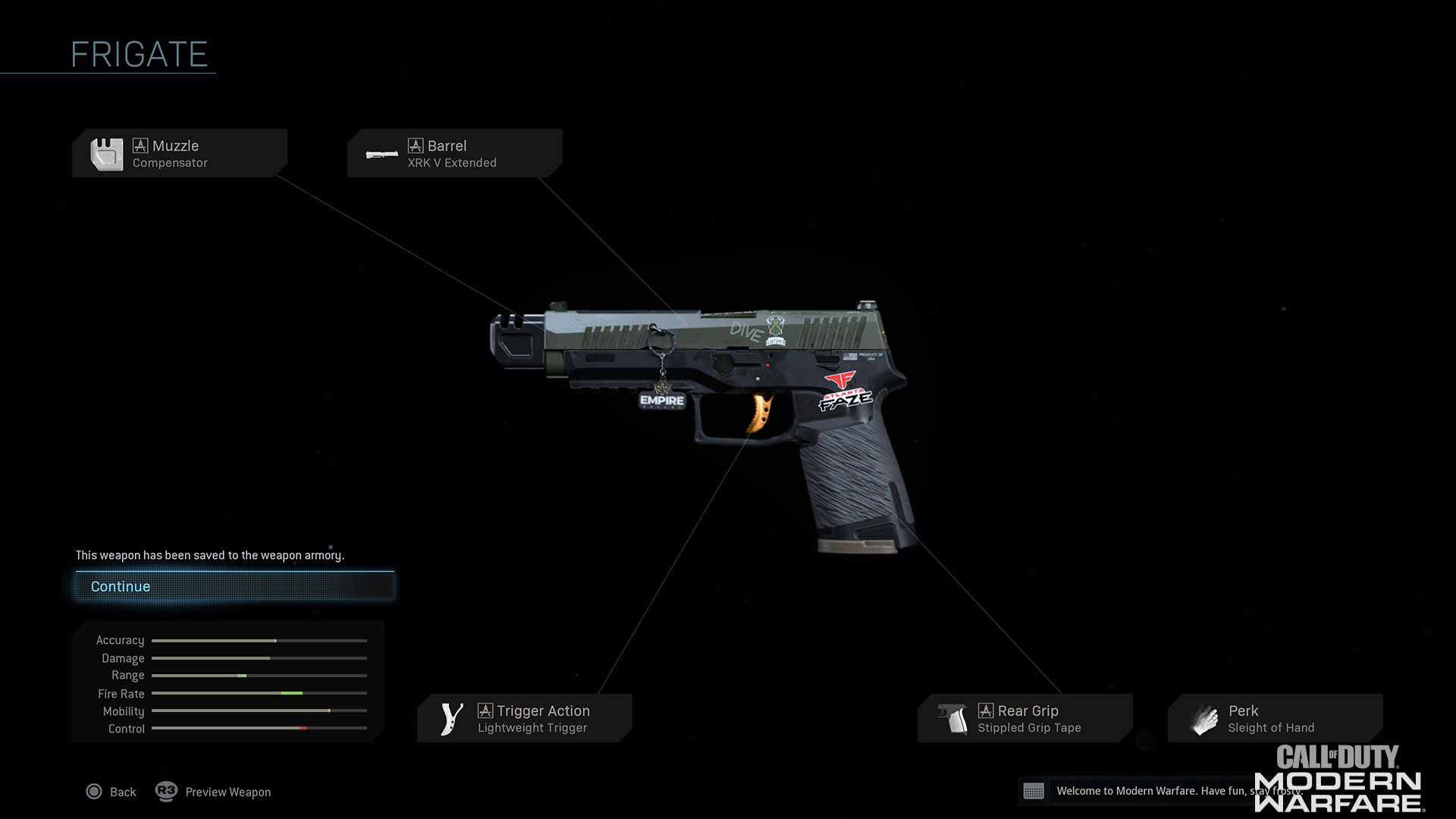 I kept the XRK V Extended Barrel from the Tanker, but everything else is built just as the pros play.
This overhaul starts with putting on a Compensator – from the Mint Chip blueprint out of the 'Panda's Treasure' bundle introduced in Season Three – to wrangle in the weapon's vertical recoil. Next, we put on the Lightweight Trigger from the Utilitarian blueprint ('Tactical Human IV ' bundle from Season Two), which increases the weapon's fire rate to its max.
The last physical attachment I put on is the Stippled Grip Tape from the Azure Hammer blueprint, from the Season Four Battle Pass system. This speeds up aim down sight and sprint to fire speed, making me more agile on the run and when I need to ADS. Rounding out our weapon is the Sleight of Hand perk, which also gives me a speed boost in the form of faster reload speeds, allowing me to quickly swap mags when they are running close to empty.
If you prefer a bigger ammo capacity per clip, or don't have the Sleight of Hand Perk unlocked, swap that perk out for 32-Round Mags from the Tanker blueprint weapon. This weapon has the largest maximum magazine capacity in the handgun category, so use that to your advantage if you want. However, this adds considerable weight to your weapon, which means your movement speed will take a considerable hit with that attachment swap.
So, that's the Frigate. And just to be a little flashy…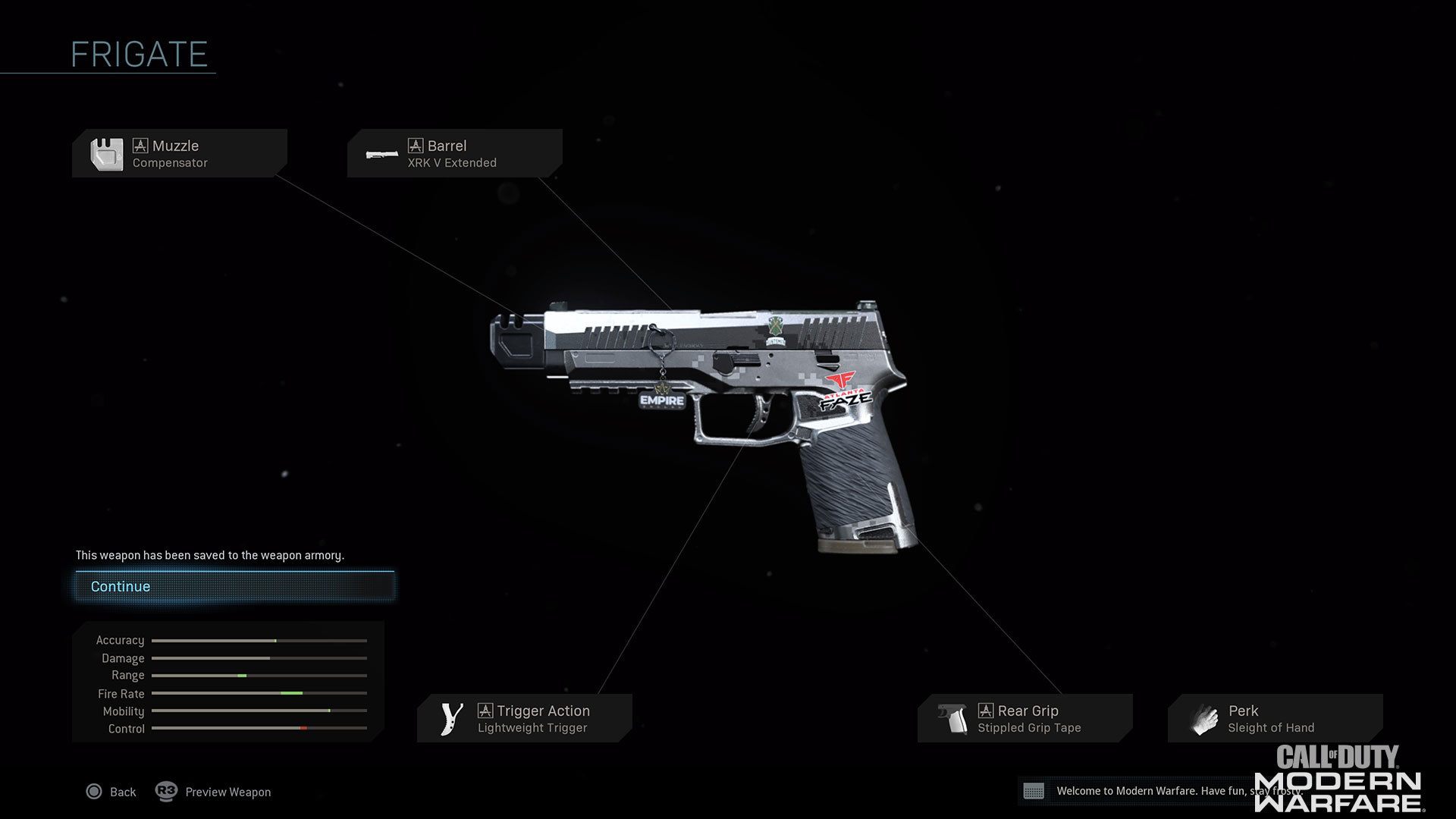 Here's that same weapon with some nice Platinum.
Anyways, me and my Frigate will see you online.
Stay frosty.
For more information and the latest intel on Warzone, visit www.callofduty.com/warzone and follow @CallofDuty on Twitter, Instagram, and Facebook. 
For more information and the latest intel on Call of Duty®: Modern Warfare®, check out: www.callofduty.com, www.youtube.com/callofduty and follow @InfinityWard and @CallofDuty on Twitter and Instagram and Facebook.
For more information on Activision games, follow @Activision on Twitter, Facebook, and Instagram.