The Lead: Call of Duty: Modern Warfare®
Fresh off a Double XP and Double Weapon XP weekend, this week Modern Warfare brings more 3v3 Gunfight action, the return of the Cabin Fever map moshpit playlist, a new Operator, Ronin better known as the one-man army, and more.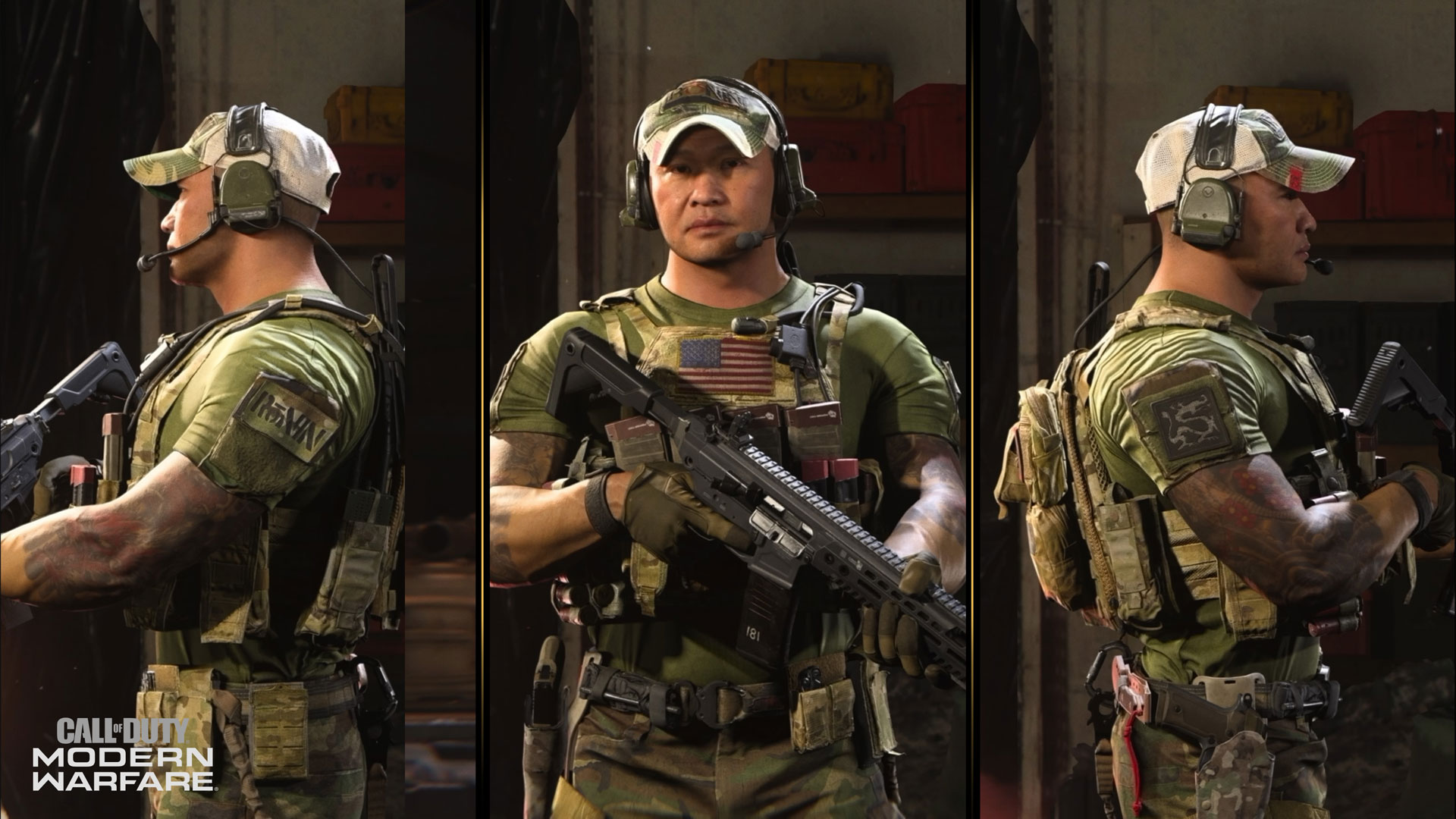 Available this week, get your hands on the latest Operator, Ronin. An ex-Special Forces Operative and master of multiple fighting systems, you'll want Ronin on your side when you head into battle. Get Ronin in his self-titled bundle for play in Modern Warfare including Warzone in the Store. 
Jump into the Cabin Fever moshpit to experience some small to medium sized 6v6 Multiplayer action. The playlist includes Rust, Shipment, Shoot House, Hideout, and Hackney Yard and features a variety of deathmatch and objective game modes. Experience a mix of engagements and test out strategies to secure the win. 
This week in Store for Modern Warfare including Warzone two new weapon bundles have arrived: 'Fool's Gold II' and 'Toxic Ooze'. Both of these bundles are headlined by Legendary weapon blueprints, but they each have a style of their own. The 'Fool's Gold II' 'Deep Pockets' blueprint may not have the shine of gold, but you can still royally dust your enemy. Get the blueprint alongside the 'Bankroll' epic weapon blueprint, a calling card, emblem, and spray.
For those desiring a green Legendary 'Sludge' weapon blueprint that's a powerful assault rifle, check out the 'Toxic Ooze' bundle. You'll also pick up an Epic SMG blueprint, emblem, and calling card. Check the Store this week to find these two bundles and more available in Modern Warfare including Warzone. 
Get the trio together for more Gunfight Tournaments. Gunfight Trios is a single elimination bracket style tournament where you must best your opponents and come out on top out of 16 teams. Get more details on the mechanics of Gunfight Tournament on the Games Blog, and practice your trio communication now by playing matches in Multiplayer.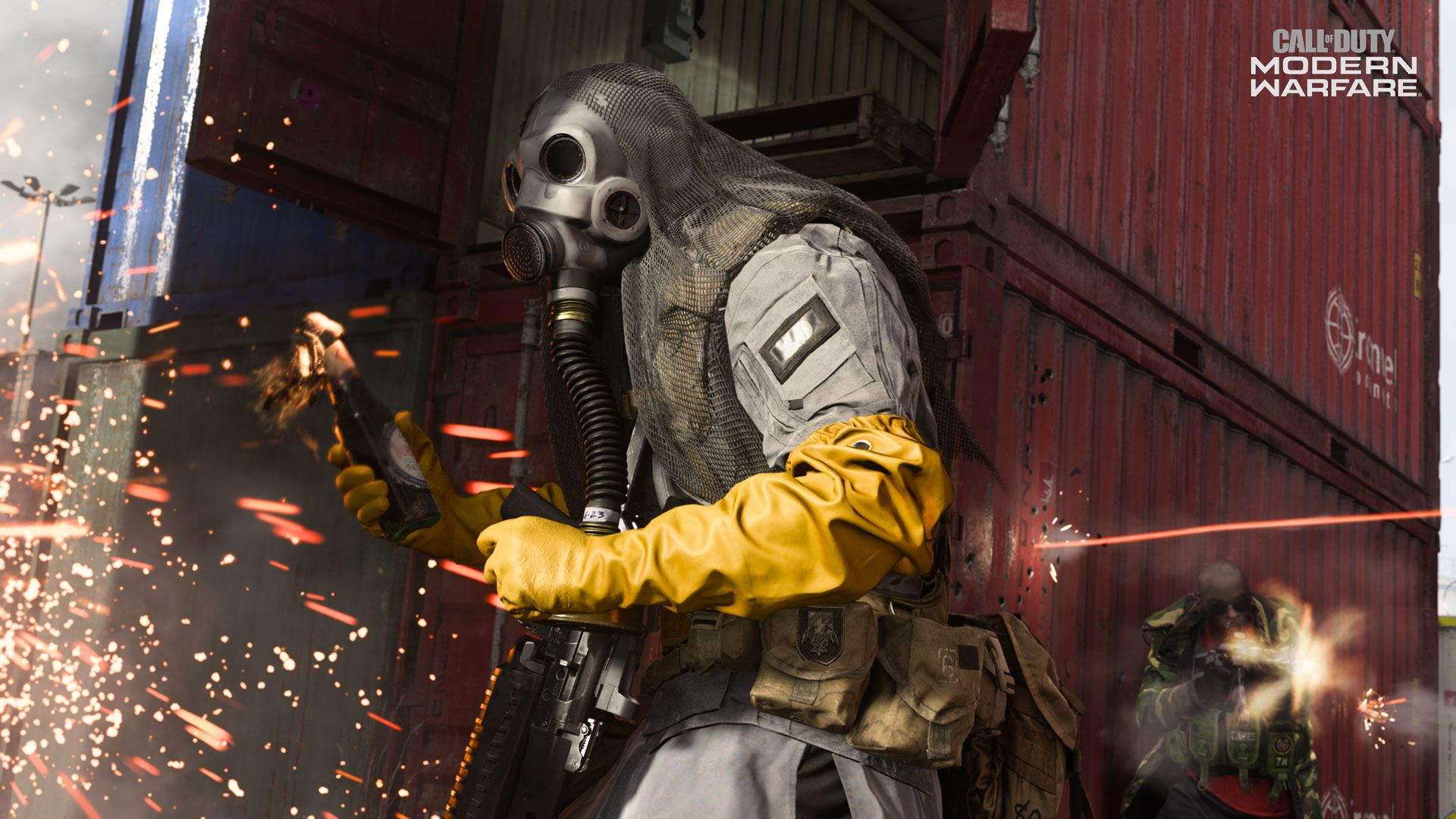 Get kills in quick succession in Cranked. Want to make sure your Operator doesn't go boom? After you get your first kill, get another one before the timer runs out or you'll explode. Keep moving throughout the map to find and eliminate your enemy in Cranked. Get more tips on Cranked on the Games Blog.
Need a boost to help you advance through the Battle Pass? Then get your tiers this weekend during the tier sale. Staring on April 24 at 10AM PT until April 27 at 10AM PT players can purchase individual tiers at a discount for 100CP. Head to the Battle Pass tab and select the next tier (or more) and get them for only 100CP each. 
#LivefromWarzone
Watch what's going down in Verdansk in this week's #LivefromWarzone lineup. From streamers to celebrities to fun surprises, there's always action to watch coming straight to you #LivefromWarzone !
Tune into multiple tournaments hosted by streamers and more. See the full schedule below: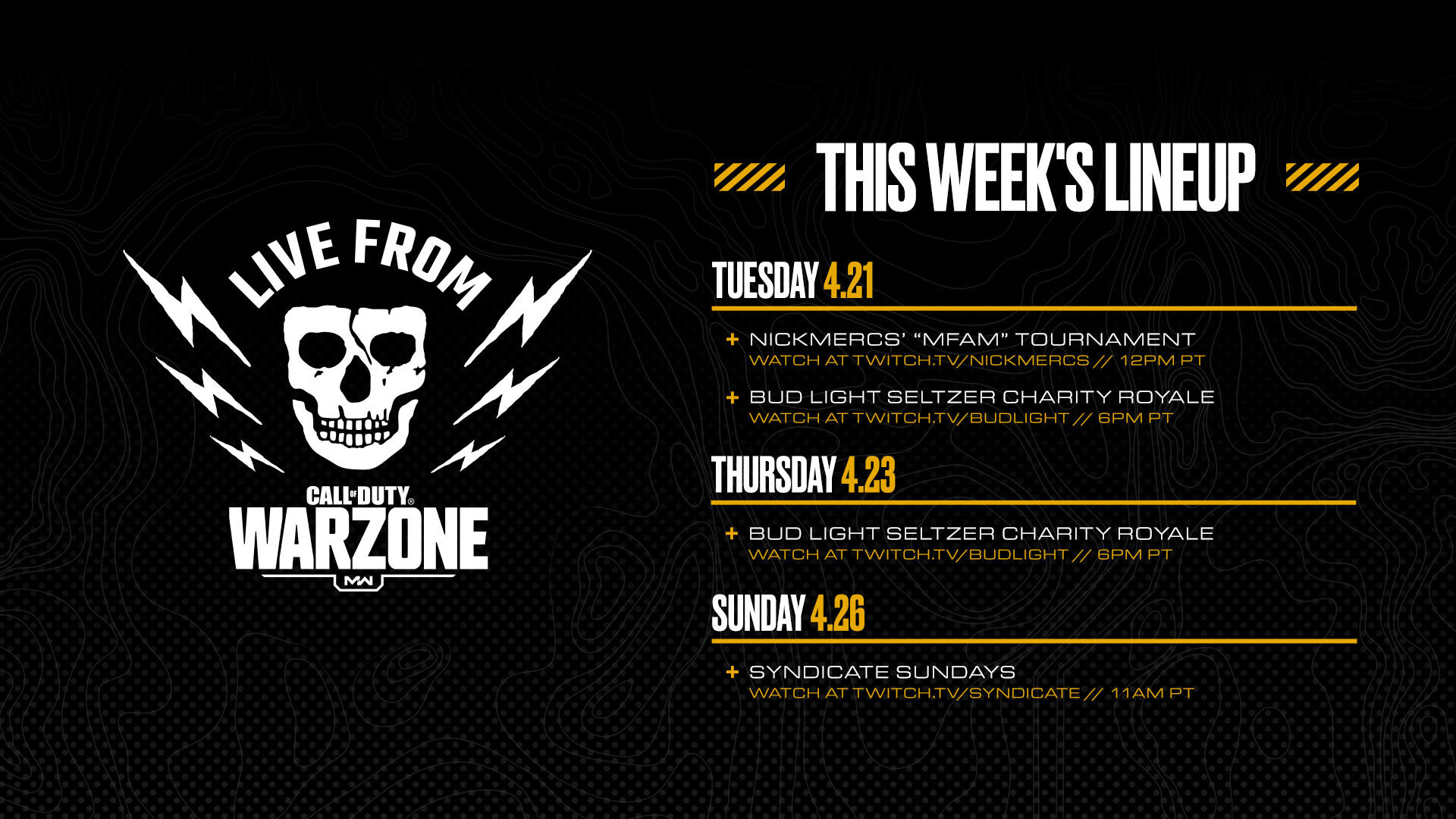 This week Warzone players can jump into Battle Royale Quads, Trios, or Solos. Or collect Cash and take out the enemy in Plunder Trios. With unique teamwork or dreamwork (for Solos) strategies to win each mode, you may pick up some tips for your next match in Warzone that might help you secure victory. Watch this week with the community and see epic highlights that might be worthy of a Call of Duty top play (#CODTopPlays) in #LivefromWarzone.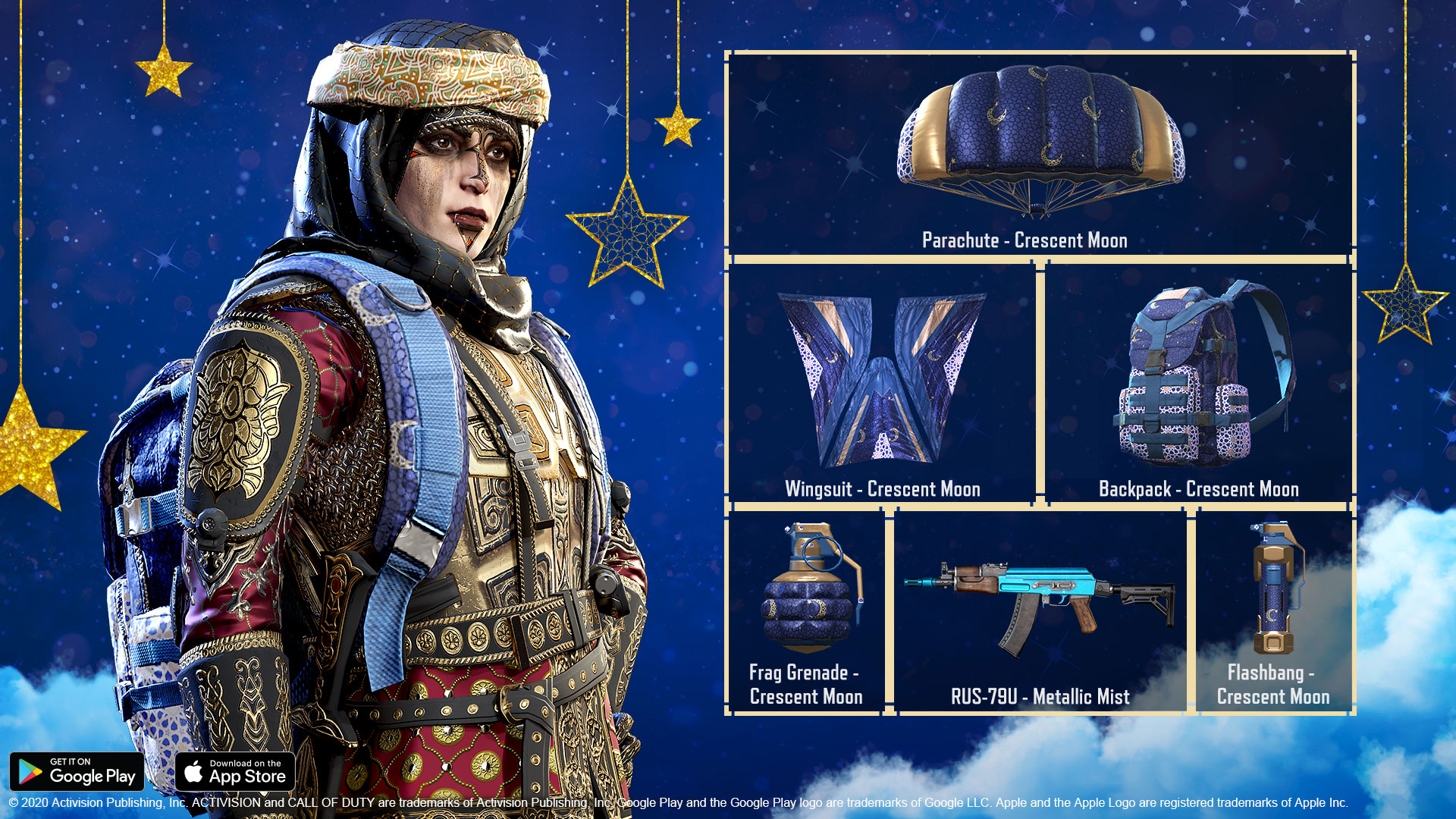 Call of Duty®: Mobile
Steel Legion kicks off the start of the Crescent Moon festivities with seven distinct items.  Get Zero's Sultana skin that's adorned with gold and fit for a royale battle and a Multiplayer skirmish or two. Add more to your inventory with a themed wingsuit, backpack, parachute, and more. The Crescent Moon items are available Call of Duty: Mobile starting on April 21, jump in the game to learn how to get these themed goods for use in Multiplayer or Battle Royale!  
The perfect game for a lone wolf – Free-For-All. This every soldier for themselves game mode is live now and the ideal battle ground to sharpen your instincts and reflexes. With a potential foe around every corner, make sure your head is on a swivel and your ADS or hipfire is quick. Free-For-All is available now for a limited time until April 23. 
Team up in a twist on Gun Game. Instead of Free-For-All skirmish, you'll be teamed up in a new mode - Gun Game Team Fight. Master a variety of rotating weapons and eliminate the opposition to come out on top in this frenzied team deathmatch styled mode.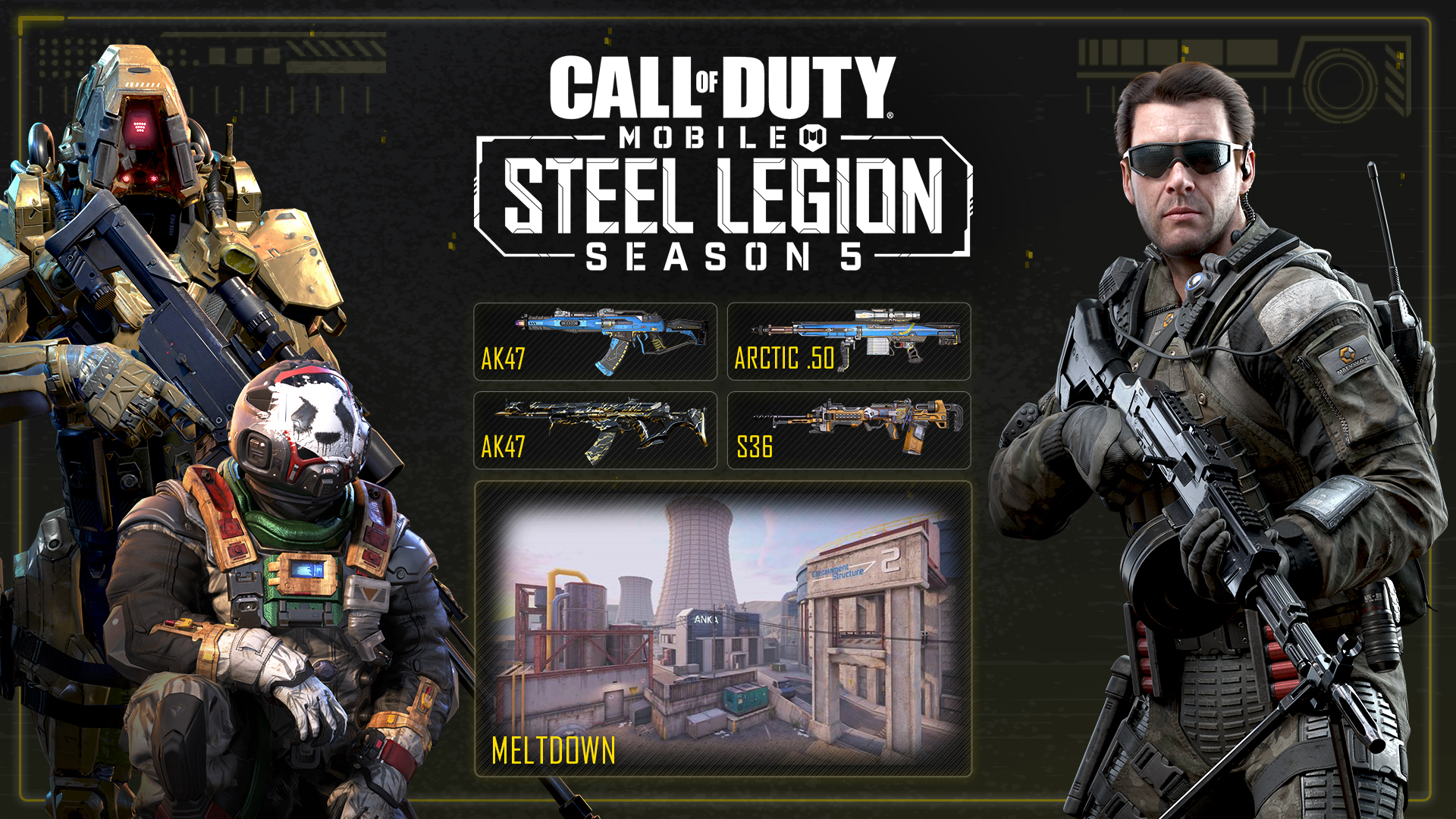 Available until April 28, earn the AK-47 Jade camo through the Tenacity Rewarded challenge. Head to the Event tab in-game and complete the tasks by playing matches in Multiplayer and Battle Royale. Upon completion head into your next map with Jade skin weaponry that's as deadly as it is fierce. 
Rewards are waiting for players who complete weekly and daily challenges in Call of Duty: Mobile. Log in-game to check for new Challenges to earn more rewards. Plus, players can earn even more goods by competing and ranking up in Ranked mode for Multiplayer and Battle Royale this season in Steel Legion.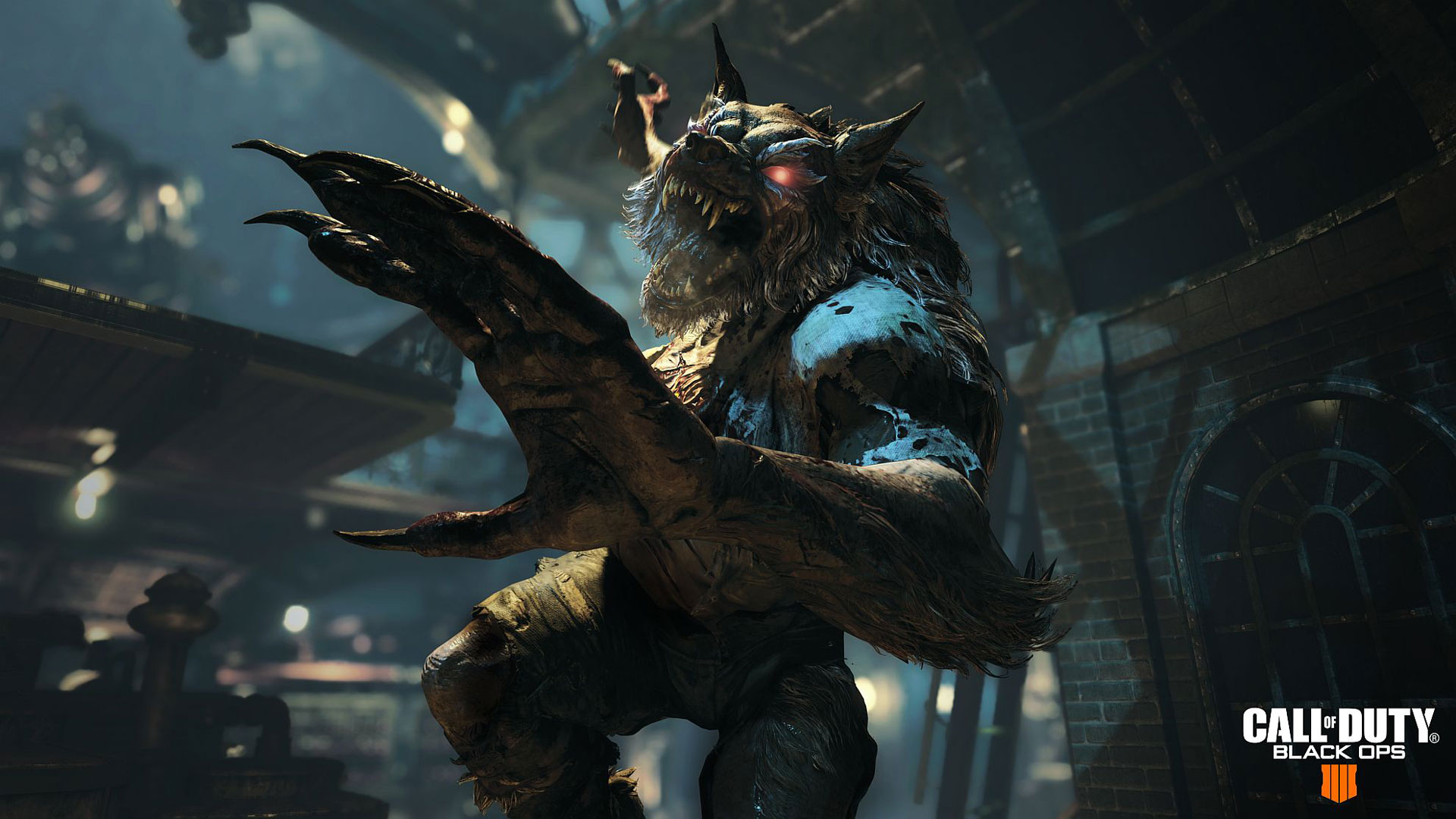 Around the Franchise: Call of Duty®: Black Ops 4
Jump in a match and see if you have the stamina to take down the enemy in this week's Double XP Endurance Chaos Moshpit, a mix of maps and modes where every match lasts longer than standard. Set your Scorestreaks and gather up your squad to earn Double XP for your efforts in this limited-time 2XP mode! Here's a look ahead of at this week's playlist starting on April 21:
·      Multiplayer – 2XP Endurance Chaos Moshpit, Nuketown, Barebones Moshpit, Bolt-Action Barebones Moshpit, Mercenary Deathmatch Moshpit
·      Blackout – Hot and Heavy (Hot Pursuit and Heavy Metal Heroes), Alcatraz Portals Quads, Quads, Duos, Solos
·      Zombies – Dead of the Night 
Call of Duty League™
The Chicago Huntsmen are back in action for their Home Series and are poised to take a commanding league in the standings. Watch the Home Series live on the Call of Duty League YouTube channel and get more details here. 
Get more details on the Huntsmen by watching The Campaign, a docuseries featuring the Huntsmen that chronicles the preseason of the Call of Duty League. 
Up for a Challenge? Call of Duty Challengers™, the official path to pro, has more events for squads looking to test their skills against players who may be the next Call of Duty League standouts. Get the details and upcoming schedule of Challengers events here. 
Check the Games Blog this week for more details on Ronin, an in-depth look at Warzone's Boneyard, Tactical Map Intel on Aniyah Incursion, and more.
See you online. 
For more information and the latest intel on Call of Duty®: Modern Warfare®, check out: www.callofduty.com, www.youtube.com/callofduty and follow @InfinityWard and @CallofDuty on Twitter and Instagram and Facebook.
For more information and the latest intel on Call of Duty®: Warzone check out: www.callofduty.com, www.youtube.com/callofduty and follow @CallofDuty on Twitter and Instagram and Facebook.
For the latest intel, be sure to visit the Call of Duty: Mobile website. Be sure to follow Call of Duty: Mobile on Twitter @PlayCODMobile, Facebook @callofdutymobile, and Instagram @callofdutymobile.
For more intel about Call of Duty: Black Ops 4, be sure to visit CallofDuty.com/blackops4 and follow @CallofDuty and @Treyarch on Twitter.
For more information on Activision games, follow @Activision on Twitter, Facebook, and Instagram.
© 2019-2020 Activision Publishing, Inc. CALL OF DUTY, MODERN WARFARE, CALL OF DUTY BLACK OPS, CALL OF DUTY LEAGUE and CALL OF DUTY CHALLENGERS are trademarks of Activision Publishing, Inc.