Operation: Rank Up Report #0024
Day 168 – 12:17:59 PST
Somewhere in California
AGB – Lead Writer
Happy Friday, everyone!
As I'm preparing for another weekend filled with Call of Duty and tacos, I wanted to show off where I'm at with my Operators, weapons, and rank while only a week and a half removed from the start of Season Three.
My featured Operators for this week are the USEF III Mil Sim Operator for the Coalition and Bale for the Allegiance in his Darkness skin. The former is found in the Battle Pass at Tier 10, and is a variant that can be unlocked just by completing a few simple challenges.
As for Bale, his Darkness skin was featured in the Lights Out bundle, which we featured in our Store bundles article right when Season Three launched.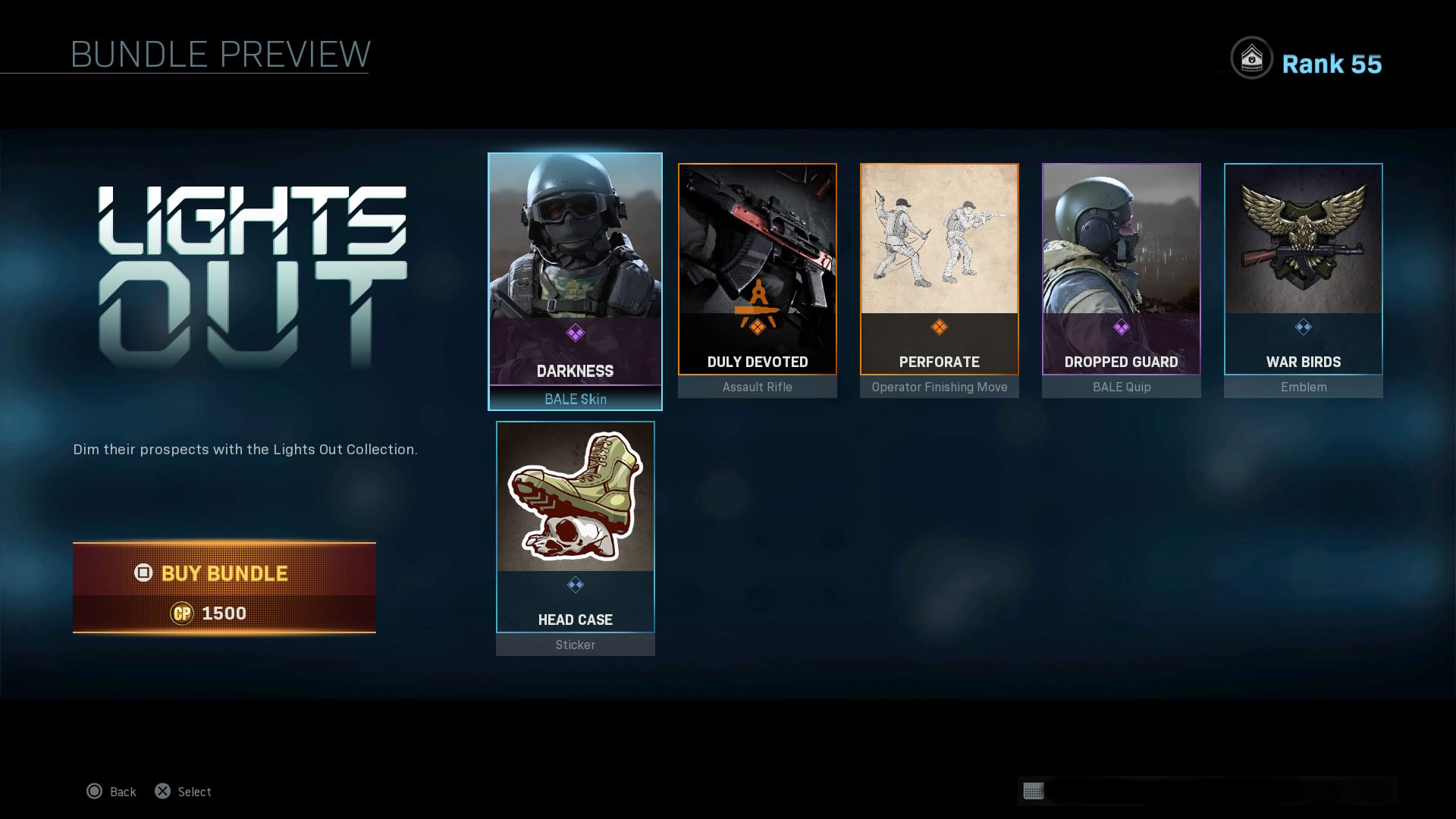 The weapons that both these fine gentlemen are holding is the Mighty Moe LMG Blueprint, unlocked at Tier 18 of the Battle Pass. This is one of the blueprints that we mentioned tips for in our Warzone and Multiplayer blueprints guide, which you should check out here. I decided not to add any more attachments to this weapon, as it is a strong one out of the box.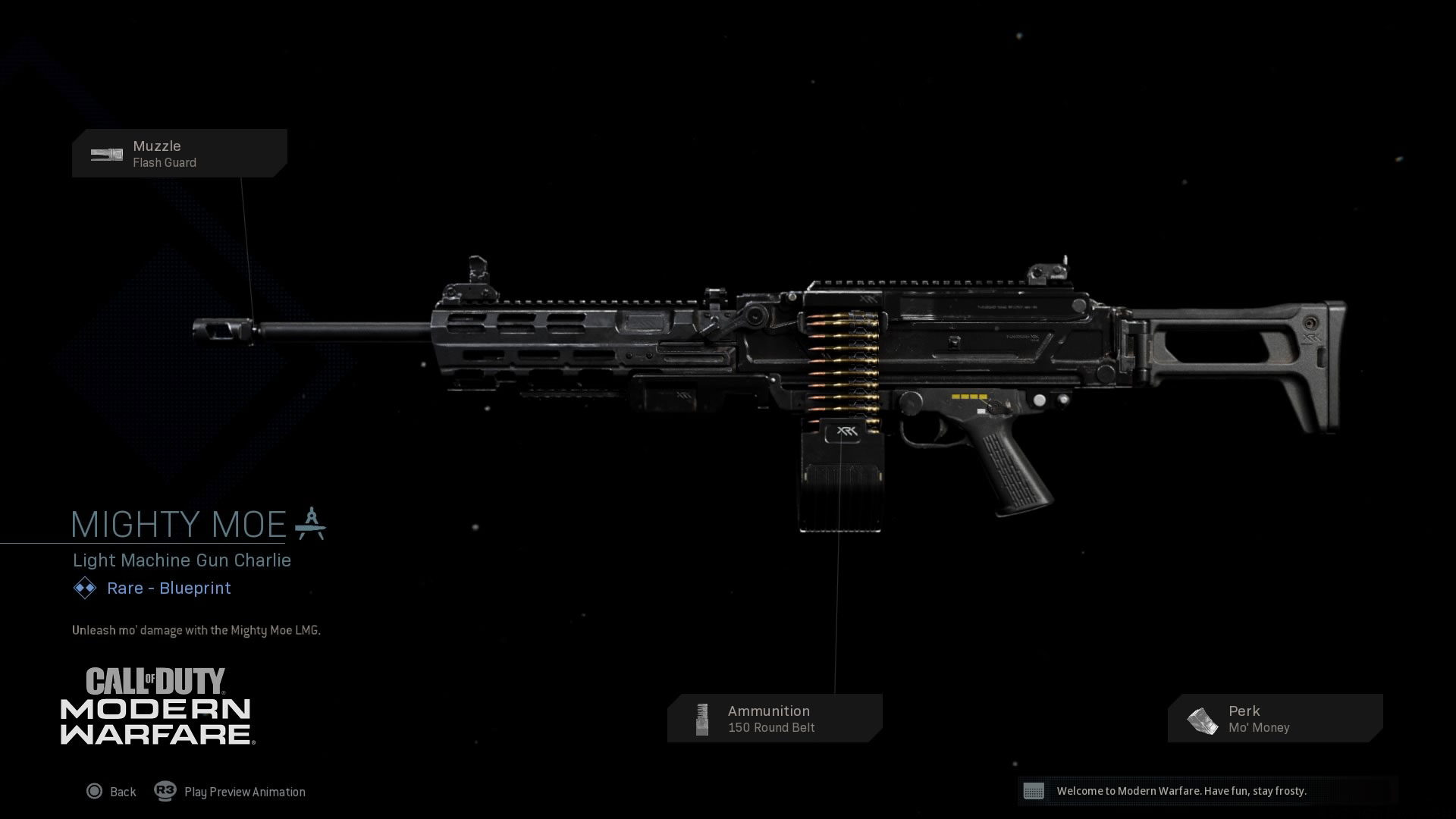 Plus, one of the early Officer Rank Challenges is to earn 333 Kills with a weapon that has three attachments, aptly named "Three Cheers." I've been using this blueprint, as well as other Rare blueprint weapons, to go fairly far into this odd challenge, as you can see below in my current Officer Rank snapshot for Season Three.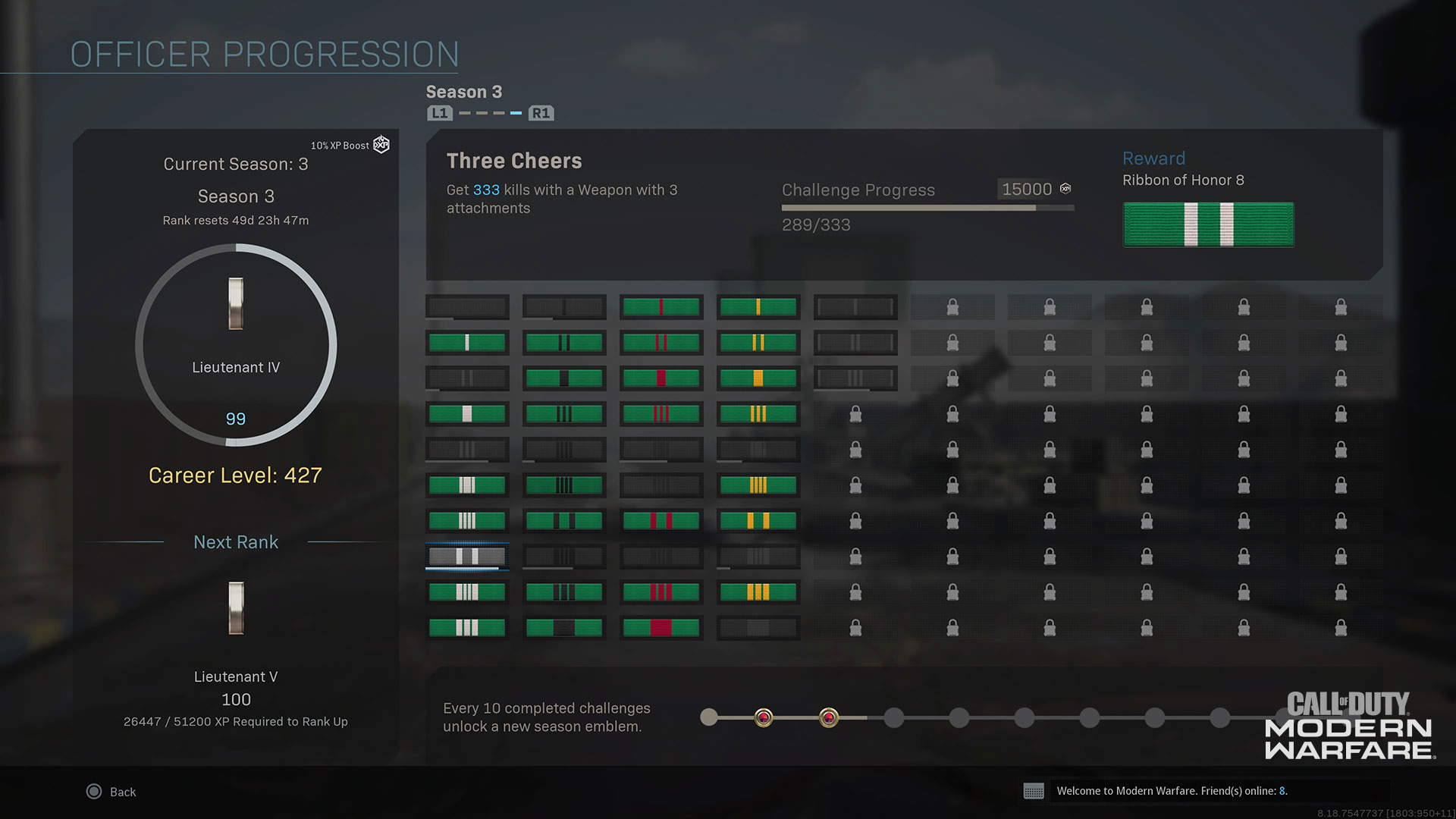 One of the other lengthy ribbons is the "Zero Tolerance" one, in which you have to earn 300 kills using a weapon with no attachments. This is great for chasing down the full Reptile camo set on a weapon, but I've actually used this opportunity to play with the Renetti pistol, unlocked at Tier 15 of the Battle Pass system.
The Renetti is now one of my favorite handguns in the game. In its Weapon Detail blog, I wrote it brought together the best features from the three other semi-auto handguns.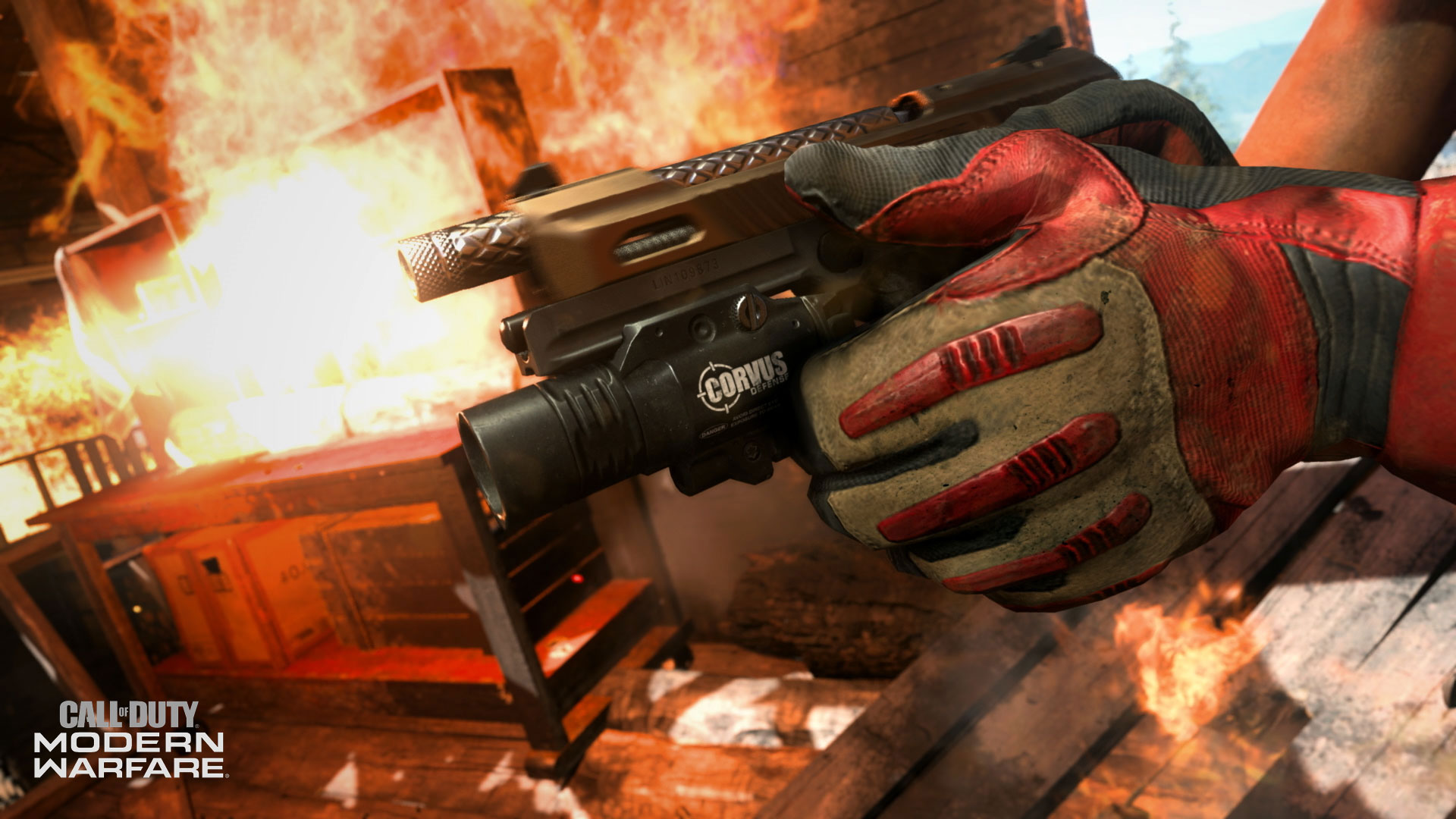 In fact, this weapon is so good, I nearly recommended using it out of the box, without attachments. Even though the three-round burst mod puts this weapon in a class of its own, and I love the Lightweight Trigger and Stippled Grip Tape on it. The raw weapon was great enough to be my preferred secondary when chasing the "Zero Tolerance" challenge.
Don't worry; eventually, I'll break down some of the harder Ribbons in a future Rank Up Report.
But while I'm on the subject of weapons, there was a new Store Bundle that came out this week that I just had to highlight: the Twin Dragons.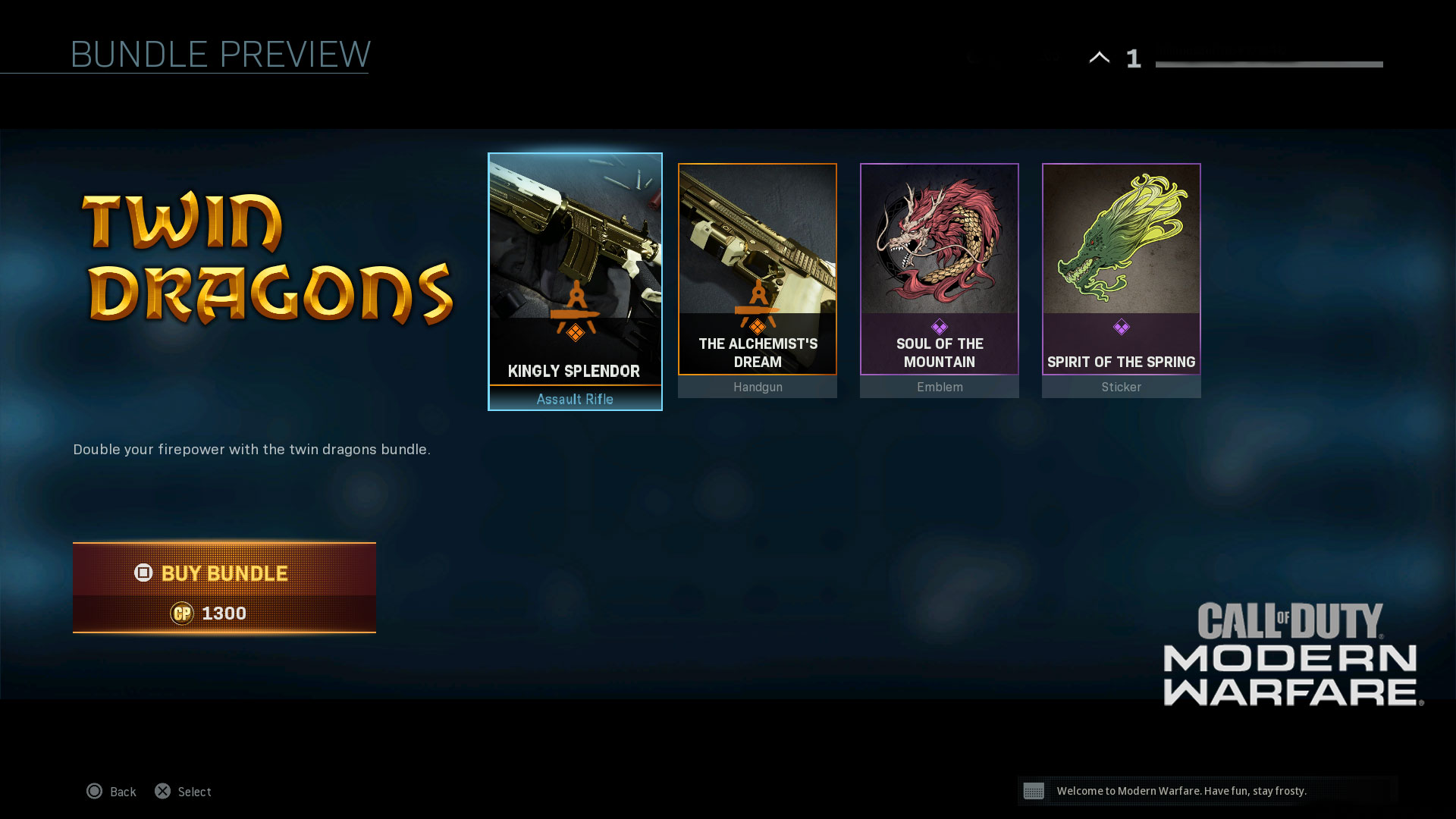 This four-pack includes an emblem, sticker, and two weapons: a powerful handgun known as The Alchemist's Dream – which is part of the Warzone weapon loot pool – and the Kingly Splendor assault rifle.
An assault rifle is my go-to primary weapon in my Warzone Loadout Drops, as it combines multiple recoil reducing attachments with the Stippled Grip Tape for quicker aim down sight speed. The final attachment included, the 12 Gauge Deputy, is a superb close-quarters option, allowing me to clear rooms when I feel that the fully-auto fire isn't cutting it.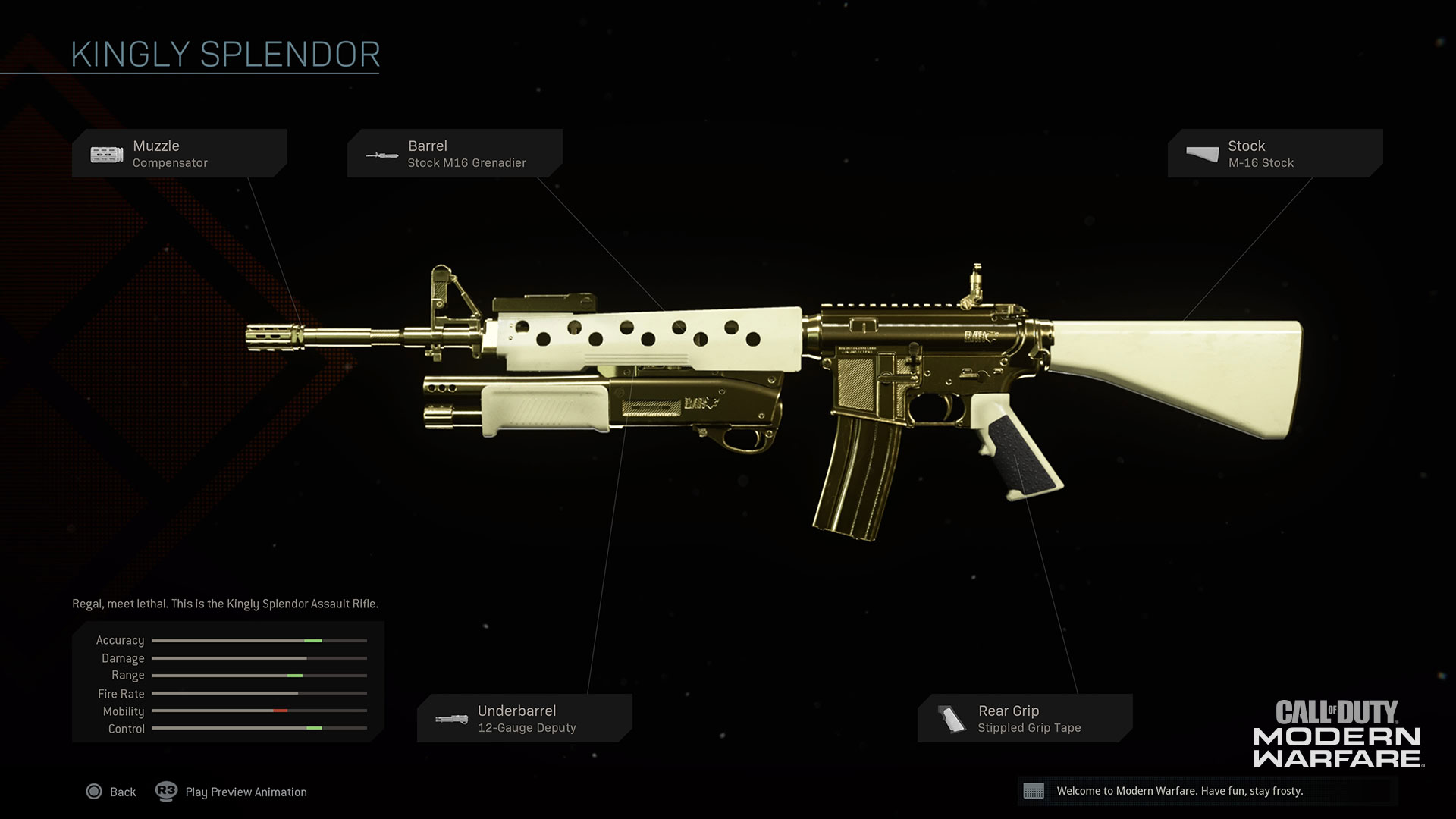 Combined with the Overkill perk, I'm able to have a loadout with an answer for all three engagement types: close-range (12 Gauge Deputy), mid-range (the Kingly Splendor's normal fire method), and the long-range (the Crossbow, which I'll cover in a moment).
Speaking of Warzone weapons, I wrote an extremely detailed breakdown of the Warzone loot meta, which spells out the strategies for every weapon type you'll find in a Supply Box or as ground loot in the game. From handguns to sniper rifles, this two-part mini-series is a taste of what you'll find in the completely free Official Warzone Strategy Guide.
While doing my experimentation and research for this big project, I stumbled upon the Crossbow. At first, I thought it would get easily outclassed in Verdansk, but I decided to give it a shot in a few live games.
And boy, did it overdeliver.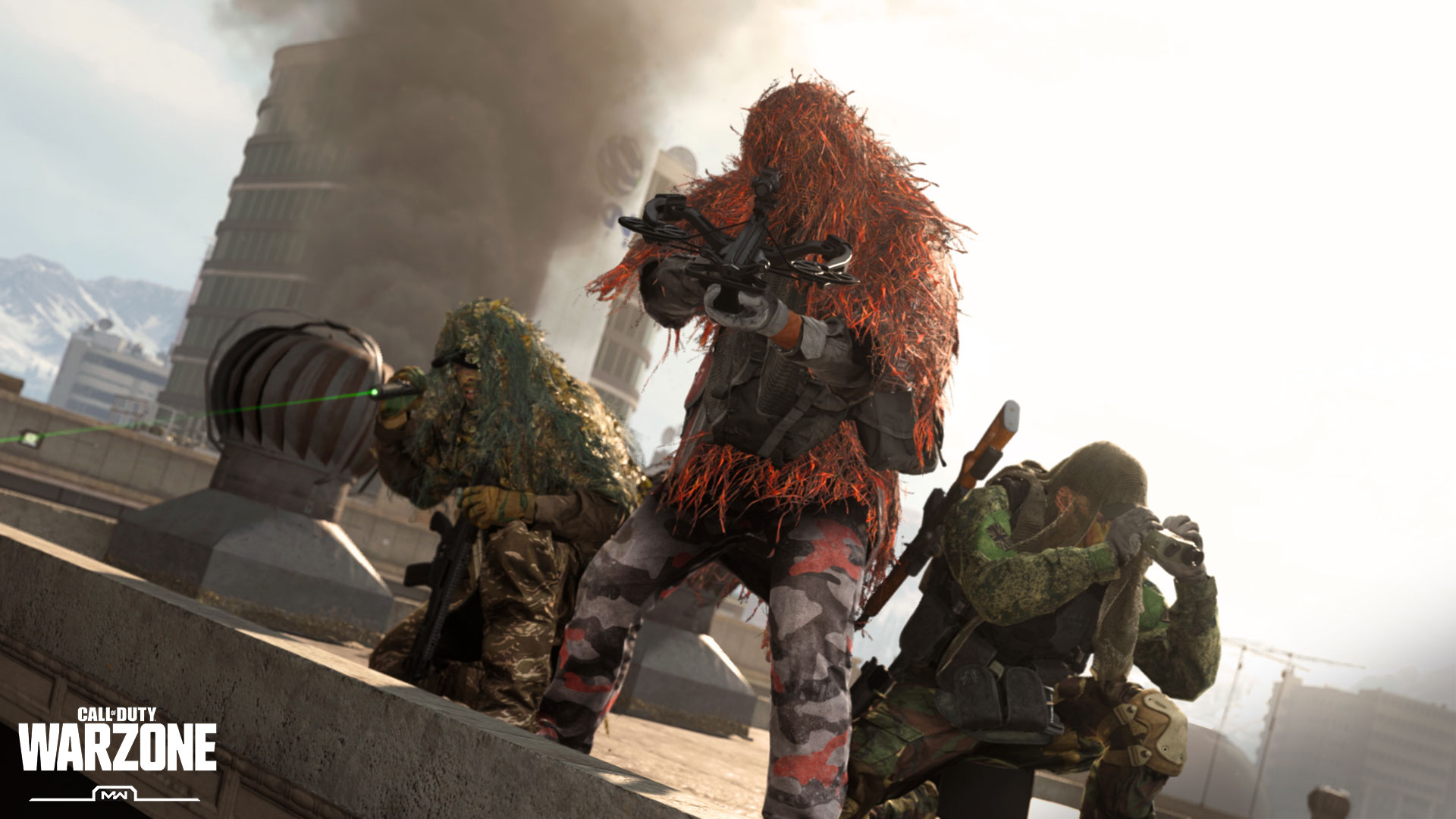 Imagine this: I was on top of Atlas Superstore with my Crossbow, confident enough that I could handle the bolt drop over trying to scavenge for a sniper rifle. Somehow, I was able to pick off an enemy sniper 175 meters away, knock one dude out of a speeding Tactical Rover 100 meters out, and get ANOTHER takedown on someone in a moving Tac Rover… All within a minute.
This moment is probably one of my greatest Call of Duty achievements to not have any physical video evidence.
What I'm trying to say is that it's okay to not go with the traditional assault rifle / HDR sniper rifle Overkill Loadout Drop setup. Sometimes, you'll need to bring a Crossbow to both destroy vehicles with explosive bolts while also being able to deal with enemies at a distance. Or, it may be great to use an LMG and launcher loadout to help your team hunt down Attack Choppers at the end of a Plunder match.
Warzone – and to the greater degree, Modern Warfare as a whole – is a fun experience, and what I feel amps that entertainment up is to try out unconventional weapons, perks, and ways of playing. Who knows? Maybe you'll get a Battle Royale victory only using the starting pistol, or your squad decides to only try and get kills inside of vehicles for an entire match.
However you play, the most important tip I have for playing Modern Warfare is to just have fun. 
And with all that said, I'll see you online.
Stay frosty.
For more information and the latest intel on Warzone, visit www.callofduty.com/warzone and follow @CallofDuty on Twitter, Instagram, and Facebook. 
For more information and the latest intel on Call of Duty®: Modern Warfare®, check out: www.callofduty.com, www.youtube.com/callofduty and follow @InfinityWard and @CallofDuty on Twitter and Instagram and Facebook.
For more information on Activision games, follow @Activision on Twitter, Facebook, and Instagram.