Operation: Rank Up Report #0012
Day 84 – 04:32:19 PST
Somewhere in California
AGB – Lead Writer
Today begins one of the biggest weekends in Call of Duty® history: the beginning of the Call of Duty League™.
From now until Sunday, 12 teams filled with the best Call of Duty players in the world will compete at The Armory in Minneapolis, while hundreds of Call of Duty Challengers™ competitors will face off in an intense open bracket for a $250,000 prize pool… And that's not even mentioning the star-studded Hype Battle.
In anticipation of this monumental occasion for esports and Call of Duty alike, I picked up the Minnesota Røkkr pack from the Store to support them in hosting the Launch Weekend event.
As always with these Rank Up Reports, I have two separate Operators that I showcase in the title image. While I could have shown off the Røkkr twice, I decided to show my allegiance to one Call of Duty League team for this week.
After constantly mulling over this undoubtedly tough decision – I have decided to throw my temporary support towards the Seattle Surge, even though I have never even stepped foot in the state of Washington.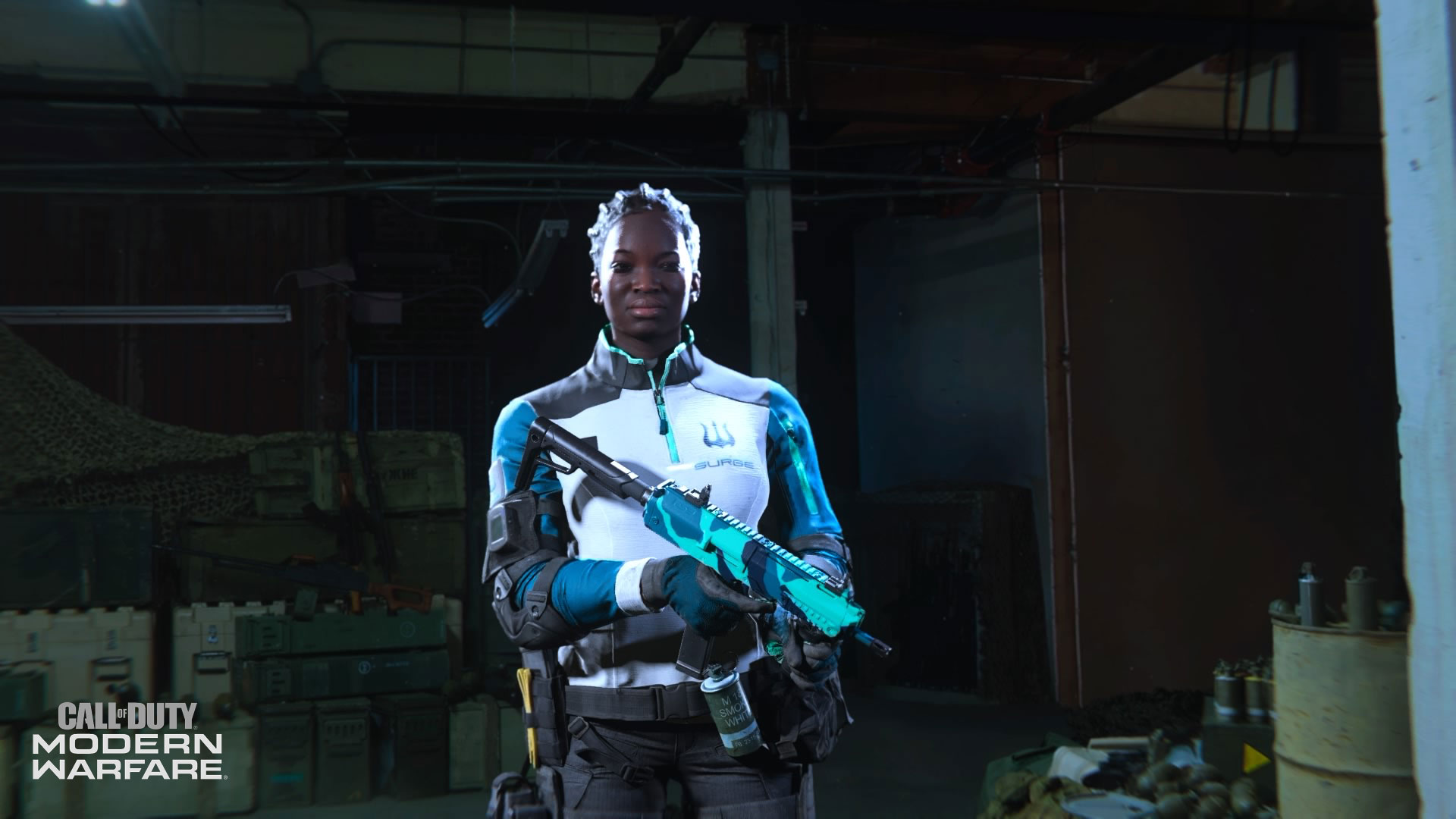 Every team pack doesn't just come with two cool outfits for every base Operator in the game; you'll also get a team branded watch, a weapon camo that can be slapped on every weapon in the game, a weapon charm and sticker, a calling card and emblem for your profile, and an in-game spray.
No matter who you support, remember to head on over to the Franchise Store – the far-right category in the Store section – and scroll down past the Call of Duty Points section to get your team pack.
Watching the Call of Duty League is fun, and it's also one of the best ways to learn about how to play the game at its highest level. These players have logged hundreds, if not thousands, of hours into Call of Duty, and when they aren't playing, they are learning how to get better individually and as a team.
Outside of in-game mechanics and strategy, another thing you can learn in the Call of Duty League is some Gunsmith-ing strategies. The weapon below is one being used by Call of Duty League competitors, after crafting it in Gunsmith.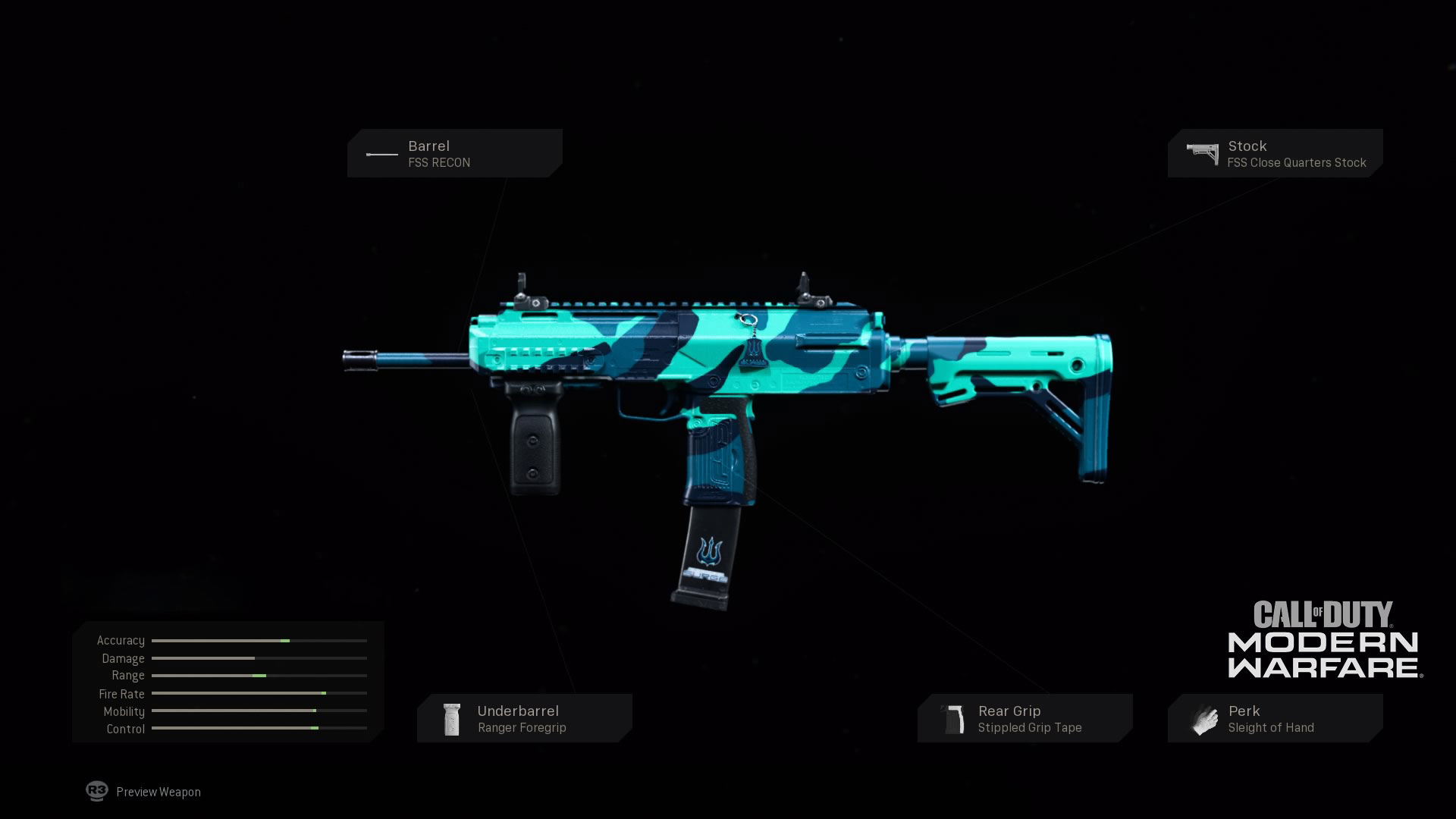 This weapon focuses heavily on balance – it doesn't lean heavily on attachments that boost recoil control or aim down sight speed – blending together several useful attachments into an all-around great weapon. This weapon is great for run-and-gunners, and with the Sleight of Hand weapon perk, you won't have to worry about taking too much time to reload before you get back into the action.
Once you've learned even a fraction of the tactics, loadouts, and general tips for Modern Warfare by watching the Call of Duty League, you may be able to put it into practice to increase that K/D, rack up wins, and ultimately gain tons of XP to rank up.
So, do yourself a favor: watch the Call of Duty League's Launch Weekend, and if you need to pick a side, read up on these awesome team breakdowns the AGB staff did here.
Think you could become a Call of Duty League Challenger yourself? Then set your Quick Play filters to Domination, Hardpoint, and Search & Destroy – the three main game modes for the league – and practice what you learn from watching the best.
Outside of learning directly from the experts, here are a few tips for playing competitively in Modern Warfare:
·      Competitive Play is a Learning Experience. What you learn from both wins and losses can ultimately help you become a better player and, ergo, get more XP across Modern Warfareto rank up faster.
·      Communication is Key.Professional Call of Dutyplayers use callouts to communicate tactics and enemy player positions in-game. Crank up that headset, communicate effectively and, most importantly, listen to your teammates.
·      Bring Together the Squad. This compliments the above tip about communication: the best players in the world work as a teamto win championships. Your friends can be your best teammates, so rally the crew and squad up for some action.
·      Play Your Life. Especially in Search & Destroy, dying in a competitive game can put your team at a disadvantage. Whether you are on a Killstreak or in a crucial 1v1 at the end of a round, it's best to double check those corners and pay close attention to callouts rather than kicking down doors and exposing your position.
·      Know Your Maps.Getting lost inside a map is the last thing you want to do during a competitive match. Learning the routes, lesser-known locations, and objective points and rotations on the maps in Modern Warfarein general may significantly help you step up your game. Check out our Map Intel guides for maps in the competitive rotation – Rammaza, Gun Runner, Hackney Yard, and St. Petrograd– and be on the lookout for more in the future.
·      Make Use of Equipment.Like my fellow James – Mr. Crowder, the coach of Atlanta FaZe – said when I asked the pros for some general Modern Warfare pointers, "Make use of lethal and tactical equipment in every life." Whether it's softening up an enemy with a Frag or blinding them with a Flash, equipment pieces can turn the tide of an engagement just as much as a good and accurate shot.
Whether you'll be playing Modern Warfare, or in the stream chat this weekend watching Launch Weekend, I'll see you online.
Stay frosty.
For more information and the latest intel on Call of Duty®: Modern Warfare®, check out: www.callofduty.com, www.youtube.com/callofdutyand follow @InfinityWard and @CallofDuty on Twitter and Instagram and Facebook.
For more information on Activision games, follow @Activision on Twitter,Facebook, and Instagram.