A new Season of content, Steel Legion, has arrived in Call of Duty: Mobile bringing new game modes, a new map, and even more rewards that players can earn! Plus, the Steel Legion Battle Pass brings by two epic Call of Duty characters. David Mason, the protagonist of Black Ops 2, and son of Alex Mason and Reaper, an experimental war robot with combat skills that are as sophisticated as he is.      
Want more insight on what's new in Steel Legion? Read on to get all the details on Steel Legion and learn how you can earn the Man-O-War and the soldier, Ruin. 
Get More with the Battle Pass
The Battle Pass in Call of Duty: Mobile includes a free tiered system and a paid tiered system, the Premium Pass. Players can progress through both tiers simultaneously by completing daily and weekly tasks. These tasks can range from using a specific weapon or playing matches and tasks can be in either Multiplayer or Battle Royale. 
Battle Pass
In Steel Legion, players can earn a new functional weapon – the GKS. Originally in Black Ops 4, the GKS is a submachine gun than leans towards assault rifle metrics offering a reliable damage and above average range for an SMG. At Tier 25 players can earn a new Killstreak – the Shock RC. This remote-controlled car will shock and stun enemies on contact, so you can burst in with your squad and finish them off. Alongside the GKS and Shock RC, players can also earn Weapon XP cards, camos for various gear and equipment, and Credits – in-game currency you can use to purchase even more goods like Sprays, and even fully weapons!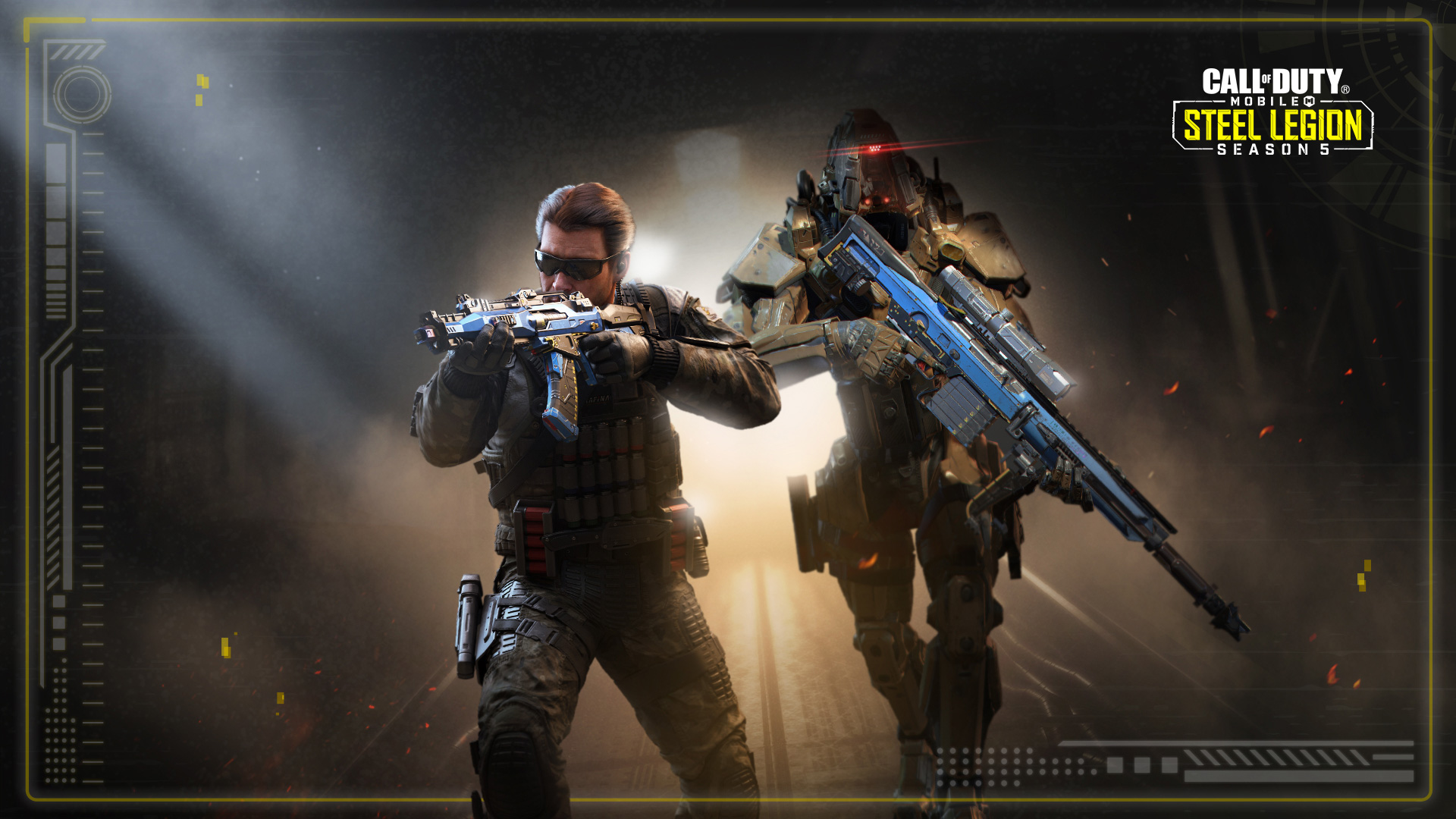 Premium Pass
Reaper, the experimental war robot, kicks off the Premium Pass at Tier 1. Jump into battle with this high-tech fighter and methodical eliminate foes. Plus, the prodigal son from Black Ops 2, David Mason, is found at Tier 12 in the Steel Legion Premium Pass.
Prepare to do battle with the Steel Legion 'Magmacomb' weapons. Engulfing the skin of these weapons are fiery red embers that signal how devastatingly powerful they are. Use them in battle to strike fear and decimate your enemies. The Steel Legion 'Magmacomb' weapons can be found throughout the Premium Pass at Tier 1 for the M4, Tier  20 for the M21 EBR, and Tier 30 for the AK-117. Also, players can find Weapon XP cards (higher value than standard Battle Pass), Call of Duty Points, Credits, Crates – featuring a haul of gear, weapon skins, and camos, and more.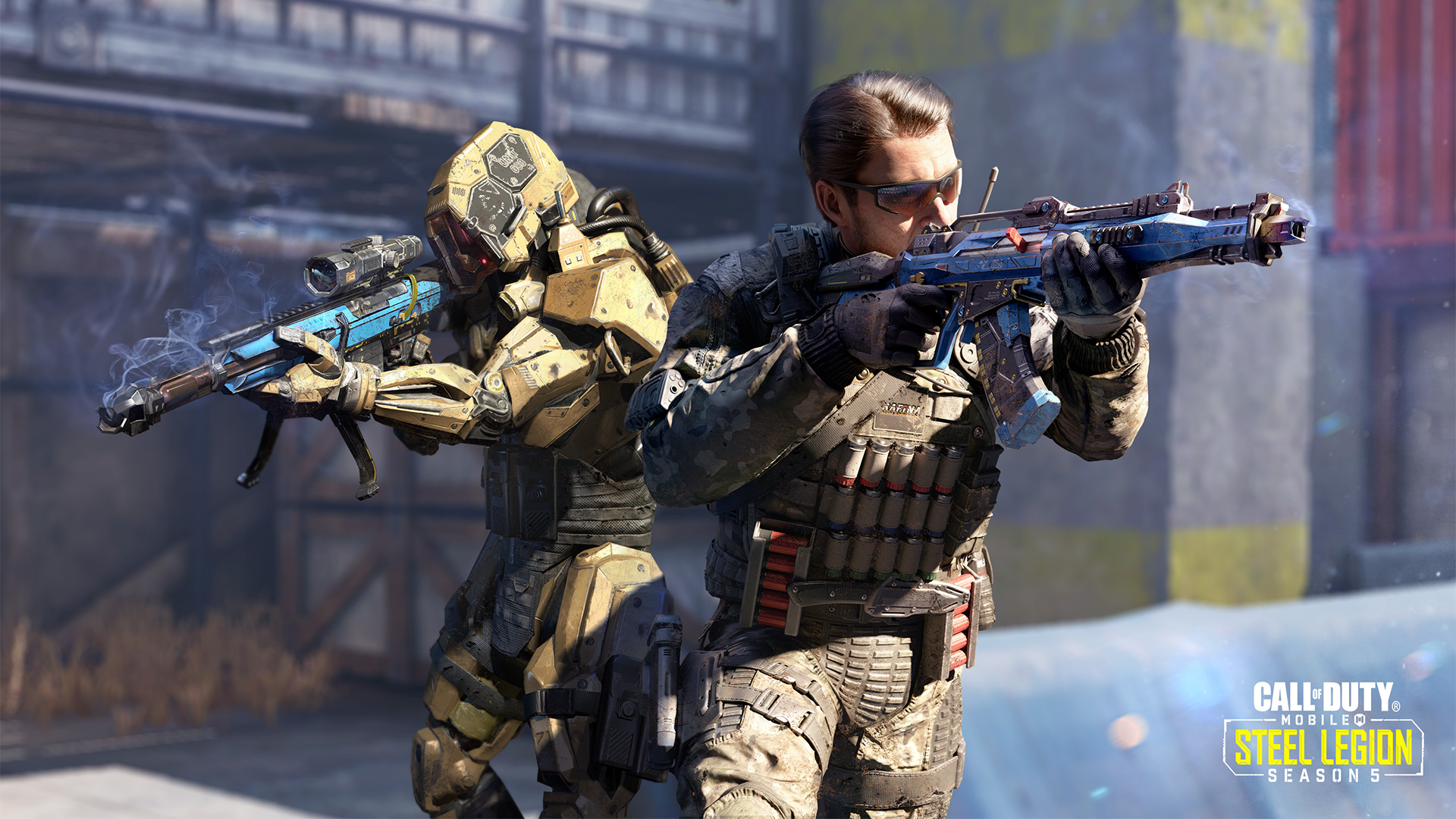 A Showdown Shoot Out
Call of Duty: Mobile ushers in a new mode with Steel Legion, 2v2 Showdown. You and a partner face off against another squad of two in a single elimination showdown. You will be given loadouts at random that will change every two matches. To win a game, you must win six matches.
Eliminate the two enemy players within the time limit, or the match goes into 'overtime'. During overtime, a flag will spawn, typically at the center of the map. You can win by either taking down the enemy or capturing the flag. If the flag isn't captured nor the enemy defeated, the team with the most health wins.
Showdown require unique strategy and tactics, particular since there is no health regen. That's right, you do not automatically heal so you have to play smart. Consider pairing up with a friend and communicate throughout the matches to best your opponents in 2v2 Showdown.
2v2 Showdown is a limited time mode, so jump in now while it's still available.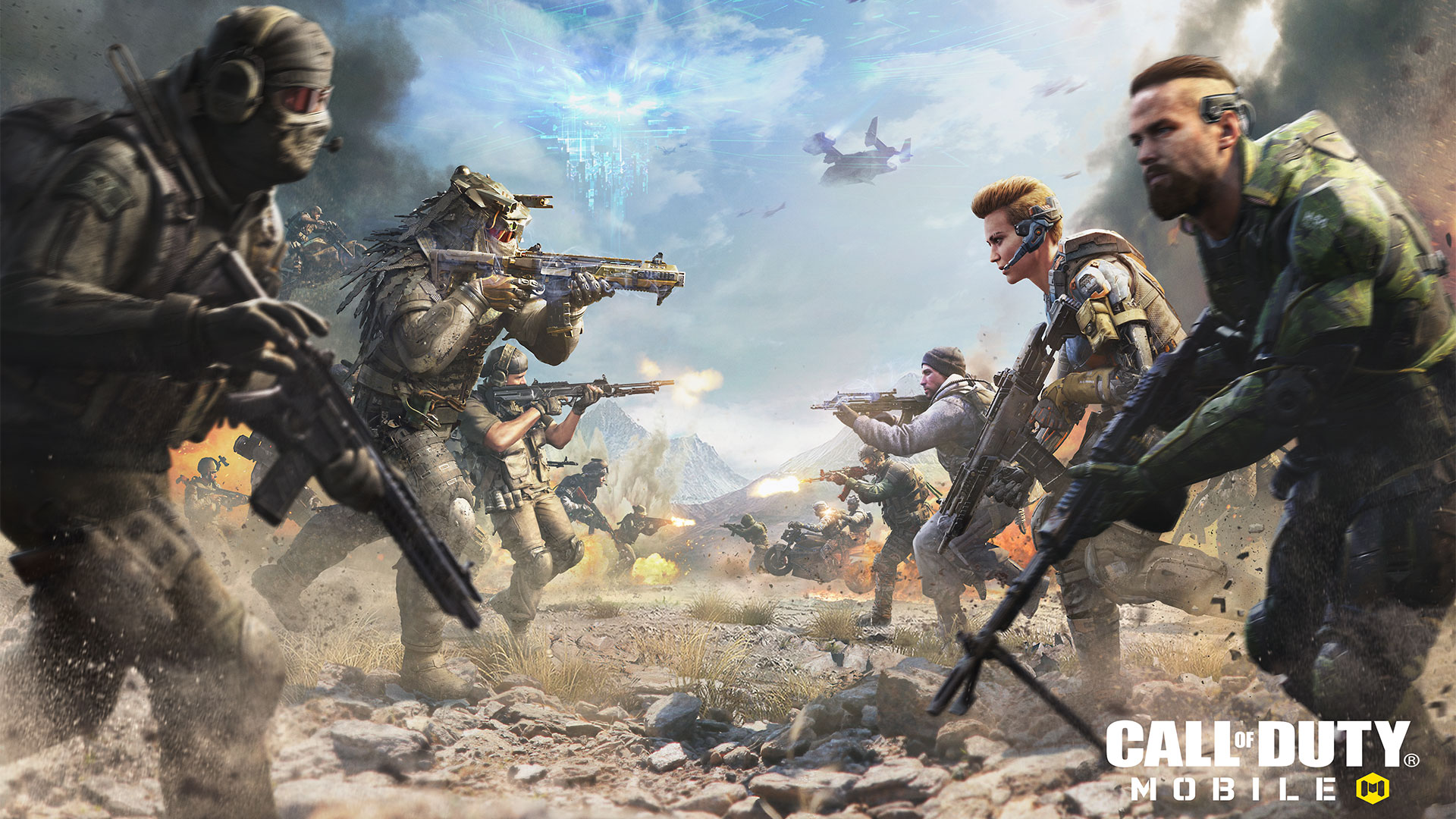 A New Perspective to Warfare
The 20v20 Battle Royale mode – Warfare returns as limited-time mode. However, now players can experience the mode in a first-person perspective to give you even greater vision to scope out and take down your foes.
In addition, two new weapons can now be found in Battle Royale – the HS2126 shotgun and the UL736 LMG. Get up close to your enemies and dust the competition with the fast firing close quarters power of the HS2126. It's quicker than average fire rate for a shotgun will help you handle any enemies that gets too close. The UL736 is a powerful LMG that can lay down cover fire for teammates or help you hold crucial locations like the high ground in the final moments of a Battle Royale match.
Get the Games Blog tips on Warfare by reading our blog here.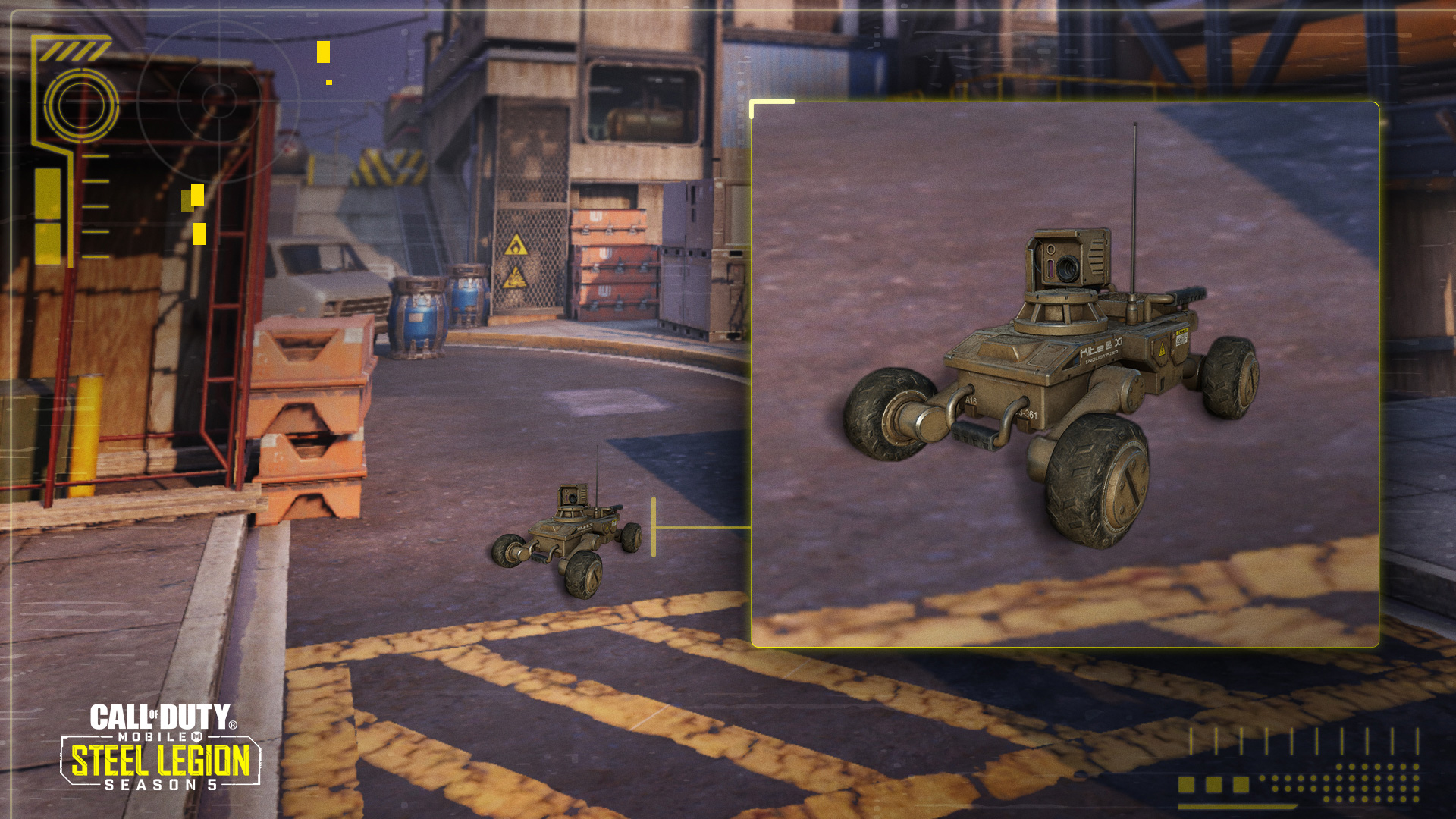 A Shock to the System
Add a spark to your gameplay with the Killstreak – the RC Shock. Available to earn at Tier 25 in the free Battle Pass, the RC Shock is a controllable mini car that shocks enemies on contact. This jolt of electricity temporarily stuns and incapacitates enemies, similar to Prophet's Seeker Mine in Black Ops 4.
Players can earn the RC Shock by getting 350 points in a match, once it is selected as one of your Killstreaks. Consider pairing this with a UAV to gain visibility on foes, shock them, and finish 'em off.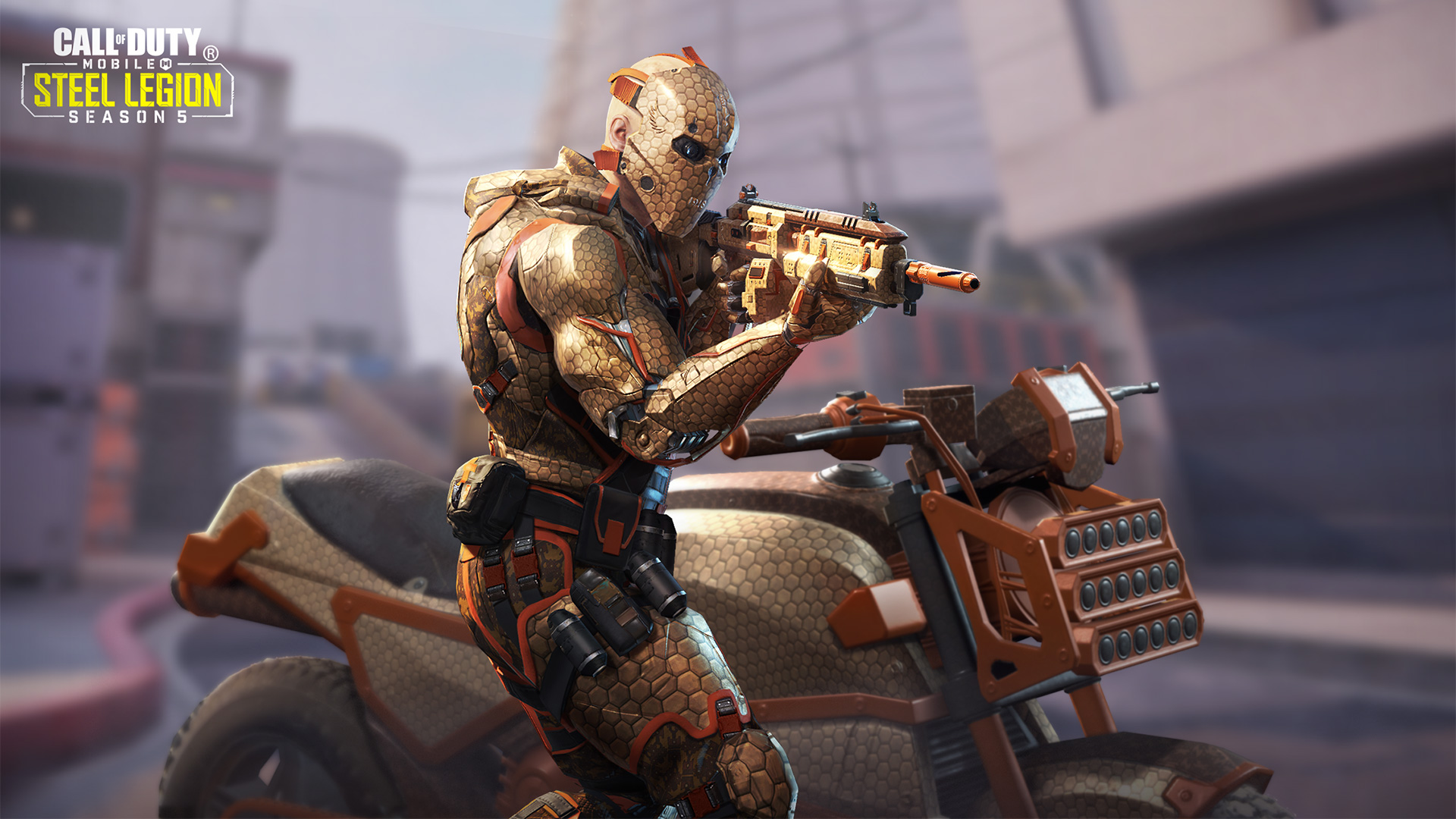 Earn Man-O-War and More in Ranked Mode
A new Season means new Seasonal Ranks and rewards in Ranked Mode. Available in both Multiplayer and Battle Royale, Ranked Mode features tiered rewards that players can earn as they advance up the ranks.
You can preview the rewards of Ranked Mode by going to the Ranked Mode lobby. Go to the Ranked Match banner in the main menu to play games in Ranked Mode add progress through the tiers to earn rewards. Players can earn the Man-O-War in Multiplayer Ranked Mode and the Epic soldier, Ruin, in Battle Royale Ranked Mode.  
The Man-O-War is a high damage assault rifle with a slower rate of fire with a lot of versatility and adaptability for various combat situations. Consider using it in objective modes to help capture and defend key areas. Earn the Man-O-War once you reach Rank Master 1 in Multiplayer Ranked Mode.
Donnie Walsh, callsign: 'Ruin', is a top tier soldier who was first seen Black Ops III. Fierce and determine in the battlefield, Ruin in some of his latest threads can be earned at Rank Master 1 in Battle Royale Ranked Mode.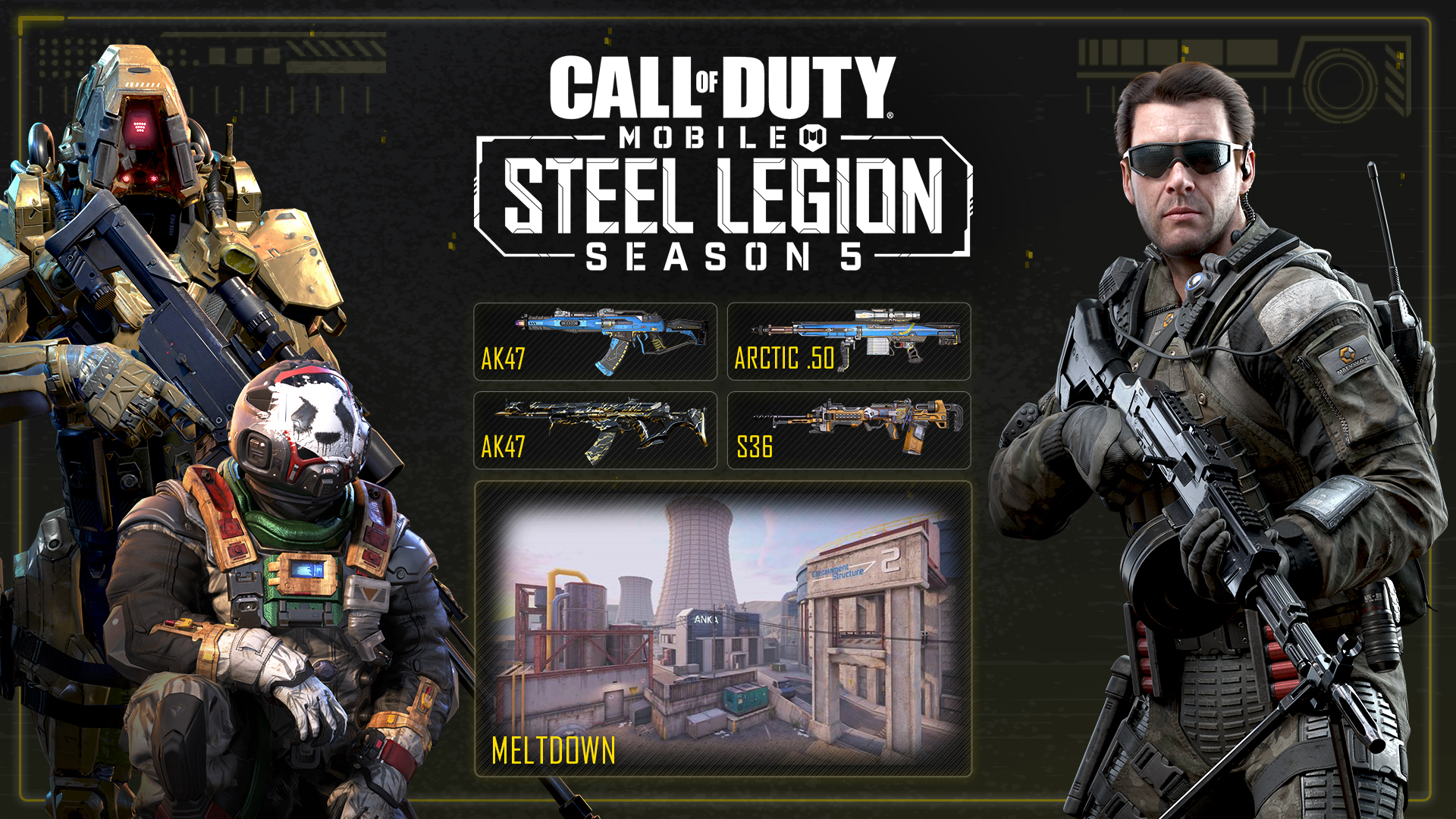 Jump into Steel Legion to experience a ton of new content and the new map – Meltdown. The Steel Legion Battle Pass, Ranked Mode, and more is available now in Call of Duty: Mobile.
We'll see you online. 
For the latest intel, be sure to visit the Call of Duty: Mobile website.Also check out www.callofduty.com, www.youtube.com/callofduty, and follow @CallofDuty on Twitter, Instagram and Facebook.
© 2020 Activision Publishing, Inc. Activision, Call of Duty, and Modern Warfare are trademarks of Activision Publishing, Inc. All other trademarks and trade names are the properties of their respective owners.
For more information on Activision games, follow @Activision on Twitter, Facebook, and Instagram.