It's December 3 and Season One of Modern Warfare is now Live! The largest season of content in Call of Duty® history features new maps for Gunfight, Ground War, and standard Multiplayer modes; new Multiplayer game modes like Gunfight O.S.P. and Reinforce; and new Special Ops experiences that continue the narrative of the game's gripping and visceral campaign. 
With the multitude of new content available to watch on Twitch, we've got some in-game rewards you can earn for tuning in. Watch Modern Warfare from December 3 at 10AM PT to December 10 at 10AM PT on Twitch to earn rewards, then equip them in-game and jump into all the action of Season One. Here's the steps to watching and earning Modern Warfare rewards on Twitch:
Step 1: Get a Call of Duty Account
Registering for a Call of Duty account is a relatively easy process that gives you some awesome benefits. Accounts make it possible for cross-play to be enabled in Modern Warfare, and you'll receive all the latest intel and personalized stats. 
Get an account by going here. If you already have an account, you're all set.
Step 2: Link and Re-link
Once you have a Call of Duty account, connect it to your Twitch Account, so you can start earning!
Go here to link your Call of Duty and Twitch accounts.
If you already have a Twitch account, you must re-link. Re-linking ensures you have enabled the correct permissions, so you can earn rewards.
Go here to re-link your Call of Duty and Twitch accounts.
Step 3: Watch and Earn
Then, you'll need to head to Twitch and get a look at the streamers who are playing Modern Warfare. On drop eligible streams you'll see a callout that "drops are enabled", so you know you are officially watching and earning. From there, click the stream and enjoy the gameplay. 
You can watch multiple streamers or one stream but as long as they are "drop eligible" your total watch time will be tallied up, so you can earn rewards.
Are you a Twitch streamer? If you'd like your stream to be eligible to earn rewards follow steps one and two, then make sure you are streaming on the official Modern Warfare Twitch directory.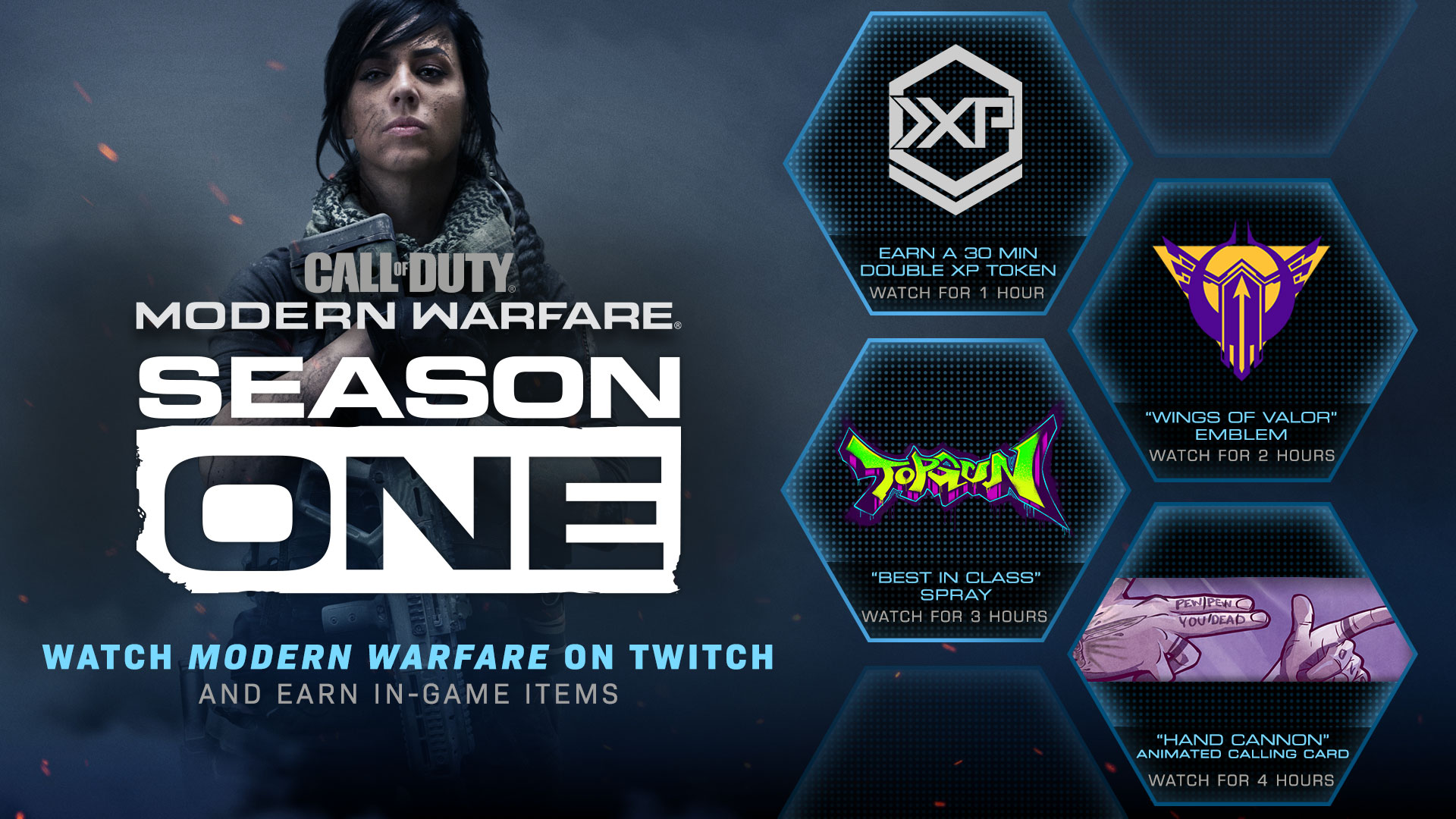 Step 4: Get the Goods
So, you've watched some awesome gameplay of Season One of Modern Warfare and want to know what's headed to your inventory? Details below:

Watching 1 hour – earns a 30 min Double XP token
Watching 2 hours – earns the 'Wings of Valor' emblem
Watching 3 hours – earns the 'Best in Class' spray
Watching 4 hours – earns the 'Hand Cannon' animated calling card
Enjoy the streams and the goods you'll earn from watching Modern Warfare. After that jump-in and experience the biggest free content offering in Call of Duty history with Season One of Modern Warfare.  
See you online. 
Have more questions on Twitch drops or linking your account? Read our support article here or message @ATVIassist on Twitter. 
For more information and the latest intel on Call of Duty®: Modern Warfare®, check out: www.callofduty.com, www.youtube.com/callofdutyand follow @InfinityWard and @CallofDuty on Twitter and Instagram and Facebook.
For more information on Activision games, follow @Activision on Twitter,Facebook, and Instagram.