Crossbow Overview
The high-performance Crossbow fires 20" bolts with deadly precision. Slay with the Crossbow's standard recoverable bolts, or add extra lethality through the explosive fury bolts, gaseous venom bolts, and thermite backburns. Use Gunsmith to craft your ideal crossbow, with a strong perk selection and attachments that improve speed, accuracy, and bolt velocity.
To unlock the base Crossbow weapon, you first need to kill five enemy players using a marksman rifle equipped with a Reflex Sight, in 25 separate matches. This is great practice for using the Crossbow, where accuracy is everything. 
You may at first feel put off by the Crossbow's fire and reload action, but with practice you'll learn better timing and movement. Once you've fully grasped the weapon's strengths, you'll have a hard time keeping it out of your loadouts.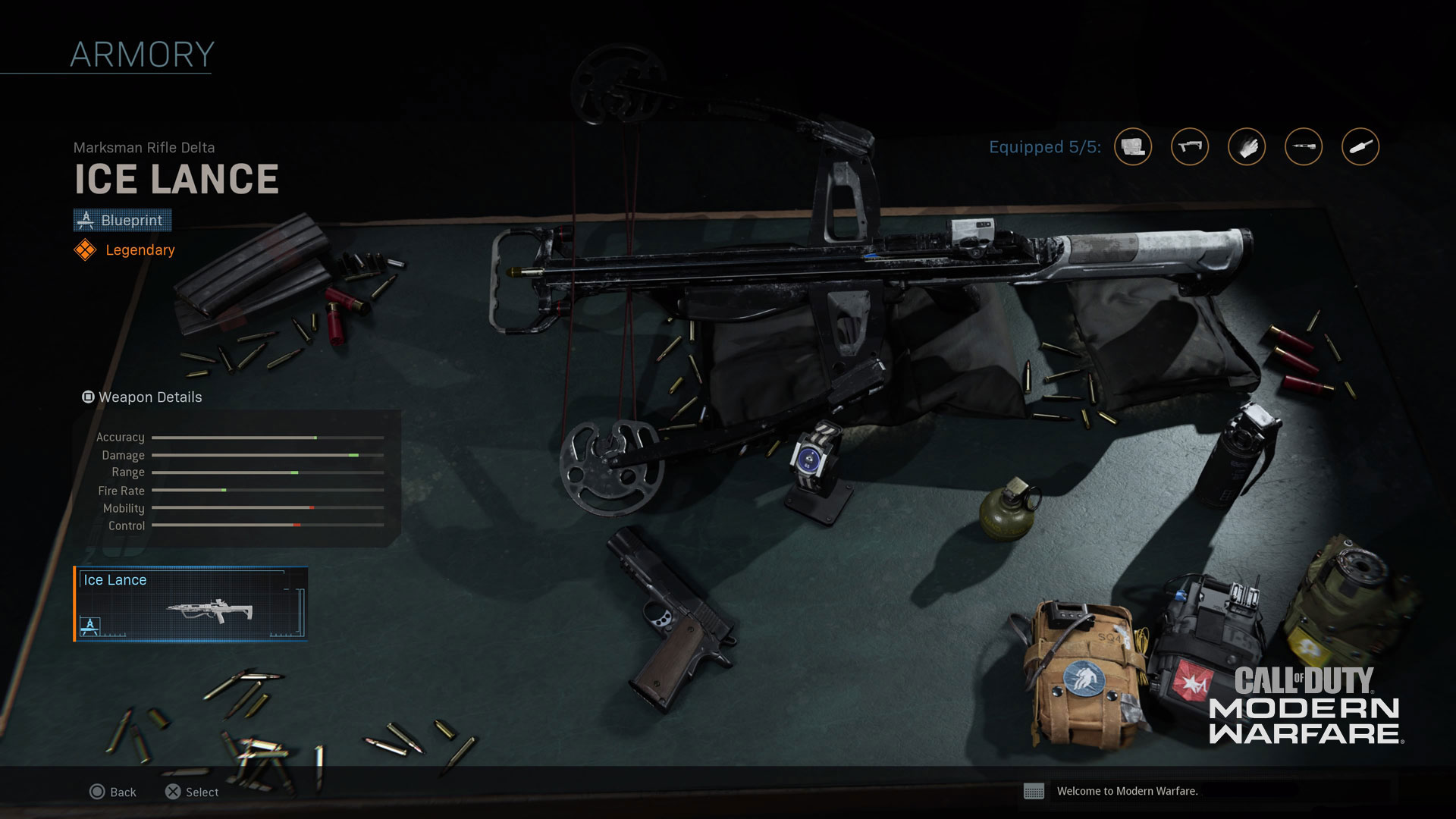 Blueprint Review
The Ice Lance showcases the Crossbow's combined anti-personnel and anti-vehicle strengths. Available with the 'Arctic Beast' bundle, this five-attachment blueprint includes thermite bolts for anti-vehicle and killstreak support, allowing you to take out tanks and transports in Ground War as well as killstreaks like Wheelsons, Chopper Gunners, and VTOLS.
Sleight of hand and the FSS SpeedTrack offer better handling, while the XRK Thunder 200 Lb draw and thermite bolts bring the punch, topped off with the Aim-Op Reflex Sight for precision aiming. This is a powerful introduction to the Crossbow's capabilities.
The Ice Lance is a perfect early companion when working through the Crossbow unlock challenge. Though the blueprint's attachments are fixed until the base Crossbow is unlocked, weapon XP is still earned. Get your five marksman rifle kills and then switch to the 'Ice Lance'. You'll get a feel for how the Crossbow works, and once you complete the challenge, the base Crossbow will have some levels behind it so that you can dive right into the attachments.
Top 5 Loadout Ideas
1. Lancer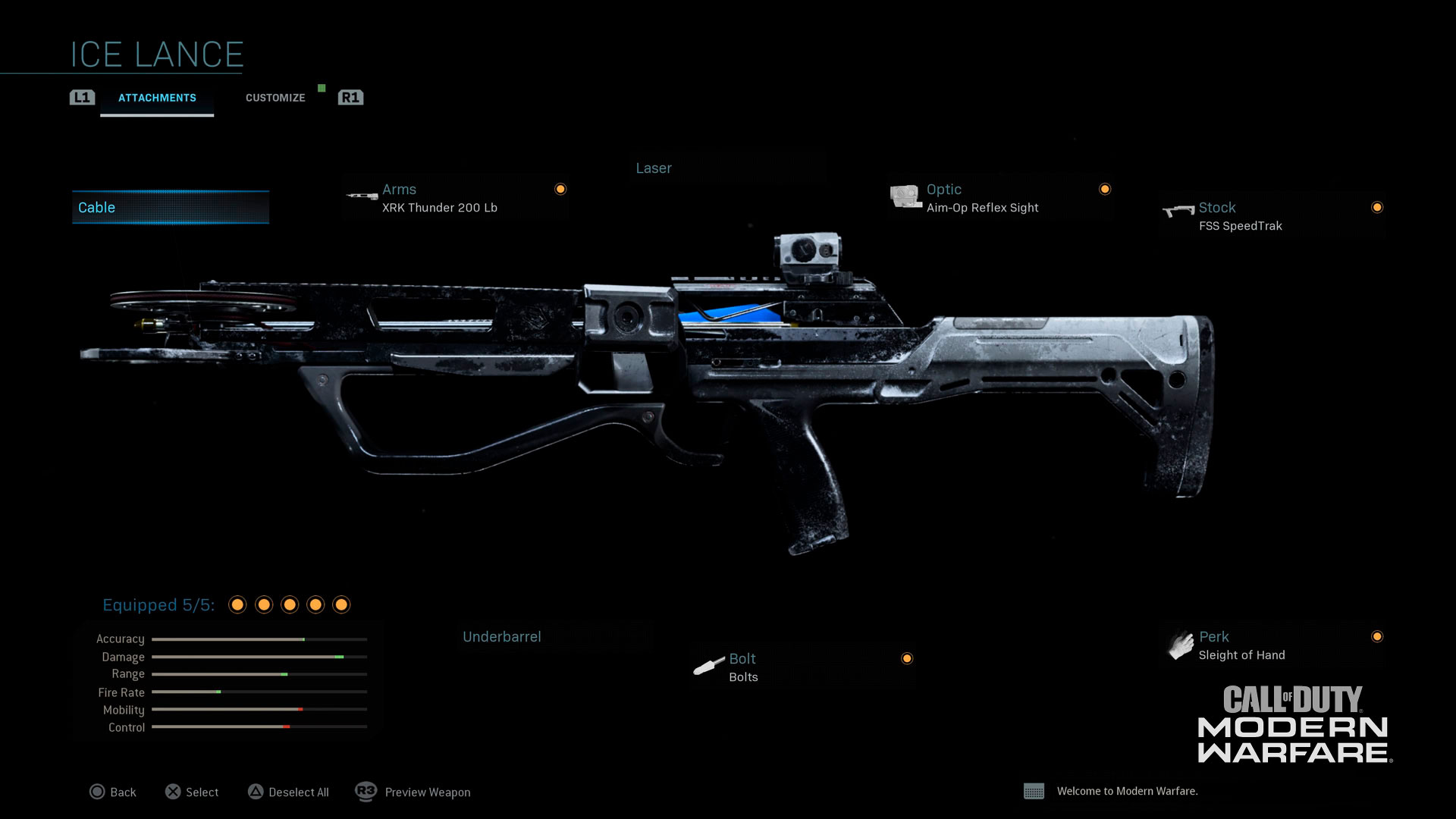 Primary:SMG or Assault Rifle
Secondary:Ice Lance Blueprint
FTAC Backburn 20",  XRK Thunder 200 Lb, FSS SpeedTrak, Aim-Op Reflex Sight, Sleight of Hand
Perks:Overkill, Hardline, Amped
Specialist:E.O.D., Double Time, Scavenger
Field Upgrade: Deployable Cover
The Lancer excels in its adaptability, giving you the option to slay with precision from a distance or move right up into close engagements. Pair your preferred SMG with the Ice Lance for aggressive play, or an assault rifle for mid-range power. Increased weapon swap speed by using the Amped perk helps you rapidly switch roles on a dime.
Thermal bolts add anti-vehicle support and damage over time to enemy players. Specialist with Hardline rewards your efforts with added perks and Scavenger tacked on the end keeps you stocked during strong runs. Deployable Cover gives added protection when shooting bolts in open areas.
2. Scout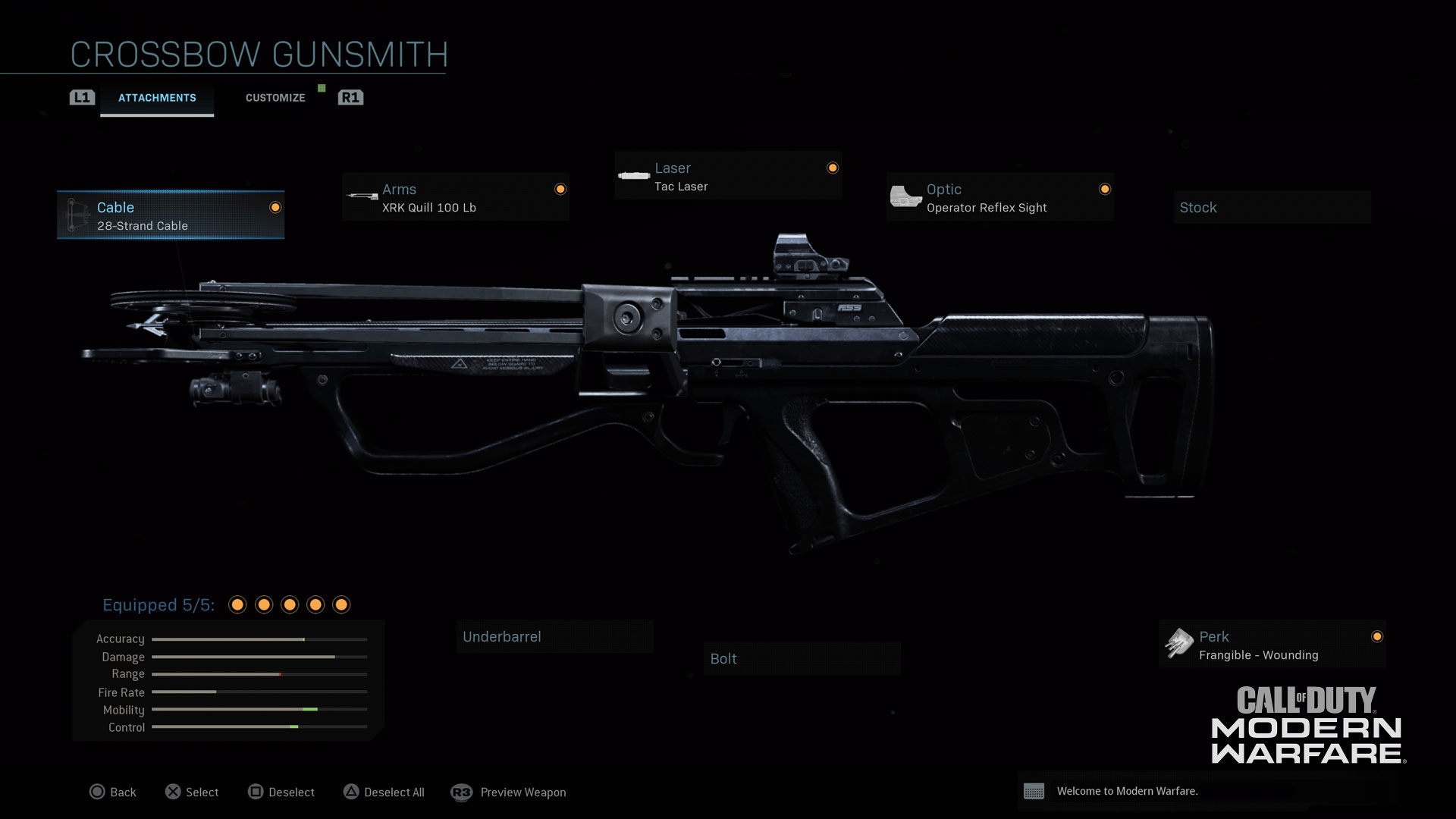 Primary:Crossbow
28-Strand Cable, XRK Quil 100 Lb, Tac Laser, Operator Reflex Sight, Frangible – Wounding
Secondary:Pistol
Perks:Double Time, Ghost, Battle Hardened
Killstreaks:Personal Radar, UAV, Cluster Strike
Field Upgrade: Dead Silence
The agile Scout relies on the base, recoverable bolts to extend ammo reserves and keep a low profile. Switch to your pistol in close quarters or when you need to finish an enemy following a Crossbow hitmarker. Plus, Dead Silence helps you get behind enemy lines without attracting unwanted attention.
The Scout performs well in objective modes like Hardpoint and Domination, where the Personal Radar and UAV keep you aware of your surroundings while working toward the Cluster Strike for targeted objective attacks. Frangible – Wounding is a boon in team fights, extending the time enemy players need to recover and counter.
3. Demolitionist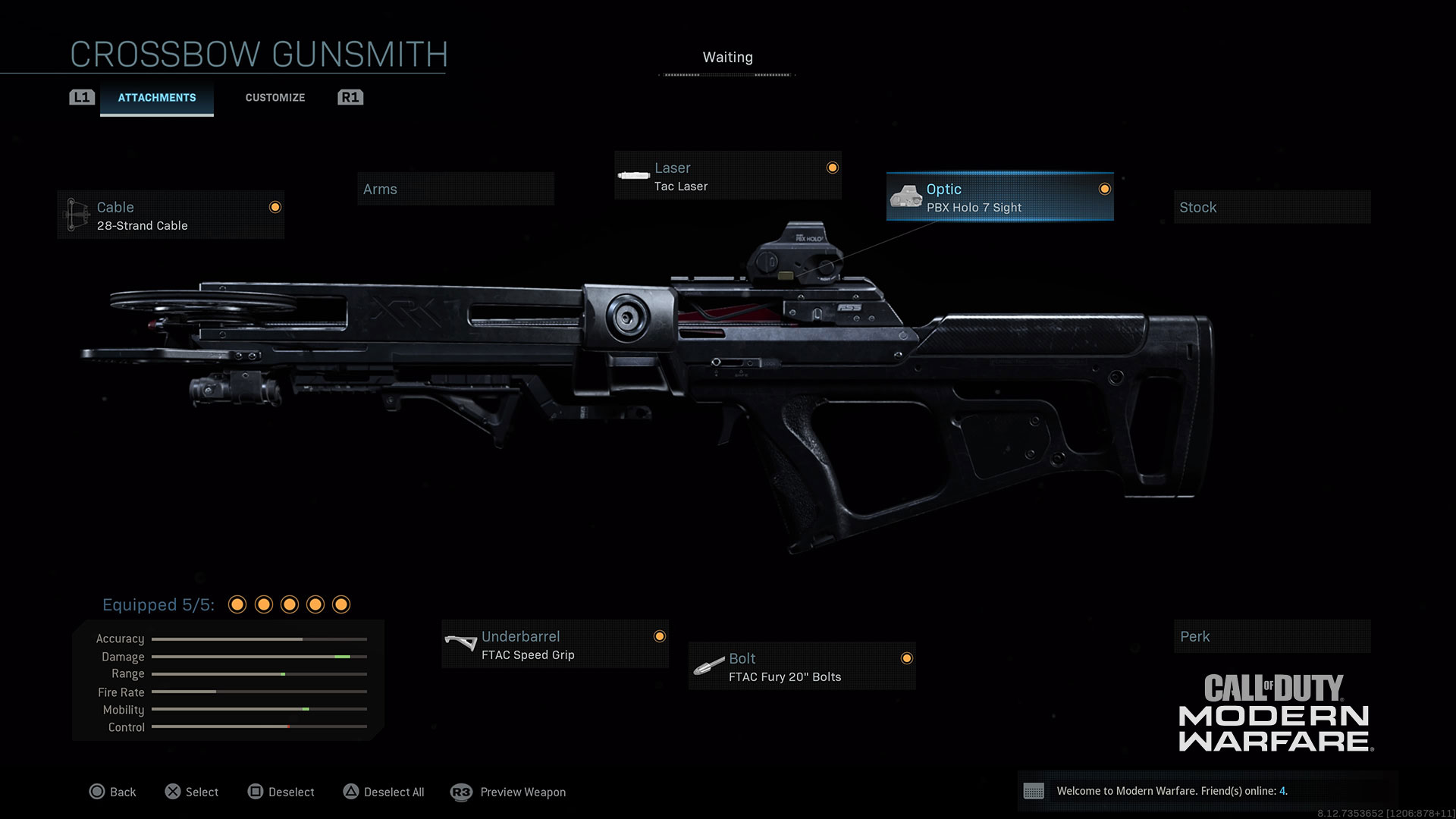 Primary:Crossbow
FTAC Fury 20" Bolts, 28-Strand Cable, FTAC Speed Grip, Tac Laser, PBX Holo Sight
Secondary:Launcher
Perks:Cold-Blooded, Pointman, Amped
Scorestreaks:UAV, Cluster Strike, Wheelson
Field Upgrade: Munitions Box
The Demolitionist trades close quarters lethality for added team support. The explosive fury bolts are a blast to use and finish off wounded enemies with ease, while a launcher keeps the skies clear and feeds Pointman for progress toward your Scorestreaks.
You're lacking speed and adaptability in this loadout, so it's essential to know when to engage the enemy and when to wait for support. Consider staying on the move between shots to keep the enemy guessing. The Munitions Box further supports your team's longevity, making this a great loadout for Ground War. Don't hesitate to drop your launcher for an enemy weapon if you need to get up close.
4. Alchemist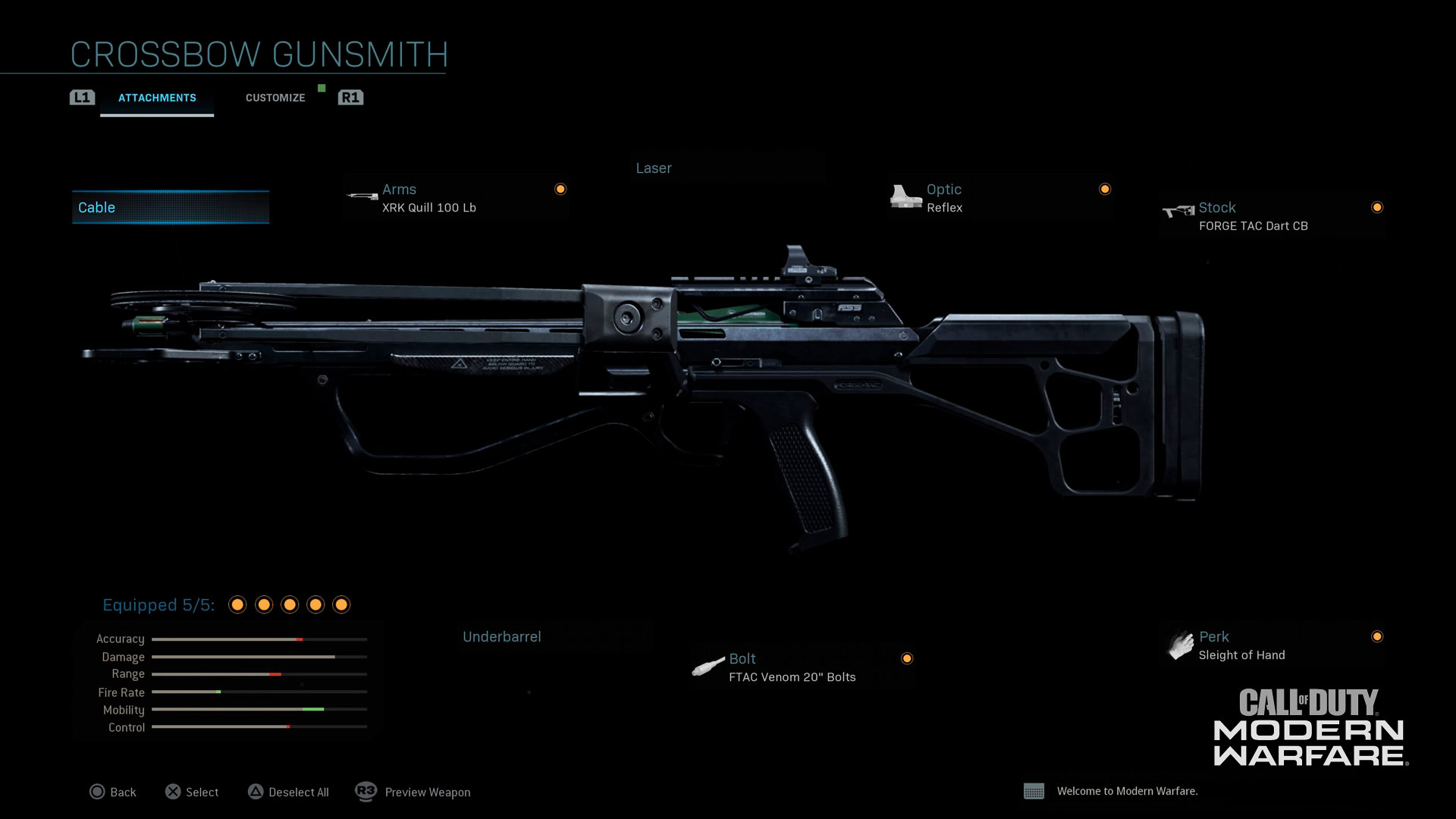 Primary:Crossbow
FTAC Venom 20" Bolts, XRK Quill 100 Lb, FORGE TAC Dart CB, Cronen LP945 Mini Reflex, Sleight of Hand
Secondary:Shotgun
Perks:Overkill, Restock, Spotter
Killstreaks:Counter UAV, Cruise Missile, Sentry Gun
Field Upgrade: Trophy System
Get up in their faces with the alchemist loadout. Fire the Crossbow's venomous bolts to damage and disorient enemies until you are close and ready to cause havoc with your preferred shotgun. Restock gives you added pushing power, while the Trophy System keeps you safe from retaliation.
Be smart about your movement when using the venom bolts, or you'll end up running into your own gas explosions. Consider using Spotter's intel to make strategic entrances, as smart movement is an important step to exceling with this loadout. Master its strength to dominate in all modes, with particular effectiveness in objective modes likes Headquarters and Capture the Flag.
5. Elitist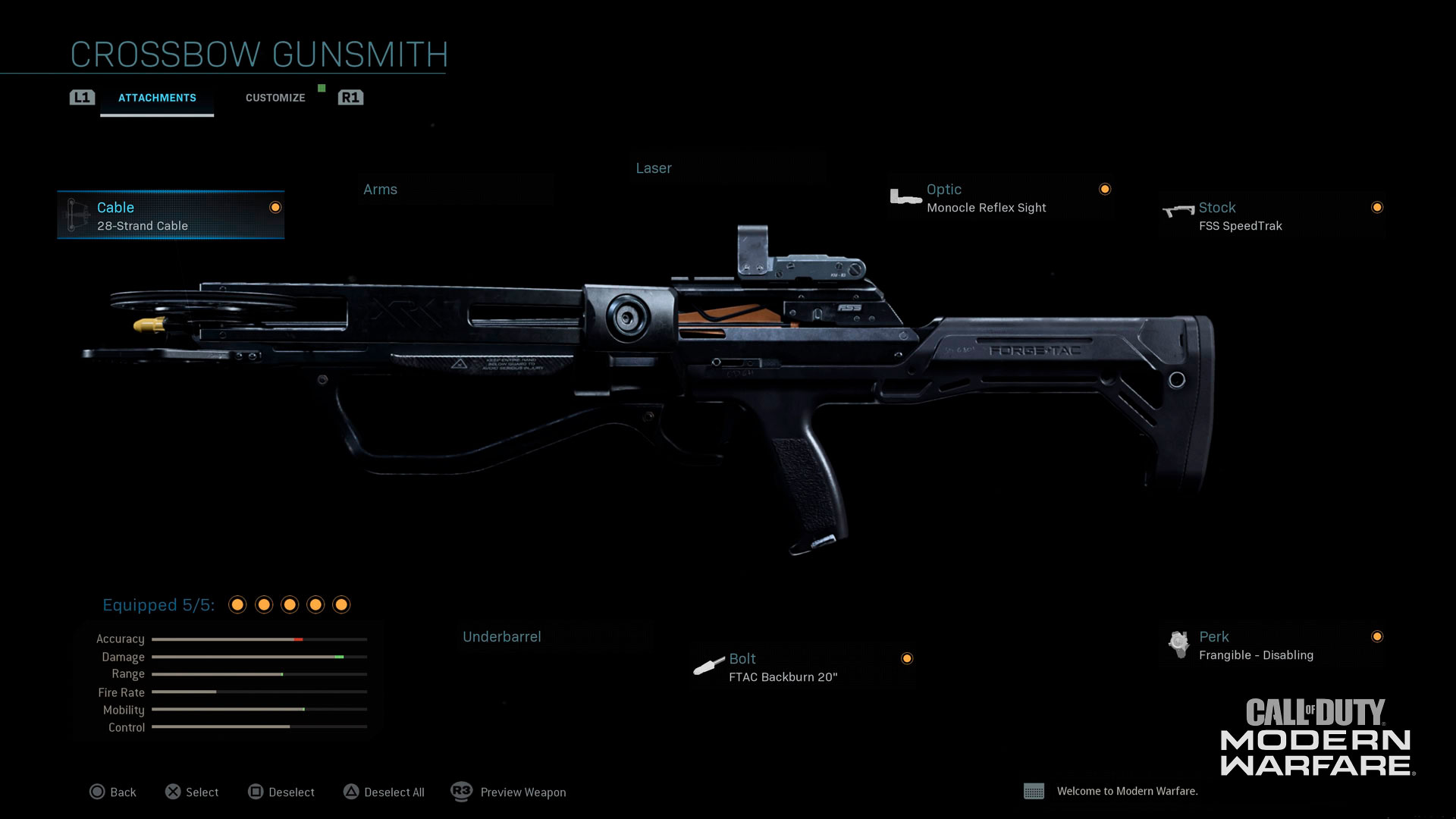 Primary:Crossbow
FTAC Backburn 20" Bolts, 28-Strand Cable, Monocle Reflex Sight, FSS SpeedTrak, Frangible – Disabling
Secondary:Pistol
Perks:E.O.D., Hardline, Battle Hardened
Specialist:High Alert, Amped, Cold-Blooded
Field Upgrade: Weapon Drop
The Elitist rewards the veteran Crossbow user with high level attachments adding style and lethality for those who have mastered the Crossbow's strengths and weaknesses. This Crossbow is fast, disabling, and deadly, and its thermite bolts are effective against vehicles as well. 
Keep your pistol for a fast weapon swap or drop it for an enemy weapon. Specialist empowers you with added perks focused on keeping you alive so that you can remain a thorn in the enemy team.
If you decide to ice out the competition with the Ice Lancer or customize your own Crossbow, we hope you enjoy this new addition the marksman rifle arsenal. 
Stay frosty. 
For more information and the latest intel on Call of Duty®: Modern Warfare®, check out: www.callofduty.com,www.youtube.com/callofdutyand follow @InfinityWard and @CallofDuty on Twitter and Instagram and Facebook.
For more information on Activision games, follow @Activision on Twitter,Facebook, and Instagram.