Season 1 brings the first ever Battle Pass for Call of Duty®: Modern Warfare, which delivers over 150 new items for players to earn. As part of the Battle Pass system, you have a select number of items you can earn for free (including two new base weapons, multiple weapon blueprints, COD Points (CP), and other items) simply by playing the game. Or, for ultimate customization, you can elect to purchase the Battle Pass to get access to unlock up to 100 tiers. Read on for more details.
How the Battle Pass System Works
If you've checked out the previous video, you should have an initial idea of how the Call of Duty: Modern Warfare Season 1 Battle Pass system works. To reiterate:
The Battle Pass has 100 tiers of content for you to progress through and earn once you've purchased it.
To advance through these tiers, you simply play the game, earn XP, and complete challenges.
All three actions (playing the game, earning XP, and completing challenges) contribute to your overall Battle Pass XP, and get you closer to the content you're chasing.
Note: Though there are 100 Officer Ranks and 100 Battle Pass tiers of content, these two aspects of the game are separate from each other.
Through the Call of Duty: Modern Warfare Battle Pass, everyone can unlock and enjoy tiers of free content, and all functional content that has an impact on game balance, including base weapons and attachments, can be unlocked simply by playing the game.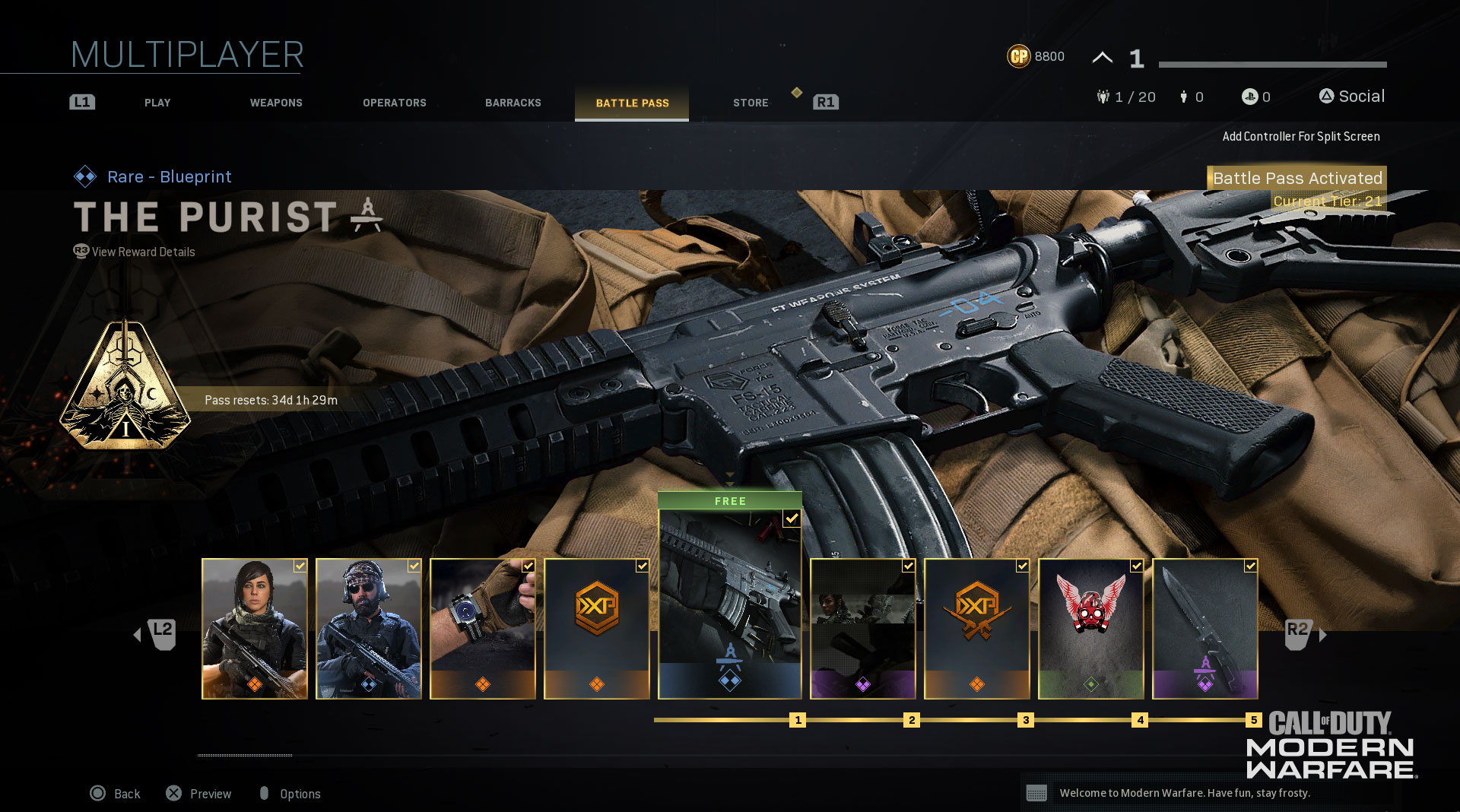 Play the game. Level Up. Earn Rewards.
·      Free Tiers (of the Battle Pass system): Everyone can earn over 20 free tiers of content, including two new weapons – the RAM 7 and Holger-26 – just by playing.
·      Battle Pass: Players looking for the ultimate customization can purchase the Battle Pass for 1,000 COD Points and get access to unlock up to 100 tiers of content, plus scores of Rare, Epic and Legendary Weapon Blueprints, Operator skins, exclusive challenges and more, and immediately unlocking an all-new Operative Mara. 
·      Battle Pass Bundle: Purchase to the Battle Pass Bundle and get access to everything you get with the Battle Pass, plus 20 Tier skips which grant instant access to cool, new customizations.
·      Tier Skips: Buy individual Tier skips for 150 COD Points.
You can purchase at any time without missing any content. If you choose to purchase the Battle Pass after already ranking up a few tiers, no problem: You'll immediately be awarded everything from the Tiers you have already unlocked through gameplay.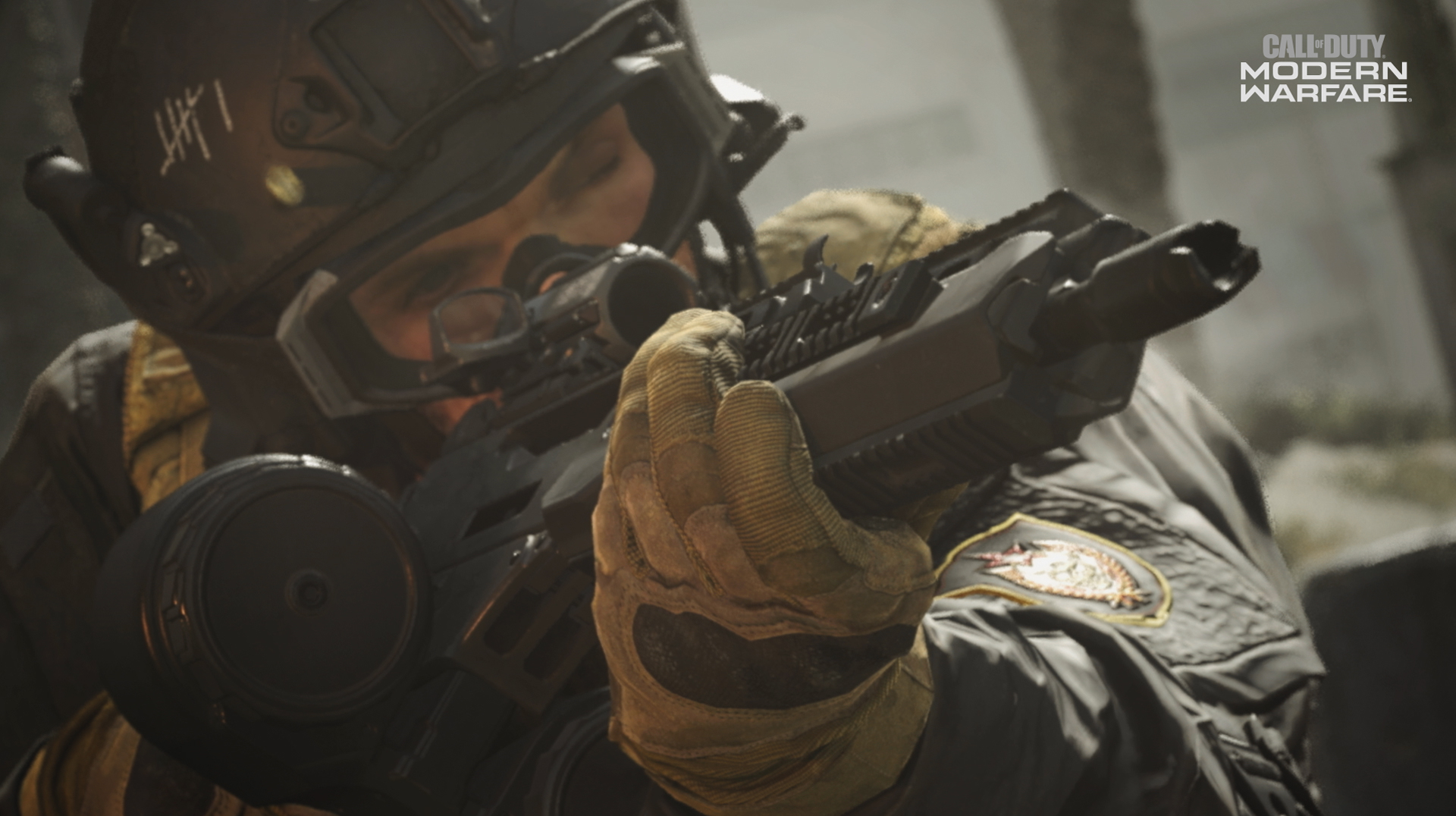 Battle Pass and Officer Ranks
As previously noted, progression through the Battle Pass is separate from Officer Rank progression.
Battle Pass uses three different actions (playing the game, earning XP, and completing challenges) to advance through the Battle Pass tiers.
Whereas ranking up through the Officer Ranks requires the earning of XP.
For example, after you hit Rank 155 in Season 1, your progress will still count toward Battle Pass progression. If you complete a Ribbon Challenge after Rank 155, all the XP you've earned will still provide an ample boost to your Battle Pass progression. 
For a deeper look at how this works, you can read our previous blog here on Officer Ranks.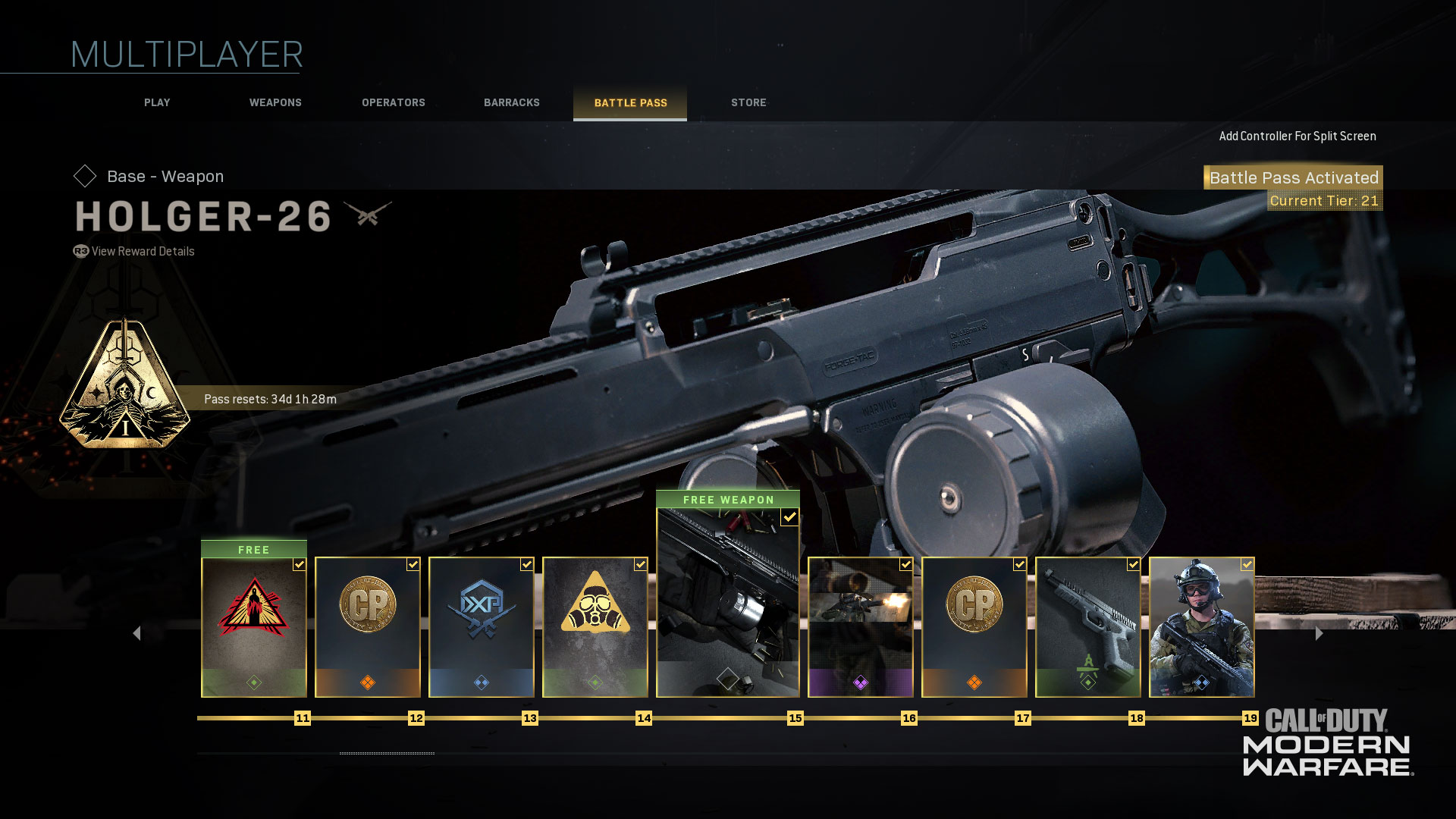 New Assault Rifle, LMG Highlight Free Tiers
A deeper look at the two free weapons available to everyone in the free tiers.
Those who reach tier 15 will earn the Season 1: Holger-26. A light machine gun that has one of the fastest firing rates in its class, the Holger-26 also boasts impressive mobility despite its size. Even if you already use one of the four LMGs already available to you in your loadouts, the Holger-26 makes a strong case for being a versatile primary weapon for your next Multiplayer or Special Ops infiltration.
Reaching tier 31 unlocks the fast-firing RAM-7. This bullpup assault rifle is built for close-range engagements thanks to its compact design and has an earnable 9mm magazine to further prepare it for CQB scenarios. The RAM-7 is an exceptional and extremely viable option among the assault rifles of Modern Warfare.
In addition, other free tiers include The Purist assault rifle blueprint as well as several weapon charms and other cosmetic items.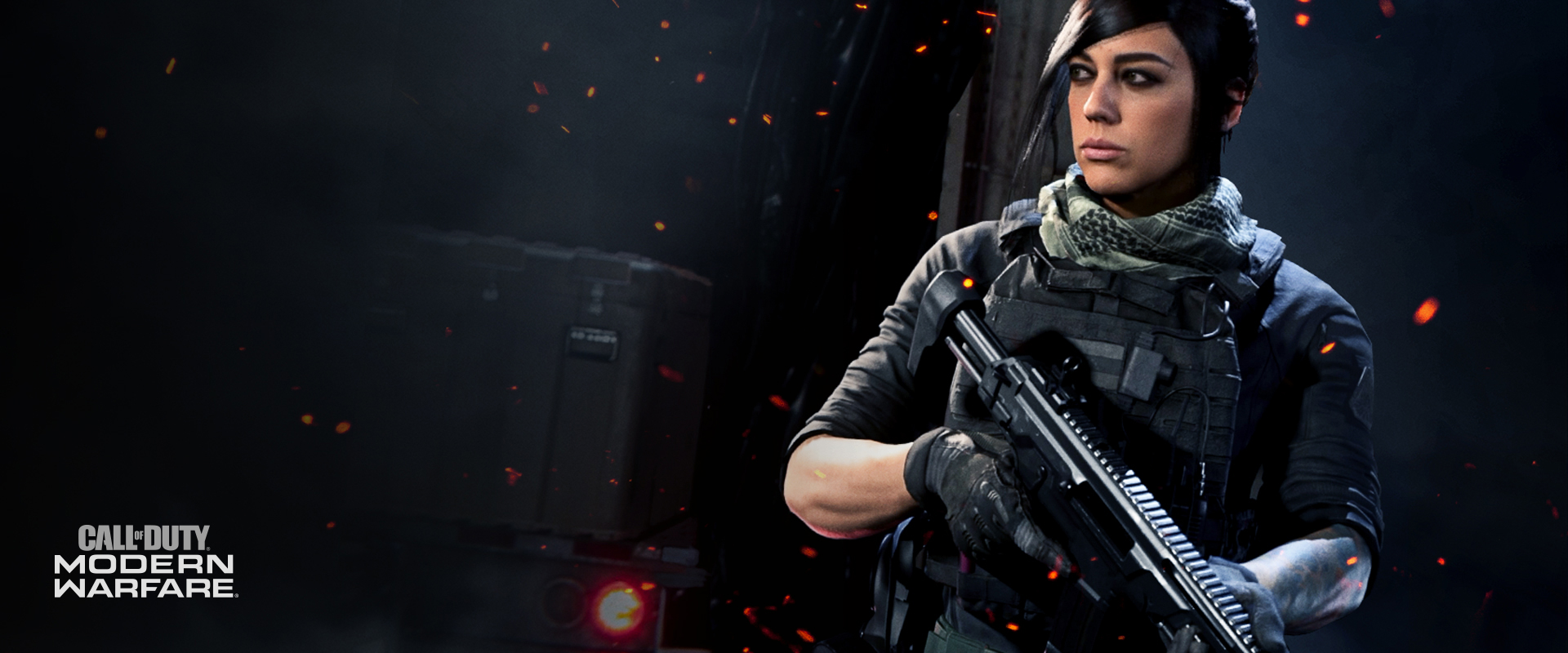 The Battle Pass Includes Mara, Tons More Weapon Blueprints and a Massive Amount of Personalization Options
The Battle Pass instantly unlocks a new operator for Season 1: Mara.
A Venezuelan national turned intel asset when she was only a teenager, Mara completed many clandestine operations the U.S. until she was invited to join WARCOM in 2017.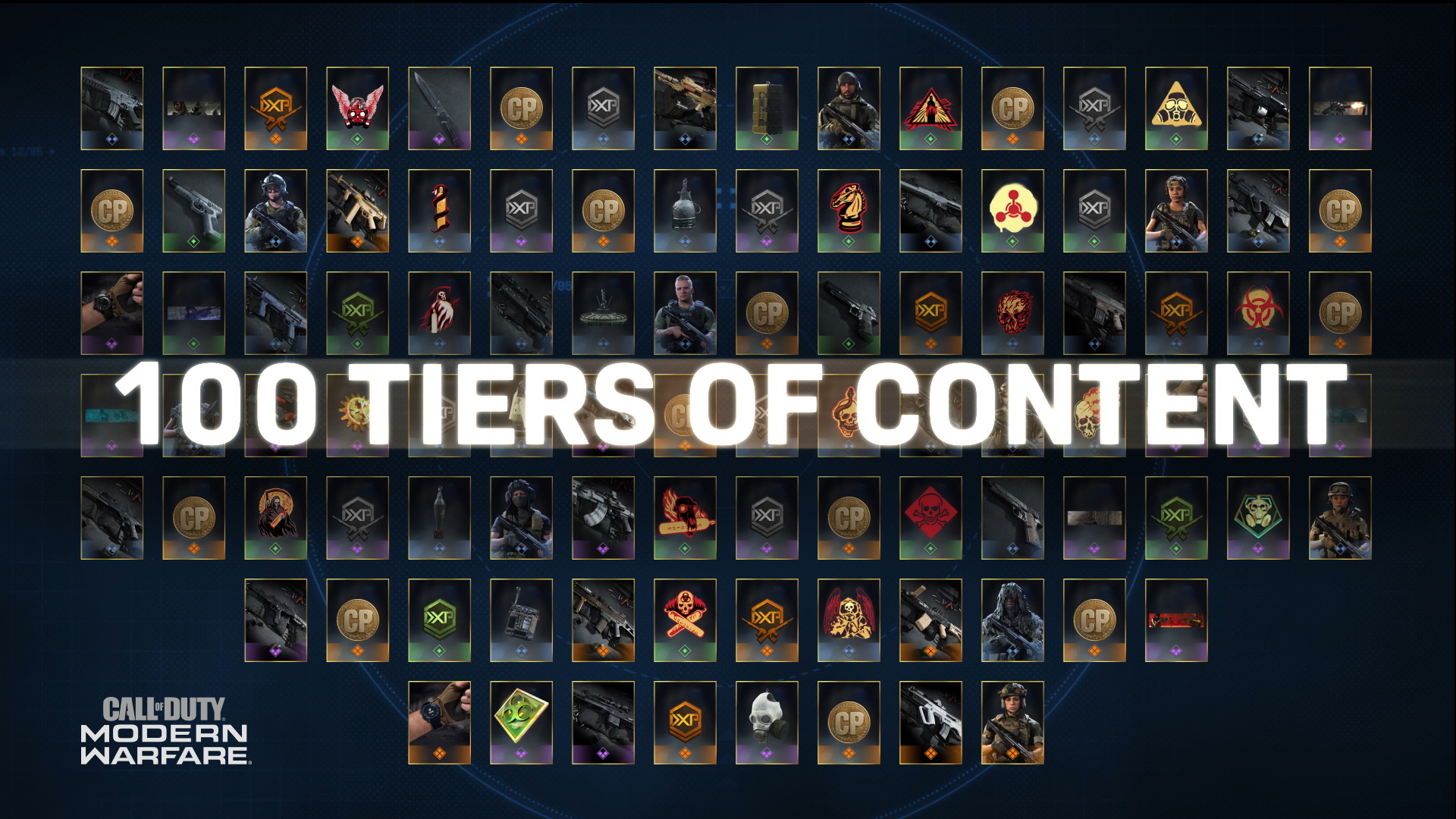 Along with this new operator for the Coalition, other highlights for the Battle Pass include the Life Support watch, one of many time-pieces you can earn here, the Sand Snake SMG and Hadir's Right Hand Sniper Rifle weapon blueprints, and the Overgrowth operator skin for Grinch. Plus, each new Operator and additional Operator skins include an exclusive mission.
That's also not to mention even more operator skins, quips (in-game voice-over lines) for operators, weapon charms, emblems, stickers, sprays, and player cards available within tiers.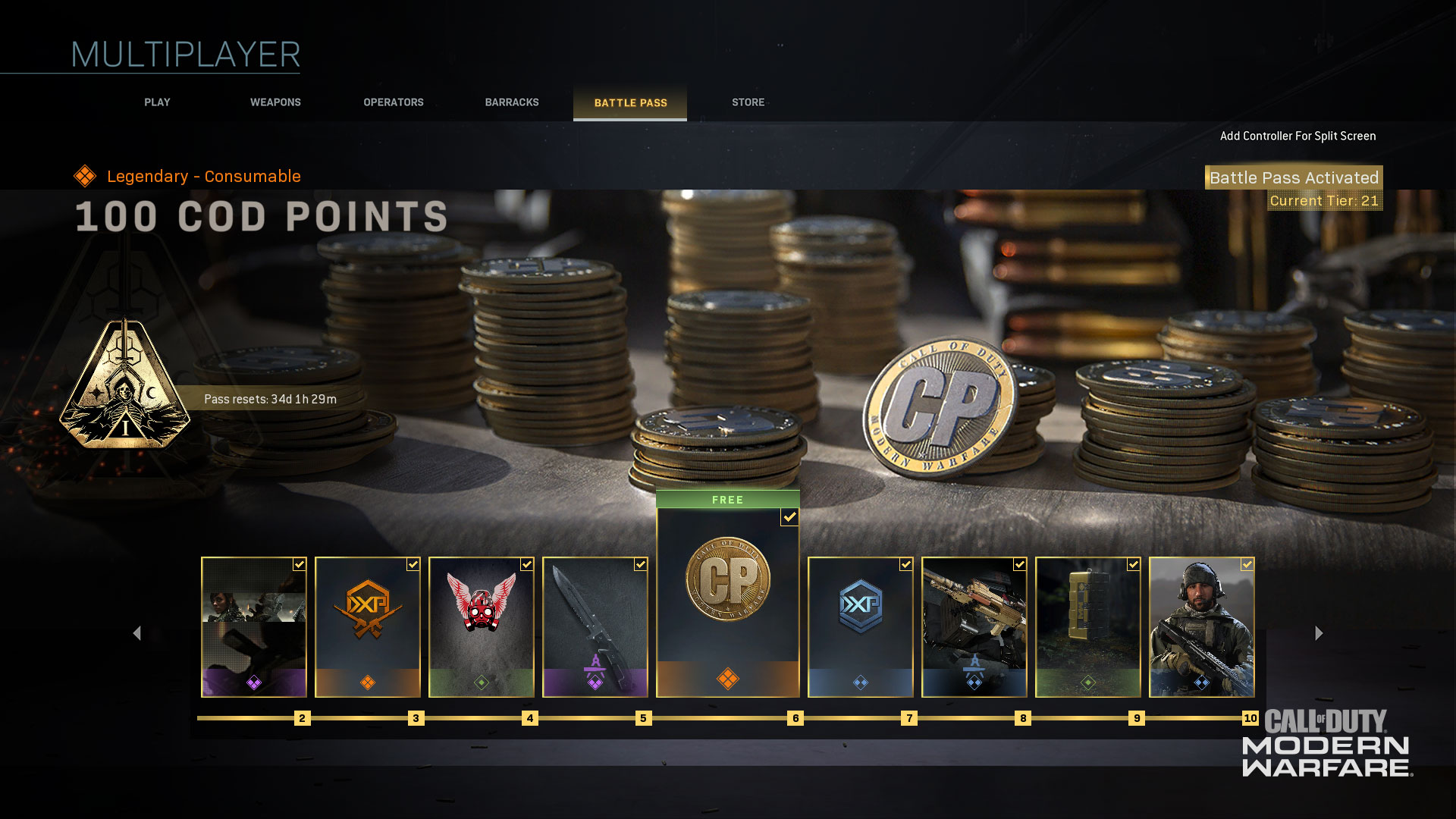 Play the game, earn COD Points
Whether you decide to purchase your Battle Pass or not, some of the tiers coming your way include free COD Point stashes that you can use in the Store or for future Battle Pass purchases.
300 COD Points are available in the Battle Pass system without purchase, while those who choose purchase the Battle Pass can unlock an additional 1,000 COD Points within the tiers, which comes to a grand total of 1,300 COD Points. Naturally, you're able to spend these COD Points however you like: For example, you can skip Battle Pass Tiers, obtain Bundles from the Store, or use accrued COD Points when purchasing a future Battle Pass.
So, what are you waiting for? Get on Modern Warfare, grab your Battle Pass, and start earning all that awesome content!
This is just the start, there's much more to come with Modern Warfare.
We'll see you online. Stay frosty.
For more information and the latest intel on Call of Duty®: Modern Warfare®, check out: www.callofduty.com, www.youtube.com/callofduty and follow @InfinityWard and @CallofDuty on Twitter and Instagram and Facebook.
For more information on Activision games, follow @Activision on Twitter, Facebook, and Instagram.