Season One's historic, FREE content drop has finally landed in Call of Duty: Modern Warfare. With this massive launch comes an incredible range of ways to deeply customize your Operator, Identity and loadouts.
This week kicks off the first release of Featured Bundles and Vanity Packs available for purchase. Every Featured Bundle and Pack is unique, containing a thematic collection of weapons, blueprints, Operator skins, quips, Finishing Moves, and much more. With such a wide range of customizations and items available, there's no shortage of ways to express yourself.
Read on for a glimpse at the first week of content available in the Featured Bundle sets. Then, visit the Store to purchase your favorites with Call of Duty® Points.
Featured Bundles, Week 1: December 3 – December 10
This week, the content comes in hot, with five Featured Bundles available right now. No matter your style, there's a set of items for everyone. Read on for a first look the exciting, fresh content that awaits.
Operator Bundles
These Bundle sets offer inclusive, Operator-specific content. Dress up your favorite Operator with a special skin, then give them a quip and Finishing Move to match.
Like all other Bundles, Operator Bundles also contain thematic player customizations, like emblems and calling cards, to go along with your Operator.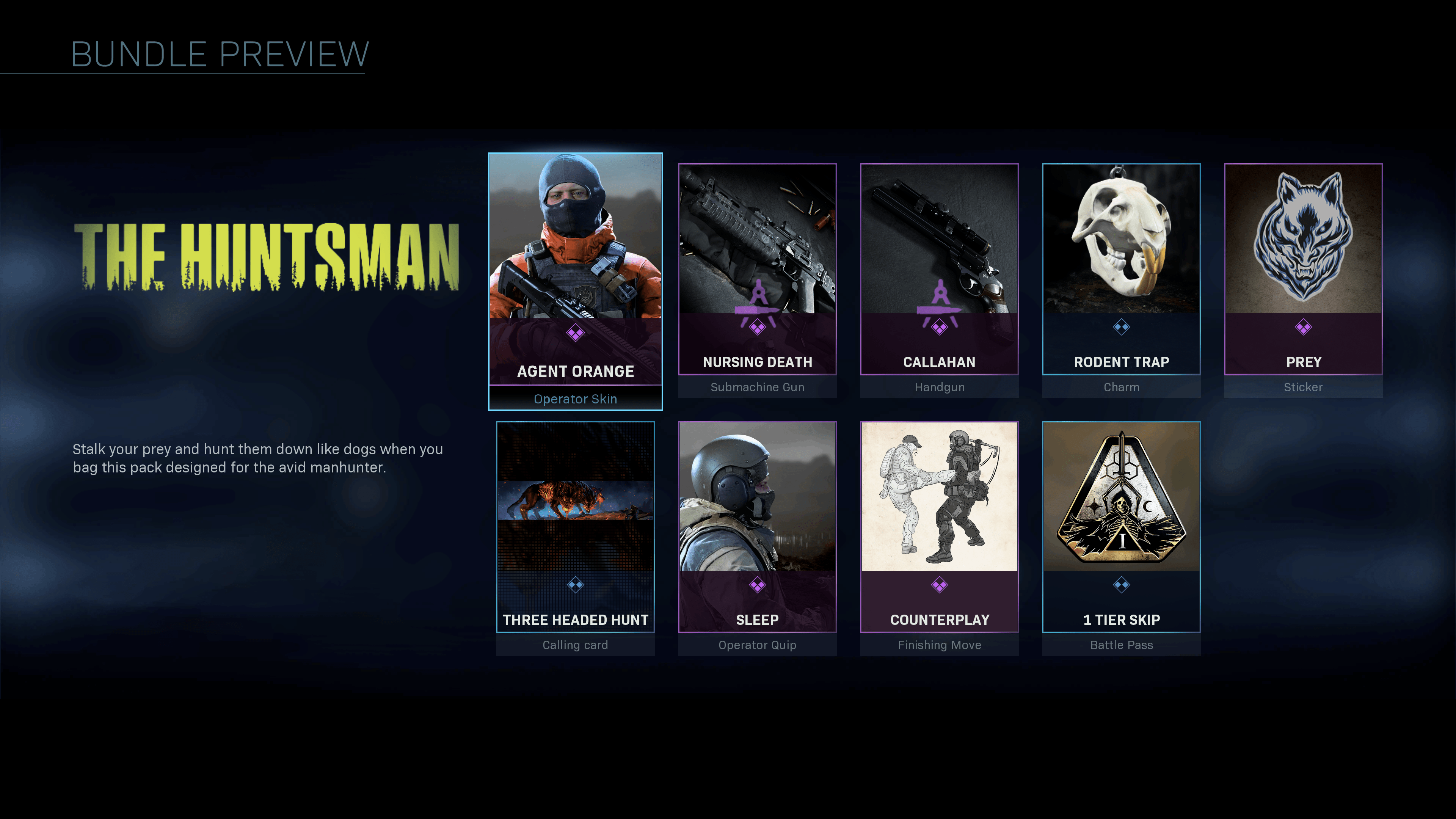 'The Huntsman' Bale Operator Bundle
Prefer to play Bale? Pick up this bundle for your favorite apex predator now. This bundle contains the 'Agent Orange' Operator skin, the 'Nursing Death' SMG blueprint, the 'Sleep' quip and the 'Counterplay' Finishing Move, PLUS 1 Battle Pass Tier skip.
And with the 'Huntsman' calling card added to your Identity, the enemy will get a stern warning to cover their tracks (or else).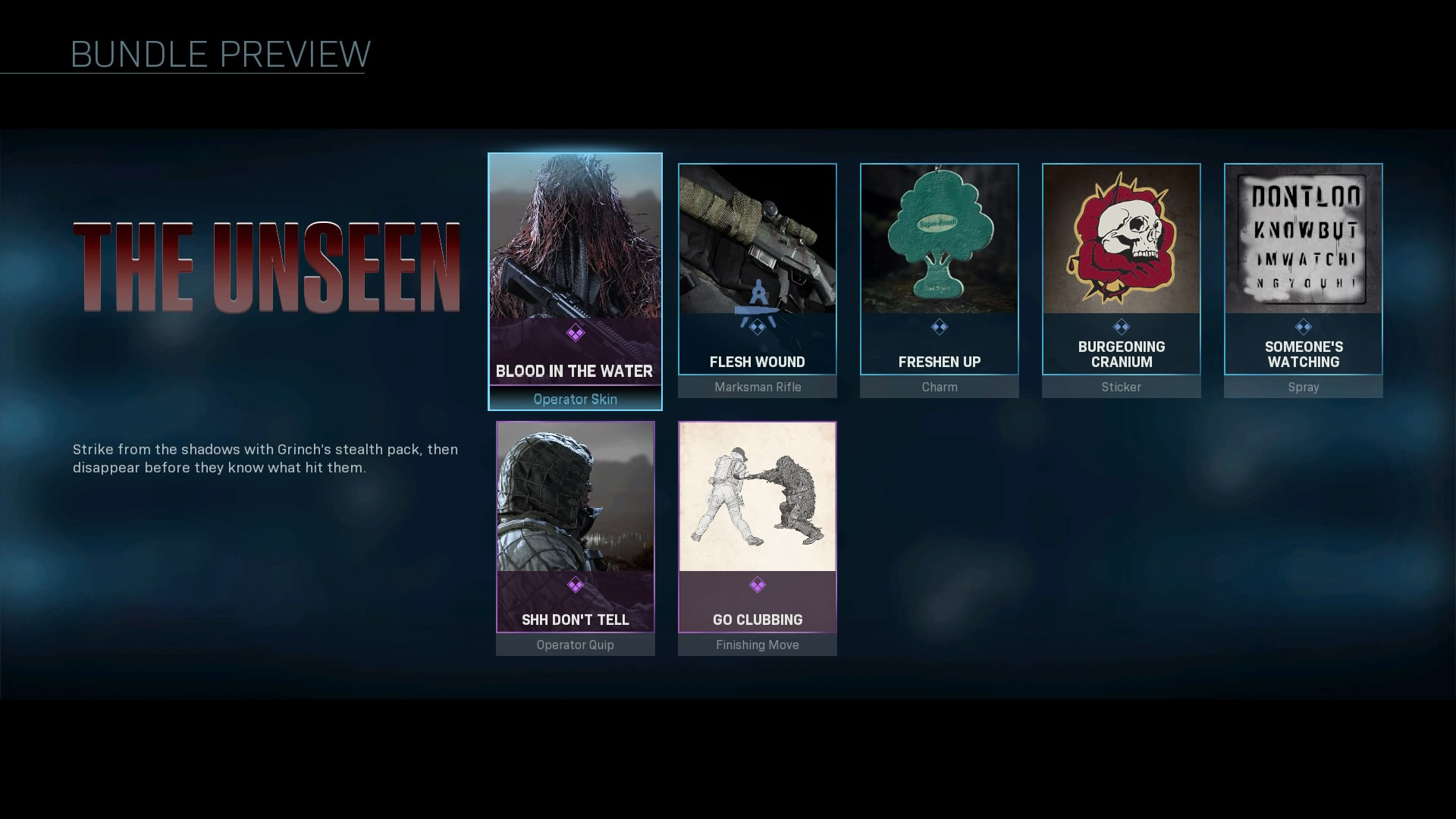 'The Unseen' Grinch Operator Bundle
Keep your movements on the down-low with Grinch's new Operator Bundle, 'The Unseen.' With the inky-dark 'Blood in the Water' skin, the 'Shh Don't Tell' Quip and the 'Go Clubbing' Finishing Move, this Bundle is a must for the stealthy players among us.
PLUS, get the 'Freshen Up' charm, the menacing 'Someone's Watching' spray, and the 'Flesh Wound' Marksman Rifle blueprint, made just for Grinch.
Weapon Bundles
Special blueprints ahead. Read on to learn what these special Weapon Bundles are packing this week.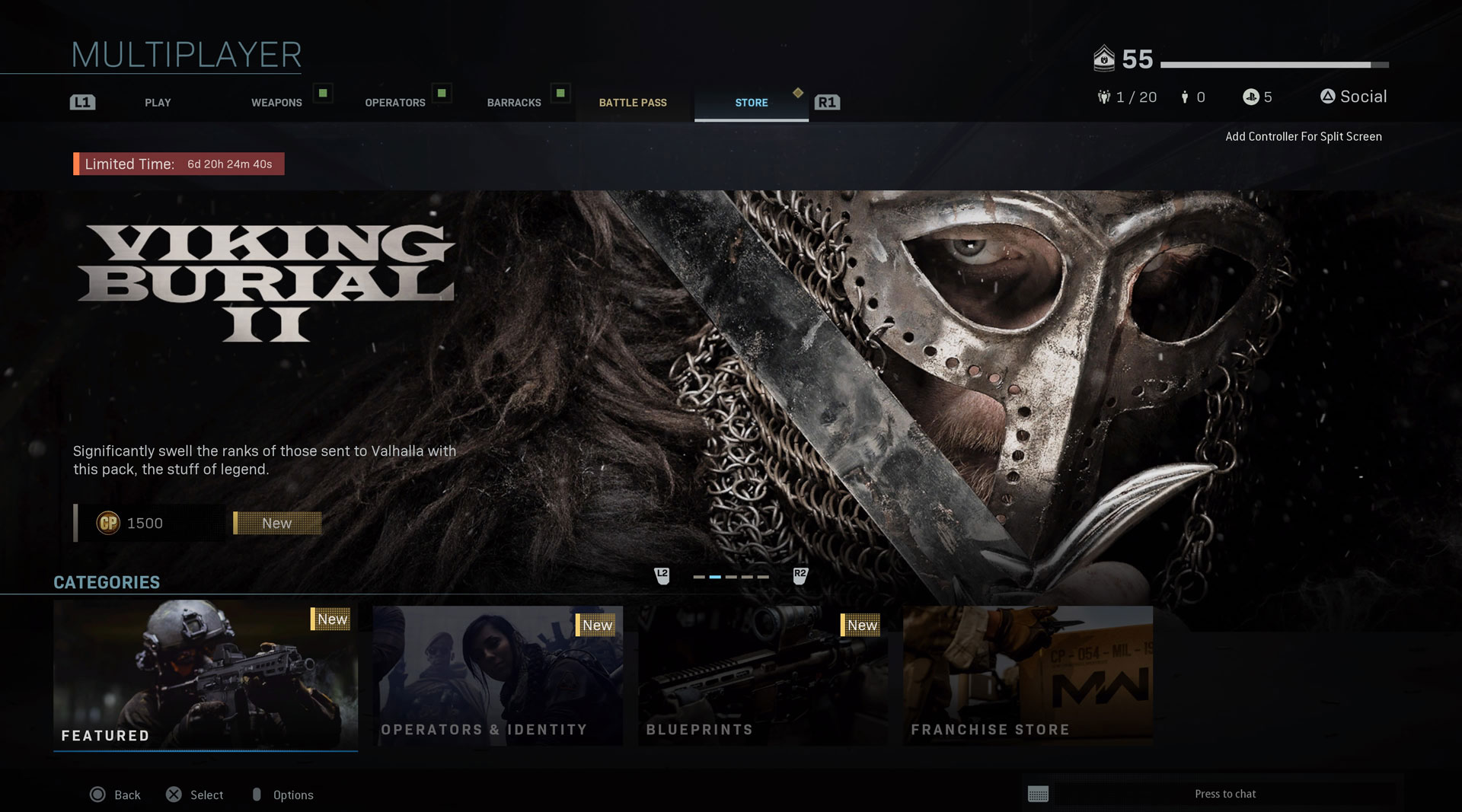 'The Viking Burial II' 3 Weapon Bundle
Give your enemies a proper send-off with this overstuffed bundle. 'The Viking Burial II' contains three weapon blueprints: the 'Buzzkill' LMG blueprint, the 'Dainsleif' melee blueprint and the 'Final Reprieve' Shotgun blueprint.
Plus, this bundle also packs the 'Valhalla' weapon charm and 'Ruler of Gods' sticker. Tack on these one-of-a-kind customs to enhance your mythic reputation, both on and off the field.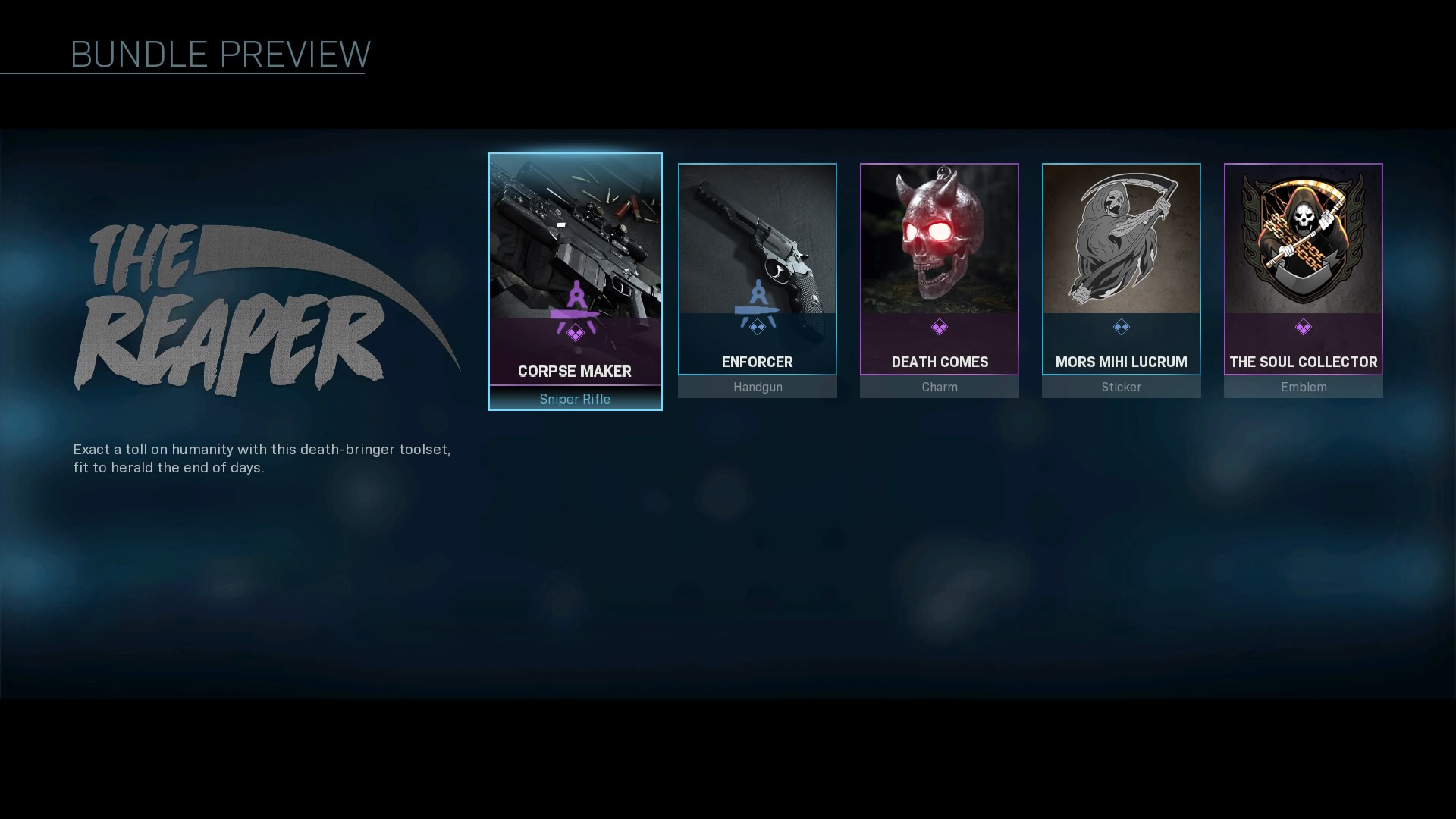 'The Reaper' 2 Weapon Bundle
Forget what you heard. Do fear the reaper.
This gothic Weapon Bundle contains the 'Corpse Maker' sniper blueprint – which does exactly what it says – and the 'Enforcer' pistol blueprint for some added muscle.
PLUS, tap into your darker side with 'The Soul Collector' Emblem, the demonic 'Death Comes' charm and the 'Mohrs Mihi Lucrum' sticker. And, show hostiles that you're metal to the hilt with the badass 'The Reaper' calling card.
Vanity Packs
Smaller Bundles that customize your player identity are known as 'Vanity Packs.' Keep checking every week to see the new Vanity Packs that arrive. Then, give your profile a refresh.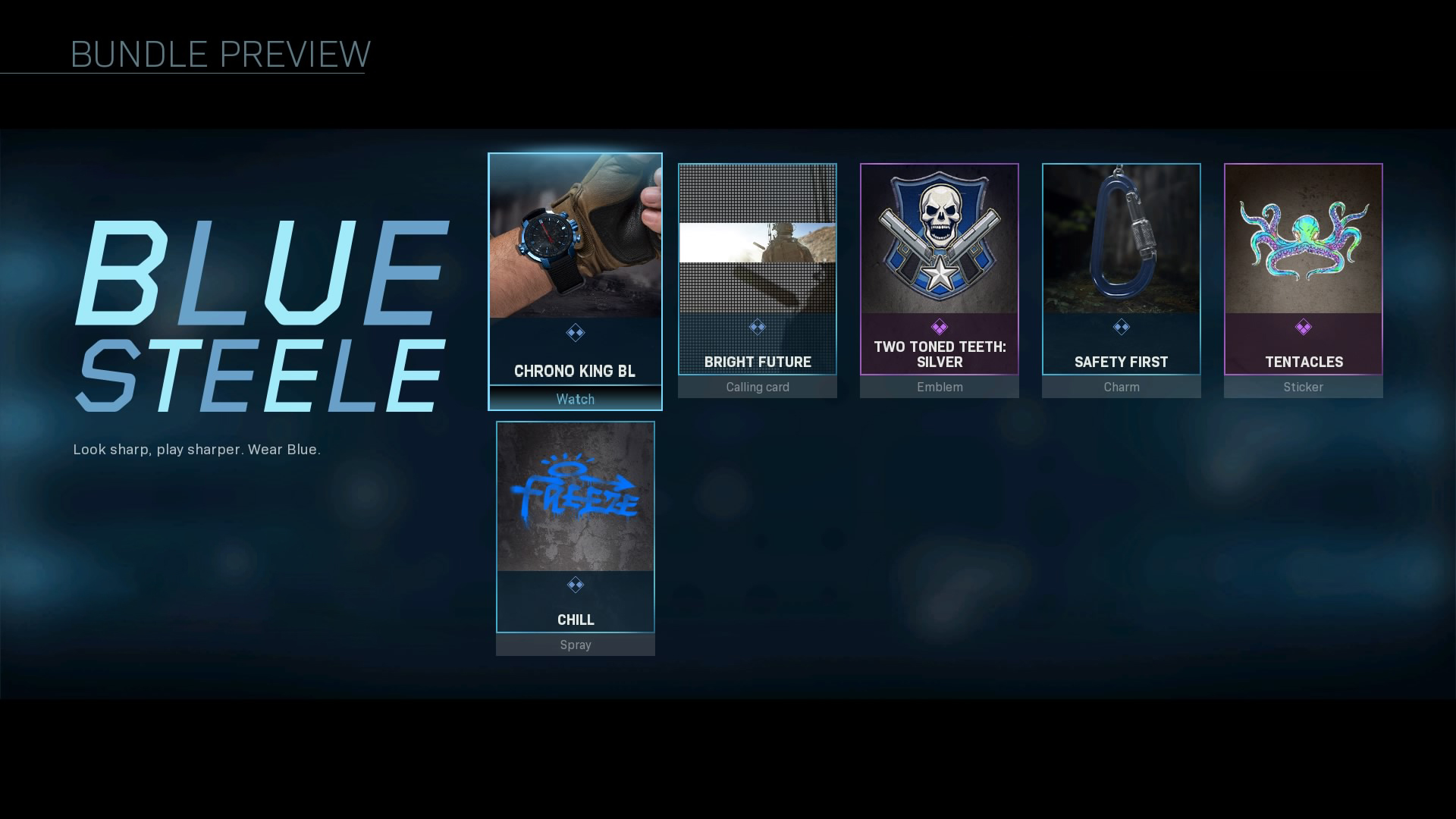 'Blue Steele' Vanity Pack
Give 'em your best Blue Steele, with this Vanity Pack available now for 500 Call of Duty Points. Pick it up to get the ice-blue and black chrome 'Chrono King BL' Operator Watch and the 'Chill' graffiti-style spray, PLUS a charm, sticker, emblem, and player card.
That's not all. The 'Blue Steele' calling card is also in the mix, so you can bring the heat.
New week, new gear.
Visit the Store every week to discover the latest gear you can get your hands on. And if you see a bundle you love, don't hesitate. Each of these bundles are available for one week only, so check back every week to discover what's new.
Now, get ready for war.
With an incredible array of themed content live for purchase, Featured Bundles provide excellent options for wearing your personality on your sleeve.
What are you waiting for? Check out the Store now.
For more information and the latest intel on Call of Duty®: Modern Warfare®, check out: www.callofduty.com, www.youtube.com/callofduty and follow @InfinityWard and @CallofDuty on Twitter and Instagram and Facebook.
For more information on Activision games, follow @Activision on Twitter, Facebook, and Instagram.