Task Force 141 answered the Coalition's call to action in Verdansk, and they've come prepared. Whether you're dropping in for Battle Royale or Plunder, you too can be equipped for battle with top of the line weapon blueprints that could aid you on that quest for victory.
Read on for three suggested loadouts for Warzone that feature weapon blueprints now available in the Season Four Battle Pass system: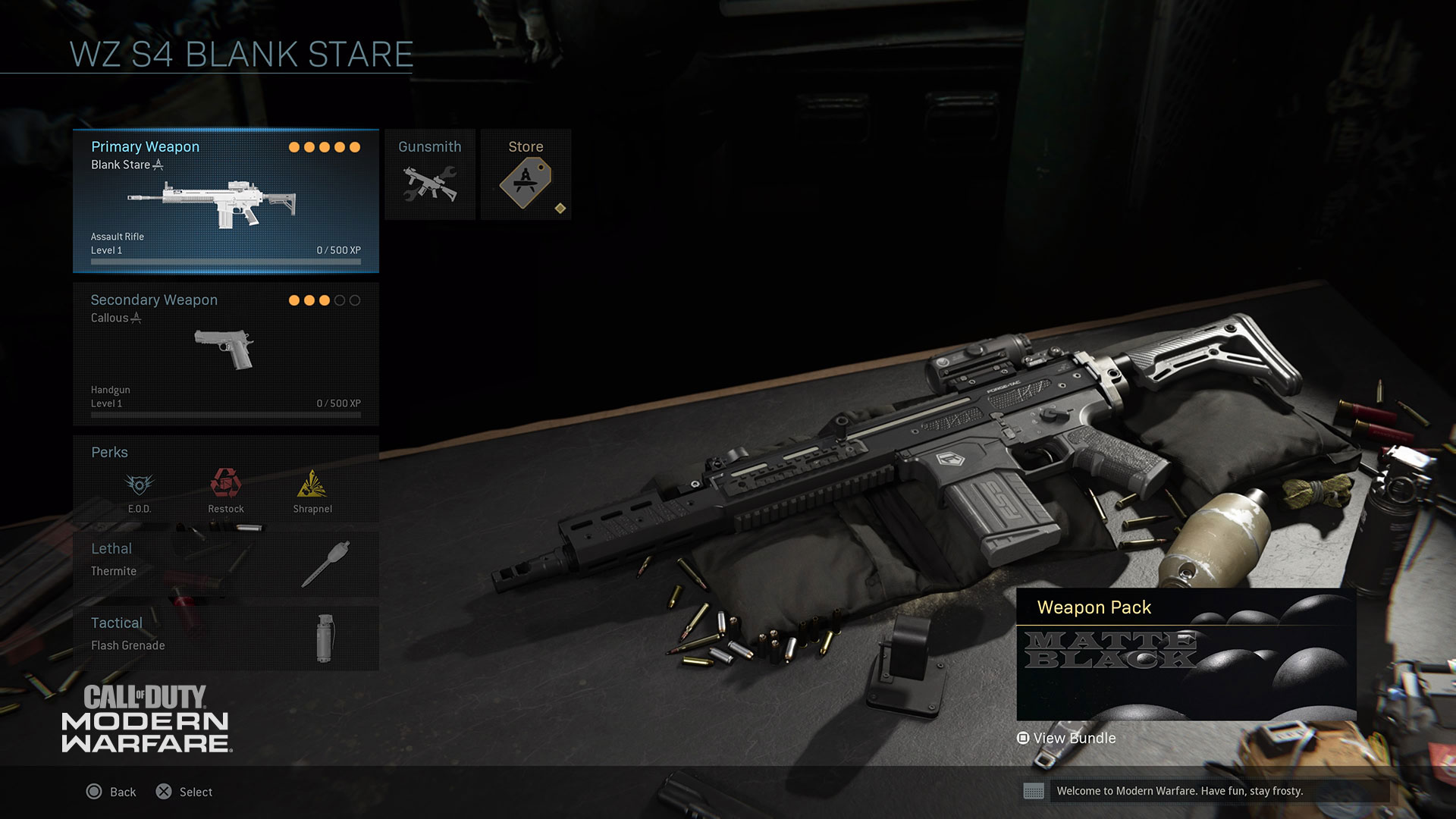 Make 'Em Blink with the Blank Stare
Primary Weapon: Blank Stare (Earn Free at Tier 21)
Secondary Weapon: Callous (Earn Free at Tier 1)
Perks: E.O.D, Restock, Shrapnel
Equipment: Thermite, Flash Grenade
Field Upgrade: Munitions Box (Purchased at Buy Stations or found in-match)
The Blank Stare is a well-rounded, hard hitting assault rifle built for any mode or squad size in Warzone. 
An extended Barrel and Muzzle Brake help with recoil control and stabilization respectfully at any range, but their effects are especially noticeable at longer distances. A Close Quarters Stock and Stippled Grip Tape help you aim down sight (ADS) quicker, which is great for accurate fire in CQB engagements. 
A bridge between these attachments that helps this weapon with both long and short-range combat is the Canted Hybrid: use the 3.25x Scout Optic to acquire distant targets, or flip to the Red Dot for a clearer sight picture up close.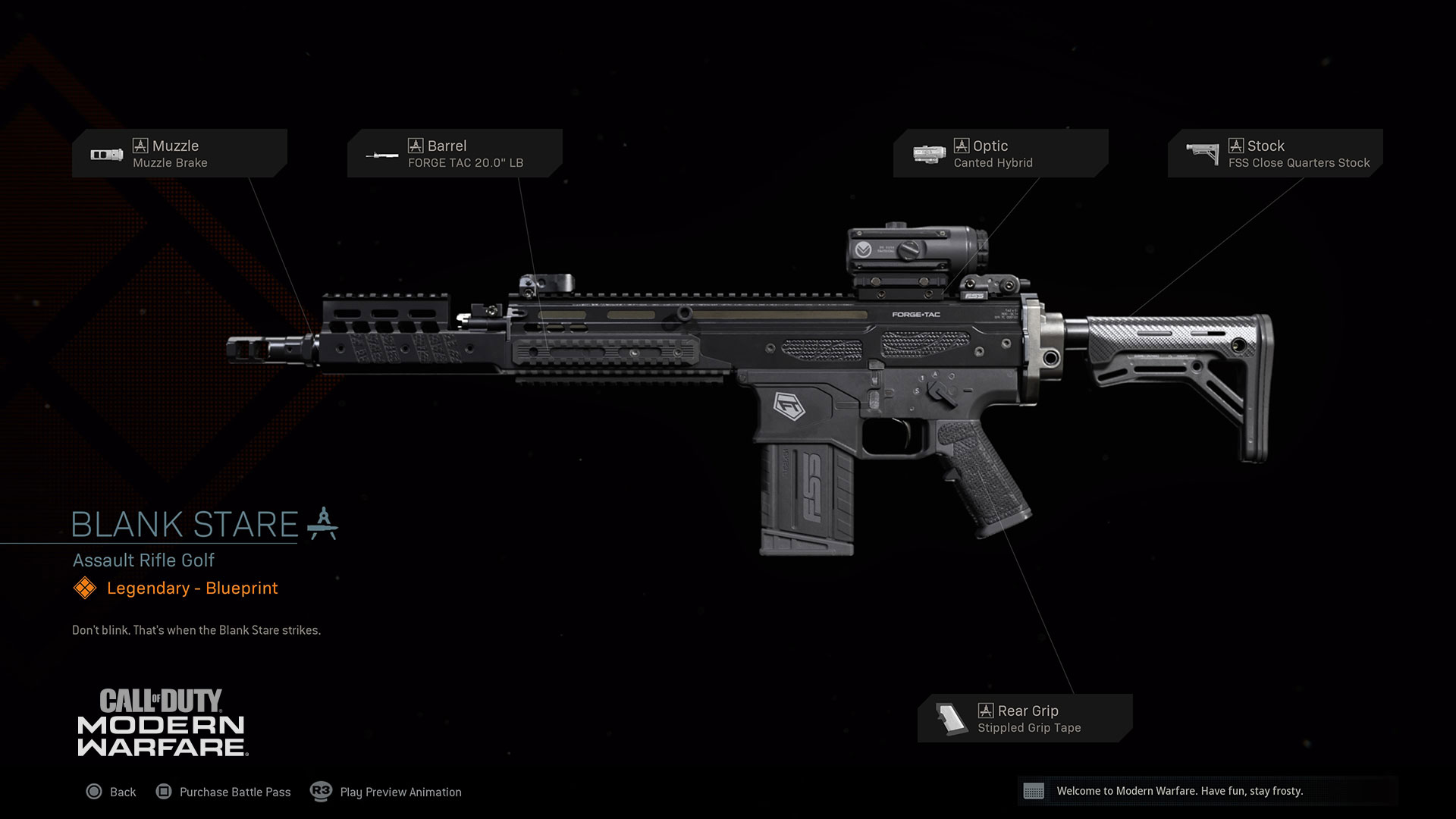 With an all-around great primary weapon, our suggested loadout continues to put utility at the forefront of your strategy for success:
While on ladders or in extreme close-range situations, use the Callous for self-defense. Against enemy vehicles, use the Thermite grenades – which along with Flash Grenades, Restock on a 50 second timer after use – to deal heavy damage to them, while also slowing enemy regen with the effects of Shrapnel. And, should those vehicles explode, E.O.D. is there to mitigate that damage.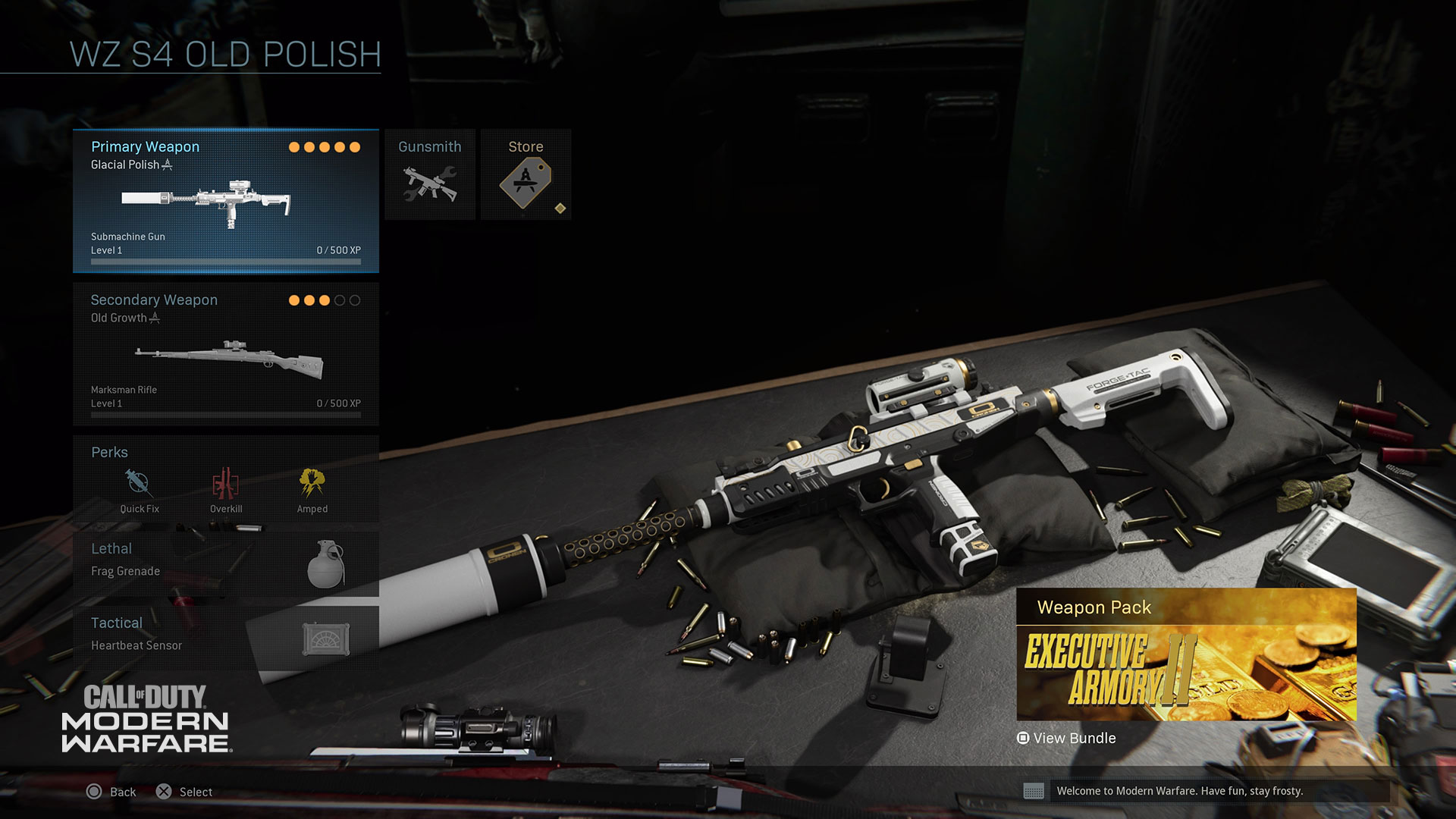 Become an Ice-Cold Killer with the Glacial Polish
Primary Weapon: Glacial Polish (Tier 41)
Secondary Weapon: Old Growth (Tier 35)
Perks: Quick Fix, Overkill, Amped
Equipment: Frag, Heartbeat Sensor
Field Upgrade: Stopping Power Rounds (Useable in Plunder or found in-match)
In Solo games, Operators who are versatile are most often the most hostile.
To that point, the Glacial Polish is your CQB weapon with range: thanks to the Barrel and Muzzle attachments, this SMG's range is maxed out from its base stats. Just like the Blank Stare, the Canted Hybrid brings a 2-in-1 3.25x zoom scope and 1.0x optic in one attachment, and the Tac Laser and FSS Close Quarters Stock allow for quicker ADS speeds.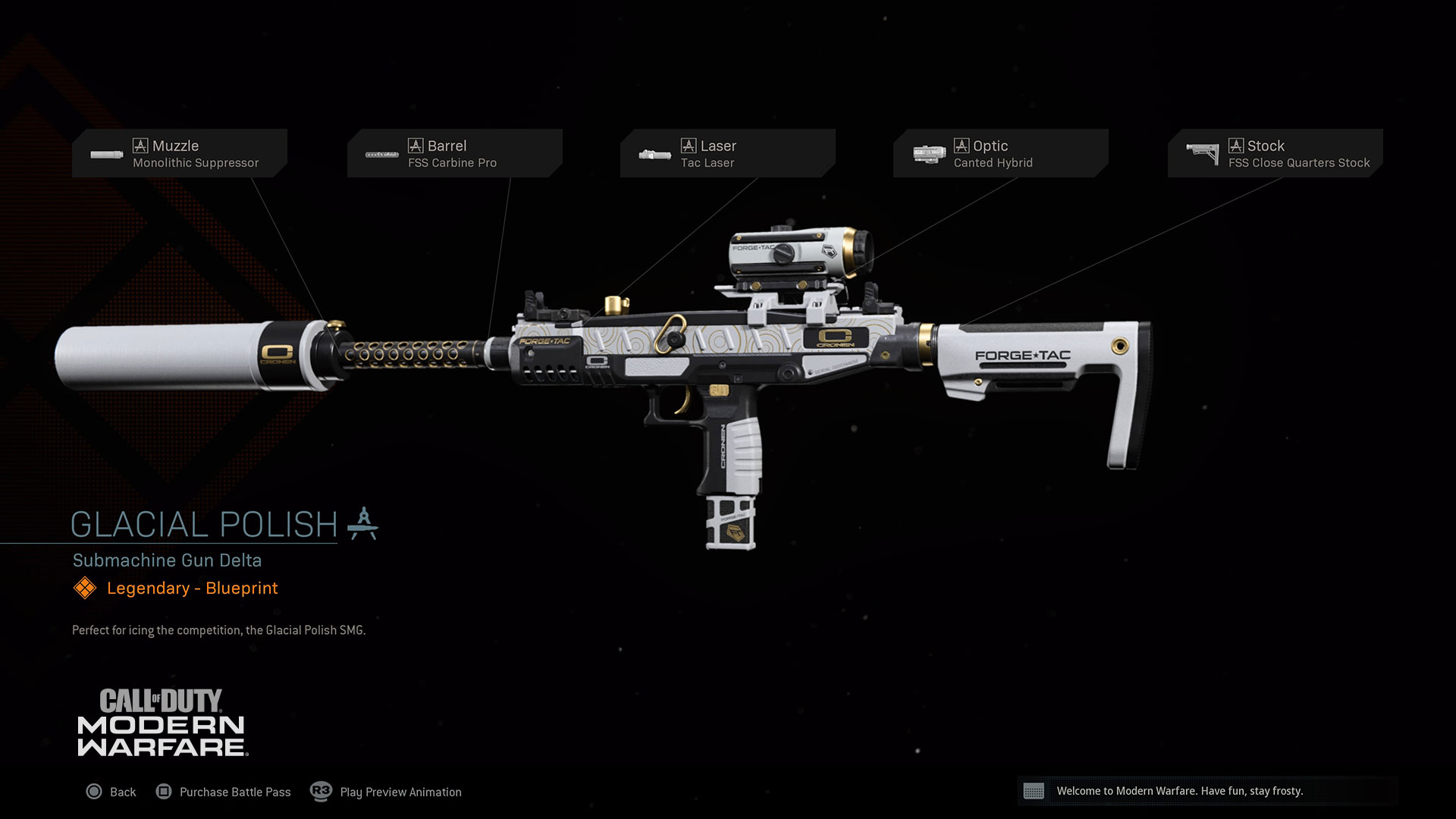 Although it's a fantastic blueprint weapon, the Glacial Polish won't outduel a Sniper Rifle at long distances, which is why our suggested loadout brings in the Old Growth marksman rifle to hit those gaps in coverage. The versatility doesn't stop there with this loadout: by bouncing and/or cooking a Frag Grenade, it can be used as a tool for hail mary bunker-busting throws or around-the-corner bank shots.
Complete this loadout with Amped for fast weapon swaps, a Heartbeat Sensor to help detect targets within a few dozen meters, and Quick Fix to allow for faster health regen, which is a boon in the free-for-all chaos of Solo games.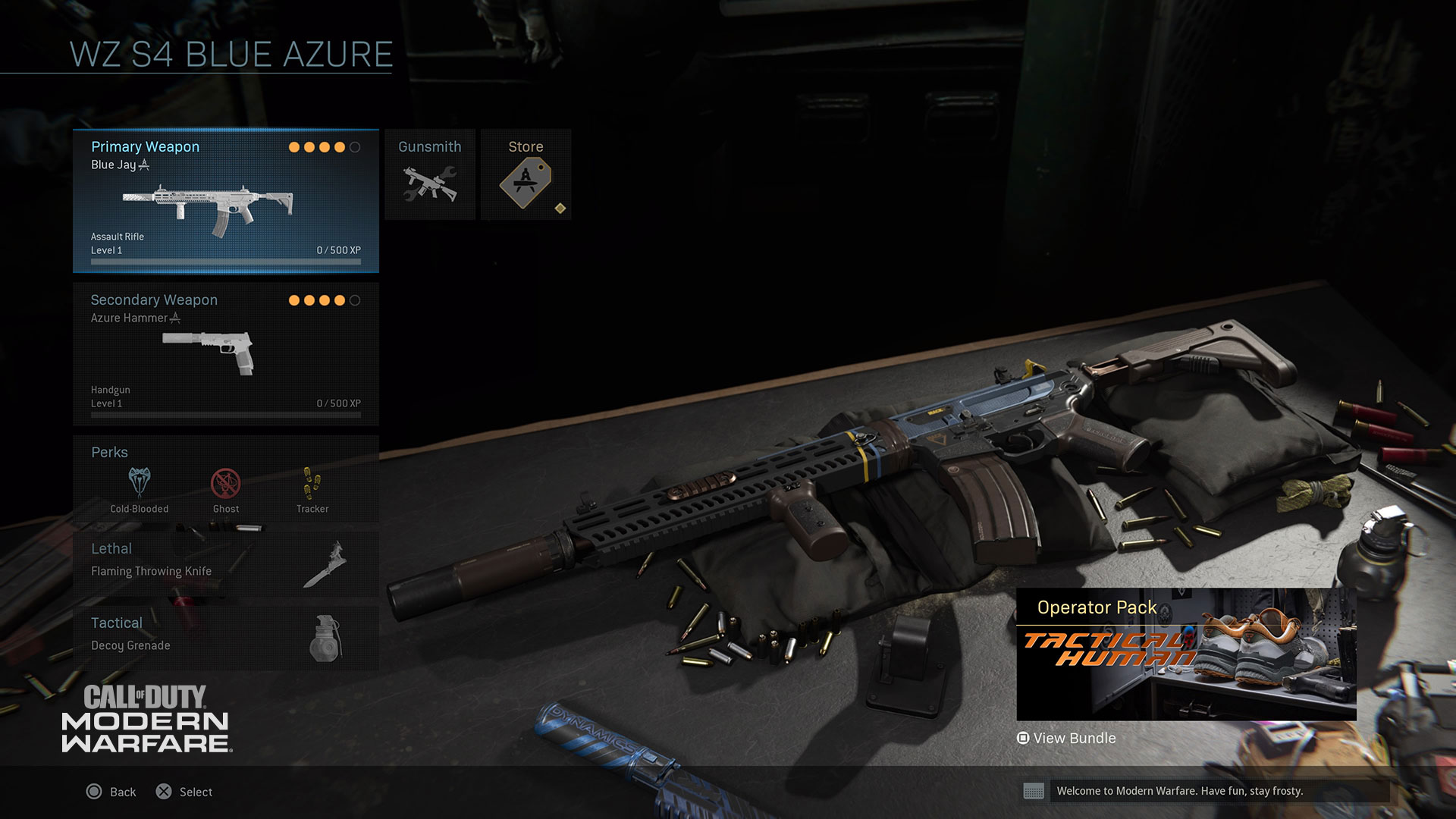 Blue Crew – Pairing the Blue Jay and the Azure Hammer
Primary Weapon: Blue Jay (Tier 51)
Secondary Weapon: Azure Hammer (Tier 38)
Perks: Cold-Blooded, Ghost, Tracker
Equipment:  Throwing Knife, Decoy Grenade
Field Upgrade: Dead Silence (Useable in Plunder or found in-match)
Stay cool under pressure and be your squad's silent muscle with the Blue Jay, an Epic blueprint based on an assault rifle with a scorching rate of fire within its class.
Both the Tempus Marksman Barrel and Monolithic Suppressor extends this weapon's range, with the former also giving recoil control benefits and the latter dampening acoustics when the weapon is fired.
The Ranger Foregrip further helps with recoil control, while 60 Round Mags gives the maximum ammo per magazine for this assault rifle.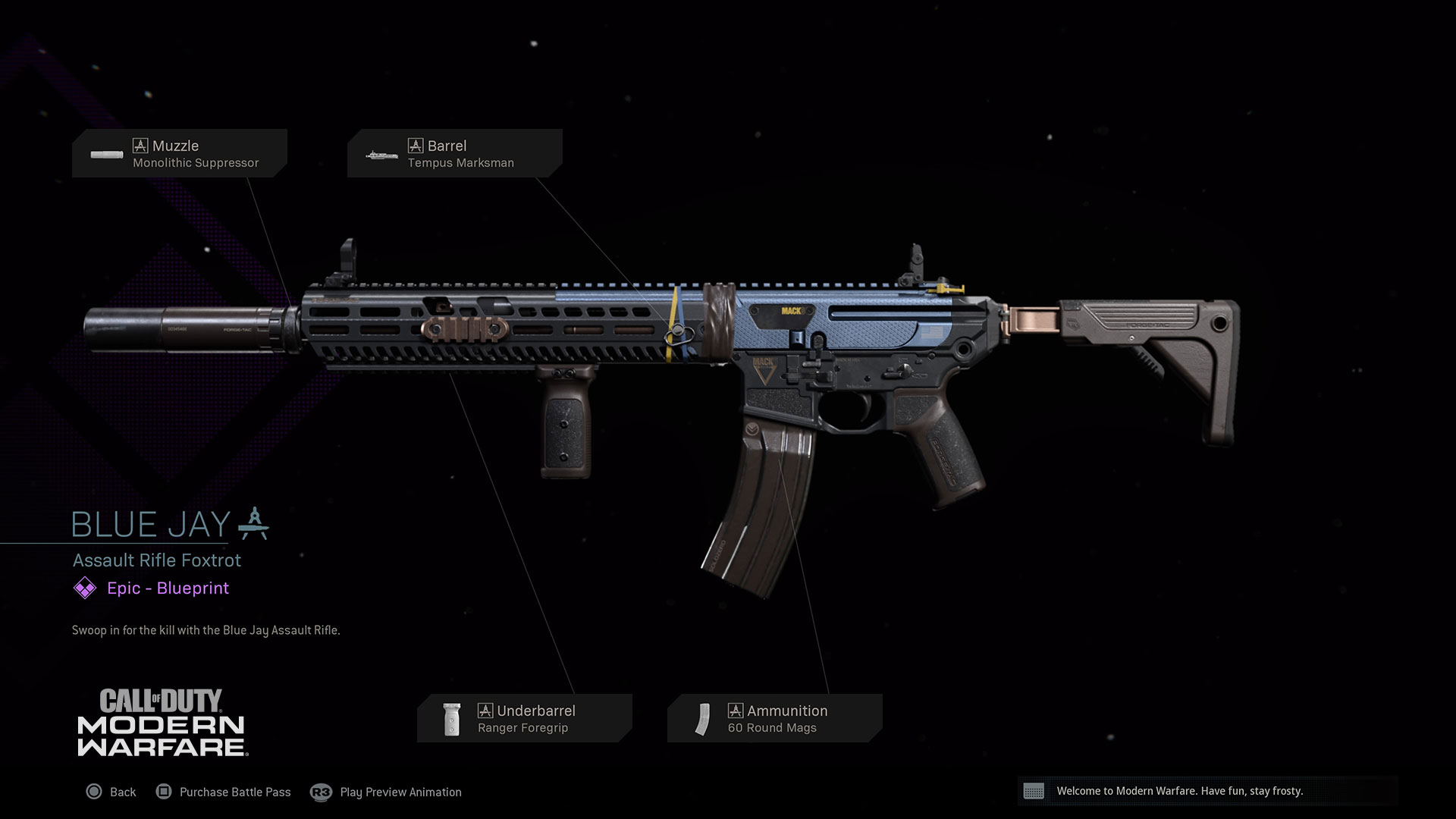 Another Battle Pass weapon that will keep you under the radar is the Azure Hammer, a sidearm with a more greenish-blue hue. In close-quarters or if – somehow – that 60 Round Mag runs dry, quickly swap to this secondary to finish the job.
The rest of this loadout is built for an Operator who is so cool, they are Cold-Blooded… Literally; Cold-Blooded and Ghost give stealth benefits – staying off enemy radars, Heartbeat Sensors, and Thermal Optics, to name most of them –  while Tracker allows you to stay hot on your enemy's trail via infrared footprints they leave on the ground.
As for equipment, Throwing Knives will finish your enemies without making much of a sound, while Decoy Grenades might throw off those listening for your presence as you go in for the squad wipe.
Blueprint Specific Tips for Warzone
1. The Canted Hybrid Optic, which comes with the Blank Stare and Glacial Polish blueprint weapons, gives you a clearer sight picture up-close, and a great zoom level for distant targets. Just be aware it adds some weight, which slows down your ADS speed.
2. A Monolithic Suppressor, found on the Blue Jay and Glacial Polish, doesn't just increase range: it dampens the noise these weapons make when fired. Therefore, it might be a useful for those wanting an element of surprise against their enemy.
3. Assault rifles – such as the Blue Jay and Blank Stare – are built for engagements in between 12 to 30 meters but can hold their own outside of their most effective range. Consider these weapons jacks of all trades, and masters of the mid-range.
4. Specialization is great for squads, but in Solo modes, more versatile loadouts might be more valuable. The Blank Stare and Glacial Polish are examples of versatile weapons to consider when crafting Solo loadouts.
5. Use and experiment with all those attachment slots! The Blue Jay only comes equipped with four, leaving the door open for the optical attachment of your choice. And, if you don't like a specific attachment on any of these blueprints, feel free to swap them out to create your perfect personalized weapon.
Purchase the Season Four Battle Pass to gain access to unlock all of the system's 100 Tiers, and progress through them to earn these weapon blueprints for your squad alongside other goods, including Operator skins, vehicle skins, XP and Weapon XP Tokens, and instant access to the newest Operator — Price. Preview all the goods of the Battle Pass by visiting the Battle Pass tab in-game. 
Want more information on Warzone? Read the Free Official Warzone Strategy Guide for over 250 tips, an interactive atlas of Verdansk, strategies on game modes, and more. 
We'll see you online. Stay frosty.
For more information and the latest intel on Warzone, visit www.callofduty.com/warzone and follow @CallofDuty on Twitter, Instagram, and Facebook. 
For more information and the latest intel on Call of Duty®: Modern Warfare®, check out: www.callofduty.com, www.youtube.com/callofduty and follow @InfinityWard and @CallofDuty on Twitter and Instagram and Facebook.
© 2019-2020 Activision Publishing, Inc. ACTIVISION, CALL OF DUTY, MODERN WARFARE, WARZONE, and CALL OF DUTY WARZONE are trademarks of Activision Publishing, Inc.
For more information on Activision games, follow @Activision on Twitter, Facebook, and Instagram.