Handcrafted for pure action and thrill, The Forge opens its doors today within Call of Duty: Mobile.
In other words, this new Season is now live, and you don't want to miss a single spark that flies from the Battle Pass and Seasonal Challenges to new perks, an Operator Skill, and more.
This intel on The Forge is coming in HOT:
A Hard-Hitting Assault Rifle Bolsters the Battle Pass
A new season means a new Battle Pass – both free and Premium tiers have plenty   of gear to form your loadouts and identity around.
Most notably at Tier 21, all players will be able to unlock the new DR-H assault rifle when this free tier is completed. This fully-auto assault rifle is chambered in high caliber ammunition, allowing for high damage over long ranges.
Other free tiers include weapons and Battle Royale items with the sleek blue Desperate Measures camo, which will come towards the back half of the first 50 Tiers. This camo set ends at Tier 50, where you'll unlock the Rare Rus 79u – Desperate Measures.
What else is at Tier 50? For Premium Pass holders, the pride of The Forge – the Epic Chained Camo DR-H – is yours. Beneath this weapon's unrefined exterior is a weapon built tough for precise and powerful shots. Tier 50 also includes the Epic Reaper skin for Krueger, an animated Hot Metal calling card, and an animated Chained Frame avatar frame.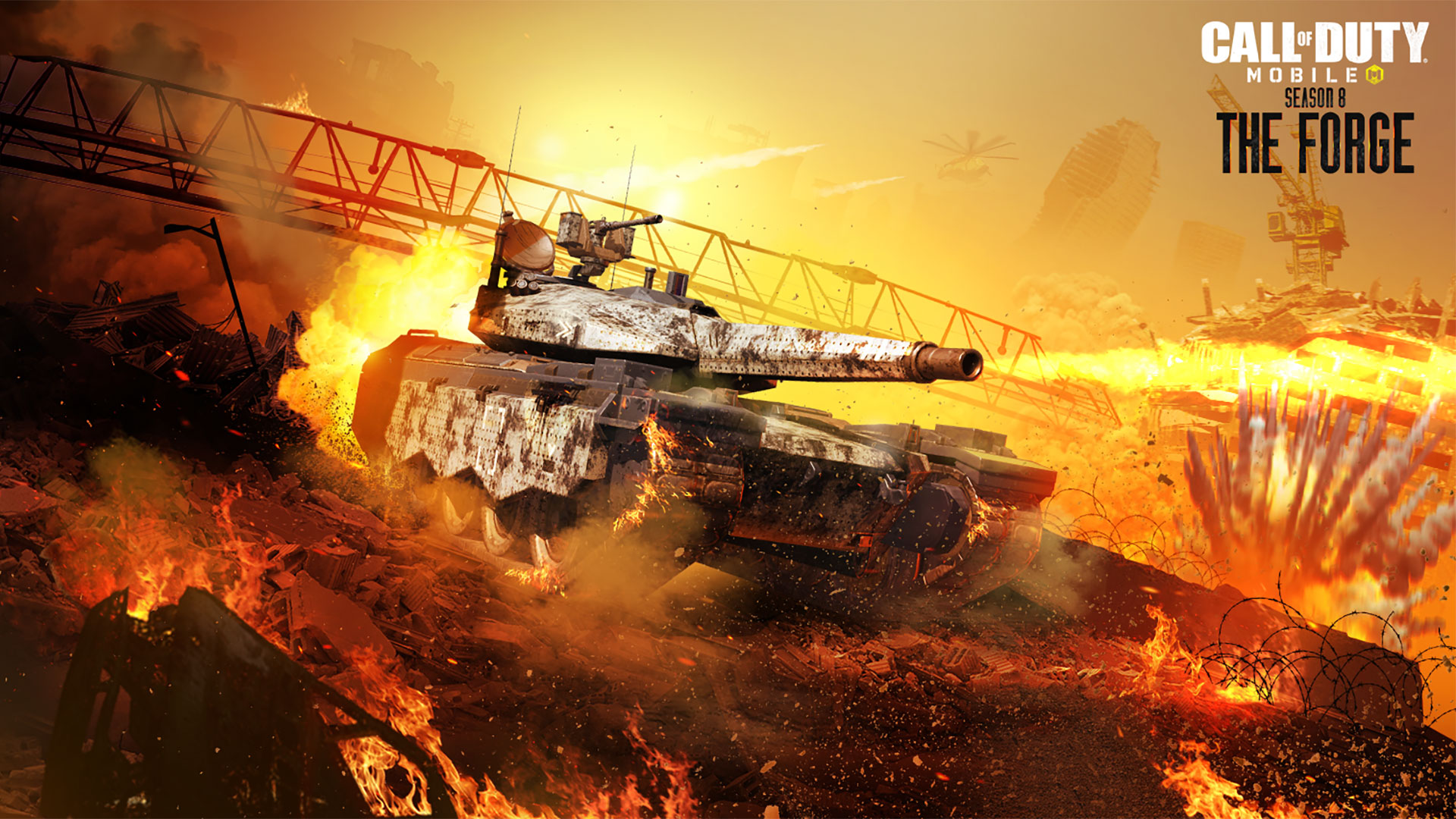 Long before that Tier, Premium Pass holders can grab both the KN-44 Living Rust Epic camo,  the Wrecker skin for Tank Dempsey and the first camo for the Tank vehicle in Battle Royale at Tier 1 . As you progress, you'll find the AK117 – Kit Bag Epic camo at Tier 40, along with more items themed around the Living Rust and Wrecked camos.
New Shrapnel Perk Available, Quick Fix to Come
The Battle Pass goodies don't end there; at Tier 14, you can unlock the Shrapnel perk.
This brand-new blue perk doubles the number of lethal equipment in your loadout. Should that lethal equipment damage an enemy, it temporarily delays their ability to regenerate health. Any soldier will find a use for this explosive new perk, especially those who love to cause chaos with lethal equipment.
Later in the season, the Quick Fix perk will make a case for the green perk slot. It instantly starts your health regeneration after weapon kills and doubles your health regeneration rate while on Hardpoint hills or Domination flags.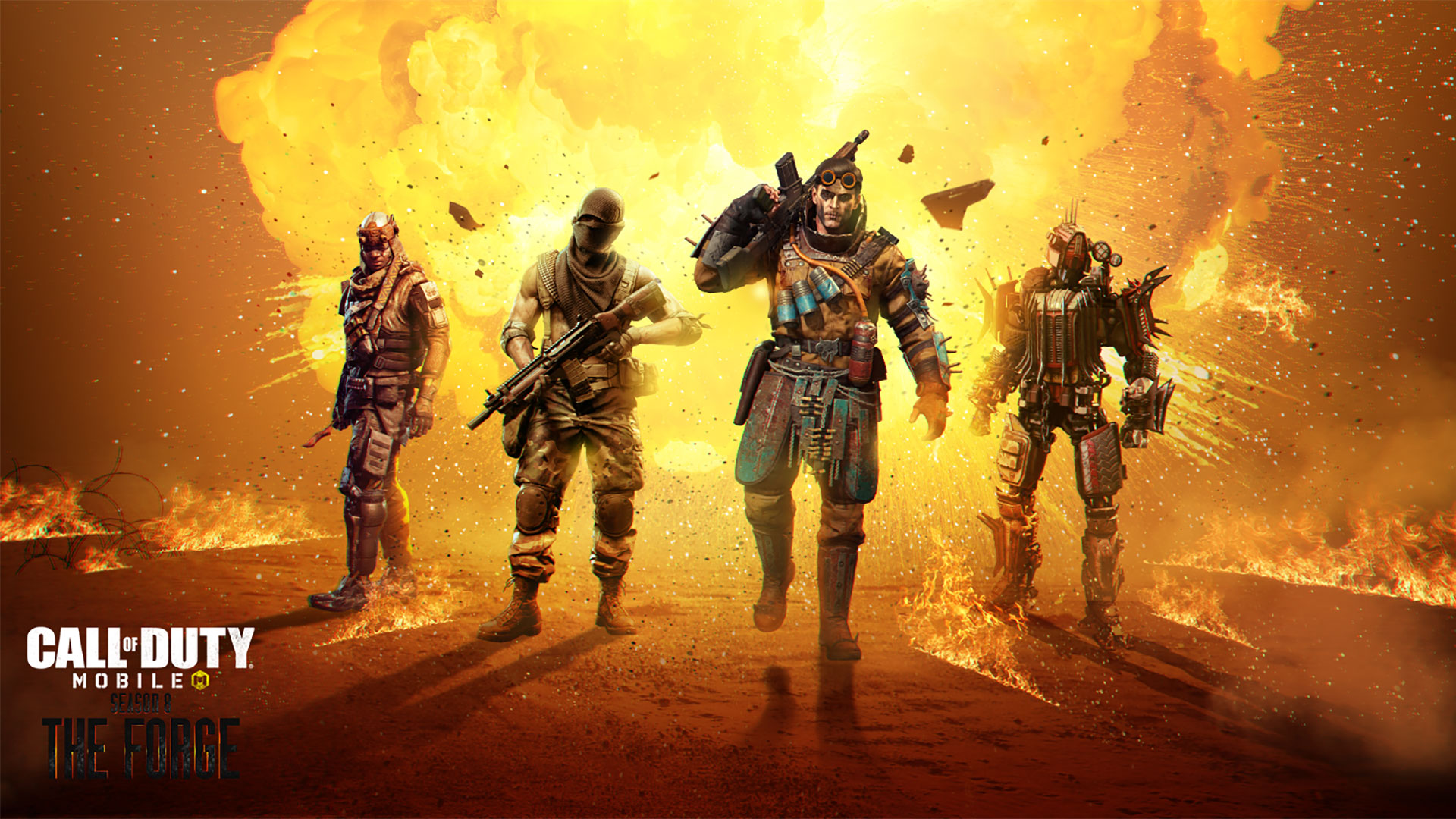 Unlock the HBRa3 and KRM-262 through Seasonal Challenges
The DR-H won't be the only weapon that's being crafted by The Forge.
During the Season, expect to see two challenges that will allow you to unlock common versions of two weapons from previous seasons.
Earnable in the previous Ranked Mode with a Rare camo, the base HBRa3 assault rifle will be available to unlock via a Seasonal Challenge.
The other weapon – the KRM-262 Shotgun – first appeared all the way back in Season 3. Now within The Forge, a base version (common camo) of this pump-action pulverizer is yours to earn through an upcoming challenge.
Wield Cold Steel with the Katana Operator Skill
This Season bring a knife to a gunfight and earn the Katana Operator Skill.
A weapon that can slice enemies in a single blow and detect them through the thickest of smoke, this new Operator Skill can be unlocked in its own event the Katana Kill.
Stay tuned for more details on how you can unlock this new Operator Skill and how to chop up the competition with it.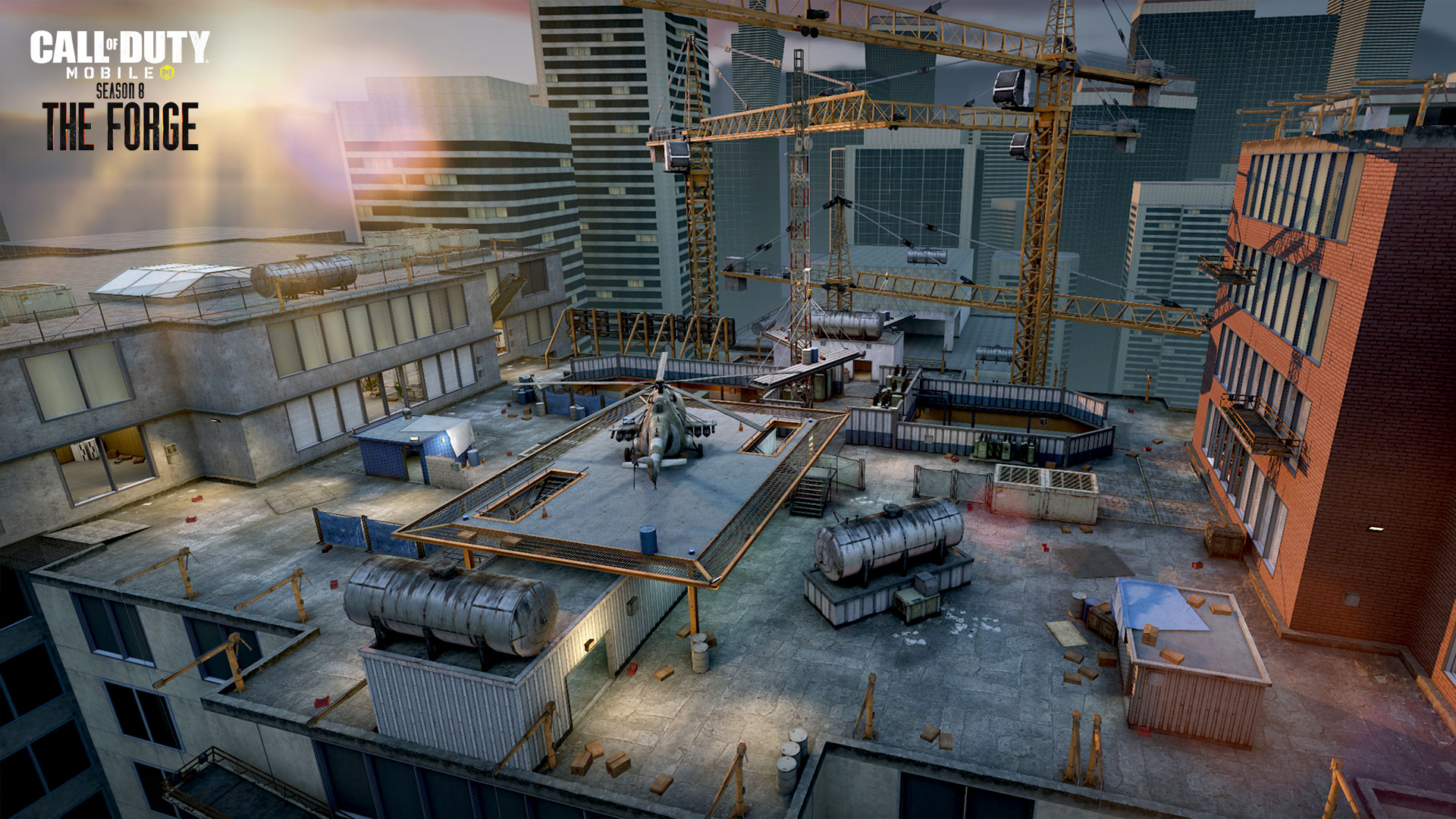 New Multiplayer Map: Highrise
The legendary skyscraper under construction since 2009 is now in Call of Duty: Mobile.
A medium sized map featuring a large office building on either side, soldiers will fight tens of stories up in the air as they wrest control of the central helipad building, weave through construction equipment, or try and sneak through a tunnel system that acts as a flanking route from one end of the map to the other.
And, of course, the cranes are here to offer a massive reward in the form of fantastic sightlines over large portions of the map… But this opportunity comes at the risk of falling down to your doom!
We broke down this map here in anticipation of The Forge highlighting it within the season.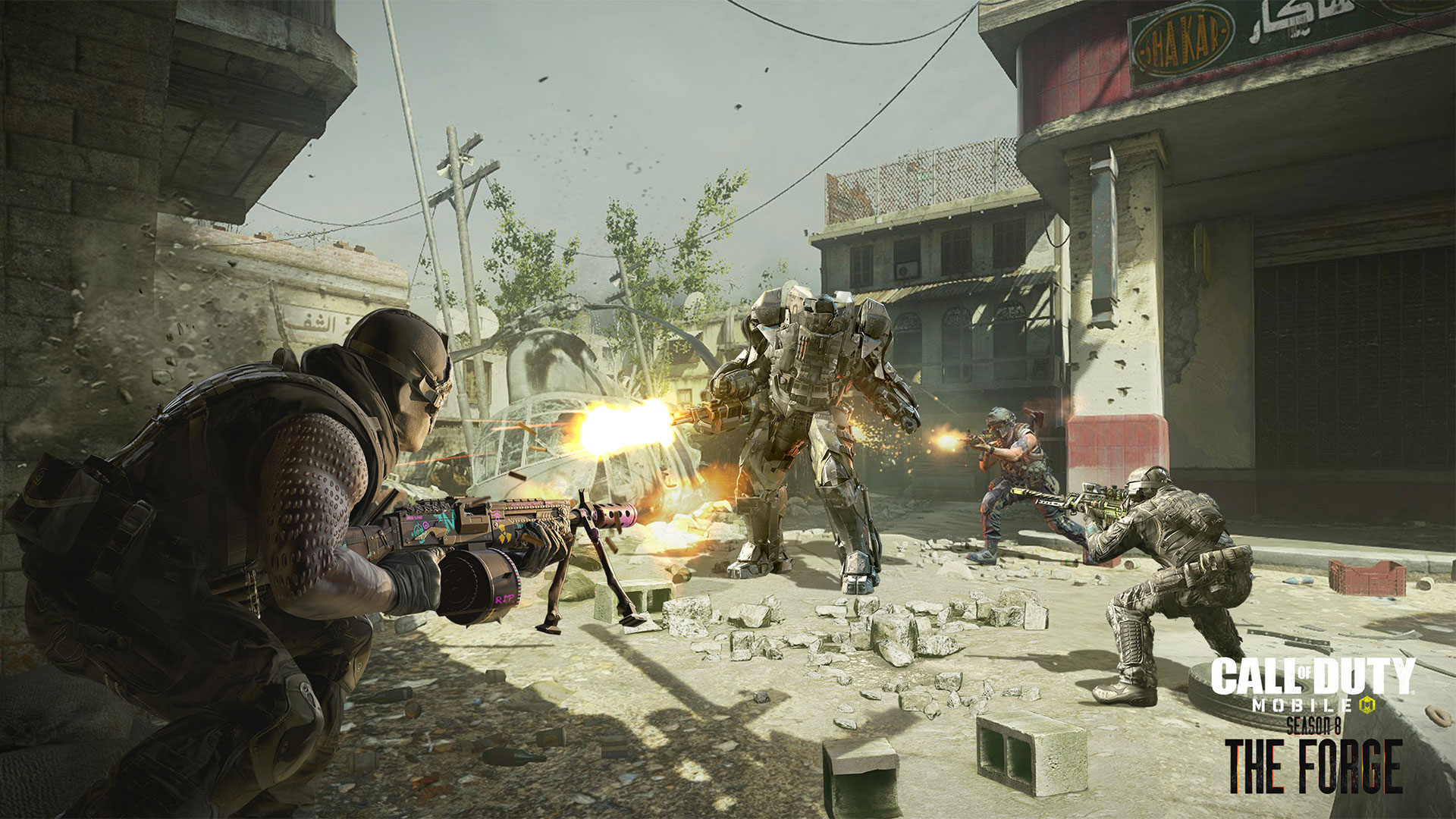 New Multiplayer Game Mode: Juggernaut
Five soldiers. One XS1 Goliath. No prisoners taken.
Juggernaut is a brand-new game mode to Mobile that takes this classic Call of Duty mode and puts a Mobile spin on it.
If you played it back in 2011, you'll be familiar with the rules: one player gets a powerful suit of armor equipped with extremely deadly weapons, while the others are tasked at taking that player down. Whoever deals the finishing blow becomes the new super soldier until a point limit is reached.
On Mobile, the Juggernaut suit is hung up in favor of the XS1 Goliath, one of the most powerful Scorestreaks in the game. If you want your opportunity to use this awesome suit – or just want to have some serious fun – hop into Juggernaut and get ready to make – and break – some temporary alliances. When you play a Juggernaut match, you'll be able to find an Armament box which can give you and Operator Skill or powerful buff, like increased damage or movement speed. Look out for these boxes to help you slay the giant that is the XS1 Goliath. 
Stay tuned for a Juggernaut Mania event that will heavily involve this game mode. And speaking of events…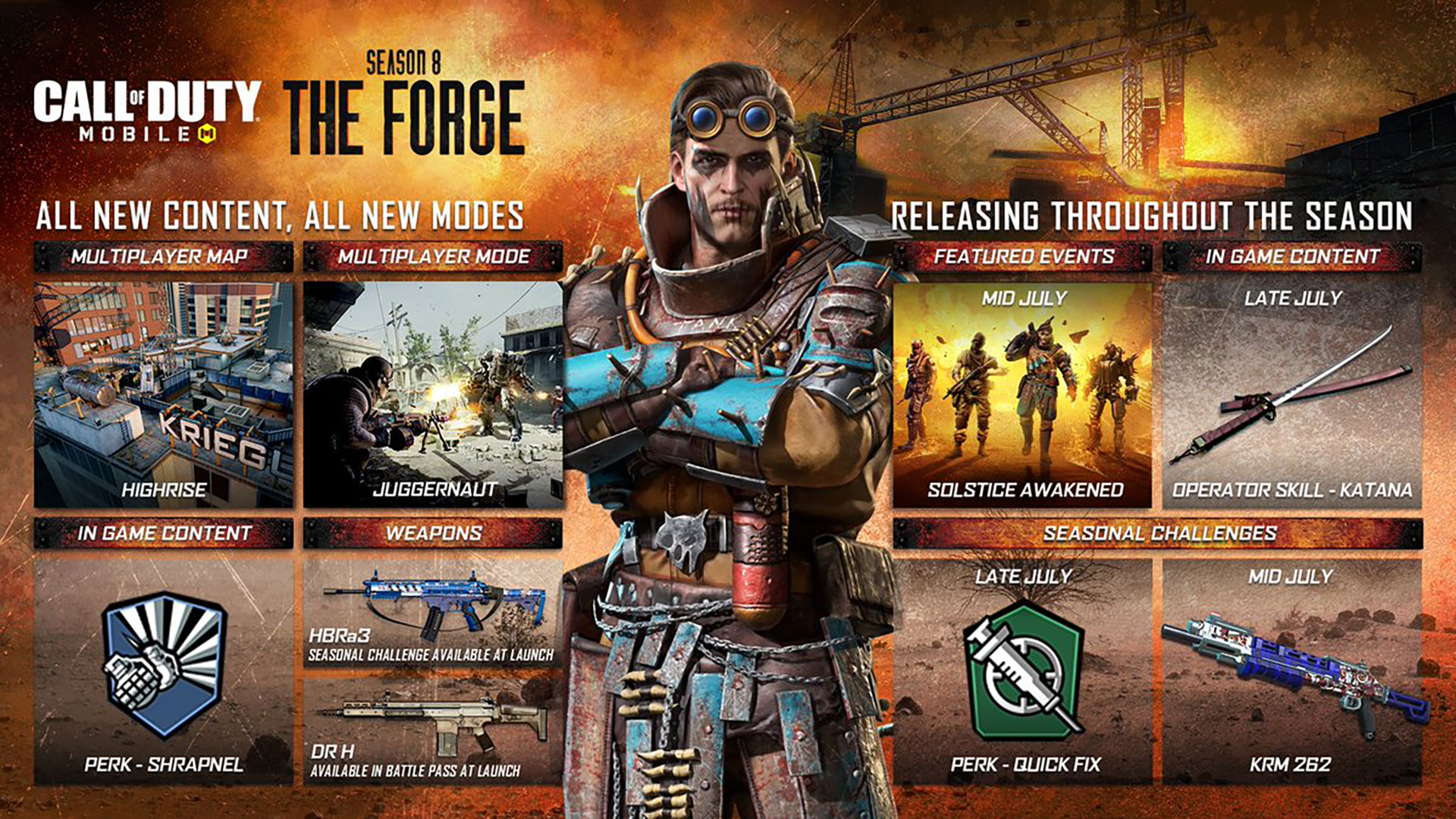 Coming Soon: Solstice Awakened and the Days of Summer Events
Two big events will headline the season of The Forge; Solstice Awakened will take place soon, while the Days of Summer will come in later.
For Solstice Awakened, prepare to take the climb up to Highrise and overcome the Juggernauts to rack up resources for exclusive rewards. Then, later this season, expect to cool down after a few weeks inside The Forge with water-themed weaponry and more items to celebrate the season of rest and relaxation in the sun and sand.
Already fired up for The Forge? Log into Call of Duty: Mobile now and get ready to drop into the heat of the action!
We'll see you on the go, and online.
For the latest intel, be sure to visit the Call of Duty: Mobile website. Also check out www.callofduty.com, www.youtube.com/callofduty, and follow @CallofDuty on Twitter, Instagram and Facebook.
© 2019 Activision Publishing, Inc. Activision, Call of Duty, Call of Duty: Black Ops and Call of Duty: Modern Warfare are trademarks of Activision Publishing, Inc. All other trademarks and trade names are the properties of their respective owners.
For more information on Activision games, follow @Activision on Twitter, Facebook, and Instagram.