With the release of Modern Warfare®, Infinity Ward is set to deliver the greatest amount of weapon customization ever in Call of Duty®. Providing more options and player agency through weapon customization is another part of the Call of Duty franchise's commitment to the community, which also includes the introduction of crossplay, the removal of Season Pass, and plans to release more free maps & content post-launch to keep the community together.
Gunsmith
Gunsmith is a simple and visualized, yet deep and engaging in-game system that focuses on collecting and utilizing an incredible array of weapon attachments. These are designed to offer a ton of weapon customization options to suit each player's individual play style.
Unlock attachment sets across up to nine different categories, each with loads of options and configurations:
·      Stocks
·      Lasers
·      Optics
·      Rear Grips
·      Magazines
·      Barrel
·      Under Barrel
·      Muzzles
·      Perks
In addition to the attachments available on every base weapon, players can also tap into unique weapon mods, like ricochet, semi-auto, burst and more. Together, there is a massive number of options and combinations in the Gunsmith.
Weapon Progression
Customization options are unlockable via gameplay. Every weapon has its own straight-forward progression path to unlock an array of attachments.
Blueprints
At launch, Modern Warfare will include Blueprints. Blueprints are curated, visual variations for weapons that utilize all content unlocked through gameplay.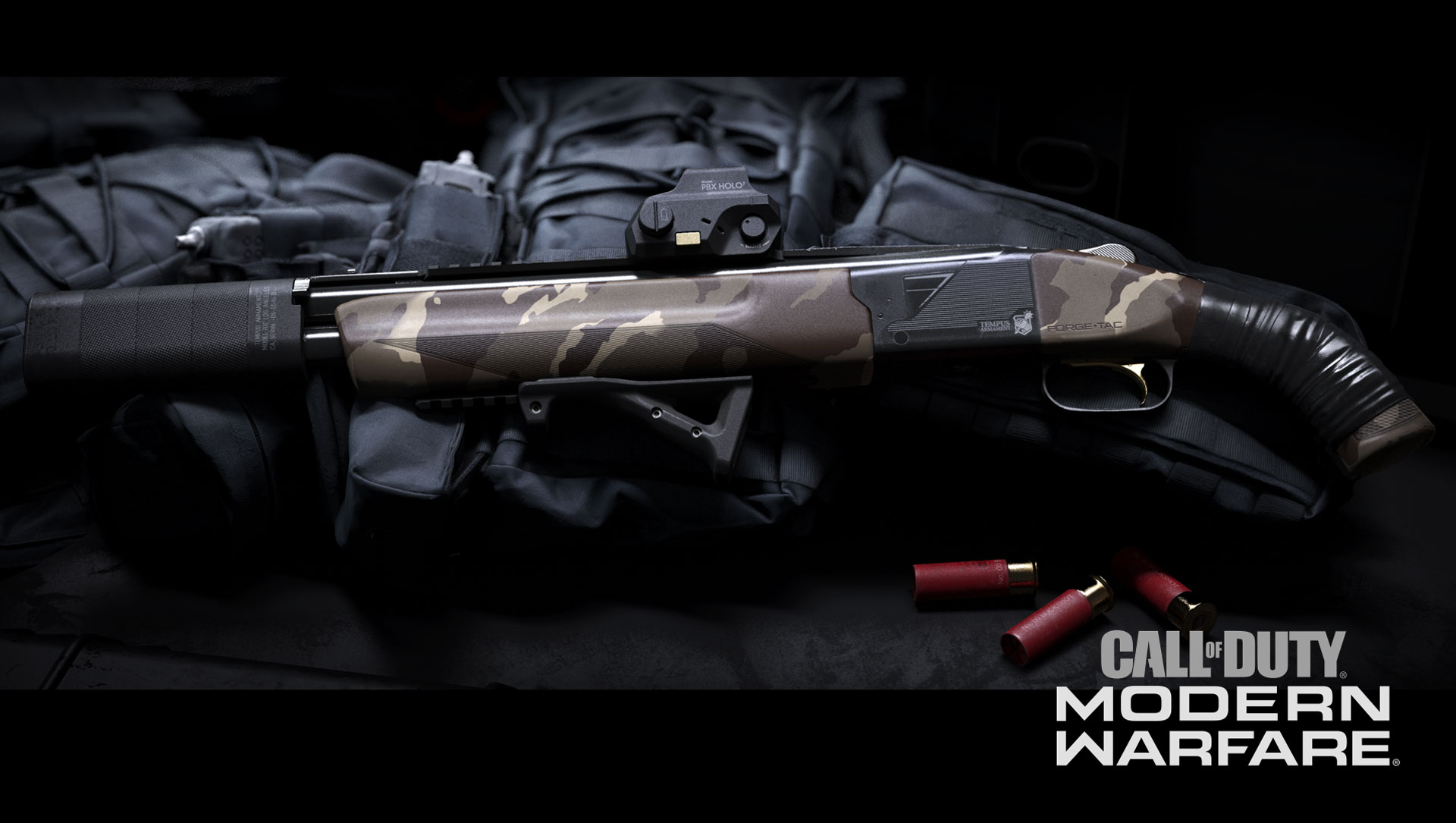 The Hammer Shotgun, shown above, is built from the .725, using its naturally unlocked attachments.
The Beta* Reward Item
As a token of our gratitude, be sure to reach Level 10 before the Beta ends on September 23 at 10AM PDT: That way, you'll automatically obtain a free item reward; the Hammer Shotgun, fully customized with a pistol grip, dual-silenced short barrel, angled foregrip, and holographic sight designed to create a quick-handling, short-ranged, silenced method of foe disposal. This weapon blueprint, which is available to those reaching Level 10 or higher by the end of the Beta Weekends, will be accessible and waiting for you when you play the final game, available on October 25.
Pre-Launch Intel: Additional Information and Content

Check back at the Activision Games Blog throughout the coming days and weeks for further intel. Check the Related Articles for further Call of Duty: Modern Warfare information.
Pre-orders at participating retailers are available now, or at CallofDuty.com. 
*Actual platform availability and launch date(s) of MP Beta subject to change. See www.callofduty.com/beta for more details. Minimum Open Beta duration is 2 days. Limited time only, while Early Access Beta Codes last, at participating retailers. Internet connection required.
For more information and the latest intel on Call of Duty®: Modern Warfare®, check out: www.callofduty.com, www.youtube.com/callofduty and follow @InfinityWard and @CallofDuty